Welcome to the weekly recap edition of Natural Gas Daily!
Natural gas prices were basically flat for the week ending at $3.04/MMBtu.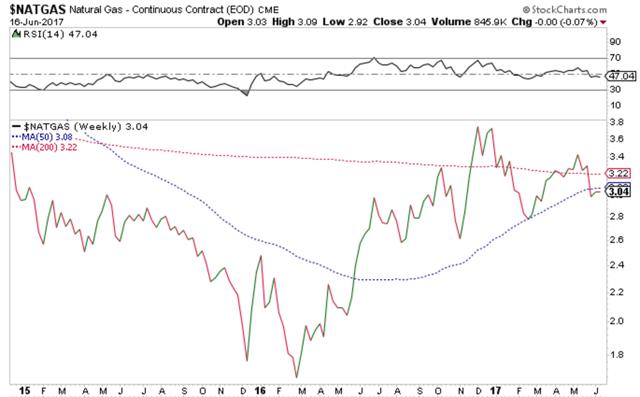 In this week's weekly recap, we will look at the recent trend in storage forecasts and where consensus expects storage to be at the start of November 2017.
This week saw strange revisions to EOS with the ICE settlement report showing traders pinning EOS at 3.85 Tcf before settling at 3.82 Tcf on 6/16.

Source: ICE
Where is our estimate on EOS? We have kept our estimate unchanged at 3.72 Tcf (see chart below):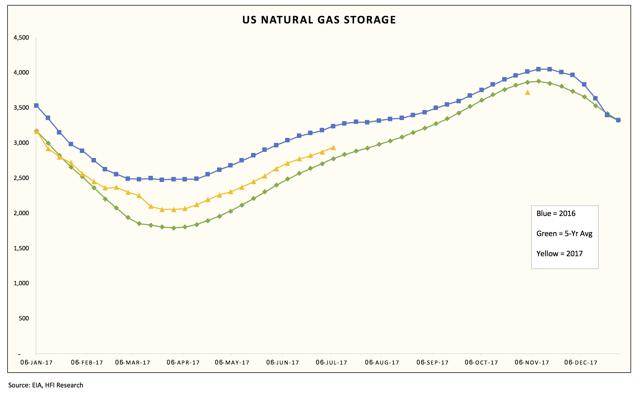 This week's revision was a bit puzzling as traders lowered injection estimates for the next several weeks lower, but expectations for EOS deteriorated. We think as the market realizes how considerably tight we are on a fundamental basis, we think natural gas prices will surprise to the upside (e.g. move higher along the curve).
Here's another look at how the storage balance has looked since the start of injection season (April 7, 2017):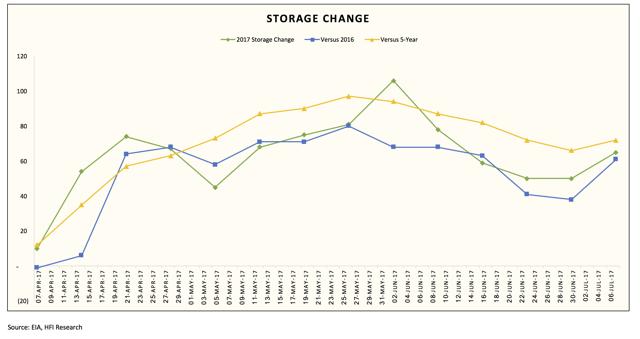 Here's the raw data: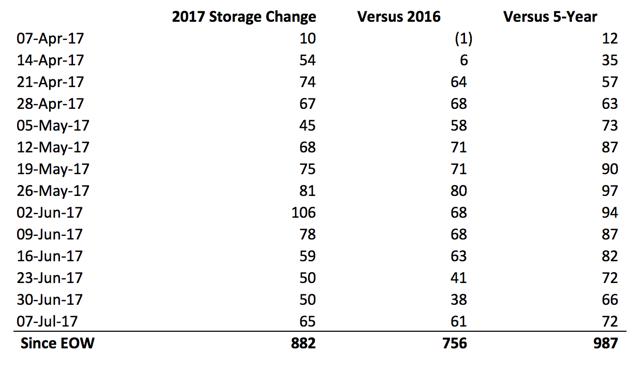 Since April, storage injections (including our estimate until 7/7/17) are 882 Bcf. This would compare to +756 Bcf in 2016 and +987 Bcf for the five-year average.
If the market tightness continues, we see storage falling below the five-year average sometime at the end of July (base case) to the middle of August (bear case). Unless prices move sharply above the fundamental supported price (price level determined by sensitivity in power burn), we do not see the market tightness disappearing anytime soon.
We update our injection forecasts on a daily basis, but our EOS forecast of 3.72 Tcf has stayed unchanged over the last several weeks. We think the recent uplift in EOS forecast from the consensus will taper off in the coming weeks and could help push prices up across the curve.
For more detailed reports on the current fundamentals along with natural gas trader commentary, please consider signing up for HFI Research.
Disclosure: I/we have no positions in any stocks mentioned, and no plans to initiate any positions within the next 72 hours.
I wrote this article myself, and it expresses my own opinions. I am not receiving compensation for it (other than from Seeking Alpha). I have no business relationship with any company whose stock is mentioned in this article.