Introduction
This is our third public article on PBF Energy (NYSE:PBF). In our first article, we outlined some reasons why we believed that PBF could be a good value based upon discounted asset value and forecast EBTIDA. In our second article, we notified that we had initiated a long position on May 26th after PBF stock experienced a steep decline. In the second article, we also outlined why we believed that the troubles coinciding with PBF's Torrance acquisition have been fully priced into the stock.
In this third article, we update a few items and reiterate our long thesis. First of all, we found out after we purchased our PBF shares that PBF insiders were buying over $1.2 million in shares the same week as our initial purchase. We take comfort in the fact that PBF insiders see the same deep value that we see in the stock. Secondly, PBF shareholders currently enjoy nearly a 6% dividend yield, which should enable investors to remain patient while the share price continues to bottom out.
Fundamental Value
On a fundamental level, the value of PBF's refining assets are valued at about 50% of the value of several of its peers. Tesoro (NYSE:TSO) has only 22% more nameplate refining capacity, but its enterprise value is almost 300% higher than PBF (as seen below). We understand that Tesoro has a more significant retail presence and a greater concentration of refineries in the typically more lucrative Western US. Nevertheless, we believe that a 300% valuation premium is difficult to substantiate.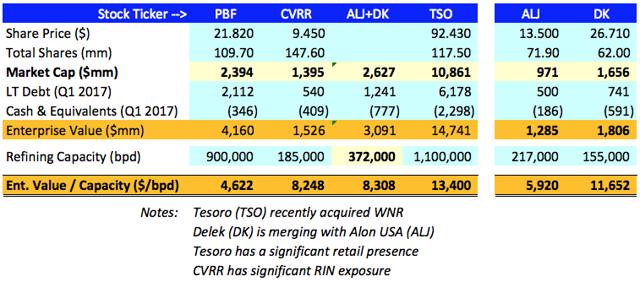 CVR Refining, Inc. (NYSE:CVRR) is more of a pure refiner like PBF; however, CVRR has more RIN exposure and PBF is more geographically diversified. We find the nearly 200% enterprise value premium for CVRR over PBF difficult to justify.
A Look at the Charts
PBF has declined steadily since late 2016, and appears to have found a bottom near $19/share. Last week, PBF sold off substantially on Wednesday along with many other energy names. On Friday, PBF recovered almost back to its June highs.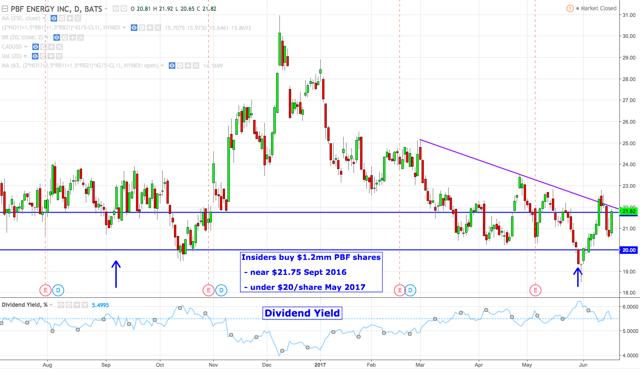 The chart below shows PBF stock graphed together with a generic refiner "crack spread" - the gross refinery margins obtained from converting crude oil into gasoline and diesel. The red line is the 60 day moving average, which is roughly the quarterly average gross margin for a refiner.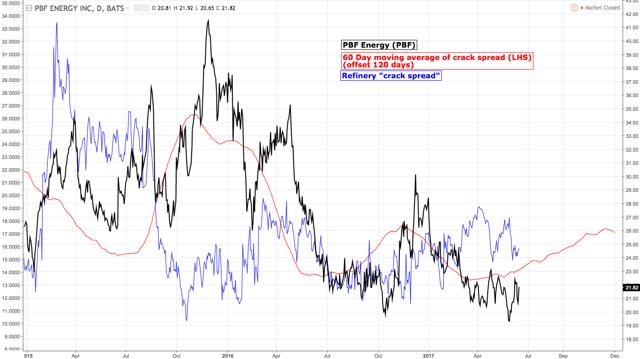 We found that if we offset the crack spread 120 days to the right, then the correlation between PBF stock and average refining margins become more apparent. This offset correlation could be due to the fact that many investors look at trailing financial metrics to make investment decisions. If so, it is likely that the PBF share price will continue to rise after its next earnings release.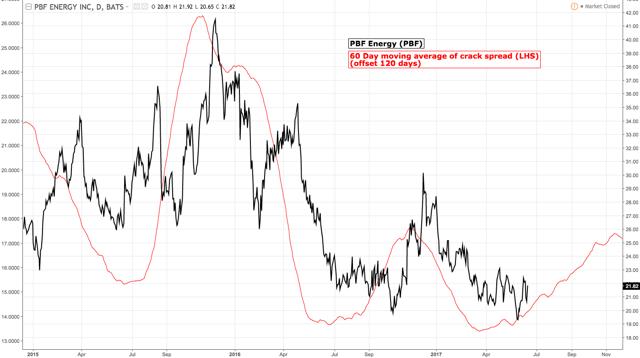 Potential Risk Being Mitigated
The biggest risk that we can see with the PBF shares is the recent cash burn. Over the last two quarterly reports, PBF's cash balance has declined from $914 million to $217 million. This decline in cash can be attributed to declining refining margins, unplanned outages, along with relatively high capital expenses.
Investors may be cautionary as they consider the impact of either equity dilution and/or a reduction in PBF's cash dividend.


Source: PBF 10Q
On the other hand, PBF has just closed a $725 million debt offering, which was used in part to pay off more expensive notes. By our estimation, this private placement will enable PBF to more than weather its current cash crunch. Again, the very large insider purchases were made just 2-3 days before the debt private placement was supposed to close.
Disclosure: I am/we are long PBF.
I wrote this article myself, and it expresses my own opinions. I am not receiving compensation for it (other than from Seeking Alpha). I have no business relationship with any company whose stock is mentioned in this article.