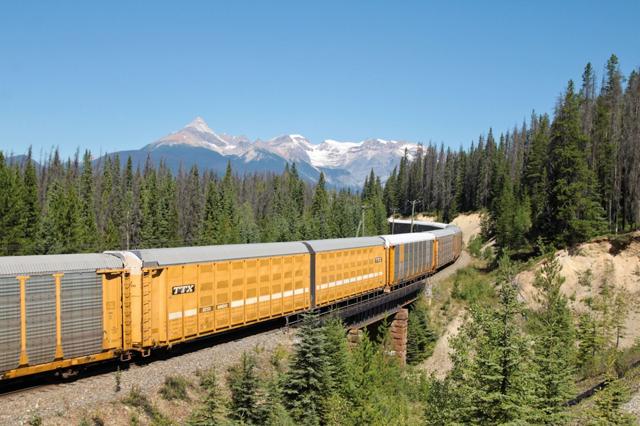 Source: Google Images
Review
Seeking Alpha provided an update from Bank of America Merrill Lynch (BAML), which issued a warning on U.S. auto sales. Specifically, growth for autos was estimated by BAML to decline to 13 million units by 2021, reflecting an approximately 26 percent decline from 2016's 17.5 million unit sales. It is assumed that these numbers are related to light duty vehicles, but there was no direct source to BAML's report.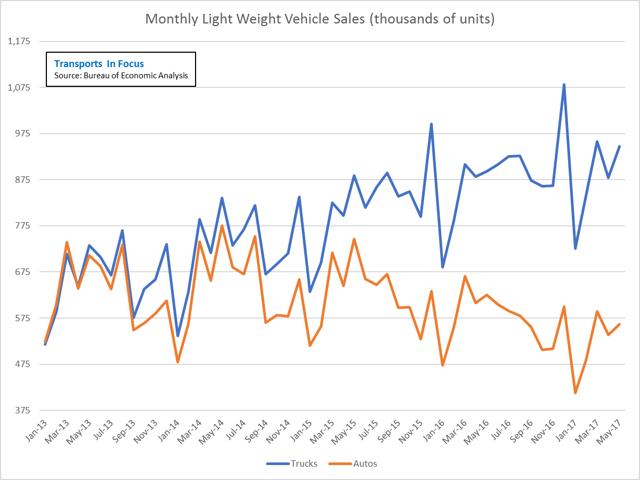 Recent light duty vehicles unit sales have stalled. For 2016, growth was flat from 2015 at 0.4 percent. Through May of this year, growth was at -2 percent, placing our first negative year since the Great Recession. BAML's estimate would basically put U.S. light duty unit sales at a "recession-type" performance level. If the current decline remains throughout 2017, unit sales would be approaching 17.1 million.
The vehicle mix has shifted recently though, as growth for light duty trucks has remained strong while autos have diverged. During 2016, light duty truck unit sales increased by 7.2 percent, while auto unit sales declined by -8.6 percent. Through May, light duty trucks were up 4.8 percent, while autos were down -11.6 percent.
Recently, some Class I rails have reported updated expectations for their respective rail businesses. According to ShipCarsNow, 70 percent of new vehicles are shipped by rail. With over 17 million unit sales in a given year, economies of scale have made the rail industry become a strong competitor for both automobile and parts shipments. We still need to remember that while rails have a strong role in the supply chain, trucking companies remain an important mode for last-mile deliveries.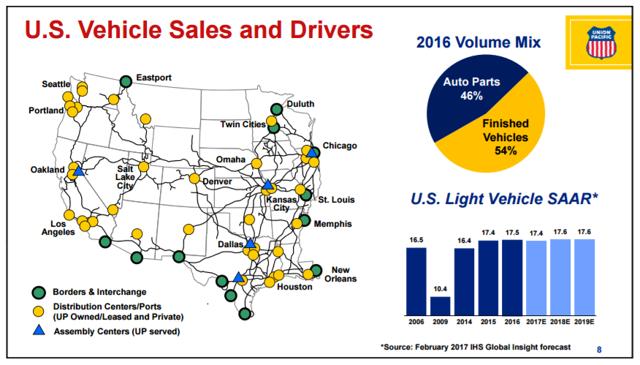 Source: Raymond James 38th Annual Institutional Investors Conference, March 8, 2017
According to one of Union Pacific's (NYSE:UNP) most recent investor conferences, the Class I railroad is projecting flat growth for five consecutive years from 2015 through 2019. For 2017 through early June, Union Pacific's automobile and parts rail traffic was down -6.4 percent.
Union Pacific does have exposure to light duty truck shipments, but based on the first quarter -7.8 performance for finished vehicles, the mix is more weighted towards light duty autos. The parts business has been stronger up 5.1 percent in the quarter. Overall, traffic was down -2.3 percent in the first quarter; clearly, the further decline in autos has weighed on more recent performance.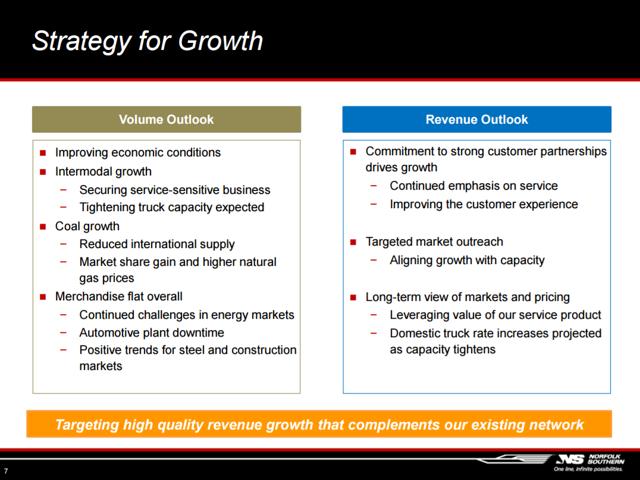 Source: Wolfe Research 10th Annual Transportation Conference, May 24, 2017
Both Norfolk Southern (NYSE:NSC) and CSX (NYSE:CSX) have sustained -1.2 and -1 percent rail traffic for automobile and parts performance through early June. Similar to Union Pacific, these East Coast rails have witnessed negative performance, albeit at a much more marginal rate.
A key factor to consider is automobile plant downtime, as highlighted in Norfolk Southern's recent presentation. Additionally, foreign imported automobiles and parts have also played a role in improving rail traffic performance. Both Norfolk Southern and CSX have benefited from these factors.
For Canadian rails, the story has been mixed with Canadian National (NYSE:CNI) having 7.2 percent growth for automobile and parts traffic, while Canadian Pacific (NYSE:CP) has witnessed declines at -19.9 percent. This performance is associated with market share competition for Canadian produced light duty vehicles and parts within Canada and imported automobiles and parts between the two rails.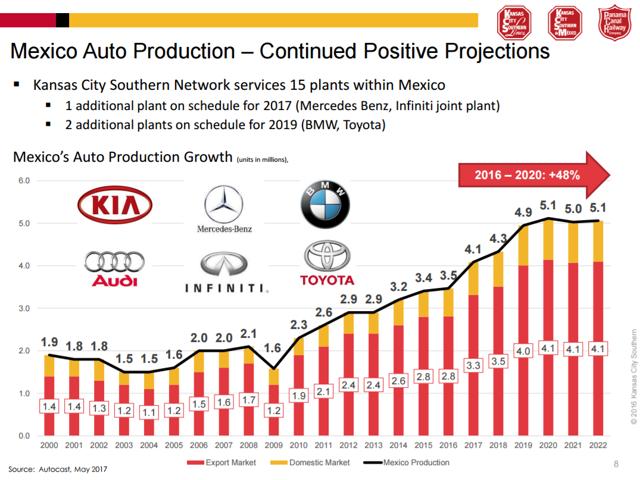 Source: Citi 2017 Industrials Conference, June 13, 2017
The two top performing Class I railroads for the auto business have been Kansas City Southern (NYSE:KSU) and BNSF (NYSE:BRK.A) (NYSE:BRK.B). Kansas City Southern's competitive advantage is its Mexico market presence. The company's projection for Mexico auto production is expected to continue to increase substantially through 2020 and to flatten thereafter. Through early June, the company's automobile and parts rail traffic was up 25 percent.
Kansas City Southern's rail traffic growth has exceeded the light duty seasonally adjusted annual rate (SAAR) consistently over the past few years, the exception being plant closures for retooling. Kansas City Southern's strength remains its network access to 15 plants within Mexico, including 3 new additional plants on the way in the near term.
The two important factors that have benefited Kansas City Southern have been the Mexico mix to more light duty trucks and increasing non-U.S. exports. From 2011 to 2016, light duty truck and sport utility vehicles (SUV) unit sales increased from 35 to 43 percent of the total light duty sales. Exports to non-U.S. countries are projected to increase from 18 to 28 percent by 2018 as compared with 2015.
BNSF's automobile and parts rail traffic was up 12.6 percent through early-June 2017. This is partly a result of BNSF's market share for imported finished vehicles and its parts business. Collectively, Kansas City Southern, BNSF and Canadian National reflect the top performing Class Is for automobile and parts rail traffic.
Summary
There is more and more research coming out that directly asserts fundamental changes in vehicle ownership. The combination of anticipated autonomous vehicles and shared use business models is expected to reduce annual vehicle purchases and energy dependency.
It is not clear whether the BAML assertion is their version of the new normal, but 13 million unit sales is definitely a possibility as a result of a recession. I personally do not believe that a recession will be occurring in 2017 or 2018, but I do think that it is more likely to occur at some point thereafter.
If a recession were to occur around 2019, a snap-back return to growth would likely be the case in 2020 and 2021. Without any fundamental shift over the next four years, and the unknown timing of the next recession, it seems like a stretch for the loss of one quarter of 2016's unit sales for light duty vehicles.
While some Class Is have made some cautious statements for the automobile industry's near-term performance, most do not believe that there will be a substantial deviation from the 17.5 million units delivered in 2016. Expectations from Class Is are for a more flat performance result with marginal weakening based upon continued shifts in vehicle unit sales mix.
Disclosure: I am/we are long CNI, KSU.
I wrote this article myself, and it expresses my own opinions. I am not receiving compensation for it (other than from Seeking Alpha). I have no business relationship with any company whose stock is mentioned in this article.