The Amazon (AMZN) - Whole Foods (WFM) merger is throwing anything to do with food into chaos. On Friday, June 17, 2017, Sysco (NYSE:SYY) ended the day down $1.15 or 2.07% on nearly three times average trading volume. There seems to be fear that Amazon will squeeze everyone's profit margin down to 0-3%. We believe Sysco should not be part of this concern as Amazon and Sysco are focused on different customers. Sysco is a leading international food service company that's not entirely dependent on U.S.A. for growth. In our article, we will discuss why Sysco shouldn't be part of this selloff.
It's still too early to tell what Amazon is going to do with Whole Foods. Maybe, Whole Foods will stay the way it is. Amazon could also dramatically cut grocery prices and use its new stores to get into the pharmacy business, small business lending, and showcase its Amazon-branded products. The chart below shows Sysco's diversified customer mix.

Source: Sysco 10-K
A strong and well-covered dividend
Sysco's dividend credibility is well-regarded. Sysco's dividend is one you can be proud to be part of your portfolio. Its dividend prospered during the Great Recession averaging 12.2% growth and had been increased 47 times since being initiated in 1970. Sysco's 16-year dividend growth rate is 10.4%. However, the average dividend growth rate has slowed to 4.1% since 2010.
For the calendar year 2017, Sysco increased its dividend by the largest percentage since 2009; the increase was 6.5%. Increasing earnings per share powered this year's excellent dividend growth. Dividend growth going forward should be higher than 4.1% over the past seven years. We believe for the calendar year 2018, Sysco's dividend will be $1.40. Recent smart acquisitions will keep dividend growth trucking ahead for many years. Don't expect Amazon to pay a dividend anytime soon.
Back to Back Years of Earnings Per Share Growth
After a rough fiscal year 2015, Fiscal Year 2016 was a significant rebound the company needed. The first quarter of 2016 was weighed down by higher payroll and cost associated with the failed merger with U.S. Foods.
"Our first quarter results demonstrate important early progress toward achieving our recently established three-year financial goals," said Bill DeLaney, Sysco president and chief executive officer. "Specifically, our U.S. Broadline operations delivered strong local case growth and excellent gross margin management in a challenging deflationary environment."
The rest of 2016 saw great case volume growth, expenses were controlled that led to a $0.49 or 42.6% increase in full year diluted EPS to $1.64. Fiscal 2016 saw sales increase 3.5% to $50.4 billion, net income increased 38% or $262,849 million to $949,622 million.
For fiscal year 2017, on July 5, 2016, Sysco became a true international company when it completed its $3.1 billion acquisition of London-based Brakes Group, a leading foodservice distributor in the United Kingdom, France, and Sweden with additional operations in Ireland, Spain, Belgium and Luxembourg. This acquisition immediately boosted the bottom line for Sysco.
The first quarter of 2017 saw U.S. sales growth of 0.8% to $9.5 billion. The international division which included results from Brakes Group for the first time saw sales growth of 93% to $2.7 billion. The Brakes Group contributed most of the sales gains. At the end of 2017, third-quarter diluted EPS was up 15.8% or $0.06 year over year to $0.44 per diluted share. Sales increased 12.7% to $13.5 billion. Through the first three quarters of 2017, CEO Bill DeLaney has this to say:
"I am very pleased with our third quarter performance," said Bill DeLaney, Sysco's chief executive officer. "We saw solid operating income growth, driven by strong local case growth and effective expense management. We are making continued progress on our strategic multi-year initiatives, which provide a platform for ongoing value creation for our customers, associates and shareholders. Going forward, we remain focused on growing our business in a disciplined, profitable manner and are confident in our ability to achieve our three-year plan financial objectives."
We don't believe that Amazon buying a grocery store will cause a lot of people to stop eating out. With busy lives, it's hard to be home all the time to prepare and cook every meal at home. People will want to continue to enjoy a great meal outside of their home that they don't have to cook, dishes to wash, and a table to clean afterward.
Over the last 47 years, Sysco has completed 100+ acquisitions that have built an unmatched distribution network. Sysco operates 194 distribution facilities throughout U.S., Canada, the Bahamas, the Republic of Ireland, Northern Ireland, and that's not including the recent Brakes Group acquisition. Sysco has strong relationships with its 425,000 customers spread across the lodging, restaurants, healthcare and educational facilities, government, and other foodservice customers. Look for Sysco to keep making bolt-on acquisitions to keep its dominance.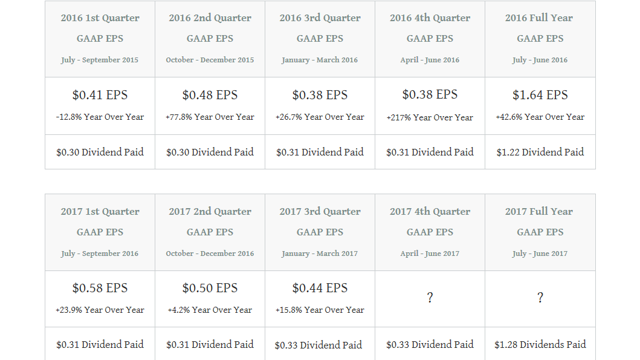 Source: Dividend Risk Metrics
The diluted EPS dividend payout ratio is becoming much more sustainable.
In the last two years, Sysco has made significant improvements in paying out less in dividends than what it earned in profits. Three of the four quarters in 2015 were not looking good for the dividend. Then with 2016 came a new three-year plan to cut cost and increase profits that has done wonders to make the growing dividend look very safe.
For the first time since 2009, Sysco increased the quarterly dividend by more than $0.01. This year $0.02 increase in the quarterly dividend may not sound like much, but it's a sign of confidence in the strength of the company's profits going forward. Nobody comes close to Sysco's dividend strength in delivering food to a hungry customer's empty plate.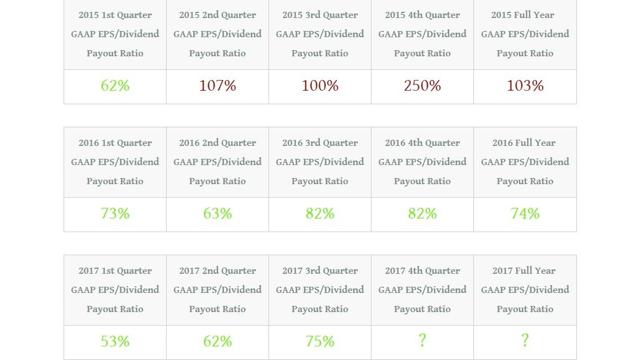 Source: Dividend Risk Metrics
Bye, Bye shares outstanding
Some people think buying back stock is just financial engineering to increase earnings per share. But if you look deeper, share buybacks are a great way to reward investors with more dividends per share. Sysco has done an impressive job at reducing the number of diluted shares outstanding. The biggest share count drop occurred in the 2016 first quarter when 29,337,789 million shares were bought back under a $1.5 billion accelerated stock repurchase program. For the rest of 2016, nearly 3,454,834 million shares were reduced. That's a total of almost 32,792,623 million fewer shares at the end of the fiscal year 2016.
The fiscal year 2017 has seen the buybacks continue along. Nearly 17 million fewer shares are outstanding through the first three quarters of 2017. With fewer shares outstanding, the 6.5% dividend increase for 2017 third quarter only cost Sysco an extra $3 million year over year. With Sysco's stock price at near all-time highs, buybacks might slow down some.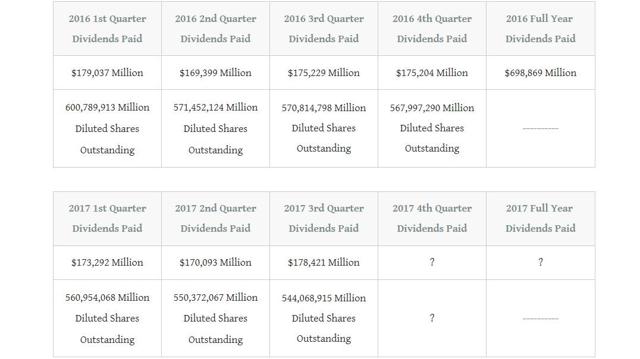 Source: Dividend Risk Metrics
Net income should hit the billion dollar mark
For the first time since the fiscal year 2012, Sysco should see profits hit the $1-billion dollar mark. In the fiscal year 2012, Sysco had a full year net income of $1,121,585. In the fiscal year 2016, Sysco came very close to seeing a billion in profits. Sysco's net income record was set in 2010 with $1,179,983 in profits.
Through the first three quarters of 2017, Sysco has earned $837,332 million in net income. That's just $162,678 million needed in the 4th quarter to hit the billion dollar profit mark. Based on earnings projections, a billion in profits is easily in reach. An excellent fourth quarter could set a net income record for Sysco.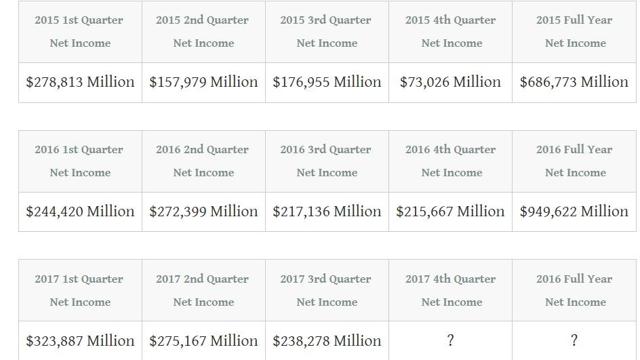 Source: Dividend Risk Metrics
Risk to Sysco
The cost of beef, chicken, pork, or a different food product could rise in price faster than Sysco can pass along to customers could hurt profitability. The cost of fuel is volatile, and fuel prices are out of Sysco's control. Inclement weather can delay/damage crops and cause Sysco to be short of inventory or increase what Sysco has to pay for its vegetables and fruits.
Conclusion
Sysco knows how to operate a lean, low-profit-margin business and thrive. Amazon's grocery business will be targeting people buying food for home, and Sysco targets people who will be eating outside of the home. The selloff in Sysco is unwarranted and represents an excellent opportunity in this dividend powerhouse. Amazon could struggle with the logistics to operate a brick-and-mortar grocery store.
Authors note: Thank you very much for reading my article. Please click "Follow me" on the top of this page if you are interested in receiving more dividend-related articles from me. It's our mission to keep investors informed on a company's dividend strength or weakness. Your feedback is greatly appreciated.
Disclosure: I am/we are long SYY.
I wrote this article myself, and it expresses my own opinions. I am not receiving compensation for it (other than from Seeking Alpha). I have no business relationship with any company whose stock is mentioned in this article.
Additional disclosure: This article was written for informational purpose only and you must do your own research.