By Parke Shall
We know we are probably not telling seasoned investors anything that they don't know right now, but the longer this market goes without having a substantive and much needed correction, the worse it is going to be when it comes. Week after week, quarter after quarter, as the Federal Reserve starts to incrementally tick interest rates a little bit higher, the market has been taking this as a good sign and rallying on the news.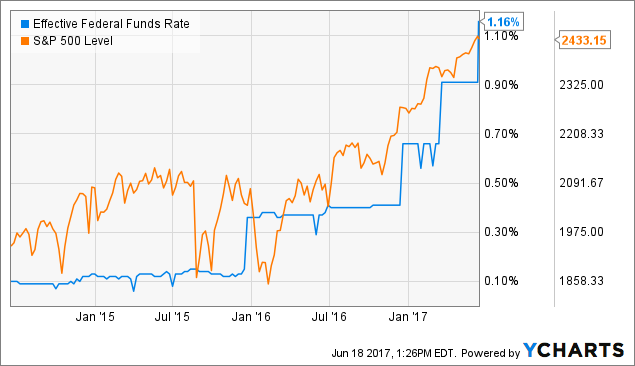 Effective Federal Funds Rate data by YCharts
The psychology of such a move pretty much seems to be that if the Fed can raise rates, it is an indication that the economy is in good shape; and if the economy is in good shape, then investors will continue to prosper. However, we believe that reality is closer to something like "the Fed must meet expectations it has already laid out to raise interest rates, otherwise the market might start to think that the economy isn't in perfect shape."
In essence it is a game of chicken being played with the Federal Reserve and market psychology at a time where the market desperately needs to correct. The volatile swings and near capitulation we have seen in technology stocks over a couple sessions over the last week are proof that once investors start to ditch an idea or abandon a sector that leverage and ETFs can really help fuel a push lower in a relatively short amount of time.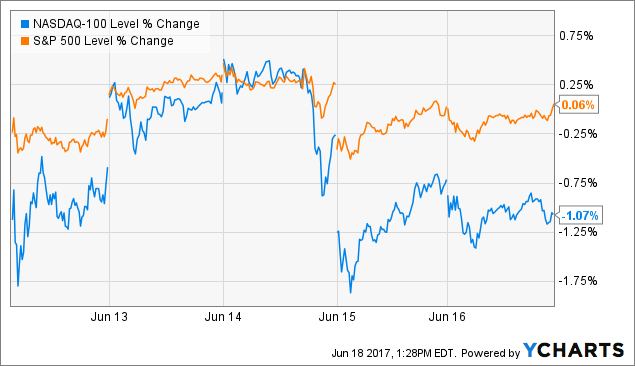 Days when the Dow is near unchanged or green but the NASDAQ exchange has slipped over 100 basis points are clearly indicative of a rotation out of the technology sector and likely into lower-priced "value" stocks in financials and sectors like retail.
We have never been privy to more proof that the market is overheated and euphoric than in the market's reaction to these interest rate hikes. At any other time, in any other place, after the market has rallied for 10 years on the lowering of interest rates, we should see some correction and pull back in equities once the Federal Reserve raises rates. Now we have had four rate hikes that have finally pushed interest rates back over 1%. While this would be considered extraordinarily low by the standard set several years ago, this is going to start to cause a noticeable uptick in debt across the board: Treasury debt, consumer debt, mortgages, student loans and peer-to-peer lending will all be negatively affected. If you believe like we do that the American consumer has basically spent themselves out of money over the last 10 years, then you also have to believe that this is a terrible time for the cost of servicing debt to move higher.
The NASDAQ pullback that took place over the last week is a surefire sign to us that the market is about to hit its pressure point and blowout its "blowoff valve". After 10 years of bull market, the market has simply grown too big and too expensive for any other outcome to be likely. If we don't see a broader market correction, we may wind up seeing 10 years of the market trading sideways as productivity and the economy look to catch up in a manner that would make today's stock prices once again look cheap on an earnings basis. Either scenario isn't great for long only investors right now.
Right now we are at a psychological peak. This is, we believe, one of the factors that is causing the market to shake off this interest rate news and still maintain its flight level. However, the affects of these rate hikes are not something that you see the day of, or even the week after. We will really start to continue to see the negative affects of these rate hikes moving forward over the next few quarters and possibly into the next couple of years. At the same time, if the Federal Reserve is serious about essentially tightening and reducing the size of its balance sheet, we could be in for a very volatile couple of years.
The point is very simple. Lowering rates to cause an equity market boom is fine. But investors cannot expect the same type of reaction over the course of the long term from the stock market in a rate hike environment where the Fed is reducing the size of its balance sheet. It simply doesn't make sense unless you are full-scale just betting on the government to come in with a bailout at anytime that it's necessary and prevent bubbles in areas like subprime auto, consumer credit and student loans from bursting. We know that big government is the USA's policy, but even we believe the government shouldn't (and won't) get that big.
We have adjusted our strategy accordingly and have a short allocation on right now that is near our maximum threshold. At any given point the most capital we like to allocate to short positions is about 40% while we maintain a 60% long position in value stocks, dividend payers and special situations. Our short allocation has basically been maxed out for the last couple of quarters. The companies that we look to target as shorts are companies that also could be negatively affected by interest rates rising. These are companies with levered balance sheets whose future cash flow streams, for one reason or another, may be in question.
Disclosure: I/we have no positions in any stocks mentioned, and no plans to initiate any positions within the next 72 hours.
I wrote this article myself, and it expresses my own opinions. I am not receiving compensation for it (other than from Seeking Alpha). I have no business relationship with any company whose stock is mentioned in this article.