Since taking over as CEO, Mary Barra has made some significant changes to General Motors' (NYSE:GM) business with a laser-like focus on one goal: maximizing free cash flow per share. Her three-pronged strategy for transforming GM into a leaner and meaner machine involves affecting both the numerator and denominator of the FCF/Share equation by: (1) Boosting the numerator by narrowing the focus of the vehicle portfolio; (2) Freeing up additional cash flow by narrowing the company's market focus to best fit their narrower portfolio focus; and (3) Reducing the denominator by repurchasing high percentages of shares. Though this strategy may appear to some as reducing the company's historic position as a global auto leader that competed for title of largest auto-maker, Mrs. Barra understands that at the end of the day shareholder returns = earnings per share and is doing everything she can to maximize them, making GM an attractive and undervalued long-term investment.
1. Reduced Portfolio
Due to sustained low oil prices and a population that increasingly values convenience and performance, the U.S. auto market has shifted away from small cars towards SUVs and crossovers. GM has been well-positioned to profit from this trend through its award-winning portfolio. Looking ahead to 2018, the company appears well-positioned to continue its strength in this market: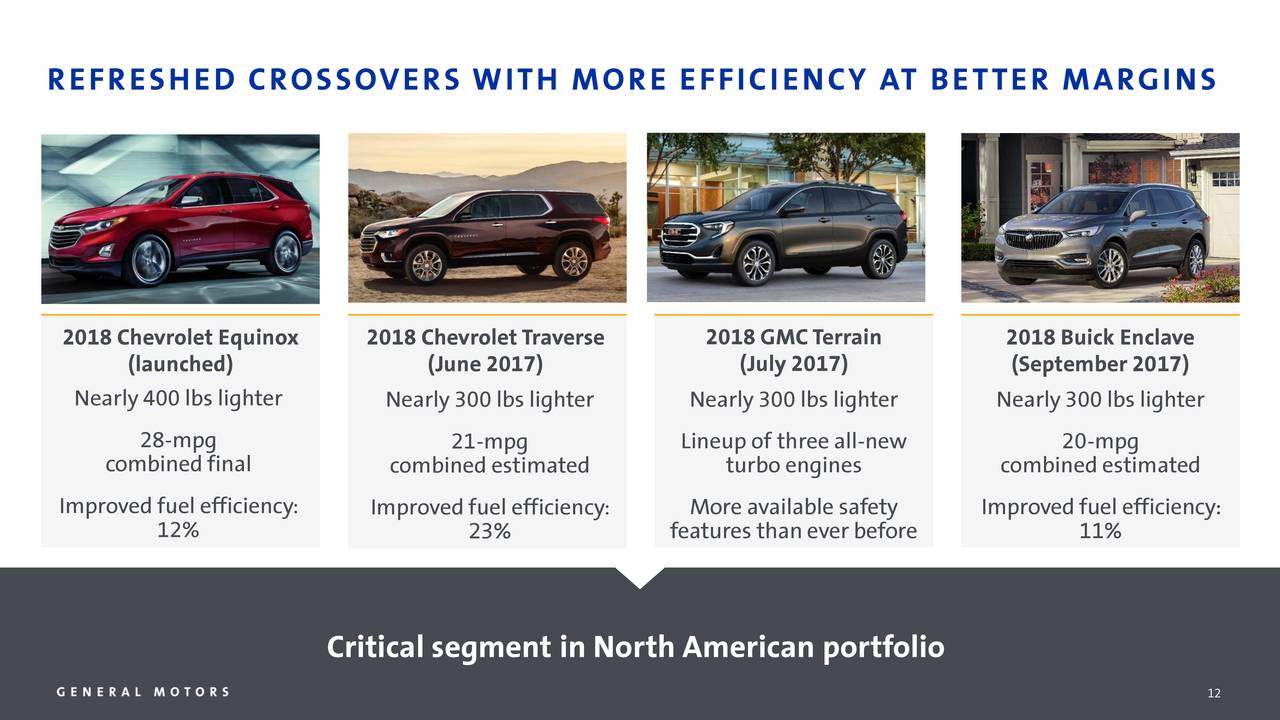 Driving GM's ongoing success in this market is its decision to shift capital investment away from sedans and small cars towards its more profitable SUVs, crossovers, and trucks while also increasing its new vehicle launch cadence. From 2011-2016 GM averaged a 26% launch cadence with only 38% of sales being trucks, SUVs, and crossovers. Due to GM's drastic shift towards this market, the projected launch cadence from 2017-2020 will be 38% and 52% of sales will be trucks, SUVs, and crossovers. By reducing its efforts to compete against competitively advantaged foreign rivals in car market share it has been able to focus more capital on winning in higher margin markets where it is better suited to compete.
Another way in which GM has reduced its portfolio requirements is by increasing vehicle commonality, greatly streamlining its manufacturing operations. Combined, these efforts have greatly improved free cash flow through reducing capital expenditures and boosting profit margins.
2. Reduced Presence
The changing composition of GM's portfolio fits hand-in-glove with its changing international presence: as GM has reduced the scope of its product focus so it has reduced its global scope. By exiting international markets that are both unprofitable and do not share product commonality with its drive towards SUVs, crossovers, and trucks, they are able to improve company profit margins and return on invested capital while also freeing up additional cash flow.
3. Reduced Shares
As detailed in a previous article, Marry Barra's decision to invest heavily in share repurchases rather than raising the dividend is capitalizing on the sustained underperformance and undervaluation of GM's shares in order to create long-term value for GM shareholders by maximizing free cash flow per share. With $5 Billion dollars allocated for share repurchases this year alone, General Motors investors should see their share of the company (and its free cash flow) grow by about 10%. Furthermore, not only will this result in greater shareholder ownership of earnings, but it will also free up even more free cash flow in the future through less total dividend payouts to buy back even more shares and/or raise the dividend.
Investor Takeaway
In the midst of distractions from activist investor David Einhorn, analysts preaching gloom and doom for the auto industry, and Tesla's surging share price, Mary Barra has kept a clear-eyed focus on what matters most: maximizing long-term shareholder returns through free cash flow per share equation optimization. By focusing on boosting the numerator of the equation through reducing capital commitments to its small car portfolio, reducing parts variation, and reducing its presence in unprofitable markets and reducing the denominator through massive share buybacks, the company has built increasingly impressive fundamentals (FCF/Share, BV/Share, P/E, ROE, ROIC, and profit margins) that value investing theory shows will eventually result in share price appreciation. General Motors is my second largest holding and I recommend you consider it as a long-term investment as well.
Disclosure: I am/we are long GM.
I wrote this article myself, and it expresses my own opinions. I am not receiving compensation for it (other than from Seeking Alpha). I have no business relationship with any company whose stock is mentioned in this article.