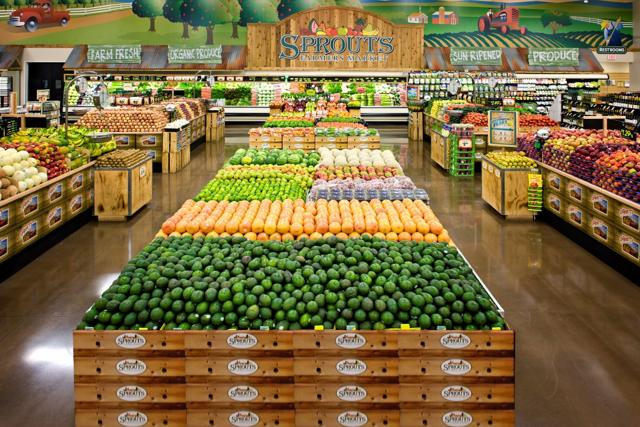 Source: Google Images
Review
Yesterday, Amazon.com (NASDAQ:AMZN) announced its intent to merge with Whole Foods Market (WFM) for a $13.7 billion cash transaction. Analysts soon after upgraded the purchase price of $42 per share to $48 per share suggesting that a bidding war could ensue. This remains to be seen.
The potential benefits of the deal include an expected change of services from both Alphabet Inc. (NASDAQ:GOOG) (NASDAQ:GOOGL) and Microsoft Corporation (NASDAQ:MSFT) to Amazon. Prior to the deal announcement, Whole Foods held a partnership with Alphabet for grocery delivery, and was a client of Microsoft's cloud services.
Just as Whole Foods' partnership and client relationships may be soon changing, Amazon's partnership with Sprouts Farmers Market (NASDAQ:SFM) for grocery deliveries will likely be coming to an end as well. But this is not the biggest concern for the grocery industry and broader markets.
The market reaction to Amazon's deal with Whole Foods was extremely volatile to say the least. Companies negatively impacted ranged from commodity-based including Cal-Maine Foods (NASDAQ:CALM), Sanderson Farms (NASDAQ:SAFM), Calavo Growers (NASDAQ:CVGW) and Fresh Del Monte Produce (NYSE:FDP), to other grocers and discount variety stores including Wal-Mart Stores (NYSE:WMT), Target Corporation (NYSE:TGT), The Kroger Company (NYSE:KR) and of course, Sprouts.
Even non-food retailers including Hanesbrands (NYSE:HBI) and Ulta Beauty (NASDAQ:ULTA), among others were impacted. Packaged and processed foods like McCormick Incorporated (NYSE:MKC) and Campbell Soup (NYSE:CPB) were impacted, as well as foodservice companies including Sysco (NYSE:SYY), US Foods Holding (NYSE:USFD) and United Natural Foods (NASDAQ:UNFI).
A core driver for this performance was related to uncertainty and speculation surrounding Amazon's foray into the grocery market. This ranged from concerns of a return to deflation resulting from more intense competitive pricing, to the supply chain of how grocery shopping could be delivered. As a direct result, Unified Natural Foods, with greater than 30 percent exposure to Whole Foods, plummeted, as the market immediately questioned this market share over time.
The last two days of the week were quite rough for grocers in particular. Kroger announced its quarterly results, which were as expected. But the company also lowered guidance and got analysts in a frenzy over its statements surrounding competitive pricing.
Over these two days, Sprouts' stock price dropped by over -15 percent. The uncertainty surrounding Amazon's acquisition move will take some time to shake out. Of interest, the pressing issue of Kroger's results and downward revisions were contradictory to Sprouts' first quarter results.
Sprouts actually increased guidance for 2017, contrasting Kroger's downward revision. But Kroger's results came as more time has passed this year. In line with Sprouts' performance, the consumer price index (CPI) has witnessed 1.4 percent inflation through May. Additionally, grocery retail sales have remained positive. The Amazon deal aside, Sprouts was set up to potentially continue to outperform its grocery peers at the next quarterly update.
Now that the market is in a frenzy from Amazon's acquisition offer for Whole Foods, Sprouts immediately rises to the top as a premium secondary acquisition target. The Whole Foods deal on paper was a so-so deal. The company is being purchased at 10.5 times EBITDA at an enterprise value of $14 billion.
The average stock price over the past 12 months was $31.40 per share, so the $42 price reflects a 34 percent premium. Amazon will not need to pay out any dividends, nor buy back stock once Whole Foods is merged. Whole Foods' free cash flow return on net sales was at 2.6 percent over the most recent trailing twelve-month period (TTM).
For Sprouts, the company currently trades at a $3.3 billion enterprise value, and 11.4 times EBITDA. Sprouts free cash flow return on net sales was at 1.6 percent on a TTM basis. Over the past year, Sprouts' average stock price has been at $21.61 per share, approximately 3 percent higher than Friday's close.
Based on this comparison, the only advantageous measure in Sprouts' favor would be a premium level above the TTM average stock price. But Sprouts has also been able to continue to grow net sales at a much more robust pace than Whole Foods. In addition, the company increased guidance for comparable store sales and earnings estimates for 2017, after defending its market during last year's deflationary environment.
Summary
I find it very interesting that markets were so volatile after Amazon's deal announcement. I view this reaction as an indication of a shift towards further consolidation. Sprouts stands out as the next target in-line to be acquired. It is uncertain as to who could make a move, but the list could be broad including names like Alphabet, Target, Costco Corporation (NASDAQ:COST) or even a revisit by private players including Albertsons Group.
Companies like Wal-Mart and Kroger would not be as strong of candidates as they will likely continue to scale products and/or more competitive store fronts either organically or through other smaller acquisitions.
Considering a premium of approximately 25 percent to Sprouts' TTM average stock price, and a deal offer could occur around $27 per share. Based on more recent pricing, an offer near $30 could also be a consideration.
This would place Sprouts' enterprise value at a midpoint of $4.4 billion, or 15 times EBITDA, a premium of 43 percent above Whole Foods' acquisition price offer. Amazon likely considered Sprouts, among others in their diligence review for a grocery acquisition. The decision to go with Whole Foods was possibly predicated on Whole Foods' much larger scale, to benefit Amazon's strategies and objectives.
For other players in the grocery market, a deal for Sprouts could be offered at around $5 billion, roughly 36 percent of the price Amazon is looking to pay for Whole Foods. Companies like Alphabet and Costco could fund such a deal with cash on hand, while Target would be around $2 billion short. Based on Sprouts' growth potential and ability to scale further, paying a premium above Whole Foods is warranted, especially with a price tag below $5 billion.
Disclosure: I am/we are long AMZN, CALM, CVGW, FDP, HBI, MKC, SAFM, ULTA, USFD.
I wrote this article myself, and it expresses my own opinions. I am not receiving compensation for it (other than from Seeking Alpha). I have no business relationship with any company whose stock is mentioned in this article.