In late 2015, I began to accumulate a modest position in Macy's Inc (NYSE:M). As for any new investment, I outlined an investment thesis before purchasing any shares. For me, an investment thesis amounts to a summary due diligence statement: all boiled down to a few bullet points.
Why should I own the stock?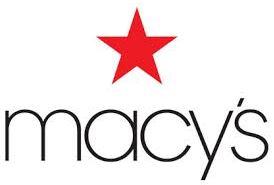 My 2015 Investment Thesis for Macy's Stock
The company's underlying real estate is worth more than the stock
Macy's credit card business remains a valuable cash generator
Online shopping sales are increasing
The company is a potential takeout target
Cash flow is good; there is no immediate liquidity problem, and the dividend appears safe
As I accumulated Macy's shares, I focused upon this foundation premise:
Even if the brick-and-mortar retail business is worth zero, the real estate, credit card, and online shopping businesses were valuable assets. These assets would be developed, monetized, and/or recognized.
I considered the position "speculative."
It's now over a year-and-a-half later, and I've exited my M completely. I've taken a loss and moved on. The magnitude of the loss was mitigated by a strategy of writing short puts and calls to generate additional income, and a couple of trades around a core position. But it's still a loss.
In the remainder of this article, I'll highlight why I believe my investment thesis was wrong. It's always a tough thing to admit you may have blown it. Nonetheless, having a reference to the original reasons for owning a stock is a helpful benchmark.
Macy's Owns Valuable Real Estate
Unquestionably, Macy's owns valuable real estate. Unlike many competitors, the Company owns much of its property in fee.
In January 2016, Starboard Value prepared a detailed presentation outlining a proposal to unlock the value of Macy's real estate holdings. Going back to the previous year, Starboard had become a significant M shareholder, and had management's ear.
The following two slides highlight major components of the Starboard plan.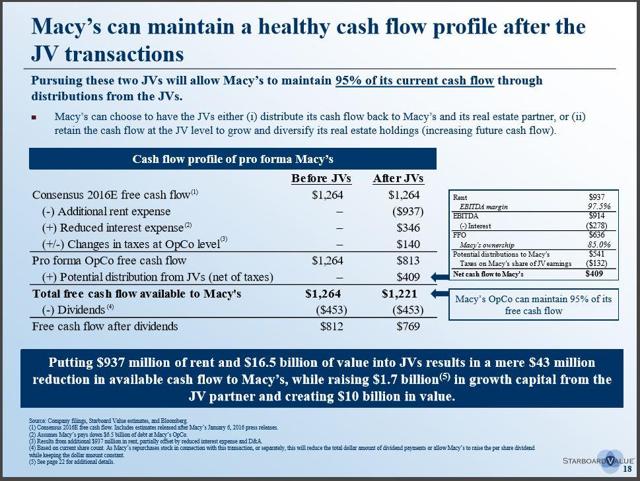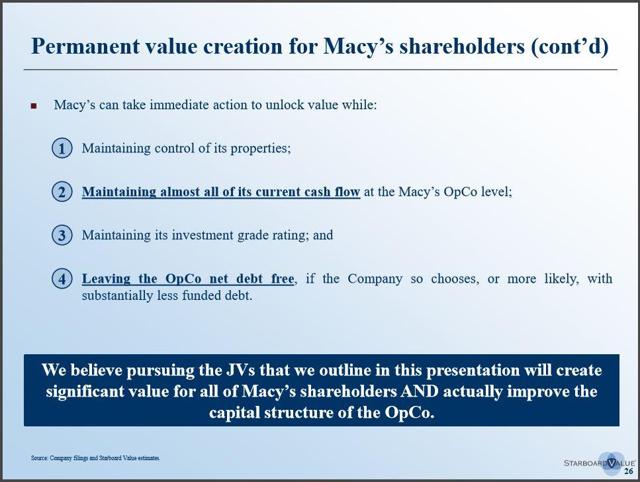 Interested readers can review the balance of the presentation materials here.
At the time, I interpreted the Starboard's work like this:
Starboard indicated M owned real estate with a current market value of ~$21 billion. This excluded property in any mall rated C- or below. To be conservative, I knocked back the estimated value to $18 billion.
Next, I noted the balance sheet listed $7 billion under Property and Equipment. I premised two-thirds of any outright property sales will require taxes to be paid on two-third of the gross gain. To keep the math simple, I assumed a 33% income tax rate.
Therefore, if Macy's could monetize $18 billion real estate, it would pay $4 billion taxes on a $12 billion capital gain. The net/net is $14 billion.
Fast-forward to today, and Macy's Market Cap is $7 billion, and total Enterprise Value is $12.3 billion.
So what's the problem?
Starboard Left the Room
The Starboard Value outline was never enacted. Macy's management did not necessarily reject it outright, but did not embrace it, either. Initial resistance was complicated by a CEO change.
By 1Q 2017, Starboard sold its shares in the company.
So What's Happened On The Real Estate Front?
Well, first of all, Macy's management continues to account for real estate gains/losses in a somewhat opaque manner. This bugged me from the get-go. On two occasions, I spoke with Macy's Investor Relations about it. Indeed, the Company does not list real estate transactions on a separate line item; it stews results into an offset against SG&A expense. Therefore, it's nearly impossible to figure out what's all-in, post-tax, net/net.
Picking through the FY 2016 10-K filing shed a little light on the subject.

Elsewhere in the filing, I noted Macy's recorded cash proceeds of $673 million, $204 million, and $172 million via "Disposition of Property and Equipment" in 2016, 2015, and 2014, respectively.
What do I make of this?
Looking at gross cash proceeds lacks perspective. When compared with reported net gains on these sales, there's some pretty big deltas. This could reflect a host of reasons: payment timing, the nature of the sale contract, and taxation. It's not clear.
In addition, the property sale gains (remember, these are recorded as an offset to SG&A expense, not as a line-item) are nearly wiped out after considering impairments and store closing expense. Impairments are non-cash, while store closing expenses are not.
Finally, after Starboard packed up and departed, Macy's management enlisted the assistance of Brookfield Asset Management. In the most recent 10-K statement, here's what the Company had to say about Brookfield:
In January 2017, the Company finalized the formation of a strategic alliance with Brookfield Asset Management, a leading global alternative asset manager, to create increased value in its real estate portfolio. Under the alliance, Brookfield has an exclusive right for up to 24 months to create a "pre-development plan" for each of approximately 50 Macy's real estate assets, with an option for Macy's to continue to identify and add assets into the alliance. The breadth of opportunity within the portfolio ranges from the additional development on a portion of an asset (such as a Company-controlled land parcel adjacent to a store) to the complete redevelopment of an existing store. Once a "pre-development plan" is created, the Company has the option to contribute the asset into a joint venture for the development plan to commence or sell the asset to Brookfield. If the Company chooses to contribute the asset into a joint venture, the Company may elect to participate as a funding or non-funding partner. After development, the joint venture may sell the asset and distribute proceeds accordingly.
Next, during the June 6, 2017 Investor Day presentation, management offered a segment on Macy's real estate. Two slides supplemented the aforementioned: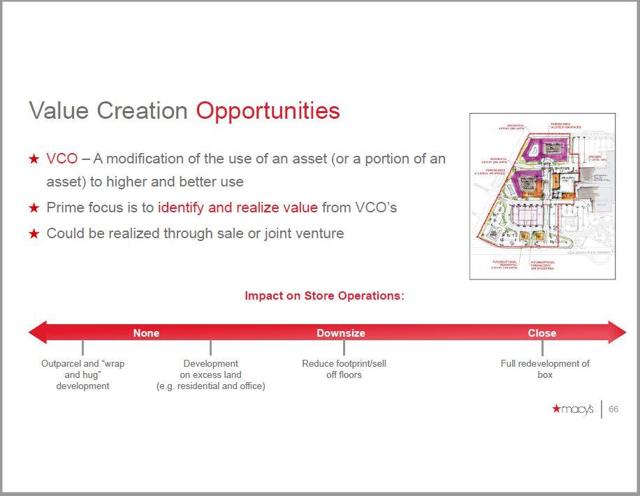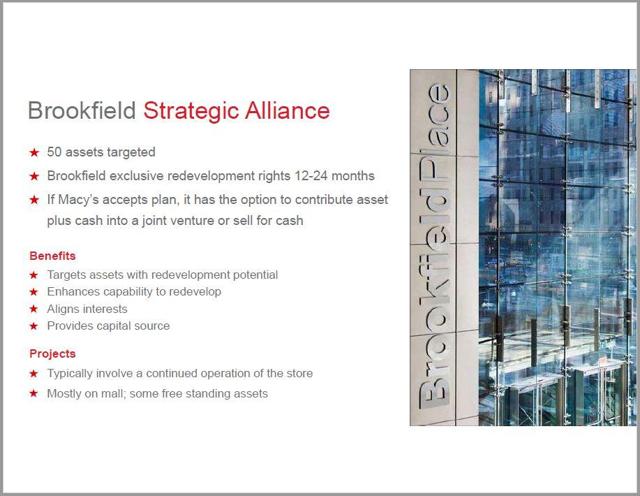 I have no issue with hiring Brookfield Asset Management and the "alliance" concept. However, after reading through the materials and listening to the Investor Day presentation, I find few concrete plans, and no targets or expectations.
Evidently, a year or two from now Brookfield will make a "pre-development" proposal to Macy's management. Thereafter "if" the company decides to contribute assets to a JV, a funded or non-funded arrangement may be considered, and a partnership agreement will be enacted. This may turn out well; however, it's down the road, and lacks much current substance.
Unlocking Real Estate Value Isn't Urgent Nor Transparent
Over the past 3 years, gross property sales were meaningful, but did not seem to generate meaningful net/net results. Yet several significant properties were sold or restructured (Brooklyn, Seattle, Minneapolis, and San Francisco).
Asset sale reporting is opaque. Net gains are reported as a SG&A offset. Related impairments and store closing expenses are excluded from non-GAAP "adjusted earnings."
Activist stakeholder Starboard Value is gone. Management brought in Brookfield Asset Management. Right or wrong, Starboard offered specific plans and expectations to monetize real estate. Currently, Brookfield is working on a set of plans, but it's a year or two away. Management has set no targets or goals.
Macy's Still Has A Robust Credit Card Business
This premise remains intact. However, more and more of Macy's total operating income is comprised of income from the credit card business: but the business isn't growing.
Between FY 2016 and FY 2015, reported CC income fell 11%.

Rising CC business could indicate online shopping is helping offset the slowdown in Same Store Sales.
Unfortunately, it isn't.
Online Shopping Sales Are Increasing...Yeah, But...
Macy's consistently reports online shopping sales are increasing by "double digits." Similarly to real estate transactions, online shopping specifics are lacking in the financials. I contacted Investor Relations to see if I could get the lowdown.
For the past two fiscal years, Macy's has been reporting declining Same Store Sales. FY 2016 S/S/S fell 2.9%, and 2.5% in 2015. During FY 2017, management expects a similar magnitude decline.
I wanted I.R. to tell me online shopping sales were not part of the S/S/S figures. If so, it could indicate brick-and-mortar sales were falling, but online sales were picking up some of the slack.
It's not.
I learned the Same Store Sales figures INCLUDE all online shopping receipts. Therefore, stand-alone brick-and-mortar revenues are WORSE than reported. Since we don't have details around online shopping revenue (other than "double digit growth") it's difficult to understand the net impact.
What we do know is traditional store sales revenue decreases are overwhelming online sales.
The Company Is A Takeout Target...Well, It Was One
I never rest an investment thesis upon takeover speculation, but it's a reasonable ancillary reason to own shares.
In February 2017, Macy's garnered considerable takeover buzz when Hudson Bay (HBC) made overtures. Just a few weeks ago, Amazon (NASDAQ:AMZN) takeover rumors surfaced. Currently, both potential deals look washed up.
Hudson Bay couldn't put together financing; pricing terms hadn't settled, either. Amazon just agreed to buy Whole Foods (WLF). This doesn't preclude a deal with Macy's; however, I find the probability of back-to-back major acquisitions pretty low.
Of course, there's always other suitors. This could yet become a catalyst. For me, hoping for a takeover isn't a good enough reason to own shares.
Cash Flow Is Solid, But Easing
Macy's continues to enjoy good cash flow. I have reasonable expectations management can continue to operate the business, service the debt, and pay the dividend. Nonetheless, Operating Cash Flow is declining. It's been mitigated by asset sales. However, without a clear plan for unlocking pent-up real estate value, it's hard to know how long asset sales are sustainable, and how to handicap resultant future cash flow.
Likewise, near-term Free Cash Flow is strong. This is in-part due to cutting back capital expenditures. Last year, M devoted 38% of its FCF to dividends. While I wouldn't expect a dividend increase anytime soon, I suspect the current payout is safe. The annualized yield is 6.6%.
Conclusion: My 2015 Investment Thesis Is Busted
More than 18 months after opening a M position, I sold remaining shares and took a loss. While there's always a possibility I sold too early in the face of a renaissance, my original investment thesis appears to have taken on too much water.
While Macy's continues to own valuable real estate, I find management doesn't appear to have specific plans or targets for monetizing it. True, Brookfield Asset Management has been asked to put together a proposal. However, such proposal may not be ready for 12 to 24 months, and then there's no assurance management will enact it. In 2016, activist investor Starboard Value offered up a far more specific plan; it was rejected. Starboard has since sold its stock. Transparency doesn't help the situation: asset sales aren't clearly denoted in the financials. I categorized Macy's as an asset play; recent actions call this to question. I cannot tell how committed management is to unlocking the value of the company's real estate.
While, the credit card business remains solid, it's still declining. CC income now comprises more than half of Macy's total Operating Income. On its own, credit cards aren't big enough to prop up the rest of the company indefinitely.
Online sales are improving by double-digits. That's the good news. The bad news is online sales are being overwhelmed by declining Same Store Sales. I learned online business is already included in S/S/S. I had thought the online sales growth was recorded separately versus S/S/S. Better digital sales are nowhere near offsetting brick-and-mortar declines.
Takeover prospects appear to have diminished. Potential suitors Hudson Bay and Amazon look out-of-gas.
Macy's cash flow remains good, though eroding. Cost-cutting and reduced capital expenditures are helping. The big dividend appears secure; at least for now. However, I do not believe a business can "save its way to greater profitability." At some point, it's got exhibit top-line growth or bust itself up.
At Macy's Investor Day, management held FY 2017 EPS guidance at $3.37 to $3.62. However, this adjusted figure INCLUDES real estate gains. I don't buy these gains are core, especially when offsetting Impairments and Store Closing expense are not. Excluding real estate, management guided to $2.90 to $3.15. Presuming core EPS isn't growing (it appears to be going in the opposite direction), I suggest Fair Value Estimate isn't more than a 9x multiple.
Therefore, my best-case scenario is M is a ~$27 stock. At a recent $23 bid, the shares could be a decent trade. But there's a lot that could go wrong.
Macy's is likely to experience a third year of declining margins, core EPS, and cash flow. Plan to redefine how the Company "wins" in a world of changing demographics and buying habits has yet to show results. There is too just much American retail space out there.
And Amazon is sucking all the air out of the room.
Long M shareholders may very well argue Macy's retail will be one of the "last men standing." I agree. However, my original investment thesis set expectations higher (and sooner) than a war of attrition.
Please do your own careful due diligence before making any investment decision. This article is not a recommendation to buy or sell any stock. Good luck with all your 2017 investments.
Disclosure: I/we have no positions in any stocks mentioned, and no plans to initiate any positions within the next 72 hours.
I wrote this article myself, and it expresses my own opinions. I am not receiving compensation for it (other than from Seeking Alpha). I have no business relationship with any company whose stock is mentioned in this article.