The dip in oil prices from more than $50 to $44 a barrel in recent weeks has hammered the energy sector. But I believe ConocoPhillips (NYSE:COP), one of the biggest players in the exploration and production space, should hold up well since the company looks well positioned to pull off its turnaround by improving its financial health.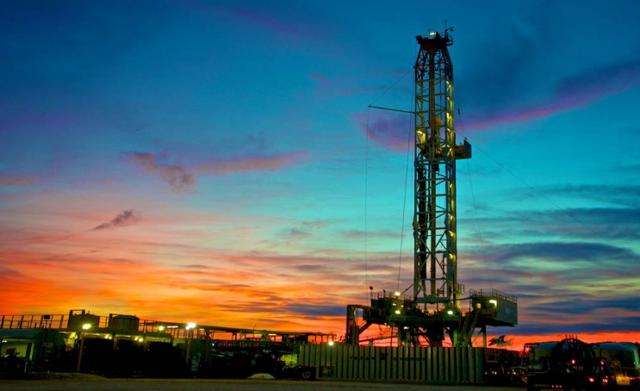 Eagle Ford Shale Drilling Rig, Texas. Image ©ConocoPhillips
Last month, OPEC and non-member countries, including Russia, agreed to extend the production cuts until the end of 1Q18 in order to ease fears regarding a supply glut and prop up prices. But Mr. Market has been unimpressed. In late-May, prior to OPEC's announcement, the US benchmark WTI crude oil was hovering north of $50 a barrel but has since fallen to $44 a barrel at the time of this writing. The market sentiment has turned bearish, particularly with surging production from the US, which rose 12,000 barrels a day to 9.33 million barrels a day in the week to June 9.
A number of analysts, including those from Goldman Sachs and JP Morgan, have cut their oil price estimates. Generally, most analysts believe that oil will end up averaging in the low-$50s this year as opposed to their previous estimate which was closer to mid-$50s. Meanwhile, Vicki Hollub, the CEO of Occidental Petroleum (NYSE:OXY), has warned that the tough times "will continue a little longer."
In this environment, the beaten-down energy sector, which is already the worst-performing sector in the S&P 500 this year, may see further pain ahead. I believe shares of those oil producers that have a combination of a weak balance sheet and a high-cost asset base could be hit particularly hard.
COP's biggest weakness has been its poor financial health. The company has made commendable progress in the downturn by reducing its debt to $26.43 billion at the end of 1Q17 from approximately $30 billion a year earlier. Its net debt ratio, however, is still at 39%, which is high considering that large-cap oil producers with a solid balance sheet, such as EOG Resources (NYSE:EOG), Marathon Oil (NYSE:MRO), Pioneer Natural Resources (NYSE:PXD), and Occidental Petroleum, have a net debt ratio of less than 30%. However, ConocoPhillips might get there by the end of this year.
Remember, COP will close two major asset sales by the end of next quarter. Earlier this year, the company announced the sale of its Canadian oil sands and San Juan Basin assets for a total consideration of more than $16 billion, including $13.3 billion of cash. Note that the company's cash reserves were just $3.36 billion at the end of 1Q17, but they will likely climb significantly in the short term once it collects the cash proceeds related to the asset sales. In fact, the sale of Canadian assets closed on May 17, which means that the company has already likely received associated cash proceeds of $10.6 billion. The sale of San Juan Basin assets is projected to close in 3Q17.
In addition to this, ConocoPhillips has also received 208 million shares of Cenovus Energy (NYSE:CVE) as partial consideration for the sale of Canadian assets. The company plans to gradually unload these shares, currently valued at around $1.6 billion, once the lock-up period expires by mid-November. That should also lift the company's cash reserves while reducing the net debt.
Eventually, I see ConocoPhillips achieving its target of reducing the net debt to $15 billion by the end of 2017, thanks to the asset sales. In a weaker-than-expected oil price environment, the debt reduction goal might get delayed by three to six months, though it seems unlikely considering that the company has already locked in the major divestitures which were expected to fuel the debt reduction. Either way, if the net debt falls to $15 billion by the end of 2017 or early 2018, then I believe that might bring the company's net debt ratio down to 29.8%, which would be in line with those oil producers that have a strong balance sheet.
It also helps that ConocoPhillips does not rely on borrowings to fund its operations. The company benefits from having a low-cost asset base and a low cash flow breakeven price, which allows it to self-fund its operations from internally generated cash flows in a weak oil price environment. This is evident from the fact that ConocoPhillips has reported positive free cash flows in each of the last four quarters. Even in 2Q16 and 3Q16 when WTI oil price averaged in the mid-$40s, the company reported free cash flows of $126 million and $364 million, respectively. If oil prices continue to stay weak around the current levels of mid-$40s, ConocoPhillips will likely replicate its previous performance by reporting free cash flows.
Conclusion
Shares of ConocoPhillips have fallen by more than 4% in the last four weeks, thanks to the weakness in energy prices. But I believe it will likely outperform its exploration and production peers as long as it improves its financial health by lowering debt and continues to report free cash flows.
Note from author: Thank you for reading. If you like this article, then please follow me by clicking the "Follow" link at the top of this page.
Disclosure: I/we have no positions in any stocks mentioned, and no plans to initiate any positions within the next 72 hours. I wrote this article myself, and it expresses my own opinions. I am not receiving compensation for it (other than from Seeking Alpha). I have no business relationship with any company whose stock is mentioned in this article.
Additional disclosure: I own shares of funds that may hold a long position in ConocoPhillips