Today, we are adding Nike Inc. (NYSE:NKE) to our growth portfolio. Nike Inc. has a track record of long-term growth and innovation especially in the footwear category which will fuel growth into the next decade. With the announcement yesterday that the company will layoff 2% of its global workforce, paired with growth concerns, and no help from the Warriors going 4-1 against the Cavaliers in the NBA finals, many investors are becoming fearful. Our take is that people will not suddenly start collecting Under Armour (NYSE:UA) shoes (or Adidas for that matter) and this short term price weakness is a great opportunity for long-term oriented investors. Sneaker collectors have catered towards a common theme; most if not all types of sneakers collected have been Nike branded (ex: Air Jordans, Air Force Ones, Nike Dunks, Nike Skateboarding, Nike Foamposites, Nike Air Max, and recently the Nike Air Yeezy).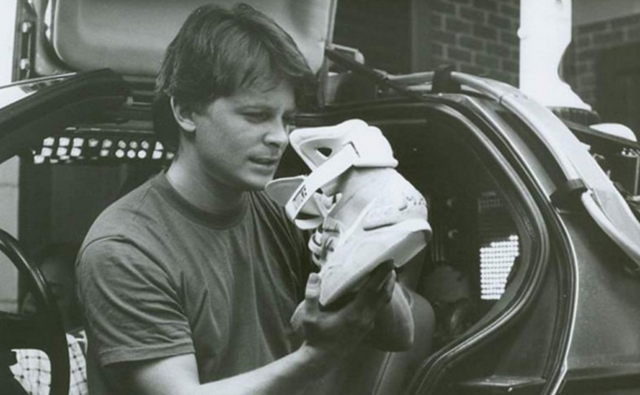 image source: Direct Industry
Nike has consistently innovated and provided customers a high performing sneaker which is also aesthetically pleasing.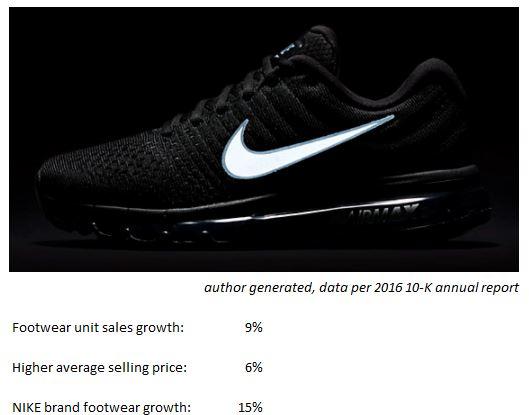 In fact, every Nike brand geography grew revenues for Fiscal 2016. Footwear sales grew 29% in China and 9% in North America. In the last 10 years, total revenue has grown an average of 8%, which has translated into 10% average operating income growth and 12% EPS growth.
Leading the footwear category is basketball. According to this study, over 26 million Americans play basketball. 15.5 million play casual/pick-up basketball and 4.1 million play in organized leagues. 5.8 million play on a school or college team. More people play basketball in the U.S. than any other sport, baseball being the second largest group of participants. A quarter of the 26 million are female, and nearly have under the age of 18. However, participation does not end at high school - a healthy 28% are ages 18 to 34 and 24% are 35 and older.
Nike has a solid foothold in basketball and is gaining traction in soccer as well, the third largest grossing sport league by revenue.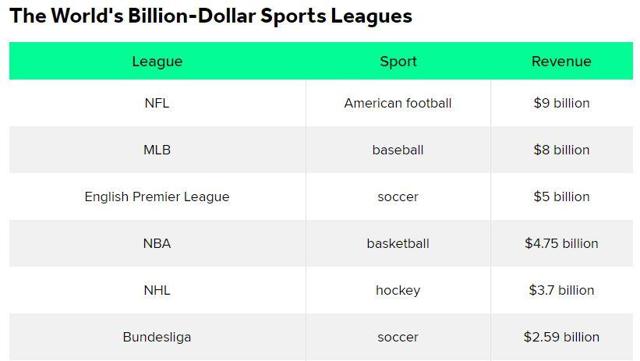 source: bleacherreport
While many quality growth stocks trade at a premium to their historical averages; Nike remains attractively valued.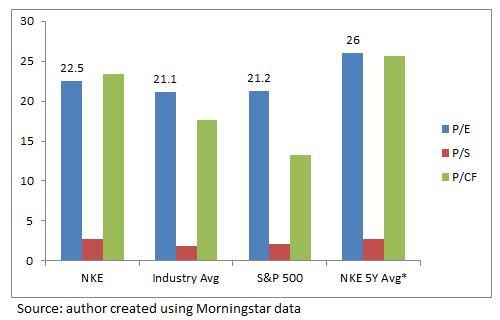 Free cash flow as a percentage of sales is at a healthy average near 9%. While some investors fear that the increases in capital spending is a negative, this really is a moot point considering management's track record of deploying capital well.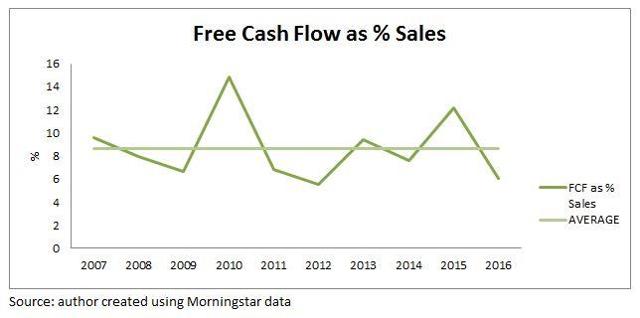 Since 2009 there has been a steady increase in return on invested capital - a very important metric for investors.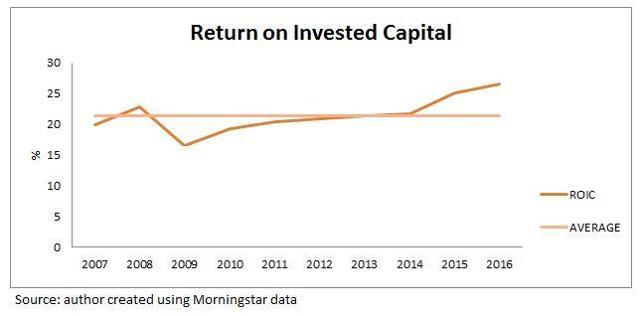 We believe any growth concerns for Nike will be short lived and Nike will continue to dominate this based through continued product innovation and working to lean their business model towards a more direct to consumer approach.
Disclosure: I am/we are long NK.
I wrote this article myself, and it expresses my own opinions. I am not receiving compensation for it (other than from Seeking Alpha). I have no business relationship with any company whose stock is mentioned in this article.