Introduction:
If you have been following the series, regarding The Perfect Portfolio, you will know that I've had some capital sitting on the sidelines for a couple of years. In 2016, after using some of that money to fund various things that the family wanted to do, I decided to put the remaining capital at work in the stock market, specifically in a taxable account.
The primary objective of this portfolio is to generate income, as I am now retired. While I draw Social Security, the taxable account throws off dividend income that I use to supplement that Social Security benefit.
The object of putting new money to work was twofold. First, idle money is not always the best place for money to be and secondly, I wanted to enhance my income. Nothing other than that.
Now, many people will argue that the market is "overvalued" and that the current market has more risk for investors than ever before. While that may or may not be true, depending on how you view the current state of the economy, one thing that I believe to be true is that investors need to be finding and investing in companies that are currently priced at a value.
If you can't find any stocks that you currently believe are priced at a value, then my advice to you is this - don't invest in the market right now. Patience is a virtue. When I began adding new positions to The Perfect Portfolio last year, I was able to find a lot of companies that were priced at a bargain, but we ended up only purchasing 11 new positions.
Some of the target companies "got away" from us with rapid price increases to points where they were no longer as attractive as they were initially and when I put together a target list of potential additions, I often want to make purchases at prices that are lower than the current price of that stock at the time it gets added to my list. Make sense?
What Are We Looking At Now?
As I mentioned in my previous article, I like to focus on Dividend Growth Stocks. That does not keep me from taking a position in a stock that is not a DG company, however. With those additions, my thought process is more oriented toward a potential capital gain play, rather than a long term hold as a dividend grower.
I took the time to run a screen at my broker web site. My focus was on companies in the S&P 500 and that paid a dividend.
I also wanted these companies, in the screen to have their current yield be greater than their 5-year historic yield.
I purposely ignored companies with current yields above 6%. The companies that would have been included, but that were not, are Mattel (NASDAQ:MAT), Macy's (NYSE:M), Seagate Technologies (NASDAQ:STX), Iron Mountain (NYSE:IRM), and Century Link (NYSE:CTL). Feel free to explore those 5 stocks as potential purchases for your own portfolio. They just don't float my boat as a group. But that's an opinion.
So, some companies just filtered themselves out of the equation, because they had a current yield point that was less than their historic norm. Which is the opposite condition from what we are looking for as our starting point.
Once I had the companies screened, I broke them into 4 groups. The first group were Dividend Champions. The second group were Dividend Contenders. The third group were all Dividend Challengers, and the fourth group were stocks that paid a dividend, but had not achieved the status of being on the CCC lists.
A Break Down Of Potential Target Stocks:
My initial screening produced a number of companies for each category as outlined above. I have highlighted in "blue" the companies that made these lists to show you companies that we already own in The Perfect Portfolio.
The Champions List:
Of the companies produced in the screen, there were 13 companies that were Dividend Champions. Those companies are: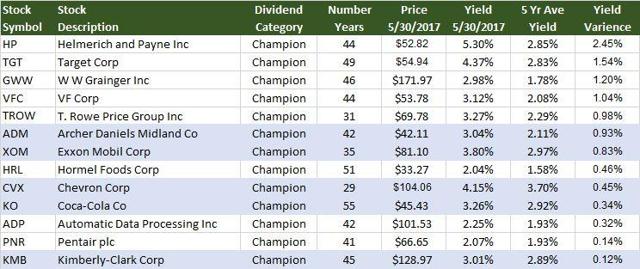 As you can see, we already have positions in 5 of the 13 Champions that made it through the screen. Archer Daniels Midland (NYSE:ADM), Exxon Mobil (NYSE:XOM), Chevron (NYSE:CVX), Coca-Cola (NYSE:KO) and Kimberly Clark (NYSE:KMB) are the currently owned positions.
The chart "ranks" each company by the difference between the current yield and the 5-year historic yield point.
The Contenders List:
Of the companies produced by the screen, 11 of those were Dividend Contenders. Those companies are:

As you can see, we own two companies in The Perfect Portfolio, that made it through the screen. Those two companies are Qualcomm (NASDAQ:QCOM) and International Business Machines (NYSE:IBM). Again, the list is sorted by the largest variance between the current dividend and the 5-year historic yield point.
The Challengers List:
The largest group of stocks that made it through the screen were companies that are part of the Dividend Challengers. There were 37 companies that are in this group.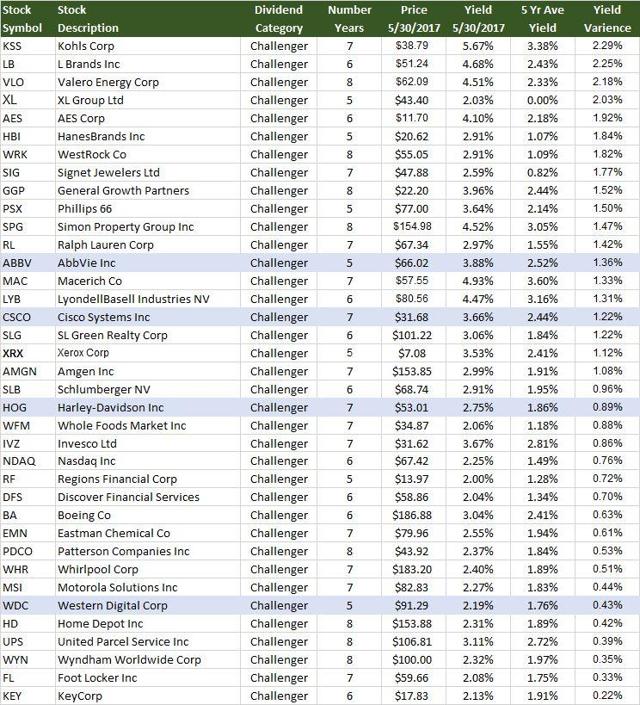 Again, you can see that we currently have positions in 4 of these companies. We own AbbVie (NYSE:ABBV), Cisco Systems (NASDAQ:CSCO), Harley Davidson (NYSE:HOG), and Western Digital (NYSE:WDC).
The "Other" Stocks List: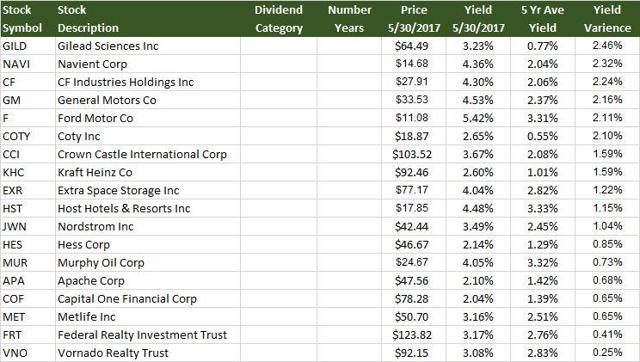 Companies that are not CCC members, are included in this list. There are 18 companies and some pretty interesting names, in my opinion.
Is There Enough Diversity?
Looking at the companies that are part of the CCC stock lists, by category, looks like this: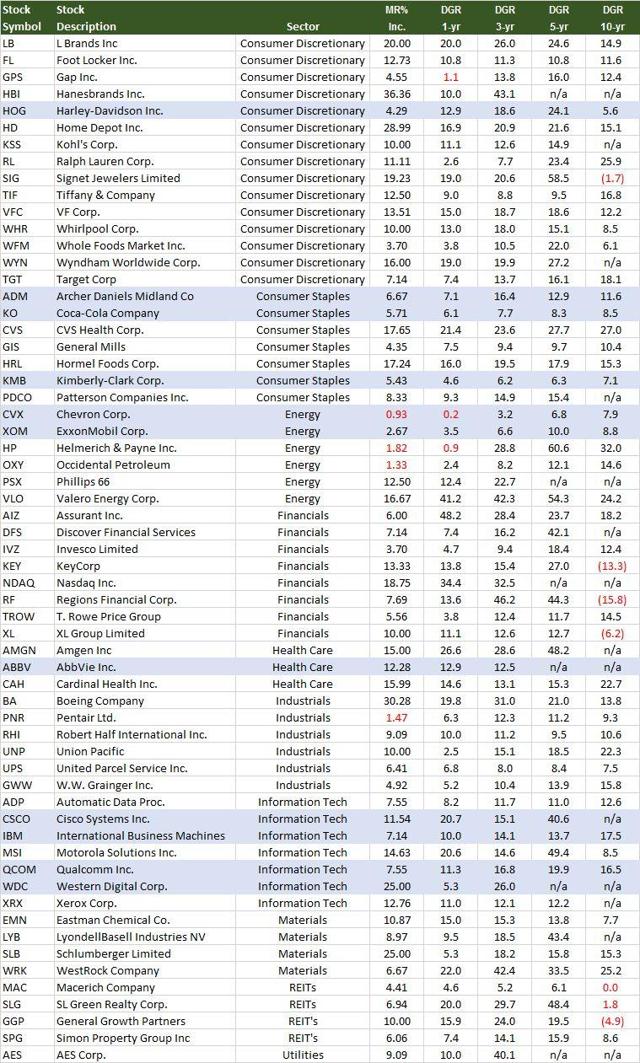 From the list of the CCC stocks, there are 15 Consumer Discretionary companies, 7 Consumer Staples companies, 6 Energy companies, 8 Financials, 3 Healthcare, 6 Industrials, 7 Information Technology, 4 Materials, 4 REIT's, and 1 Utility Company.
What is particularly interesting to me, is the Dividend Growth Rates for many of these companies. Again, as an investor looking primarily for income, these DGR's are pretty amazing.
By the same token, the variance between the current yield for some of these stocks, relative to the 5-year historic dividend yield, would indicate (on the surface) that some of these companies might be a value at the current market price.
Summary:
Our next step is to "cull the list" down to a more manageable number of stocks. How will we do that? Well, I will be applying my own metrics of valuation to each company, in an effort to weed out the good from the bad.
Those metrics include many of the fundamental analysis tools that other investors use, but you really need to get comfortable with your own analysis metrics and use those to come to your own conclusions about value.
Based on the list in its initial form, are there any companies that stand out, in your opinion? Are there any companies that you would be planning on doing your own due diligence? Which companies would those be? Why do they have interest to you? What is a normal position size that you would take with an initial purchase? Which companies would you see on a Top Ten list?
Looking forward to continuing this process. Again, remember even though Whole Foods (NYSE:WFM) had a huge day on Friday and even though Target (NYSE:TGT) had a bad day, in the scope of things, you need to sometimes let the dust settle a bit before you start kicking sand.
Disclosure: I am/we are long ABBV ADM CSCO HOG CVX IBM KO KMB QCOM WDC XOM.
I wrote this article myself, and it expresses my own opinions. I am not receiving compensation for it (other than from Seeking Alpha). I have no business relationship with any company whose stock is mentioned in this article.