As the second-largest home-improvement retailer in the world, Lowe's (NYSE:LOW) has continued to shine even as the broader retail sector has experienced decline in the wake of the rise of ecommerce. Despite tough competition, particularly from Home Depot (NYSE:HD), Lowe's has seen its revenues and earnings per share grow every year since the start of 2010 and boasts strong profitability metrics: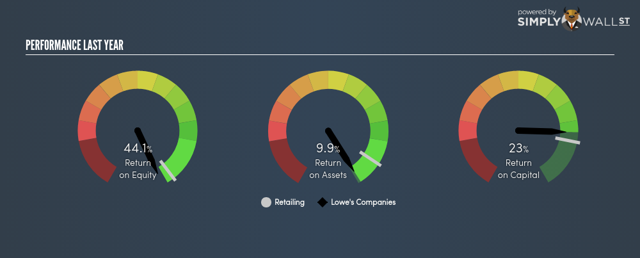 Lowe's has been able to not only survive but thrive in the era of ecommerce by mastering the five fundamentals of retailing:
1. Scale
Lowe's large scale throughout North America gives it considerable low-cost consolidated purchasing power in both supply and real estate.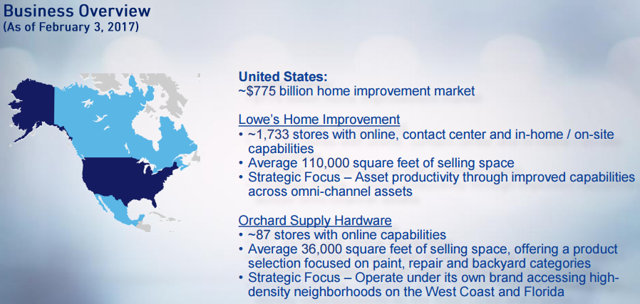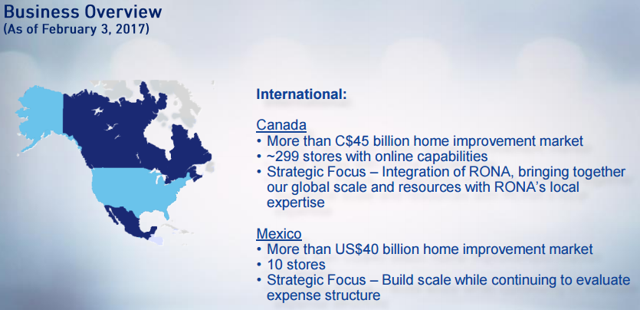 2. Information Technology
Lowe's has invested heavily in IT to develop an automated distribution network that improves operational efficiency by unifying its entire supply chain on one IT platform. Additionally, after two years of testing, Lowe's is ready to debut its store-mapping "LoweBots": designed to help customers find what they need in the store. By employing natural-language processing, customers can ask these robots for assistance just like they would a store employee. They also come equipped with 3-D scanners so it can respond to customers who appear to be in need of assistance before they even ask for it. The LoweBots also use scanners to check shelves as they move by them and send inventory reports to employees, enabling them to keep shelves stocked more efficiently. If the company can ensure customer comfort with these robots, they may have developed a highly cost effective means of boosting customer service.
3. Supply Chain
Combining its IT network with its extensive scale, Lowe's supply chain efficiently routes nearly 75% of all merchandise through 15 regional distribution centers. This facilitates large-scale discount purchases that give them a low-cost competitive advantage while also remaining highly profitable.
4. Customer Service
By employing knowledgeable people and training them well, Lowe's has earned a well-deserved reputation for top-tier customer service. It history of consistent, knowledgeable service in a knowledge-dependent industry like home improvement, drives customer loyalty and brings people to the store rather than simply ordering the products online.
5. Brand
Due in large part to its reputation for top-tier customer service, reliable supply, differentiated products, and low prices, Lowe's benefits immensely from its brand name. When customers need a home improvement product, Lowe's and Home Depot are the first two places that come to mind. People will go to the store without pausing to look for other options because they know they will likely have what they want at a competitive price and the friendly staff will be able to answer any questions they may have.
Investor Takeaway
Despite the risks that come with the cyclical nature of the home improvement industry and home equity values, rising interest (and therefore mortgage) rates, and the competitive uncertainties of the retail industry, Lowe's has carved out a record of success and an economic moat by mastering the fundamentals of retailing. Through continued leverage of its scale, product differentiation initiatives, supply-chain and IT networks, and superior customer service and loyalty the company should continue to experience long-term growth as it penetrates untapped markets and continues expansion in Canada and Mexico. Though its P/E of 25 is a bit high for value investors, its strong growth potential (14.52% annual growth projected over the next five years), 42% payout ratio, and consistent record of raising dividend payouts make it a safe and fairly valued dividend growth option for income investors.
Disclosure: I/we have no positions in any stocks mentioned, and no plans to initiate any positions within the next 72 hours.
I wrote this article myself, and it expresses my own opinions. I am not receiving compensation for it (other than from Seeking Alpha). I have no business relationship with any company whose stock is mentioned in this article.