It was not long ago that many pundits were predicting the doom of the EU (NYSEARCA:VGK). Amidst high unemployment, fractious member states, and Brexit, not much was looking good. This author is a strong advocate of Europe, despite its flaws, and have hoped for a turnaround for the group. Now, as a foreigner that has lived in western and eastern Europe, I can honestly say the mood has dramatically improved.
Startups abound everywhere, and jobs for programmers, data scientists, project managers, engineers and dozens of other professions are abundant. Reformists are taking center stage in France, Spain, and throughout Eastern Europe and their economies will improve because of it. The recent election of Emmanuel Macron in France is a mammoth win for the economy that was already starting heading out of a prolonged recession. If Macron is successful in freeing up the labor market from the shackles that its regulatory market has put on its economy, the French economy could rapidly recover lost growth.
France has a well-educated economy, but startups and companies struggle due to the near-impossibility of firing employees. Thus, companies must wait until they are almost irrationally exuberant to go on a hiring spree. This is common across Europe, and as a result of Europe consistently lags behind the U.S. when recovering from the recession. If employment laws are relaxed, employees in the highest paid professions - programmers, data scientists, and other IT services - will explode. Furthermore, if Macron is successful in turning around the second largest European economy, he can provide a model for other European nations to follow.
Growth Is On The Agenda
Europe is heading towards a period of robust economic growth. Before the French election, unemployment was already starting to tick down across the continent, wages were starting to rise, and businesses were starting to invest. Buoyed by monetary policy and low oil prices, it was a recipe for growth. Europe imports the vast majority of their oil, and lower prices have had a dramatic effect on the balance of trade. According to The Economist, the 19 economies that make up the eurozone grew at an annualized rate of 2.3% in the first quarter - a rate that nearly doubles that of America. It is not surprising that European funds have given investors double-digit returns.
Both the Vanguard FTSE Europe Index Fund ETF Shares and the country-focused iShares MSCI Germany ETF (NYSEARCA:EWG) are up 15.5 percent in 2017. The U.K.-focused FTSE 100 index has risen nearly 22 percent (Source).
Is It Time To Invest In Europe?
With all the abundant enthusiasm in Europe, should investors keep, or rotate their money, in Europe? Some analysts point to a rotation toward European stocks as evidence of investor enthusiasm. Over the years, the U.S. typically outperforms Europe immediately following a recession, and as the bull market ages, Europe starts to outperform American stocks (NYSEARCA:SPY). This is indicative of the 'running start' that European economies need due to their hiring practices.
An ironically titled chart from MarketWatch demonstrates this point below. And now that we are starting to see growth accelerating in the EU, a consistent trend in outperformance by these economies should result in outperformance of the market.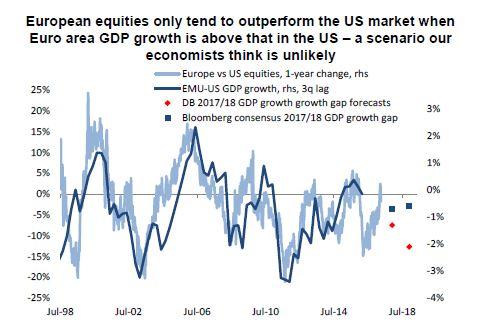 Source: MarketWatch
However, this isn't the whole story. There are other drawbacks to investing in Europe. And, whenever I look at a stock or market that has seen a spate of recent growth, I raise the bar of skepticism on the trade. But, as European shares saw a recent pullback, an opportunity may have presented itself. Compared to a U.S. market on price to earnings valuations that are noticeably higher than their European counterparts.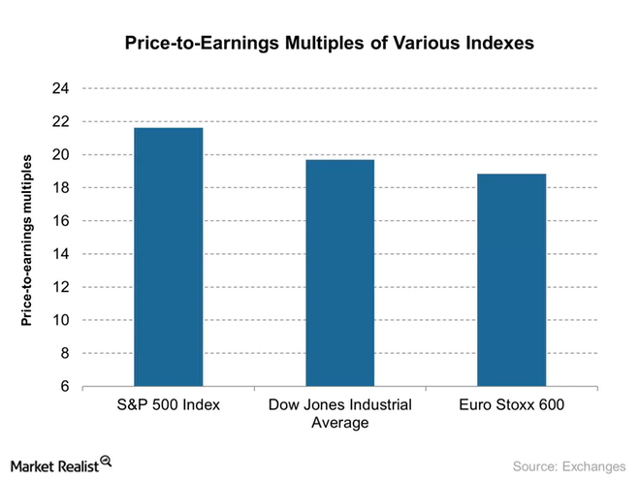 Keep in mind that stock ratios don't tell the whole story. European stock ratios have almost always been lower than the U.S. Historically, American companies have always commanded higher earnings multiples.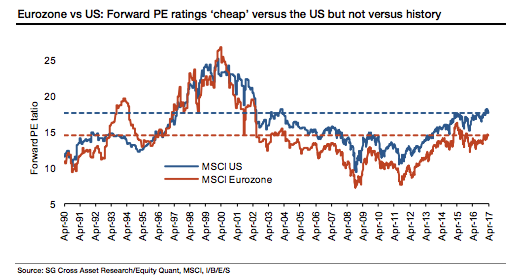 Flying High
So why the higher multiples for U.S. stocks? Business behavior. U.S. companies pay a more consistent dividend - and often for different reasons. While many U.S. companies pay dividends or conduct share buybacks as a means of returning shareholder value, many European firms pay sporadic dividends to buoy a depressed stock price. U.S. companies will also pay their dividends throughout much of a downturn if possible (in contrast to their European counterparts), and U.S. stocks often pay dividends on a quarter rather than a yearly basis.
Investor Takeaway
There is a large cohort of investors that require dividends for retirement income. Volatility and uncertainty of payouts, only receiving payouts once per year, susceptibility to currency fluctuations, and navigating a different tax regime all complicate the process. Thus, for many investors in the U.S., the premium that exists in the American market is justified.
A tightened monetary policy in the U.S. contrasts with a loose one in Europe - which should continue to spur the U.S. dollar ahead of Europe's. All in all, the relative valuation between these two markets is far from an easy trade. Investors would be wiser to focus on strong sectors, companies, and remain skeptical of the valuations being provided on both continents.
Disclosure: I/we have no positions in any stocks mentioned, and no plans to initiate any positions within the next 72 hours.
I wrote this article myself, and it expresses my own opinions. I am not receiving compensation for it (other than from Seeking Alpha). I have no business relationship with any company whose stock is mentioned in this article.