Momentum stocks are plentiful in 2017. There are numerous stocks that have been on a complete tear this year. While momentum plays are nice and exciting, diversifying into asset classes that will provide less risk and more stability is essential. One name from our portfolio that might be a little less well known is Praxair Inc. (NYSE:PX). Praxair recently confirmed a merger deal with Linde Group (OTCPK:LNAGF) (OTCPK:LNEGY), creating the world's largest supplier of industrial gases. Investors looking for a growth stock with a strong moat should consider Praxair.
Overview:
Praxair, founded in 1907, has grown to become the largest industrial gas supplier in North and South America, and among the largest in the world. Praxair's primary products in its industrial gas business are atmospheric gases (oxygen, nitrogen, argon, rare gases) and process gases (carbon dioxide, helium, hydrogen, electronic gases, specialty gases, acetylene). In addition, the company builds equipment that produces industrial gases.
In the industrial gas sector, there were four major players, Praxair, Linde, L'Air Liquide (OTCPK:AIQUF) (OTCPK:AIQUY) and Air Products and Chemicals (NYSE:APD). After the merger between Praxair and Linde, Praxair now dominates the market with $29 billion in sales globally.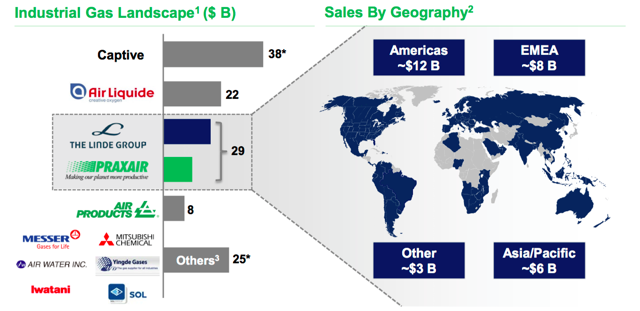 Praxair's economic moat comes from its product distribution models and its limited exposure to low margin areas.
On-site sales represent about 30% of Praxair's total sales. Basically, a large customer will enter into a 10-20 year take-or-pay contract with Praxair to build an on-site facility or facility close by. Praxair will then deliver gases by pipelines. This model allows Praxair to have low distribution costs as well as lock in a customer for a long time. It is extremely difficult for existing customers to break contract and switch suppliers so these sales are safe.
The second type distribution comes in the form of merchant sales, this represents about 34% of total sales. These contracts are typically three to five year agreements. Tanker trucks will distribute gases to customers within a 250 mile radius. Praxair basically creates a local monopoly because regional demand may only be large enough to accommodate a single distributor. Praxair is very good at spacing its facilities to most efficiently meet customer demand.
The final form of distribution for Praxair is short-term one to three year packaged gas contracts. This makes up the final third of Praxair's business. The design of these contracts makes them more vulnerable to short-term economic conditions, but two thirds of Praxair's business involves long-term contracts.
Praxair has stellar operating margins as well. Since Praxair focuses much of its business in selling industrial gases, and not selling low margin equipment unlike its peers, Praxair to has limited exposure to low margin areas. Praxair's operating margins are 300 basis points higher than the average of its major competitors. Dominance in a given industry is what we want to see in a stock, comparable to Apple (NASDAQ:AAPL) in the consumer electronics industry or Starbucks (NASDAQ:SBUX) in the restaurant industry.
Fundamentals/Outlook:
At an initial glance, one might look at the fundamentals of Praxair and be underwhelmed. Revenue growth has been below its usual trend since 2011, falling at an average rate of about 1% annually. The decline in revenue can mainly be attributed to soft global industrial production and a stronger dollar.
| | | |
| --- | --- | --- |
| Year | Revenue (In billions) | EPS |
| 2012 | $11.22 | $5.61 |
| 2013 | $11.93 | $5.87 |
| 2014 | $12.27 | $5.73 |
| 2015 | $10.78 | $5.35 |
| 2016 | $10.53 | $5.21 |
Despite declining revenue and EPS, we expect growth to resume in the coming years as commodity prices stabilize, global economic activity accelerates, and currencies stabilize.
For example, in 2014 Praxair was seeing strong revenue growth in South America, mostly attributed to Brazil. However, the Brazilian economy entered into a recession as a result of weaker commodity market and currency prices. In Brazil alone, Praxair saw revenue decline 29% from $2.0 billion to $1.4 billion.
Looking forward, the merger with Linde will help Praxair diversify from North and South America. As commodity prices stabilize and economic activity accelerates, so should Praxair's revenue growth.
Technicals:
Analyzing the weekly chart of Praxair, you will notice that Praxair created a high volume "W" bottom back in late 2015 to the first half of 2016. This "W" bottom with an extended base was a strong foundation to send Praxair's stock higher. As you can see the stock has broken out from the $119 level to $136 in just a couple months. Most of this move can be attributed to the anticipation and completion of the Linde merger.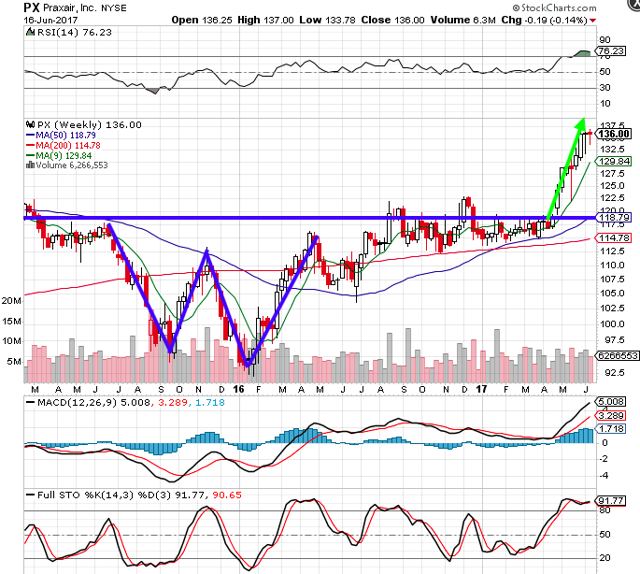 Praxair's stock is extended too far past the 50-day moving average to consider building a position here. With a forward P/E of 24 and PEG of 1.7, we suggest waiting for this one to pull-back before entering. We have held this stock for all of 2017, and continue to see it as a core holding moving forward.
Remember, even as the market continues to rally, diversification is key. The technology sector has been on fire, no doubt, but continue to diversify and cycle money back into companies with stellar cash flow that will give you steady growth. Investing is not a sprint, it's a marathon.
Click the "Follow" button next to our name at the top to read our future analysis. If you have any questions for us or would like us to cover a company, please comment below or message us directly. Thank you for reading!
Disclosure: I am/we are long PX, AAPL, SBUX.
I wrote this article myself, and it expresses my own opinions. I am not receiving compensation for it (other than from Seeking Alpha). I have no business relationship with any company whose stock is mentioned in this article.
Editor's Note: This article discusses one or more securities that do not trade on a major U.S. exchange. Please be aware of the risks associated with these stocks.