One of the least favorite questions people ask me about my investing is: what is your best stock? It is a very simple question to answer but for all the wrong reasons. The typical exchange of words usually goes something like this:
Inexperienced Investor: "Oh, you are into stocks? What's your best stock?"
Me: "Cummins (NYSE:CMI)."
Inexperienced Investor: "Why? How much have you made?"
Me: "90% including dividends and an option premium in 1 year and 8 months… or 54% annualized."
Inexperienced Investor: "Wow that's really good! I should buy CMI."
Me: "NO!"
Inexperienced Investor: "Huh!?!?!"
The "Inexperienced Investor" is always shocked when I say "no". They don't understand that buying stock is all about value and getting in at a great price. Too many people assume that if they just buy stocks that are performing well, they will get a great return on their investment, but sadly that is not what usually happens nor is it a great strategy.
Moreover, my wife used to work at a classy cigar bar in town. She got to know many wealthy individuals who spent a lot of time there. Any time my wife saw one of her clients sipping a glass of $350 scotch or talking about how they have so much money, my wife would always ask how they became successful. Some were in upper management; CEOs, Presidents, VPs but most created a company when they were young and sold it for millions. Most clients stories ended with: "but now I just have my money in the market." My wife would then inform the customer that her husband invests in stocks as well, and that conversation would always eventually end with the customer giving my wife a stock tip. "Invest in stock XYZ, it's made me a fortune over the years" they would say.
Because I knew better, I always took the stock tips with a grain of salt, but out of pure curiosity, I would run some of them through my screener and quickly learn how overpriced and overvalued they were at the time. It makes perfect sense though, if you made a fortune on a stock, that's because you most likely bought it a long time ago at a time when the stock was less popular and better priced relative to its financials.
So what is my best stock? To answer the question properly, I should probably tell the "Inexperienced Investor" about the stock that I am most excited about buying now.
In this article I will compare the financials of CMI at the time of my original purchase to the financials of the company at present time to show you why it is no longer "my best stock". I will use the "10 Minute Stock Rating System" that I developed to analyze CMI's financials. My System is used to rate a stock's value, margin of safety, and dividend strength. A detailed description and an example of my system can be found here. Finally, I will provide you results from my System to show you what my actual best stock is right now.
CMI
CMI is a company within the diversified industrials industry which designs, manufactures, distributes and services diesel and natural gas engines, electric power generation systems and engine-related component products.
I made two separate purchases of CMI stock on 11/2/2015 & 1/16/2016 giving me a cost basis of $86.67 per share. I have received 7 dividend payments during my time of ownership and 1 option premium. If you are unfamiliar with how secured option puts work, please read about them in depth here.
The chart below shows that CMI has been on an absolute tear during my time of ownership.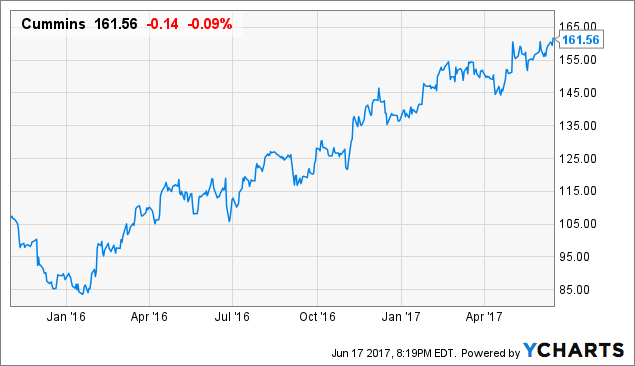 The table below shows my "10 Minute Stock Rating System" results for CMI at my cost basis and CMI at the "Inexperienced Investor's" potential cost basis if they purchased CMI at current market price ($161.56 at time of writing).
Criteria

CMI @ $86.67

Score @ $86.67

CMI @ $161.56

Score @ $161.56

#1 Current Ratio >=1.5

2.25

100%

1.75

100%

#2 Long Term Debt/Working Capital <= 1.10

0.32

100%

0.45

100%

#3 Positive EPS Streak of 5 Years

5

100%

5

100%

#4 Dividend > 0

3.90

100%

4.05

100%

#5 Current EPS > 5 Years Ago

9.35>5.28

100%

8.72>8.67

100%

#6 Price/Book <= 1.2

1.99

34%

3.79

0%

#7 P/E(ttm) < 10

9.27

100%

18.53

15%

#8 Higher Dividend Streak > 4 Years

10

100%

11

100%

#9 Current Yield >= 3%

4.50%

100%

2.51%

84%

#10 Payout Ratio < 50%

35.5%

100%

46.4%

100%

#11 FCF/Dividend Payout >=1

1.75

100%

2.10

100%

#12 5 Year DGR >= 10%

32.0%

100%

24.7%

100%

#13 3 Year DGR/5 Year DGR >= 1

0.89

89%

0.85

85%

Final Scores:

94%

83%
Source: Morningstar & David Fish's U.S. Companies with 25+ Straight Years Higher Dividends
My "10 Minute Stock Rating System" rated CMI a 94% when I purchased the stock. This score indicates that the stock is extremely undervalued and was a strong BUY.
To break some of the numbers down further, the low current ratio and long term debt to working capital ratios are extremely low showing that CMI had a very strong balance sheet and very little debt.
The valuation metric P/E is low at 9.27 indicating the stock was trading at a great price relative to its earnings.
The profitability of the company was strong, consistent, and growing, indicated by the growth of EPS from 5 years prior and 5 years of positive EPS.
The dividend is also extremely safe indicated by the 10 year dividend raise streak, low payout ratio of 35.5%, the ability to easily cover the dividend with FCF, and the 5 year dividend growth rate of 32%.
CMI back in late 2015 and early 2016 was a screaming BUY because of its 94% score. I prefer to buy stocks that rate above a 90% when using the System.
However, if you look at CMI's current financials and the score it achieved today, you would understand that you are getting a lot less margin of safety when investing in CMI today with a score of 83%, which barely passes my 80% minimum score threshold when considering buying stock.
CMI's financials have not changed much over the years, except the dividend yield, the P/E ratio, and the P/B ratio. All of these ratios are dependent on stock price and clearly show as the price of CMI went up to $161.56, the dividend and earnings did not grow at the same pace, preventing the score from rating above 90%. I still consider CMI a decent investment at this point, but the 18.53 P/E & 3.79 P/B ratios have increased dramatically, which indicates that the stock is not so undervalued and is definitely a concern. A lot of the margin of safety has disappeared as the stock has rocketed up.
The table above shows why my Home Run will probably not be your Home Run at CMI's current market price. Maybe you will hit a single or double with it instead if you invest in it now.
VLO
So what is my actual best stock? It is Valero Energy Corp (NYSE:VLO) because it is undervalued and because I am buying it now. I recently wrote about VLO in the writing linked at the beginning of this article as an example of how the "10 Minute Stock Rating System" works. It rated a 92% and is a much safer buy than CMI at current prices. Please view the linked article to learn more.
Conclusion
People don't realize what they are asking when they ask an investor "what their best stock is". The goal of investing is not to buy all the stocks that people have done well in. Instead, one should invest in stocks that are undervalued with strong financials and a strong dividend. Over time these holdings will become your "best stocks" that maybe no one else should buy in the future.
CMI is a great company that has performed well over the last couple years. I am happy to hold on to it since I am a buy-and-hold dividend growth and value investor. Because of CMI's price run up of 86% percent, I have gained a "HUGE" margin of safety. However, I would be a little more cautious when considering buying CMI at current prices due to its decreased rating exemplified in the "10 Minute Stock Rating System" results above.
Instead, consider buying VLO because it rates higher in my system indicating its stronger financials, undervaluation, dividend strength, and a better built-in margin of safety.
Additional disclosure: I am not a financial professional. Please consult an investment advisor and do your own due diligence prior to investing. Investing involves risks. All thoughts/ideas presented in this article are the opinions of the author and should not be taken as investment advice.
Disclosure: I/we have no positions in any stocks mentioned, but may initiate a long position in CMI, VLO over the next 72 hours.
I wrote this article myself, and it expresses my own opinions. I am not receiving compensation for it (other than from Seeking Alpha). I have no business relationship with any company whose stock is mentioned in this article.