Investment thesis
The world's largest EV maker - a Shenzhen-based company widely known under its acronym BYD (Build Your Dreams) (OTCPK:BYDDF) - has recorded a significant loss of revenue and profits during the last quarter as the Chinese government decided to impose stricter rules and reduce subsidies for the EV industry. Even though these steps might be seen as harmful for the company's shareholders, which include names such as Warren Buffett and Charlie Munger, they may actually result in a sizeable positive impact on the company's position in the long run.
Chinese government subsidy cut - short-term pain, long-term gain
Following the decision of the Chinese government to phase out most of the EV subsidies and incentives, BYD's first-quarter sales dropped 34 percent and net profit fell 29 percent to 605.8 million RMB. Especially in the context of last years' 30 percent plus revenue growth rates, the subsidy cut on the purchase of all pure electric as well as hybrid plug-in passenger cars is a severe shock that cannot be easily overlooked. The management hopes that the revenue slump will be compensated by a global expansion with new products like buses, garbage trucks, and trains, but this will certainly take some time.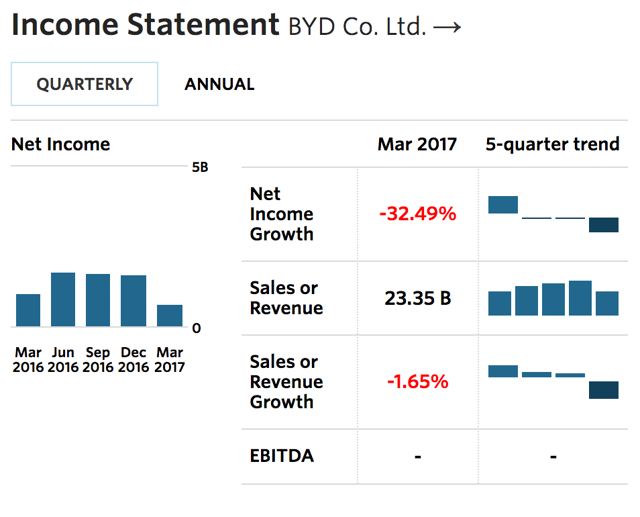 Source: WSJ Quotes (in HKD)
The bright side of the government decision is that it aimed at weeding out smaller EV players, particularly those lacking technical know-how and relying solely on government subsidies. Over the last 9 months, the Ministry of Finance in China identified five EV manufacturers that scammed the government of about $150 million in subsidies. Hence, despite the short-term pressure, the government's measure is going to have a substantial positive impact on the industry in the long run as it will help to established companies such BYD to gain more market share and come out on top.
EV car revolution is accelerating
According to a recent Bloomberg New Energy Finance analysis, the EV adoption might be actually faster than it was previously thought. Joel Couse, Bloomberg's Chief Energy Economist, assumes that EVs will make up 15 percent to 30 percent of new vehicles by 2030 and he is not alone. The accelerating outlook for EV industry is now shared also among major oil producers such as Total SA whose representatives estimate that EVs may constitute almost a third of new-car sales by the end of the next decade.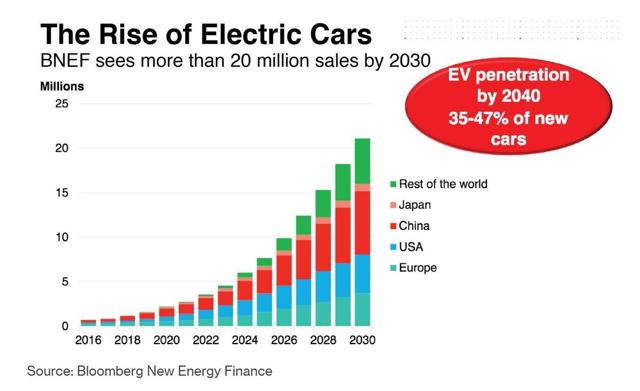 Source: Bloomberg View
Valuation
Based on my simple DCF model, BYD's shares are currently trading with more than 70 percent upside potential. Under the perpetuity growth version with a 2 percent terminal growth rate assumption, fair value of the stock comes in at 57 HKD (~16 percent upside), positively impacted by a relatively low cost of capital as a result of generous debt financing. Under the EBITDA multiple approach, the intrinsic value comes in at 115 HKD per share (~133 percent upside) if we assume that the appropriate exit EV/EBITDA multiple is around 10.

The bottom line
To sum up, the pressure from new rules regarding EV incentives and subsidies on BYD's domestic market is likely to persist for some time, but the long-term story remains completely intact. If the government's subsidies cut succeeds in their aim, BYD reaps huge benefits in terms of stronger position on its domestic market. Even though the first-quarter drop in sales is considerable, the accelerating EV adoption is likely to contribute to a quick recovery.
Author's note: To bring similar articles to your attention, please consider subscription of my SA feed by clicking on the ''Follow'' button at the top of this page, or alternatively, connect with me on Twitter.
Additional disclaimer: Please note that this article has an informative purpose, expresses its author's opinion and do not constitute investment recommendation or advice. The author does not know individual investors' circumstances, portfolio constraints, etc. Readers are expected to do their own analysis prior to making any investment decisions.
Disclosure: I am/we are long BYDDF, TSLA.
I wrote this article myself, and it expresses my own opinions. I am not receiving compensation for it (other than from Seeking Alpha). I have no business relationship with any company whose stock is mentioned in this article.
Editor's Note: This article discusses one or more securities that do not trade on a major U.S. exchange. Please be aware of the risks associated with these stocks.