Some sanity has returned to the equity CEF universe and it took a change in sentiment towards the equity markets to occur as "bubble" talk over some of the more overbought sectors like large cap technology and a more hawkish Federal Reserve combined to bring on a more defensive week for the markets.
So is this a buying opportunity or the start of something bigger? Who knows. To me, it's a head or heart (or gut) question. Your head tells you not to fight the Fed as last week, Janet Yellen gave a more hawkish tone to the outlook for more interest rate increases as well as a more aggressive unwind of the Fed's balance sheet starting later this year.
Though history tells us not to fight the Fed, that is exactly what this market has been doing ever since a steady rise of rates, however gradual, began back in December of 2015. And thus, the other part of your anatomy, your gut, tells you to buy these dips, particularly in technology, because virtually every dip over the past six years has been a buying opportunity.
At some point, this will be a mistake and only time will tell if last week was the shot across the bow giving a warning shot to investors or if it will turn out to be the latest buying opportunity in a long line of brief sidetracks in a ramp up market.
Equity CEF YTD Performances
If you'll recall, several weeks ago, I presented a table from this article, Peak Valuations?, in which I stressed how much better equity CEF market prices were performing over their NAVs so far in 2017. To me, this was a strong indication that complacency was setting into the markets, as I had not seen this many equity CEFs performing this well since the fall of 2009, six months after the financial crisis bottomed in March of 2009. Only this time, we are at market highs.
The following table was included in that article from May 1st and shows in the NAV & MKT Difference column, how many funds were seeing their total return market prices outperforming their total return NAV prices by at least 5% (shown in red). And this was occurring just in the first four months of 2017 through April.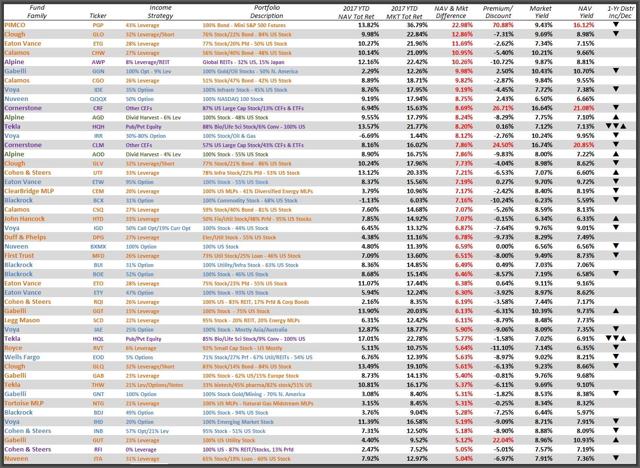 I apologize if it is difficult to see all of the information but this is the only way to get all the funds included in a screen shot. More importantly, what you should take away from this table is the valuation increase that had occurred for the vast majority of equity CEFs I follow, with the most dramatic outperformers at or near the top.
Some funds, such as the PIMCO Global StocksPlus & Income fund (NYSE:PGP), and the Cornerstone Strategic Value fund (NYSEMKT:CLM) and the Cornerstone Total Return fund (NYSEMKT:CRF), had seen both dramatic market price outperformances as well as dramatic increases in their already high premium market price valuations.
PGP, which is shown at the top of the list, had appreciated an incredible 36.8% in just four months and had seen its market price premium move back up to a mind boggling 71%. The Cornerstone funds, CRF and CLM, also had rallied to a multi-year high 26.7% and 24.5% market price premiums respectively. All of these are shown on the list in red above in the Premium/Discount column.
Fast forward to today and this is what the table looks like 6 weeks later on June 16th, with much of the changes occurring just in the last week.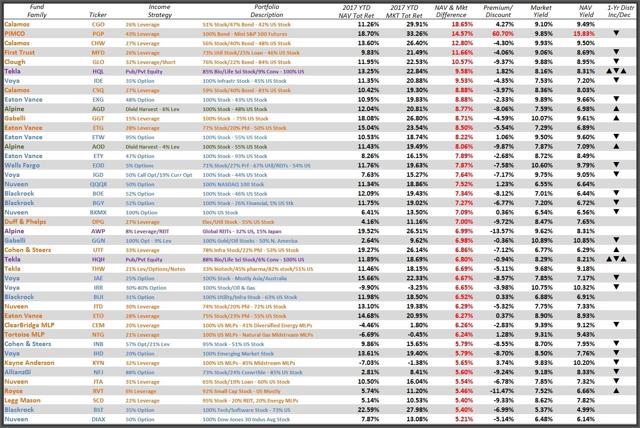 Here you can see that PGP dropped over -10% in valuation from a 70.9% market price premium high to a current 60.7% premium, almost all of which occurred last week. And CLM and CRF aren't even on the list anymore as Cornerstone's latest announcement of Rights Offerings caused their market prices to drop -14.1% and -13.3% respectively to better reflect the 107% of NAV offering price that will take place later in June or early July. There were other equity CEFs that had sudden drops last week that probably made investors think twice about whether this was the big one or not, though certainly there was no panic and calm was restored.
The lesson to CEF investors is watch your valuations when markets seem to go nothing but up. Because CEFs can change course twice as fast and twice as much during a market pullback, even if it's just a brief one-week rotation.
What Can We Make Of This?
I suppose it is healthy that some of the most overpriced equity CEFs have taken a tumble just in the last week but in many cases, they have been replaced by other overpriced CEFs even if they are not nearly as overpriced.
One family of funds that has done extraordinary well this year is from Calamos and includes their Global Total Return Fund (NASDAQ:CGO), $13.18 market price, $12.64 NAV, 4.3% market price premium, their Global Dynamic Income Fund (NASDAQ:CHW), $8.46 market price, $8.84 NAV, -4.3% discount, 9.9% current market yield and their Strategic Total Return Fund (NASDAQ:CSQ), $11.84 market price, $12.33 NAV, -4.0% discount, 8.4% current market yield.
From the table above, you can see that CGO has now moved into the top position for market price outperformance over NAV performance, though all three of the funds are in the top 10. In the columns to the left of the NAV & MKT Difference column, you can see how all of these funds have performed YTD on an NAV and market price basis (all distributions included).
I used to be an extremely large holder of CHW and CSQ, though at much wider discounts, so it is rather a shock to see them at such healthier valuations. Just to give you a brief background, all of the Calamos equity CEFs are roughly 50% equity and 50% high yield and convertible bonds. They all use heavy doses of leverage so these will be some of the more volatile equity CEFs out there.
So are the Calamos funds overpriced? Historically, yes... but I can't say that they won't continue to do well in a continued up market, particularly with those uber high market price yields. What I will say though is that if the market turns defensive and we have a -5% or a -10% correction this summer or fall, the Calamos funds will probably be the most vulnerable to a more serious pullback in my opinion.
Conclusion
The financial media loves to focus on earnings, interest rates, employment and market opportunities as the driver of stock prices but when you get right down to it, liquidity is the "dark matter" that ties it all together and works behind the scenes to move markets up or down.
When the financial crisis was at its peak, what did Congress and the Federal Reserve do to try and bring stability? Add liquidity. Lots of it. This is a big reason why I am a little confused by how the market is reacting to the Fed's plan to reduce its balance sheet, which is essentially a liquidity drain. But in a market that seems to react only on day-to-day events, I guess it's just too far out to worry about right now.
While employment and company earnings continue to be supportive of current and perhaps even higher market prices, don't let this be your mantra going forward. Because on the horizon is a more serious liquidity reduction being proposed and it will have a more negative impact on the markets besides a simple sector rotation.
And as for CEFs, just remember that liquidity is a CEF's Achilles heel. Holders of some of the most overpriced equity CEFs learned that the hard way last week.
Disclosure: I am/we are long CHW, CSQ.
I wrote this article myself, and it expresses my own opinions. I am not receiving compensation for it (other than from Seeking Alpha). I have no business relationship with any company whose stock is mentioned in this article.