Top 5 REIT ETFs… minus one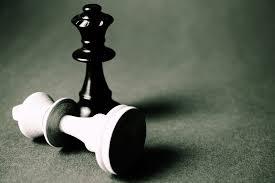 It's important for investors to be constantly searching for the best deal. There's several ways to look at investments costs. For starters, brokerages are aware that costs are important to investors and have been dropping trading charges. Charles Schwab has cut their costs multiple times since I've been using them. Lower trading costs are great for investors, even if the trades aren't frequent. For ETFs, expense ratios are a way to search for solid investments.
I'll be looking at five of the largest REIT ETFs and comparing them. These are the five largest REIT ETFs, which indicates investors have been picking them frequently enough for them to dramatically expand assets under management. We will be evaluating them based on useful they are to investors who want to invest in REITs through ETFs. It's mostly going to be broken down to four, because as you'll see below two of them follow the same index. The information was pulled from ETFDB:

| | |
| --- | --- |
| Ticker | Yield |
| (NYSEARCA:VNQ) | 4.30% |
| (NYSEARCA:IYR) | 3.98% |
| (NYSEARCA:SCHH) | 2.55% |
| (BATS:ICF) | 3.79% |
| (NYSEARCA:RWR) | 3.93% |
RWR & SCHH yields?
Both ETFs actually follow the index very closely. The reason the Schwab fund has a lower yield is because they reinvest some of it. The reason both ETFs are here is because all the funds, except Schwab's REIT ETF (inception date in 2011), can be traced back to September 29 th 2004. This gives a much longer time period to see how all the funds have performed. Since 2004, these are the total returns and risk factors.
Information on chart below pulled from InvestSPY:
| | | | | |
| --- | --- | --- | --- | --- |
| Ticker | Annualized Volatility | Beta | Max Drawdown | Total Returns |
| RWR | 33.60% | 1.35 | -74.90% | 172.80% |
| ICF | 34.40% | 1.38 | -76.70% | 169.80% |
| IYR | 31.50% | 1.29 | -74.10% | 145.50% |
| VNQ | 32.60% | 1.31 | -73.10% | 190.40% |
I found it interesting that the fund with the lowest expense ratio at 0.12% was VNQ and it had the best returns by a significant amount. RWR came in second, but Schwab came out with a fund following the same index with an expense ratio of 0.07%. Therefore, for the rest of this article I will be looking at VNQ, ICF, IYR, and SCHH. If I were to choose between SCHH and RWR, I would pick SCHH every single time. I'd suggest investors not trip over the expense ratio.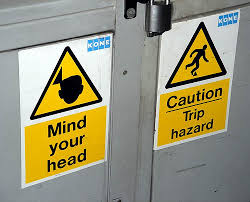 Speaking of hazards, let's see the risk levels of REIT ETFs compared to SPY.
RISK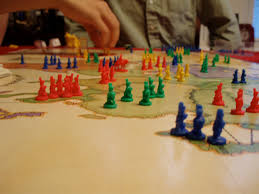 Errr… no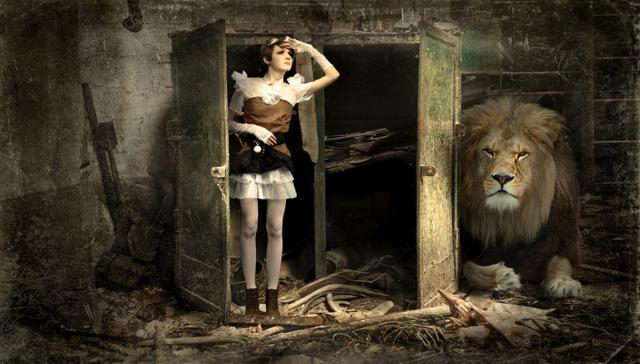 Better, I suppose…
SPY over the same period carried annualized volatility of 19.1% and had total returns of 176%. These funds carry a significant amount of volatility, but it does come with some nice dividend yields.
Before we move on, let's compare RWR and SCHH. These two ETFs follow the same index, so the expense ratio is more relevant than the yield. Would you make the same decision?
Here's a chart comparing the allocations of the top 20:
| | | | |
| --- | --- | --- | --- |
| Ticker | Company Name | RWR allocation | SCHH Allocation |
| (NYSE:SPG) | Simon Property Group Inc. | 7.72% | 7.67% |
| (NYSE:PSA) | Public Storage | 4.74% | 4.74% |
| (NYSE:PLD) | Prologis Inc. | 4.65% | 4.62% |
| (HCN) | Welltower Inc. | 4.06% | 4.04% |
| (NYSE:AVB) | AvalonBay Communities Inc. | 4.04% | 4.02% |
| (NYSE:EQR) | Equity Residential | 3.73% | 3.71% |
| (NYSE:VTR) | Ventas Inc. | 3.67% | 3.65% |
| (NYSE:BXP) | Boston Properties Inc. | 2.94% | 2.91% |
| (NYSE:DLR) | Digital Realty Trust Inc. | 2.81% | 2.80% |
| (NYSE:ESS) | Essex Property Trust Inc. | 2.60% | 2.58% |
| (NYSE:VNO) | Vornado Realty Trust | 2.44% | 2.43% |
| (NYSE:HCP) | HCP Inc. | 2.26% | 2.25% |
| (NYSE:GGP) | GGP Inc. | 2.13% | 2.12% |
| (NYSE:HST) | Host Hotels & Resorts Inc. | 2.06% | 2.06% |
| (NYSE:MAA) | Mid-America Apartment Communities | 1.87% | 1.86% |
| (NYSE:UDR) | UDR Inc. | 1.60% | 1.60% |
| (NYSE:SLG) | SL Green Realty Corp. | 1.60% | 1.60% |
| (NYSE:ARE) | Alexandria Real Estate Equities Inc | 1.59% | 1.58% |
| (NYSE:DRE) | Duke Realty Corp | 1.55% | 1.54% |
| (NYSE:EXR) | Regency Centers Corp | 1.45% | 1.44% |
The funds are almost identical. They have the same annualized volatility of 18% and max drawdown of -22.7% since SCHH's inception on January 13 th 2011.
What's the difference?
SCHH has had total returns of 85.5%, while RWR has had total returns of 84%. A majority of this difference could be the expense ratio and one of the reasons I don't like to pay high expenses. Three things in life are certain: death, taxes, and expenses.

It's rare that I believe management is worth a high expense ratio unless they need the funds for an equal weighted fund that is rebalanced at least quarterly. RWR's expense ratio is by no means justified with the existence of SCHH.
The remaining three
Here's a chart showing the allocation of the other three ETFs: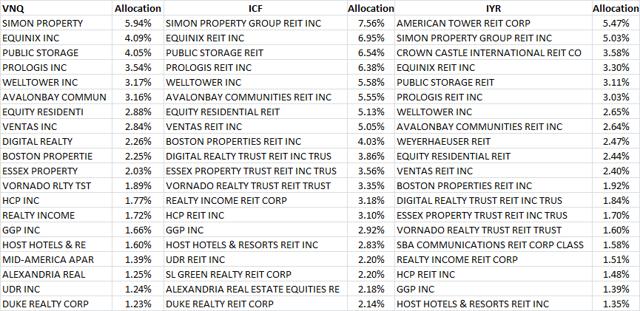 VNQ and ICF have very similar companies they are invested in. The reason I like the Vanguard fund better is because it's not so top heavy. The real estate sector is extremely volatile and if I'm not investing in individual companies then I'd want the ETF to be diversified more equally than seeing so many allocations at 5%+. IYR has good allocation, but they have nearly 30% within specialized REITs. I want more diversification across the sector when using a fund to get sector exposure. ICF and IYR both have way higher expense ratios than SCHH and VNQ.
Two remain
I think both VNQ and SCHH have very good REIT diversification for investors looking to get real estate exposure and not investing in individual companies.
Let's take a look at the sector weights from the Vanguard and Schwab site respectively: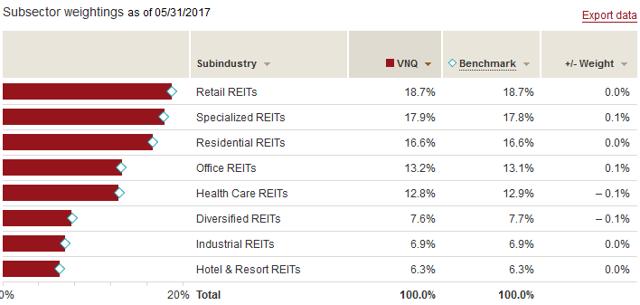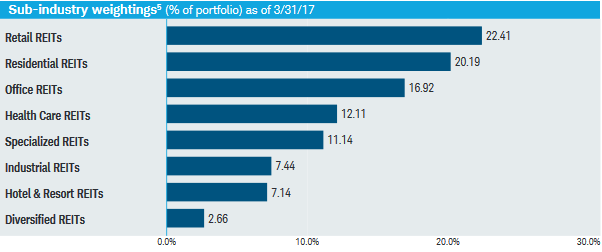 The biggest difference I see in the subsector allocations is a higher concentration in retail REITs for SCHH. This higher allocation may encourage SCHH to have more volatility in the near term. The retail REIT subsector has fallen out of favor with investors. The major theory is that Amazon (NASDAQ:AMZN) will massacre everything and create an Armageddon scenario for everything touching retail.
I do not subscribe to that theory. I believe several retail REITs, especially mall REITs, are materially undervalued. Therefore, I give SCHH a slight edge on future returns, but those additional returns are compensating for addition risk. An investor could alternatively use VNQ and create a small allocation to the retail REITs of their choice.
VNQ and the things that go great with it
To make the most out of an investment in VNQ, there are two strategies I suggest for investors. The first strategy is to boost allocation to retail REITs. By picking individual retail REITs, we can hunt for the best deals in the sector. I've taken a position in Washington Prime Group (NYSE:WPG) and in preferred shares from CBL & Associates (NYSE:CBL). Both mall REITs have been largely written off by investors. The concept of investing in malls terrifies even some of the professional analysts. Investors looking for less volatility and willing to accept lower yields may prefer Simon Property Group . For the investor willing to sacrifice even more yield, there is an exceptionally strong company in Realty Income Corporation (NYSE:O). National Retail Properties (NYSE:NNN) and STORE Capital (NYSE:STOR) are also fundamentally strong. Unlike the mall REITs, these three are triple net lease REITs. Their balance sheets in good shape and their tenants are higher in credit quality.
The second strategy is to boost the yield and reduce volatility with preferred shares. The preferred shares from mortgage REITs usually carry higher yields than the preferred shares from equity REITs. Over the last year, there have been multiple great buying opportunities on preferred shares from Annaly Capital Management (NYSE:NLY) and AGNC Investment Corp. (NASDAQ:AGNC). I have personally held multiple series of preferred shares from NLY and I have bid on the other series but did not get execution.
Conclusion
My favorite REIT funds on this list are SCHH and VNQ. Even though VNQ has a slightly higher expense ratio, I favor it because it's more equally weighted throughout the companies and subsectors. I also appreciate both of them having low expense ratios. I really don't like RWR because it's essentially SCHH with a materially higher expense ratio. IYR and ICF have the two highest expense ratios, and comically, have worst results over a significant amount of time.
Want SMS alerts when I find an actionable opportunity? They are a free service for subscribers to The Mortgage REIT Forum. This is your opportunity to lock in prices at $330 per year before the next price increase on July 1st, 2017. These preferred shares are offering high yields and dramatically lower volatility than investing in the common shares.
Disclosure: I am/we are long MO, WMT, TGT, PM, FSIVX, FSITX, BMNM, WPG, ANH-C, GBLIL, CMO-E, ARI-A, CBL-D, SFM.
I wrote this article myself, and it expresses my own opinions. I am not receiving compensation for it (other than from Seeking Alpha). I have no business relationship with any company whose stock is mentioned in this article.
Additional disclosure: No financial advice. Investors are expected to do their own due diligence and consult with a professional who knows their objectives and constraints. CWMF actively trades in preferred shares and may buy or sell anything in the sector without prior notice. Tipranks: No ratings in this article.