"Don't say you weren't warned" is an eye-roll-inducing cliche, but on Monday, Bank of America wants to make sure that in the event something goes wrong, they get to use it.
Because they just put out a note called "Sell (Hedge) Before It's Too Late."
No, really. Look:

That certainly lends credence to the notion that macro analysts aren't entirely averse to employing a bit of fun hyperbole, but take it from someone who reads dozens of these notes every single day, they don't often take it that far.
And here's the thing: it's not just the title. The language in the note is equally dour. The bank calls this "a market with risk-off written all over it."
There are two overarching points the bank makes. The first isn't all that interesting (well, it is, but it's been parroted ad nauseam) while the second is definitely worth considering.
So first is this idea that the US economy is rolling over and that it's looking less and less likely that the Trump agenda is viable. Here's BofAML on tax reform:
Companies after companies across the country have been telling us lately that they are withholding major decisions on hiring and investment until there is greater clarity on tax reform. This should come as no surprise. Running a business without knowing what taxes you will be paying, whether interest and labor costs will be tax deductible, how long you have for capital expenditure depreciation is like driving at night without headlights. If you can't see, you slow down ─ the increased uncertainty around tax reform has become a damper on economic growth.
Hard to argue with that.
More broadly, this is the chart everyone is concerned about (I flagged it in another post out earlier today):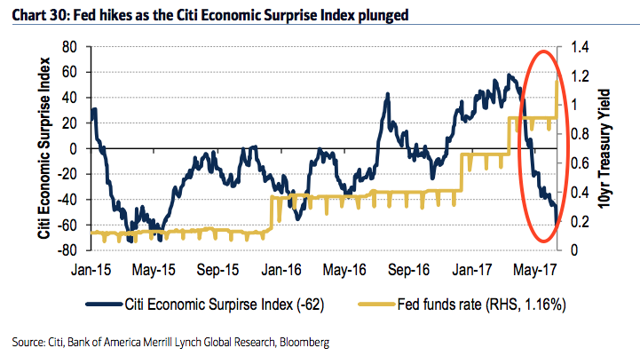 (BofAML)
How could it be that the Fed is looking through the poor incoming data?
Well, it's possible that they aren't. Recall what I said in the post linked above:
The Fed hiked into what certainly appears to be a deflationary impulse that's gathering steam. And there's been no shortage of debate about whether that portends a policy mistake or whether it was in fact the right move to counter financial conditions that have become far too loose:

(Bloomberg)
Part and parcel of those easy financial conditions are soaring stocks (NYSEARCA:SPY).
And as I've been over more times than I can count, a handful of tech names (NASDAQ:QQQ) are the driving force behind YTD benchmark gains.
Recall this table from Goldman's big FANG/ FAAMG note that some blame for catalyzing the tech sell-off we got two Fridays ago: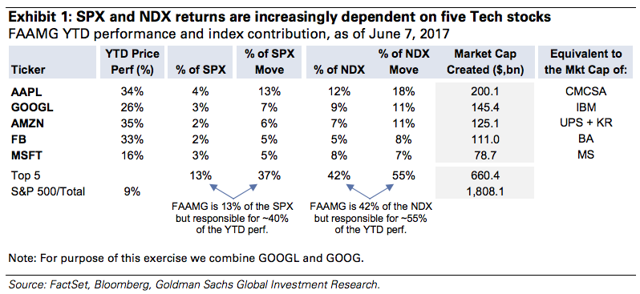 (Goldman)
Ok, now don't forget why Goldman thinks this is starting to get dangerous. Here's the excerpt from the above-mentioned note that has folks jittery:
If FAAMG was its own sector, it would screen as having the lowest realized volatility in the market. How can low vol create a problem? Investors are increasingly focused on "volatility-adjusted" returns as they are deciding which stocks to invest in. We believe low realized volatility can potentially lead people to underestimate the risks inherent in these businesses including cyclical exposure, potential regulations regarding online activity or antitrust concerns or disruption risk as they encroach into each other's businesses.

Mechanically, we expect that as the realized volatility of a stock drops, more passive "low vol" strategies buy the stock, pushing up the return and dampening downside volatility. The fear is that if fundamental events cause volatility to rise, these same passive vehicles will sell and exacerbate downside volatility.
Believe it or not, BofAML thinks it's entirely possible that the Fed internally considered that assessment when deciding to all but ignore the lackluster inflation data on the way to hiking on Wednesday.
Here's BofAML:
Against [the economic] backdrop, we were surprised by the hawkish tone struck by the Fed last week. We wonder what it sees ("solid" job gains, business fixed investment that "continues to expand", risk to the economy being "roughly balanced") that we do not. Can it be the case that its hawkishness was prompted by something other than its reading of the economy?

For example, is it possible that the Fed has become concerned about the recent surge in the equity market, especially tech stocks that has been feeding off low interest rates and low volatility? According to our equity strategists, the P/E of the tech sector (19x) is currently at its highest levels post-crisis while the EV/Sales ratio is at the highest since the Tech Bubble.
See, this is way I highlight these notes and quote these analysts. A lot of readers have a penchant for pretending like what they say doesn't matter, but it in fact does.
Even if they aren't correct initially, what they say influences decision making and that, in turn, feeds back into markets. This is a reflexive relationship and there is a non-negligible chance that the Fed took Goldman's analysis into consideration when they decided to look through the economic data last week.
You can read the full BofAML note here, but ultimately, the bank is telling its clients to sell.
Whether or not you take that seriously is up to you, of course.
Disclosure: I/we have no positions in any stocks mentioned, and no plans to initiate any positions within the next 72 hours.
I wrote this article myself, and it expresses my own opinions. I am not receiving compensation for it (other than from Seeking Alpha). I have no business relationship with any company whose stock is mentioned in this article.