Investment Thesis
The worst is now behind TransAlta (NYSE:TAC) (TSX:TA). The company's balance sheet improved in the past year following a disastrous dividend cut in early 2016. The agreement with the Government of Alberta removed uncertainty about the company's coal-fired plants. While the company's transition from coal to gas power plants will take another few years, investors with long-term investment strategy may wish to start building a position while the share is still out of investor's favor.
Company Overview
Headquartered in Calgary, Alberta, TransAlta, is a non-regulated electricity generation and energy marketing company with an aggregate net ownership interest of 8,716MW of generating capacity. The company has power generation assets across North America and Australia. In 2016, seventy percent of its cash flow came from the so-called, cleaner energy, Wind/Solar, Hydro, and Gas.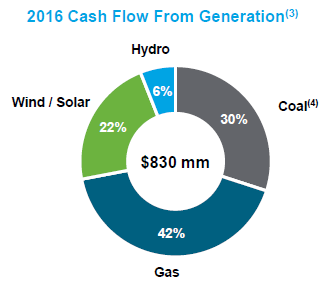 2016 Cash Flow from Generation (Source: Investor Presentation May 2017)
On January 15, 2016, the company announced a disastrous quarterly dividend cut from C$0.18 to C$0.04 to improve its balance sheet due to the widening credit spread. At the same time, TransAlta's largest revenue base by region, Alberta, is also going through a major policy change to promote cleaner energy and mitigate climate change. The Government of Alberta has an ambitious plan to phase-out all the coal-fired power plants within the province by 2030 and implementing a carbon price. This greatly impacted TransAlta as it has close to 3,600MW of coal-fired power generation capacity in Alberta. Together, the policy change and credit widening added great uncertainties to TransAlta's future. The company's stock took a hard hit and dropped to as low as C$3.6 in January 2016.
The rest of 2016 saw the company trying to improve its balance sheet and in the same time negotiating with the provincial government about the plan to phase out its coal-fired plants. The company essentially struck a deal with the government in late November in which TransAlta will receive C$37.4 million yearly cash payments until the end of 2030 for it to phase out its coal-fired power plants. The equity market welcomed the deal as it removed the necessary uncertainty looming the company for quite some time. Since then, the company's share price has more than doubled to C$7.46 from the low in January 2016.
Is there still room for the stock to continue to move its trend upward? Is it safe to invest at this share price level? Let us first discuss TransAlta's financial strength.
Financial Strength
In the past quarter, TransAlta's revenue increased slightly from C$568 million in the same quarter last year to C$578 this quarter. Comparable EBITDA was C$274 million, a slight drop of C$5 million from the same time last year. This was due to unplanned outages in the company's Canadian coal operations. FFO per share was C$0.70, up by C$0.02 from the same period last year. FCF per share also increased from C$0.30 to C$0.34.
Consolidate Financial Highlights for the 3 months ended March 31 (Source: Q1 2017 Report)
The balance sheet continued to improve as well. The company reduced its net debt by C$244 million due to a combination of factors, strong free cash flows, decrease in working capital, and the sale of the Wintering Hills merchant wind facility, and the weakening US dollar. Its net debt compared to the end of 2015 had dropped by C$792 million from C$4,441 million down to C$3,649 million in this past quarter. Overall, the balance sheet is much stronger.
Dividend Hike Soon?
Since TransAlta's balance sheet showed signs of improvement, one may ask whether a dividend hike is imminent. This is possible, but do not expect a hike back to the level of 2015 any time soon. Keep in mind that TransAlta is still in the transition to retire its coal-fired power plants in Alberta. More will be discussed in the next section. In addition, as the management had expressed, they plan to raise C$700 to C$900 million in debt secured by contracted cash flows in the next 12 to 15 months to fund the construction of South Hedland and repay senior secured debt coming due in 2018. Right now, TransAlta's dividend yield is at 2.1%.
Coal-to-Gas Conversion and Growth Outlook
Since Alberta accounts for a significant amount of TransAlta's revenue, and its policy to phase out coal-fired power plants is a major factor in the future success of the company, we will discuss about TransAlta's Coal-to-Gas conversion strategy and the economic benefit TransAlta will receive.
Currently, TransAlta has 3,593MW of power capacity generated from coal-fired plant in Alberta. This accounts to approximately 22% of Alberta's total capacity. The current power purchase agreement will expire in 2020 as Alberta plans to phase out all its coal power plants down to 0MW by 2030. By 2022, a C$50 per tonne carbon tax will come into effect.
The readers may want to ask why does the company not invest in wind farms, hydro dams, or solar panels. In fact, TransAlta and TransAlta Renewables has already committed to invest in many renewable energy projects. The chart in the next section in fact outlines many of these initiatives. Unfortunately, renewable energy sources are often limited by weather and climate conditions. Thus, natural gas is also required when these renewal energy sources are unable to generate enough electricity. As TransAlta's CEO said during the May 2017 Investor Presentation: "We can see that those who invest in renewables and then also have competitive capacity to back them up will be among the most competitive electricity generators." In fact, it is estimated that Alberta will require 4,000MW of power generated from natural gas.
TransAlta plans to convert most of its coal-based power plants to gas-fired power plants. They have decided that the best strategy is to convert the coal fired plants to natural gas plants sooner. It appears that the major factor is the gradual increase of the carbon tax from C$10/tonne in 2018 to C$50/tonne after 2022. As TransAlta's president and CEO Dawn Farrell expressed in an interview, the annual capital cost to run its coal plants past 2021 would "approach C$500 million - C$200 million to run its mines and as much as C$300 million to run the power plants, when the cost of carbon is factored in." In comparison, these converted plants will be able to use for up to 15 years with around half the annual capital cost. The company has also estimated the total capital expenditure to convert these coal power plants to gas plants to be around C$300 million in total, which is much less than continuing running the coal power plant after 2021. In fact, it is estimated that the company will save about C$1.5 billion in incremental capital costs if the conversion to natural gas can be completed before 2022. With the perceived lower natural gas price at least in the next several years, TransAlta will likely benefit from the accelerated conversion plan in the long term despite continued lower power prices.
The chart below is TransAlta's near term, medium term, and longer term plan to invest in power generation in targeted markets. These projects will require C$3 to $4 Billion of investment in total with 60~80% leverage for contracted projects. Equity investment is expected to be around C$0.8 to C$1.0 billion.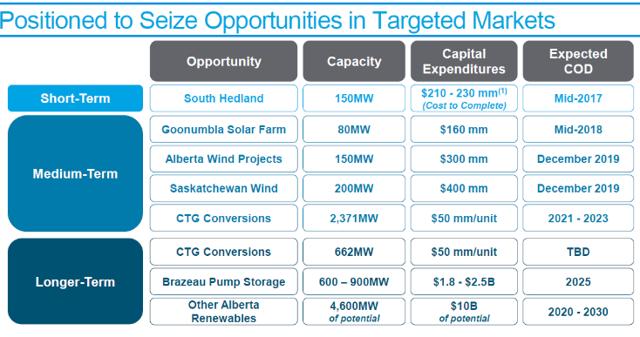 Development Pipeline (Source: May 2017 Investor Presentation)
TransAlta's free cash flow is expected to continue to increase about 10% annually for the next three years. With its ambitious development plan, free cash flow is also expected to continue to grow beyond 2021 as illustrated in the chart below.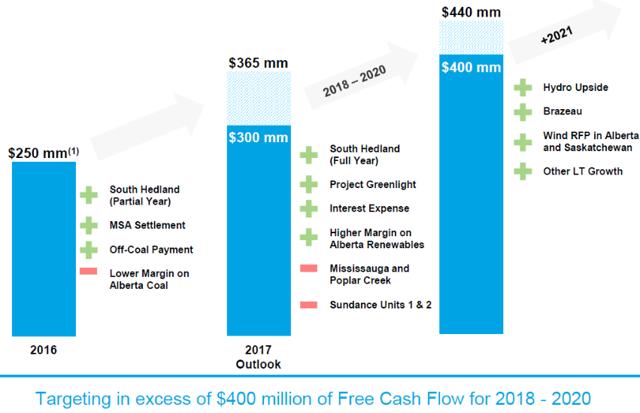 Cash Flow Growth Expected (Source: May 2017 Investor Presentation)
Current Fair Share Prices
Investors may not be aware that TransAlta is the largest shareholder of TransAlta Renewables (OTC:TRSWF) (TSX:RNW). TransAlta currently owns 64% of TransAlta Renewables' shares which is equivalent to C$2.26 billion. This is larger than the current C$2.15 billion market cap of TransAlta. In other words, investors investing at the current stock price is paying at a discount.
From the report generated by Thomson Reuters, the mean of 12-month price target by 10 analysts is C$7.9. The highest given by an analyst is C$8.5. The lowest is C$7.0. This represents a 4.9% upside potential a year from now. Given TransAlta's balance sheet continue to improve, and the healthy cash flow growth in the medium term, the share price has the potential to be above C$10 in two to three years. Dividend hike is also possible.
Investor Takeaway
TransAlta has a healthy transition from coal-fired power plant to natural gas plant and grow its free cash flow in the next decade. Patient investors who are willing to invest at the current price level will likely be rewarded in the long run. For those investors who would like to have a higher dividend income, TransAlta Renewables may be a better choice as it offers a 5.5% yield at its current stock price.
Disclosure: I/we have no positions in any stocks mentioned, but may initiate a long position in TAC over the next 72 hours.
I wrote this article myself, and it expresses my own opinions. I am not receiving compensation for it (other than from Seeking Alpha). I have no business relationship with any company whose stock is mentioned in this article.