While many oil bulls seem to focus on the extreme negative sentiment in the oil market and blame this for oil's underperformance, the fact is current prices are fully justified by current inventory levels. In my previous article, I shared this chart, which compares current U.S. commercial crude (excluding SPR) levels with 5-year averages.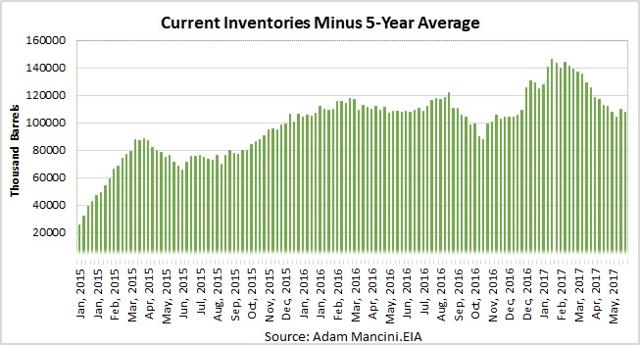 Currently oil inventories are sitting at about 107 million barrels above the 5-year average (as of the report for the week ending June 9th). For the week ending February 12th, 2016 (the week when WTI prices bottomed at $26 per barrel), inventory levels were 108 million barrels above the 5-year average, virtually the same as they are today.
It is for this reason that oil bulls will likely need to be patient for a return back to $60+ oil prices, as inventories will likely need to break down below the 80 million barrels above the 5-year average level. This has been the point that inventories have been stubbornly stuck above.
Bulls need to be patient for $60 oil, but a move to $50 near-term is likely
A trade back to $50 in the near-term seems probable. From a fundamental perspective, this will most likely require a clear continuation of the trend seen in the chart above that started in early February. Since the oil market is focused on gasoline/refined products as well as crude, it is more helpful to look at weekly total petroleum build/draws versus the 5-year average.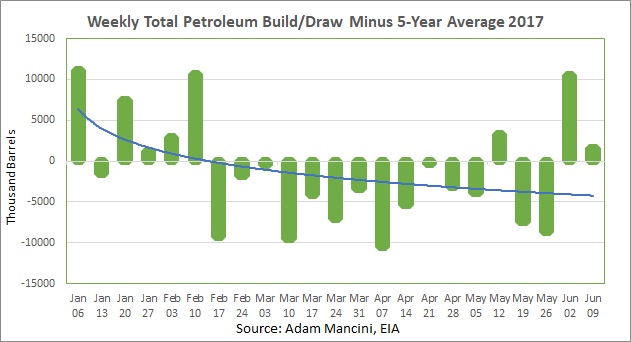 A continuation of the above would be a signal to go long on a fundamental basis, and there is good reason to think it will continue. The market is currently concerned because the past two weekly EIA reports have been bearish, but these reports were likely anomalous. The first week's build in crude was largely explained by a large spike in net imports (1.1 million bpd week-over-week), and a decline in refinery runs of 283,000 bpd.
This net import spike was heavily due to a large increase in imports from Iraq which grew from 293,000 bpd to 1.41 million bpd, but much of that moderated in the second weeks report, with imports from Iraq falling back down to 680,000 bpd. This is still historically high, and should be monitored. Net imports, however, did fall back down to levels more in line with the average for the past year in the most recent report, and intentional cuts from OPEC combined with continued strong compliance will hopefully keep a lid on imports.
This unfortunately does not explain the builds in gasoline and refined products for the past two weeks, and this is largely explainable by declines in domestic gasoline and total products implied demand. Bears have focused heavily on this, but it is important to note that this may be anomalous as well. Firstly, U.S. refinery throughput is at 17.3 million barrels per day, is over two million barrels per day above the 5-year average, yet gasoline stocks have remained contained.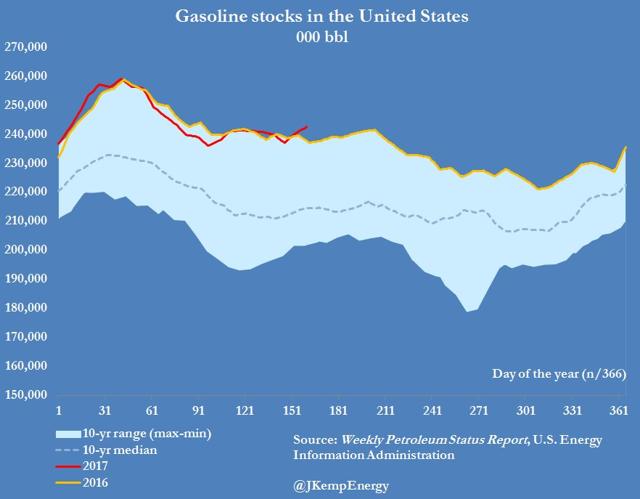 This has been thanks to gasoline and petroleum demand that has been well above the 5-year average. The past few weeks, however, have seen massive volatility with total product demand seeing 4 week-over-week changes of around 1 million bpd since the start of May. This is unlikely to reflect actual consumer behavior and is instead probably due to modeling/statistical issues. Gas demand should continue to rise seasonally and show strength as it has year-to-date, and support healthy weekly reports.
If these factors come together to re-establish the trend in inventory draws seen since February, investors should consider going long.
Positioning and technicals could support the move
Currently, money manager short positions as a percentage of total money manager positions is 28%, and this is approaching levels that have seen previous rebounds in the price of oil.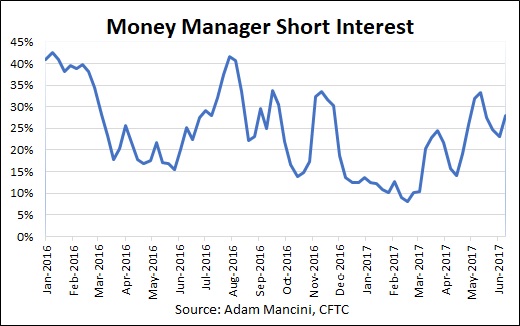 This could lead to the next short-covering cycle, which could bring oil prices back up to the $50 level. It is possible the current short cycle may have more to run, which is why I will be waiting for a break and convincing close above the 7-day exponential moving average to enter this trade. This is a useful moving average for crude trends and one I use in my own short-term strategy to determine a trend change. By waiting for both a continuation of the fundamental change and the right technical signal, a low risk trade back to $50 is very feasible.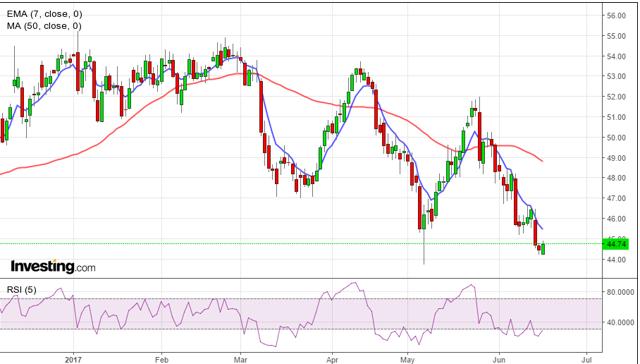 Disclosure: I/we have no positions in any stocks mentioned, and no plans to initiate any positions within the next 72 hours.
I wrote this article myself, and it expresses my own opinions. I am not receiving compensation for it (other than from Seeking Alpha). I have no business relationship with any company whose stock is mentioned in this article.