Peabody Energy's (NYSE:BTU) bankruptcy was a neat pivot to get rid of a lot of debt and to position six hedge funds (Discovery Capital Management, Elliott Management, Aurelius Capital, PointState Capital, Contrarian Capital Management, Panning Capital Management) and the South Dakota Investment Council to reap big gains at the expense of other investors. Two of the hedge funds (Elliott Management and Aurelius Capital) had a key role in the restructure; management was accommodated being offered 10% of stock and substantial rewards for assisting the exit from bankruptcy. The hedge funds received preferential access to discounted company stock in the process. Here I discuss what has been happening with stock purchases since BTU re-emerged on the NYSE.
The valuation of BTU at exit from bankruptcy was $3.1 billion and opponents of the hedge fund restructuring argued that this was unrealistically low, suggesting the post-exit from bankruptcy value was $5.4 billion. The exit from bankruptcy happened at a time when the coal industry had a period of exuberance due to China's clumsy efforts to rein in its coal consumption by constraining local coal production, which led to coal shortages, stimulus for coal exports to China and a price spike.
The good times seem to be retreating again as the industry comes to terms with a record 6.2% decrease in coal production, a 1.7% decline in global coal consumption and coal's share of global primary energy falling to 28.1% in 2016.
BTU's current market capitalisation is $2.28 billion (a long way short of its pre-exit valuation of $3.1 billion), which might be cause for concern for the hedge funds that have a lot at stake in Peabody Energy's exit from bankruptcy. One of the hedge funds, Elliott Management, has been active in acquiring shares (see below), and one wonders if this isn't helping keep the share price above ~$23.50. The environment is certainly less bullish than when lots of brokers had buy recommendations with share price targets above $33, when BTU emerged from bankruptcy.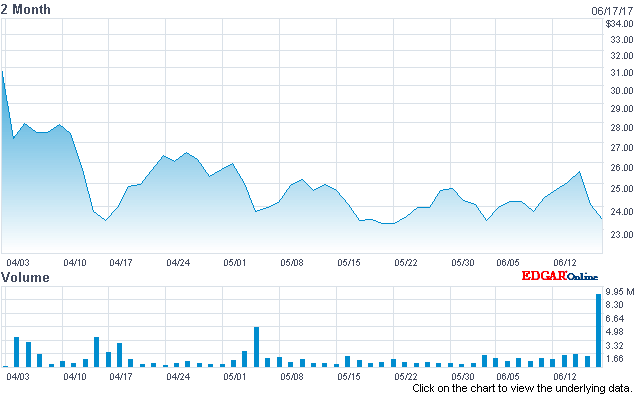 Stock price for BTU since emerging from bankruptcy on 3 April 2017. Source: NASDAQ
Insider trades in BTU shares
Here is a list from Yahoo Finance of shares purchased and sold by insiders in the period from April 3, 2017, when BTU re-listed to 2 June of this year. I haven't looked through all of the SEC Form 4 filings, but the Yahoo data looks to be pretty accurate for the period I've covered (3 April through 2 June).
Regarding hedge fund investors, the striking thing is that apart from sale in early May of 6,190,000 shares for $142,927,100 @ $23.09/share by Discovery Capital Management, mostly it has been Elliott Management purchasing shares. Over the period from 3 April through June 2, Elliott Management (through Elliott Associates and Elliott International) has purchased 7.9 million BTU shares on the market (plus 1.2 million options exercised) for a consideration of $197 million (average price/share of ~$24.80).
Burt Rothberg recently did a valiant job of making sense of what's been going on at BTU in the restructure and since re-emergence as a public company. I refer readers to his article to get a sense of the hedge funds owning ~80% of the company. Burt did notice that Elliott Management has been a significant presence on market, but he didn't focus on the fact that Elliott Management bought BTU shares on most days in the period from 5 April through 2 June.
Elliott Management has a lot of skin in the game. The BTU Form S-1A of 26 May (see below) says it has 35,214,925 million common shares (Burt's number was 35.8 million shares as of 25 May; it could be more now as Elliott purchased 75,141 shares in the period between 31 May and 2 June and I have no details what has happened since) and also 7,206,850 preferred shares (37.9% of preferred shares). Whatever the exact number of just common shares controlled by Elliot Management, using a share price of $23.46, its current stake is worth more than $825 million. In addition, there is a big stake in the preferred shares …..
This might explain why Elliott Management has been buying shares to support the share price.
All of the above makes me wonder whether Elliott Management, which did a great job of taking a major role in the restructure (to the detriment of all except a small group of hedge funds and management), thought that BTU's share price would end up where the initial analyst reports indicated (north of $30) and that big interest in BTU shares would give Elliott a happy exit. There has been almost daily price support for BTU by Elliott spending real cash to buy shares, in many cases purchasing ~10% of shares traded. Indeed around the time when Discovery Capital Management sold down 6.19 million shares, more than 50% of shares were purchased by Elliott Management. For example, on 4 May, there were 4,988,357 shares traded, while Elliott Management purchased 3,118,728 shares (62.5% of shares traded on that day). Elliott Management paid $23.50-24.07 for the shares that it purchased while Discovery Capital Management sold 6.19 million shares on that day @ $23.09.
It gets more complicated
On May 26, Peabody Energy filed a Form S-1A Securities Registration Statement (Preliminary Prospectus) that helps clarify what the real situation is concerning shareholding of BTU. It is complicated, but basically the Form S-1A indicates a massive number of shares available for sale. How the common stock, preferred stock, preferred stock to be converted to common shares and common shares resulting from exercise of warrants all comes together requires command of legalese that few individual investors probably have. The list of relevant documents incorporated in the Form S-1A by reference amounts to ~70 (happy reading!).
Suffice to say that new investors who purchased BTU shares recently in the belief that this is a company with 97,795,744 shares of common stock now have to face the fact that the company has 135,614,038 shares. 19,001,410 of these shares are preferred stock to be listed separately under the NYSE ticker BTUPR. In fact, there are 137 million shares, and a further 3.6 million shares are associated with employee incentive plans.
To make things even more scary, most of the major hedge fund shareholders are planning massive sell-downs of their holdings of both common and preferred stock.
Importantly this includes Elliott Management through Elliott Capital Advisors, Luxembourg Investment Company 162 SaRL (wholly owned by Elliott International LP), and The Liverpool Limited Partnership. Together, the Elliott Management group controlled by Paul Singer owns 35,214,925 common shares (33.5% of common shares) and 7,206,850 (37.9%) preferred stock. All of the stock listed that is controlled by Elliott Management is for sale. Also the whole of Discovery Capital Management's 21,918,310 beneficial holding of common shares (22.4% of common stock) is registered for sale. Aurelius Capital has its entire stake for sale: 4,412,103 (4.2%) common stock and 1,173,334 (6.2%) preferred stock. Contrarian Capital Management plans a partial sell-down of its common shares and a complete sell-down of its 2,587,576 (13.7%) preferred shares. Panning Capital Management plans to sell all 1,458,661 (1.5%) of its common stock and all of its preferred stock (612,629 (3.2%)). PointState Capital plans to offer most of its 6,057,459 (6.2%) common shares, and South Dakota Investment Council proposes partial sell-down of its common stock and all of its preferred stock holdings.
The entire holding of preferred stock described in the Form S-1A is available for sale while most of the rest of common stock holders (127 parties in total) are offering only a partial sell-down.
What this means in terms of where the BTU share price will end up is anyone's guess. Perhaps more knowledgeable investors than me can enlighten Seeking Alpha readers in the comments section?
Target price
Upon exit from bankruptcy there was considerable broker interest and projections for a substantial share price increase in the near term. For example, the average of six brokers was ~$33.80 with 5 buy and 1 hold rating. While optimism has cooled in the three months since listing, most brokers still have BTU as a buy. Apart from a spike involving very few shares on the day of listing and a few days around $27.50 since listing Peabody Energy has traded in a band from the low $23 region to a high of ~$26. I've indicated above that major shareholder Elliott Management has spent a lot of money to provide support at ~$23.50.
I have no idea what the Form S-1A means for share price going forward. It does signify a wish by the hedge fund investors to massively sell down. New shareholders who didn't follow what happened in bankruptcy and the exit from might have a look at Part II Information not required in Prospectus, Item 15 "Recent Sales of Unregistered Securities". It might provide pause for thought to help a new investor to know exactly what they are getting involved with. The Description of Capital Stock (starting p39) also makes interesting reading, especially regarding the Series A Convertible Preferred Stock (starting p 39). Get your financial advisor's opinion about this stuff.
I'm not sure why the proposed sell-down hasn't significantly impacted the stock price. I have not studied hedge fund trading activity since 2 June. It will be interesting to see who sold (and bought) the parcel of 9,049,883 shares traded on June 16, with a closing price of $23.46.
The environment for coal stocks
Peabody Energy isn't alone in having a share price close to year lows.
The whole industry is suffering, with coal industry statistics showing that many (not all) US coal companies are trading close to year lows.
Alliance Holdings GP, L.P.
AHGP: NASDAQ-GS

$ 22.84

-3.69 ▼

912,144

$ 27.0396
$ 22.71

$ 32.70
$ 19.0001

6.51

1,367,271

Alliance Resource Partners, L.P.
ARLP: NASDAQ-GS

$ 19.50

-2.25 ▼

1,248,332

$ 21.85
$ 19.25

$ 26.65
$ 13.95

4.7

1,454,642

Arch Coal, Inc.
ARCH: NYSE

$ 63.70

-1.27 ▼

745,181

$ 65
$ 61.56

$ 86.47
$ 59.05

NE

1,593,838

Cloud Peak Energy Inc
CLD: NYSE

$ 3.13

-0.01 ▼

777,387

$ 3.21
$ 3.02

$ 8.035
$ 1.81

4.97

234,925

CNX Coal Resources LP
CNXC: NYSE

$ 15.85

-0.25 ▼

16,916

$ 16.05
$ 15.70

$ 22.30
$ 8.31

12.89

185,746

CONSOL Energy Inc.
CNX: NYSE

$ 14.49

-0.32 ▼

3,651,158

$ 14.88
$ 14.175

$ 22.34
$ 12.87

NE

3,333,410

Foresight Energy LP
FELP: NYSE

$ 5

0.01 ▲

17,730

$ 5
$ 4.751

$ 8.329
$ 1.42

NE

378,665

Hallador Energy Company
HNRG: NASDAQ-CM

$ 7.24

-0.33 ▼

101,096

$ 7.62
$ 7.20

$ 10.40
$ 3.95

16.09

213,573

Natural Resource Partners LP
NRP: NYSE

$ 27.50

-0.45 ▼

39,026

$ 27.95
$ 27.50

$ 45.60
$ 13.97

4.65

336,380

Peabody Energy Corporation
BTU: NYSE

$ 23.46

-0.64 ▼

8,994,128

$ 24.10
$ 22.59

$ 32.50
$ 22.61

NE

2,280,312

Ramaco Resources, Inc.
METC: NASDAQ-GS

$ 5.12

-0.02 ▼

126,806

$ 5.29
$ 5.03

$ 14.78
$ 5.01

NE

200,003

Warrior Met Coal, Inc.
HCC: NYSE

$ 15.86

-0.93 ▼

1,730,411

$ 16.75
$ 15.36

$ 19.08
$ 16.60

NE

847,876

Westmoreland Coal Company
WLB: NASDAQ-GM

$ 5.04

-0.02 ▼

344,704

$ 5.06
$ 4.89

$ 19.92
$ 4.87

NE

94,062

Westmoreland Resource Partners, LP
WMLP: NYSE

$ 3.20

-0.05 ▼

20,688

$ 3.378
$ 3.05

$ 6.90
$ 3

NE

4,112
US Coal Industry Statistics 6 June
A Trump effect?
The above shows no evidence of President Trump saving the coal industry. Perhaps what is surprising is that some in the coal industry still hope for a reversal to good fortune to be engineered by President Trump. A very recent presentation (May 25) from Hallador Energy seems almost forlorn. The results are tough and are made respectable after a 35% year-on-year fall in income by drastically slashing maintenance capex and having a big number for depreciation. What is curious is the five slides dedicated to the "End of the War on Coal" with emotive images and championing the revoked Stream Buffer Zone Rule, the stay on Effluent Guideline standards, the choice of Scott Pruitt as EPA Administrator, proposed reduction in the EPA budget and the US Supreme Court stay on the Clean Power Plan. Freezing EPA spending on grants/research and arguing that coal is needed for a stable grid is hard in a world where customers and big business want clean energy. It is a really tough time for coal, but it isn't clear how the above actions will help HNRG's bottom line.
Downside risks for Peabody Energy
Here I've focused on issues concerning the BTU share price since it returned to the NYSE, but this isn't the only issue facing BTU.
I've argued elsewhere that BTU's US production targets for 2018 seem ambitious in the current environment for coal in the US. The political changes in South Korea, with new president, Moon Jae-in, being aggressive about coal pollution are concerning for Australian coal exports, and this affects BTU.
The situation concerning closure of the Navajo Generating Station remains unresolved, with the Navajo Generating Station's owners denying the Navajo Nation's request for a stay of the July 1 deadline to sign off on extension until 2019. If this doesn't get resolved in the very near future, the plant may close at the end of this year. I suspect that BTU thinks it can rely on at least two more years of operation for the Kayenta mine. If Navajo closes at the end of this year, this could be an even more premature end for the Kayenta mine. I've indicated previously that BTU's targets for the Western mines seem increasingly hard to achieve. This has to be significant for BTU's bottom line.
Conclusion
There is a lot about Peabody Energy's recent history (and a lot of shareholders who lost everything in bankruptcy) to make investors cautious about investing in this company, quite apart from the grim future that is emerging for the coal industry. I suggest that potential new investors carefully think about the potential exit of most of the hedge fund investors and particularly Elliott Management's intentions, as I suspect that this group has been crucial in supporting BTU's share price since exit from bankruptcy. It isn't clear that Elliott Management is interested in anyone other than Elliott Management, which is fine, but not necessarily a comforting thought for other BTU investors. Beware.
I'm not a financial advisor. I am interested in the major energy transitions and the companies likely to benefit or get hurt. If you find my analysis useful, please consider following me.
Disclosure: I/we have no positions in any stocks mentioned, and no plans to initiate any positions within the next 72 hours.
I wrote this article myself, and it expresses my own opinions. I am not receiving compensation for it (other than from Seeking Alpha). I have no business relationship with any company whose stock is mentioned in this article.
Editor's Note: This article covers one or more stocks trading at less than $1 per share and/or with less than a $100 million market cap. Please be aware of the risks associated with these stocks.