Thesis: New threat from Apple in original content is a problem for Netflix (NASDAQ:NFLX). Apple can absorb the risk and cost of producing content. Netflix could begin to compete for limited talent. The current valuation prices in near flawless execution and continued growth. It could be hard for investors to justify the valuation with this new threat. The business and valuation will be analyzed.
Recent News:
Apple (AAPL) Taps Sony TV Chiefs to Lead Programming Push
"The move signals a significant push into original programming at the tech company best known for making iPhones and MacBooks.

"Jamie and Zack are two of the most talented TV executives in the world and have been instrumental in making this the golden age of television," "We have exciting plans in store for customers and can't wait for them to bring their expertise to Apple — there is much more to come."

-Senior VP internet software and services, Eddy Cue

Hollywood has been breathlessly anticipating Apple's entree into original programming for years and got a taste of what the company has planned June 6 when it released its first original series, Planet of the Apps. A spinoff of The Late Late Show With James Corden's popular Carpool Karaoke segment also is scheduled for August.
But the consensus among the entertainment industry's creative community has been that Apple wouldn't become a serious buyer until it had installed a head of programming.
What it means:
The biggest issue for Netflix is that Apple has the luxury of both time and money. They have enormous financial resources and the ability to handle execution risk without a threat to their share price. This is actually the opposite situation with Netflix. Netflix's premium valuation and focus on growth will be tested by Apple as well as other competitors including Amazon (NASDAQ:AMZN). It could be hard for investors to justify the valuation with this new threat.
Battle for Talent:
There is only so much talent in Hollywood. Amazon and Apple will both be bidding on content, producers, talent, and scripts. It seems likely the cost of quality original programming is likely to go much higher. The net result of this hurts Netflix as margins and growth could slow. In addition, it adds pressure on Netflix to continue to offer a value proposition and retain current customers.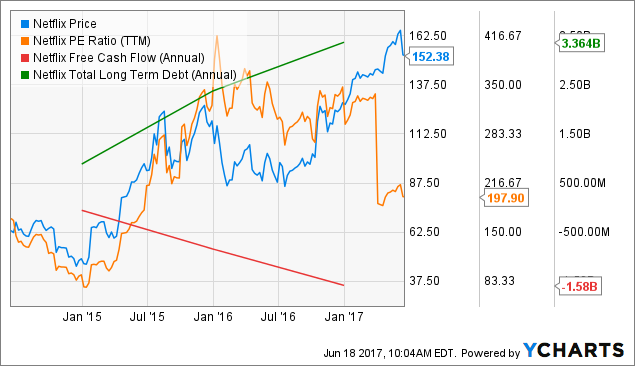 NFLX
data by
YCharts
Netflix: More US Subscribers than Cable
The Apple news overshadows recent good news for Netflix. With 50.85M customers, they have more than the largest cable companies combined.
Netflix Has More U.S. Subscribers Than Cable TV
"Now, Netflix has claimed a major symbolic victory over the country's biggest cable providers, with research showing that the streaming service now has more U.S. streaming subscribers (50.85 million) than the number of customers for the country's largest cable companies (48.61 million). Netflix announced those subscriber totals as part of its most recent quarterly earnings report, while the cable industry numbers come from a study published last month by Leichtman Research Group, which estimated the combined subscriber base of the top six U.S. cable companies, led by Comcast (NASDAQ:CMCSA) (22.5 million) and Charter Communications (17.1 million), and representing the bulk of the U.S. cable industry."
Value Proposition:
Apple is trying to merge its music offering to include original programming. Competitors include Pandora (NYSE:P) and Spotify.
"Apple has positioned its original series as part of an effort to turn Apple Music into a cultural destination for music, documentaries and shows. The service, which has 27 million subscribers, remains much smaller than Swedish competitor Spotify with its 50 million paid members."
Original programming is an expensive and risky business. Companies like Apple and Amazon have the financial resources to withstand failures. In addition, they have other resources from their businesses no matter how long it takes to succeed in programming. Netflix's success or failure rests on continued buzz and growth in programming. Netflix has been very successful to date, which is impressive in an industry with a 65% failure rate.
Execution Risk:
Content is risky:
Netflix doesn't need a hit, Mittell argues, as much as it needs to present itself as something worth subscribing to, with a wide range of stuff that a wide range of people would be interested in.
TV Success Rate: 65% Of New Shows Will Be Canceled
Looking back on the programming decisions made by the networks from 2009-2012, you may be surprised to find out that, on average, 65% of new network television series will be canceled within their first season.
Recent failures:
Essentially, the investor believes that the company can continue to create content that continues to grow the company and at a reasonable cost. Historically speaking, this is a very risky business. And Netflix has had recent issues with expensive flops too.
Marco Polo ended at least in part because it cost too much, and reports indicate that The Get Down-hands-down the most expensive thing Netflix has done-might be the company's first one-and-done series, thanks to its cost and troubled production.
Netflix's new rating system:
Netflix customers no longer have the ability to rank a movie on a 5-point scale. And viewers can no longer see ratings from others on a 5-point scale. Instead, a thumbs up or down binary system has replaced the grading system. The reaction has been mostly negative.
Risk: The real issue is whether Netflix did this as a reaction to unpopular new releases.
Valuation:
Pure play:
Netflix is risky because it is a pure play on content and the majority of its content is self-produced shows like House of Cards and others. As a premium subscription service, if the content lags, subscribers can cancel. The valuation is so high that the company needs to continue delivering growth to pay for the new shows it is currently producing.
Again, the disparity between the debt, cash flow, income, and market cap present a risky proposition.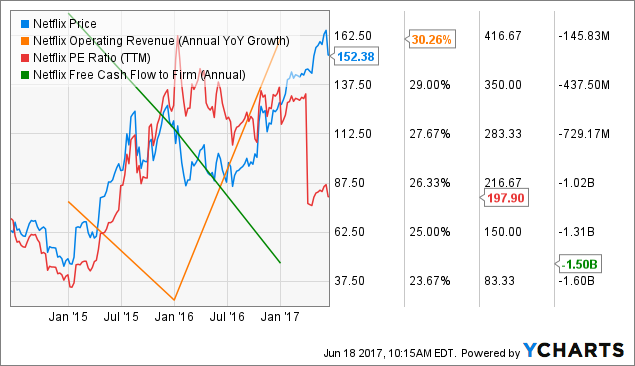 NFLX
data by
YCharts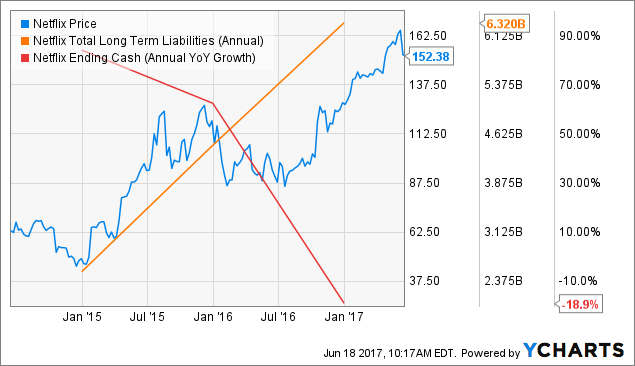 NFLX
data by
YCharts
Margins:
Again, as we look deeper at the margins created by the business, one is left with the feeling that the business leaves little room for error, even as the company has been executing well. And there is significant competition in terms of paid content that competes in this space.
Even an investor who is bullish on the company would take pause by the valuation and the current risk/reward in the shares.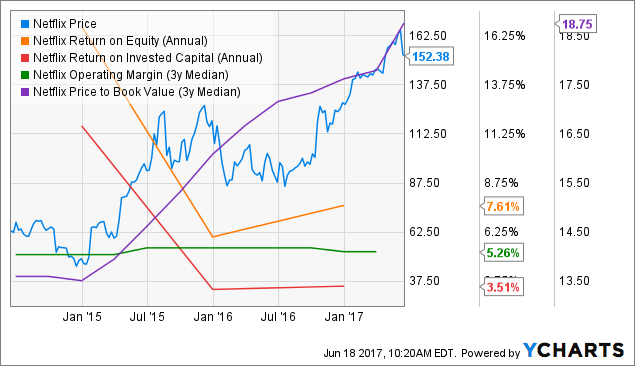 NFLX
data by
YCharts
Institutional Demand:
Netflix has been a market leader during this current bull market, as institutions chasing performance have become ever larger holders of the shares. This has helped the shares move higher. However, if trends were to reverse, the shares are very vulnerable to any change in institutional sentiment.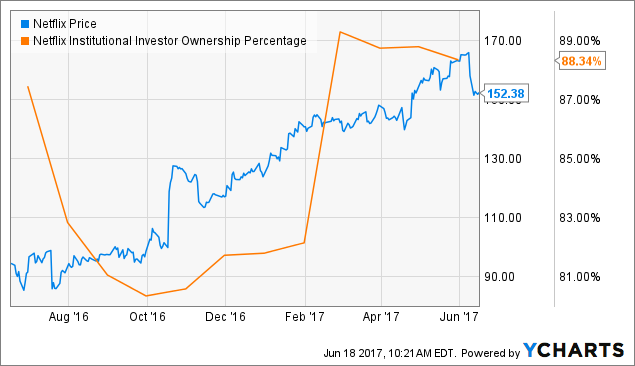 NFLX
data by
YCharts
Conclusion:
The threat from Apple is a problem for Netflix. Because the company is a pure play in programming, it is more vulnerable to the cost of talent. The valuation could come under pressure as institutions re-evaluate the risk/ reward. Netflix is a successful company that has done well in producing content and attracting viewers. However, the content business has always been very risky and very competitive.
At current levels, the risk reward is unfavorable as the valuation is simply too expensive and the risks to the downside are substantial.
Disclosure: I/we have no positions in any stocks mentioned, but may initiate a short position in NFL over the next 72 hours.
I wrote this article myself, and it expresses my own opinions. I am not receiving compensation for it (other than from Seeking Alpha). I have no business relationship with any company whose stock is mentioned in this article.