Tesla Inc (NASDAQ:TSLA) is trading at modest valuation when compared with automakers in emerging markets. Almost every bear argument for Tesla has a mention of its valuation compared to GM (NYSE:GM) and Ford (NYSE:F). Both these automakers are selling millions of units annually but they have also failed in several key areas. GM and Ford tried to increase their market share in emerging markets for a long time. Recently GM has declared that it will be exiting Indian market along with few other international markets. On the other hand, Tesla has a good chance of creating a niche in this market and grabbing market share from other automakers.
In India, Maruti Suzuki India Limited (MSI) has 47% market share in cars sold. It saw a jump of 9.8% in annual unit sales in the last fiscal which ended on March 31st. The company sold 1.56 million cars. Revenue came at $3.2 billion in the last quarter and net profit at $260 million. The current valuation for the company is close to $34 billion after growing by 36% YTD and 77% in the last 12 months. It has dividend yield of 1.03%, a P/E ratio of close to 30x and does not have any electric vehicle portfolio or investment in autonomous vehicles.
MSI has been able to protect its market share in a price conscious market. Most of the global automakers like GM, Ford, Honda and Toyota have struggled to expand their market share in India. This is one of the reasons why MSI is getting higher valuation as it is a leader in a market which is expected to grow at a double digit rate as the middle class expands in India.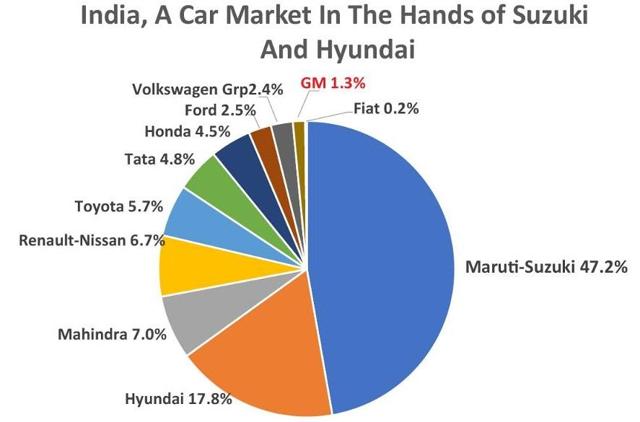 Tesla's future in India and its impact on valuation
Tesla has several favorable factors working for it in the Indian market. Indian government has recently declared an ambitious target of having 100% electric cars by 2030. Due to declining domestic production of oil and increase in consumption, there is growing reliance on imported oil which has led to increase in trade deficit. The consumption increased to 4.23 million bpd last year from 3.81 million bpd a year earlier. Dependence on imported oil has increased from 78.5% to 81% of the total oil consumption in the last fiscal year.
By pushing electric vehicle sales, the government hopes to reduce the import bill. There is also a big air pollution crisis in major cities. Many initiatives like odd-even driving have been introduced to reduce the level of pollution, but with low success. Higher percentage of EV sales will certainly alleviate this problem and is the only long term solution.
Due to additional government tax, the cost of fuel is also much higher in India compared to US. Currently premium fuel can cost over $4 per gallon in India. Hence fuel efficiency is the top priority for most of the customers. EV show significant savings in fuel cost, especially when the fuel cost is higher due to additional taxes. Already there is a significant market of using pure electric vehicles for light public transport also called e-rickshaws. The total sales are estimated to be above 100,000 with capacity expansion planned by several domestic companies. Several local authorities have started providing charging facilities and increasing investment on building requisite infrastructure.
MSI's CEO, Kenichi Ayukawa, has recently mentioned how difficult it would be for them to enter this market. This should give enough time to Tesla to build the requisite infrastructure. The most popular models sold by MSI are between $8,000 and $15,000. Compared to them, Tesla's Model 3 would be quite unaffordable in India especially after the import tax which can be as high as 100 percent or greater. In a number of tweets, Musk has shown his preference to release Model 3 in India if the import tax is reduced.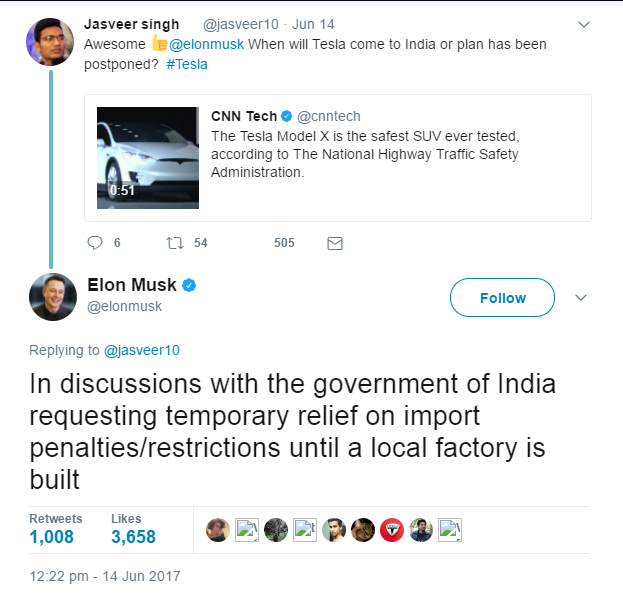 Reducing pollution and oil imports has broad political consensus and public support within India which can allow the government to easily provide temporary relief to import taxes for automakers selling electric vehicles. If Tesla goes for local manufacturing in the future and also provide lower cost-lower range options (because average daily travel is much lower in this market compared to US), it will certainly help in building a mass market for the company in India and other emerging markets.
GM had spent over $1 billion in the last 20 years to gain a foothold in the Indian market. However the final result was minuscule sales of 25,823 units in fiscal 2016. If Tesla can show significant progress in this region in the next 12 to 18 months, it would be a big victory for management and would also help in building long-term bullish momentum for the company.
Investor Takeaway
Tesla's stock should not only be compared with GM and Ford but with other automakers also. Tesla's $60 billion valuation is not very high when compared to $34 billion valuation of Maruti Suzuki India Limited. MSI does not have any electric or autonomous vehicle programs and most of its sales come from India. Both Tesla and MSI have similar revenue run rate. However Tesla is going to see major increase in sales in 2018 as Model 3 production reaches its peak.
Tesla is already in discussion with government of India to launch Model 3 without import taxes. Having a strong brand based on EVs will not only help Tesla gain additional incentives and lower taxes in India but also help in reaching out to a wider audience while facing much lower competition. Tesla has a high probability of succeeding in this market and taking market share from well-established automakers like MSI. Tesla's success in a market where all major automakers have failed including GM, Ford, Toyota and Volkswagen would send a strong signal to market about the future potential of the company and its stock.
Disclosure: I/we have no positions in any stocks mentioned, and no plans to initiate any positions within the next 72 hours.
I wrote this article myself, and it expresses my own opinions. I am not receiving compensation for it (other than from Seeking Alpha). I have no business relationship with any company whose stock is mentioned in this article.