Note: Premium subscribers obtained this content in advance on June 18, 2017.
As noted in a recent article, I have commenced a new portfolio aimed to generate high alpha, and what better place to deliver alpha than on the website that you are now reading, Seeking Alpha.
My first "high alpha" REIT pick was CBL & Associates Properties (NYSE:CBL), in an article in which I explained:
I am initiating a new High Alpha REIT Portfolio and I intend to include CBL in it. Although I would not recommend CBL for "the average Joe" or "my mother," I believe that there are excellent opportunities today for certain non-risk-averse investors who are willing to stomach the risks.
I also highlighted another "high alpha" REIT in an article in which I explained:
Investors Real Estate Trust's (NASDAQ:IRET) MOB portfolio has significant value - around 50% of NAV - and there should be a number of public and/or private suitors circling the wagons. The MOB catalyst is real, and I have confidence in Mark Decker and his team, and there is little doubt that, as a law of nature, IRET will soon resume the due course and deliver investors (including me now) "high alpha."
CBL and IRET are not my typical REIT recommendations, and I want to make sure that readers recognize that I am selecting deep value picks. Oftentimes investors get confused when they see cheaply valued stocks, they are looking for instant gratification.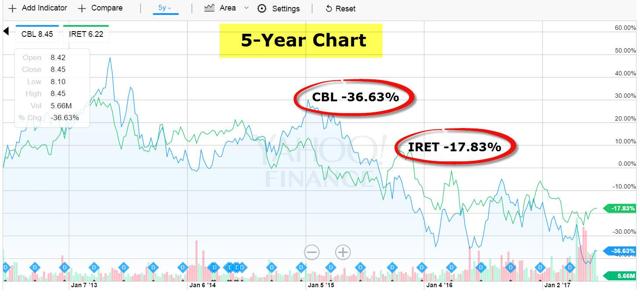 That's not the case with my "high alpha" picks. I am looking for REITs that fail to fully incorporate fundamental values, in which the investor's margin of safety is high. The wider the margin of safety, the lower the risk and the greater potential for gain.
To become a "high alpha" pick, the prospective REIT must not only have an identifiable margin of safety, but it must also have quantifiable catalysts that will drive Mr. Market to respond favorably. In other words, I have no interest in owning a "value trap" in which the stock price never improves.
Today I am going to provide you with my third "high alpha" REIT selection, as I look to construct a portfolio with between seven and 12 picks.
Ashford Hospitality Prime
In late 2013, Ashford Hospitality Prime, Inc. (NYSE:AHP) announced the completion of its spin-off from Ashford Hospitality Trust, Inc. (NYSE:AHT). The spin-off REIT began trading as an independent public company on the New York Stock Exchange starting November 20, 2013.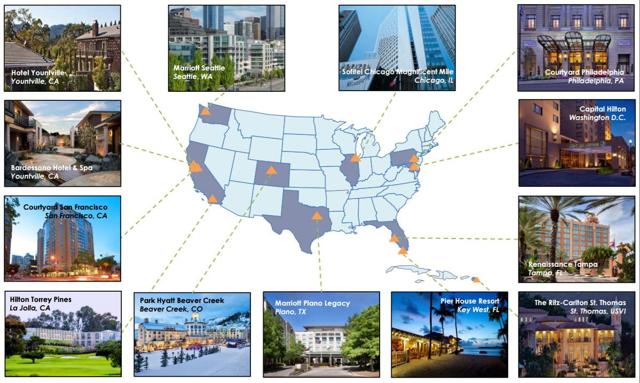 Ashford Prime formed with a strong foundation of eight hotels that has now grown to 12 hotels with 3,657 net rooms. AHP is focused on investing in luxury hotels and resorts that exhibits greater long-term RevPAR growth trend than the other chain scale segments. The Upper Upscale segment represents the second greatest long-term RevPAR growth trend.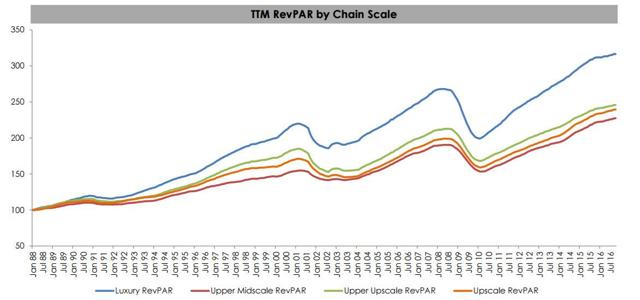 AHP acquired the Ritz-Carlton St. Thomas, Bardessono Hotel & Spa, Sofitel Chicago Magnificent Mile, Pier House Resort, Park Hyatt Beaver Creek and Hotel Yountville since spin-off, and the company has increased portfolio RevPAR since spin-off by 55% to $217 as of TTM March 2017.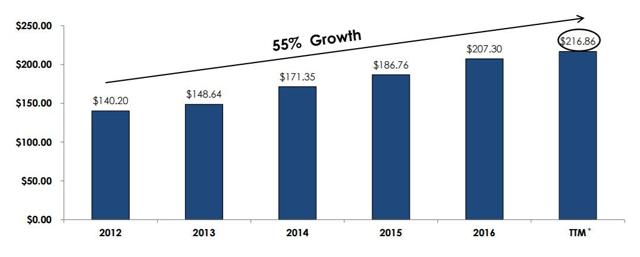 AHP's external advisory agreement differentiates it from other external advisory agreements in the REIT industry. The agreement's unique structure is designed to reduce the G&A expense burden by avoiding duplication, and provides for management incentives only in the event of outperformance versus a defined peer group, enabling investors to benefit from the management team's extensive experience and tenure together.
AHP is externally managed by a subsidiary of Ashford Trust, and pursuant to the advisory agreement, Ashford Advisors is responsible for implementing investment strategies and decisions and the management of day-to-day operations. The advisory agreement calls for AHP to pay Ashford Advisors a base fee that is calculated by multiplying 0.70% by the Total Enterprise Value of AHP and an incentive fee which is based on outperformance of AHP versus its defined peer group over the course of the year.
This advisory agreement is revolutionary in that the fees paid are performance based rather than being based solely on the size of assets being managed, which has been one of the main criticisms of externally managed companies. This structure, coupled with AHP's high inside ownership of 15.9%, demonstrates that this advisory arrangement is highly aligned with shareholder interests.

The company has a majority of independent board members - a 10-member board with nine independent directors. Total G&A costs, inclusive of Advisory Fees, are lower than the peers.
The core portfolio quality is unparalleled in the Public Lodging REIT Sector. Pro forma for the acquisition of Hotel Yountville, AHP has the highest RevPAR portfolio of all public lodging REITs: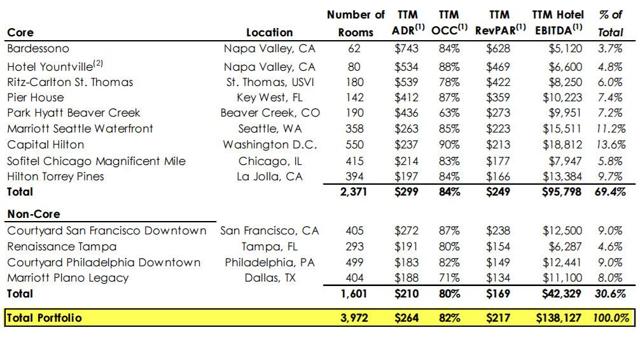 The Balance Sheet
AHP's total combined debt had a blended average interest rate of 3.9% and is almost entirely floating rate. All of the floating rate debt has interest rate caps in place. AHP has approximately 42% net debt to gross assets.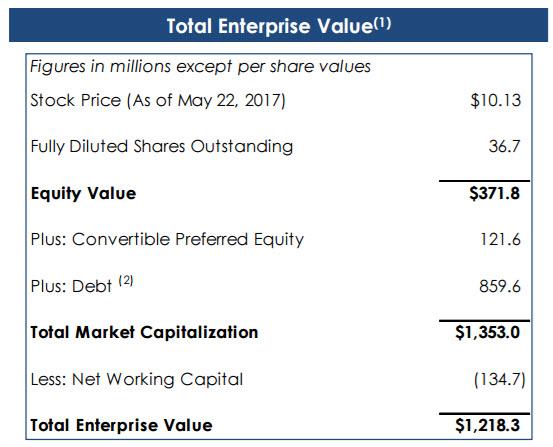 At the end of Q1 2017, AHP's trailing 12-month fixed charge coverage ratio was 1.9x. All of debt is non-recourse, property-level debt and the next hard debt maturity date is not until 2019.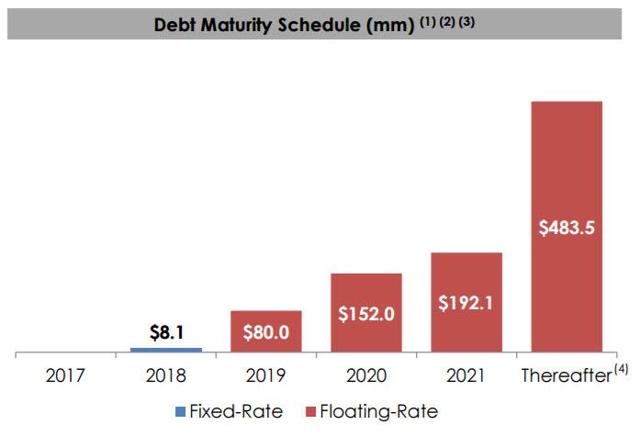 AHP ended Q1 2017 with net working capital of $182 million. As of Q1 2017, the total share count was 37.3 million fully diluted shares outstanding, which is comprised of 31.9 million shares of common stock and 5.4 million OP units. Also AHP includes approximately 6.6 million shares in the fully diluted share count associated with the company's Series B Convertible Preferred Stock.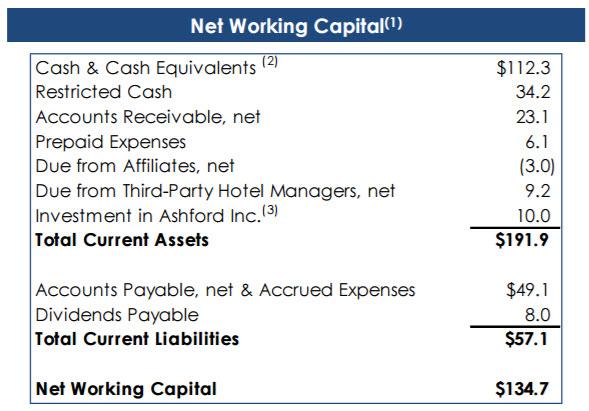 Here's how AHP compares with the Lodging REIT peers, based on market capitalization (in $US billions):

Can This Small Cap Luxury Player Move The Needle?
During Q1 2017, AHP had strong performance as the company reported AFFO per share of $0.46, 18% above the prior year and adjusted EBITDA of $23.7 million. AHP's RevPAR growth for all hotels of 2.5%, exceeded the industry-wide results for the luxury segment by 40 basis points. During the recent earnings call, AHP CEO Richard Stockton explained:
We believe these solid results reflect strength and quality of our portfolio and demonstrate our Asset Management team's ability to drive results at our properties. As I mentioned on our last call, when I came on board, I immediately began an in-depth strategic review of the company, which resulted in our announcement in January of a revised strategy.

As a part of that strategy, going forward, the company will focus on investing in the luxury chain scale segment. Empirical evidence has shown the luxury segment has a greater RevPAR growth over the long term and we are clearly aligning our platform with the luxury chain scale segment will help differentiate us relative to our REIT peers and should provide superior long-term returns for our shareholders.
In March, AHP announced an agreement to acquire the 80-room Hotel Yountville in Yountville, California, for $96.5 million. This hotel will serve to boost the overall RevPAR of AHP's portfolio with the RevPAR of $469 for 2016.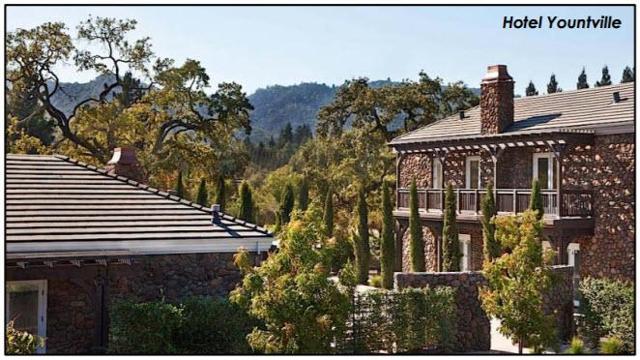 The Hotel Yountville is the second acquisition in the Yountville market, which is one of the strongest and most desirable lodging markets in the country with very high barriers to entry and minimal new supply. The property is located just down the street from AHP's Bardessono property (62 keys, 1,350 sq. ft. of meeting space), which was acquired in 2015.

AHP has a proven track record of delivering strong results after acquiring assets in markets where the company already owned an asset and expects similar results at the Hotel Yountville.
Also in late March AHP completed the acquisition of the 190-room Park Hyatt Beaver Creek Resort & Spa in Beaver Creek, Colorado, for $145.5 million. This iconic resort fits perfectly within AHP's luxury strategy and further diversifies the portfolio by establishing a presence in the highly sought-after market.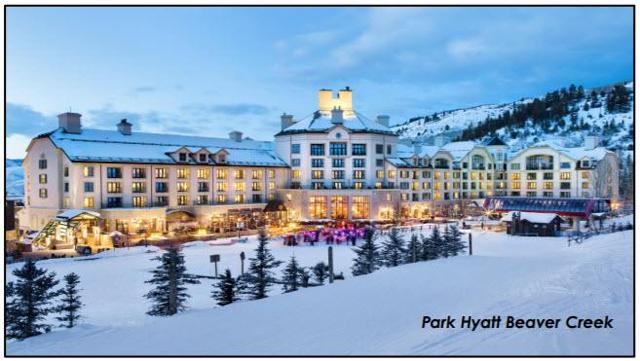 The Park Hyatt Beaver Creek is a premier location; with first-class amenities and excellent physical condition, the hotel is solidly positioned at the top of this high barrier to entry market. In 2016, the hotel delivered RevPAR of $271. Concurrent with the completion of the Beaver Creek acquisition, AHP financed the hotel with a $67.5 million non-recourse mortgage loan.
One other property that I certainly need to put on my "mystery shopping list" is the Ritz-Carlton St. Thomas. AHP acquired this property (180 keys and 10,000 sq. ft. of meeting space) in December. The property includes 30 oceanfront acres along Great Bay and was recognized in the 2015 U.S. News & World Report's Best Hotel Rankings.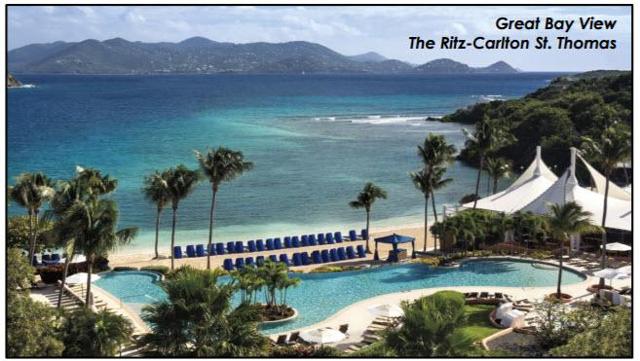 What Is Mr. Market Missing?
AHP recently declared a first quarter 2017 cash dividend of $0.16 per share or $0.64 per diluted share on an annualized basis. Here's how the dividend growth history has unfolded:

There's nothing wrong with that. Let's take a look at the FFO/share history:

AHP's FFO growth (of 18% YOY) was a good sign, and it appears that the company is on track to generate at ~$1.75 per share in FFO in 2017. The dividend is well-covered based on this estimate for 2017.
Valuation, Valuation, Valuation
AHP's dividend payout if $.64 per share equates to an annual yield of approximately 6.5%. Let's compare that to the peer group:

Now let's compare using the P/FFO multiple:

As you can see (below), AHP is screaming "cheap":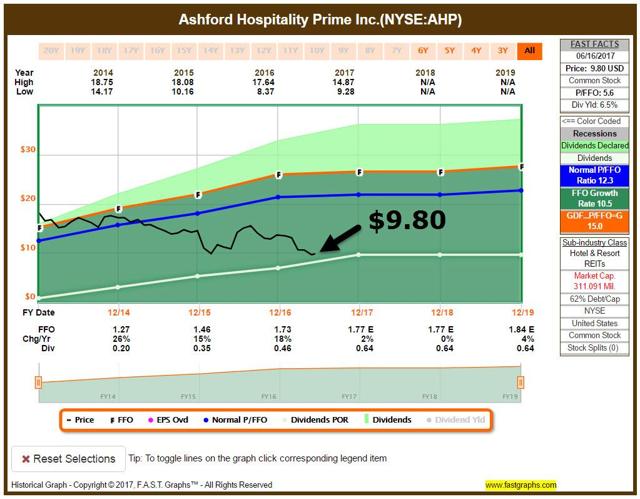 I'm certainly not calling this the bottom, but I am extremely attracted to AHP's high-quality portfolio. The latest acquisitions are also appealing, and although there is higher political risk associated with AHP's luxury profile, I like the strong inside ownership and the recent corporate government enhancements (see below):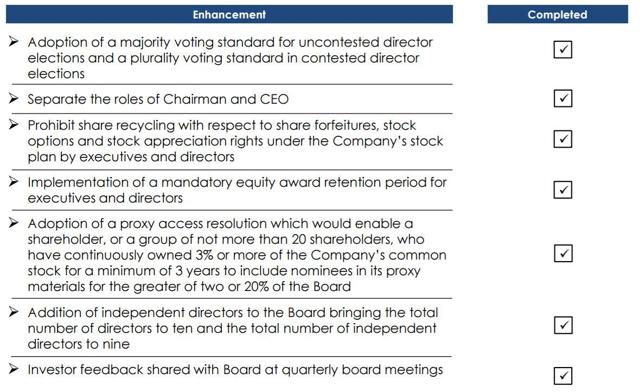 To Sum It Up
AHP is no SWAN, but I believe that this REIT is poised to generate outsized returns. Both Hotel Yountville and the Park Hyatt Beaver Creek should enhance AHP's core holdings and ultimately drive the valuation of the shares. AHP's shares are mispriced, and investors could see outsized returns in excess of 40% annually. Now you know why I call Ashford Prime a "prime high alpha REIT."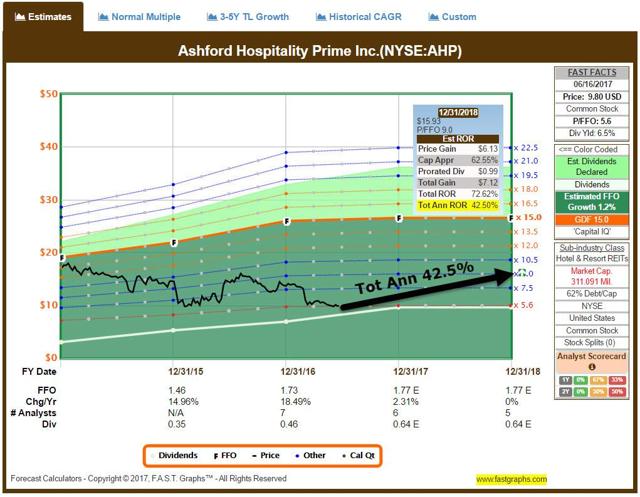 Disclaimer: I recommended this HIGH ALPHA REIT so that there is no confusion over my standard REIT recommendations. Subscribe to my marketplace content here.
Author's note: Join me at the DIY Investor Summit where I share detailed tips on my core investment strategies, top advice for DIY investors, and specific ways I'm positioning for the second half of 2017. Sign up here.
Brad Thomas is a Wall Street writer, and that means he is not always right with his predictions or recommendations. That also applies to his grammar. Please excuse any typos, and be assured that he will do his best to correct any errors, if they are overlooked.
Finally, this article is free, and the sole purpose for writing it is to assist with research, while also providing a forum for second-level thinking. If you have not followed him, please take five seconds and click his name above (top of the page).
Sources: FAST Graph and AHP Investor Presentation.
REITs mentioned: CDOR, SHO, RHP, APLE, DRH, HST, PEB, LHO, RLJ, CLDT, XHR, HPT, FCH, HT, AHT, and PK.
Disclosure: I am/we are long APTS, ARI, BRX, BXMT, CCI, CCP, CHCT, CLDT, CONE, CORR, CUBE, DLR, DOC, EXR, FPI, GMRE, GPT, HASI, HTA, IRET, IRM, JCAP, KIM, LADR, LTC, LXP, NXRT, O, OHI, PEB, PEI, PK, QTS, ROIC, SKT, SNR, SPG, STAG, STOR, STWD, TCO, AH.
I wrote this article myself, and it expresses my own opinions. I am not receiving compensation for it (other than from Seeking Alpha). I have no business relationship with any company whose stock is mentioned in this article.