After seeing the earnings spinner land in the 25% sell-off event, I have been watching Kroger (NYSE:KR) like a hawk -- or a vulture -- waiting for my opportunity to double down and take a new long position. The standard discounted cash flow valuation puts KR as having 50% upside:

My model, built on annual data, agrees that KR is undervalued -- more so now with the sell-off -- but not to the degree seen above. On the contrary, my model says KR has 100% upside. I will show you why.
As an aside, I should point out that I trust my model more than the above valuation, of course. After all, I wouldn't have built it if I didn't think the standard discounted cash flow models have problems.
I like to see the data behind the models, but more importantly I like to see the trend of the valuation. Let's take a look at my model, peeking at the cash returned on invested capital and free cash flow movements before looking at the final model. The final model's trend should be taken into account when predicting the stock price -- i.e., the point estimate/valuation alone is to be a piece of the picture, not the whole picture: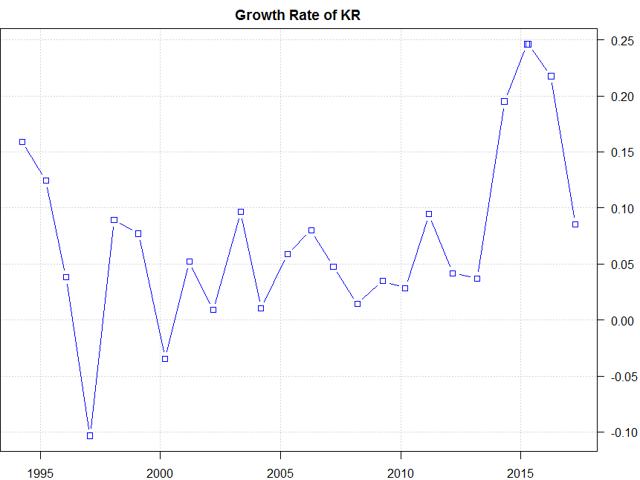 Growth has peaked and has fallen in rate. It is still positive, but we are heading toward a negative growth rate. I am not too worried, as the previous trend of the chart has shown the trend to be consistently positive. In addition, the smoothed curve is still bullish: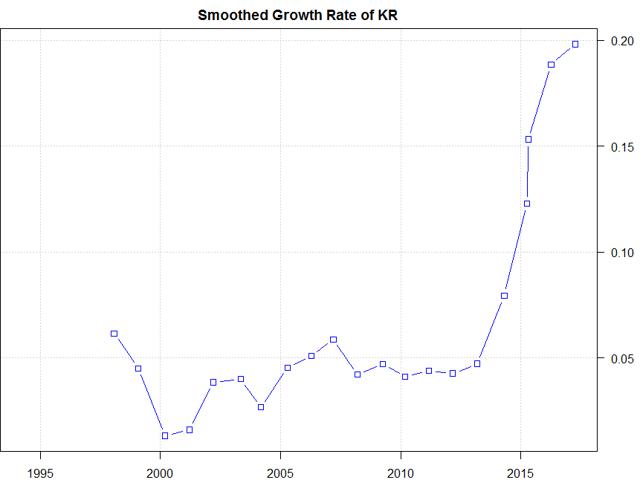 The free cash flow has been oscillating: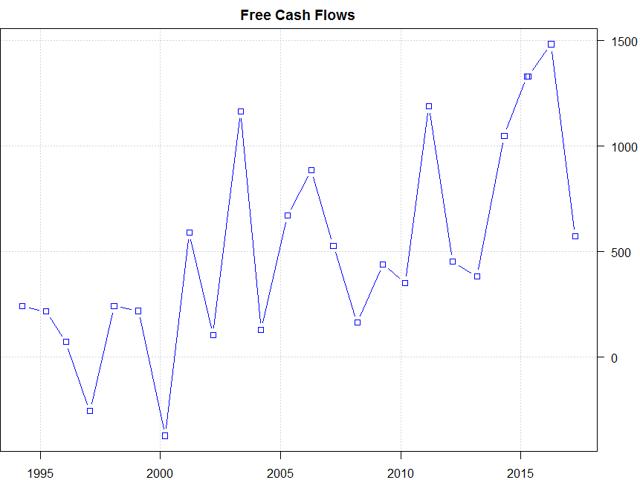 But the overall trend is upward. The smoothed model shows this as well, and if the above trend continues we will soon be on the short-term upswing: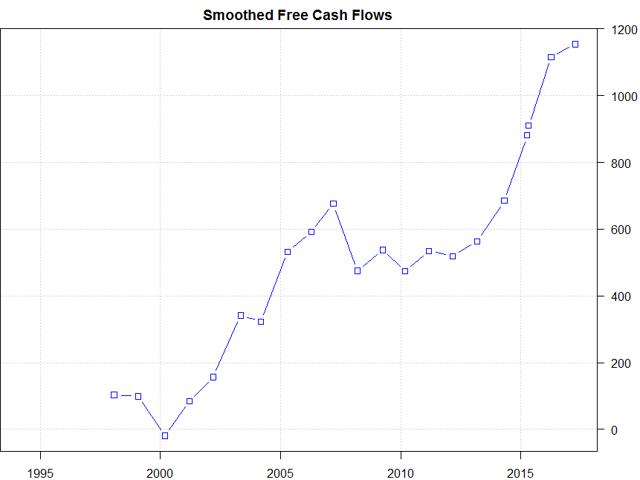 All these data together produce a rather bullish discounted cash flow valuation for the stock: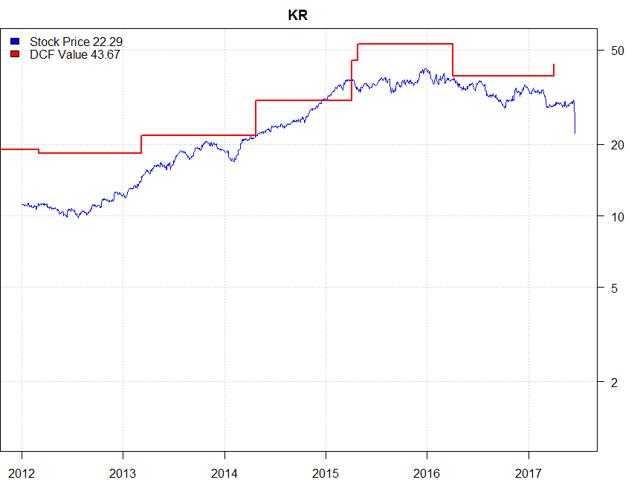 If one of my models does not show a past trend of predicting stock price, it abdicates influence on my sentiment. But the above chart with KR shows quite a clear correlation between the model's movement and the stock's successive movement. Note that the model predicted KR to be fairly valued at several times in the past, but the valuation diverged in early 2016, around the time when Amazon (NASDAQ:AMZN) began its unstoppable and unyielding bullish trend that would double the stock price in a year.
I'd like to make the implication I just made explicit: I believe KR's discounting is partly due to AMZN fears. I have explained several times in the past in articles on Amazon and Wal-Mart (NYSE:WMT) that these fears are overblown, that Amazon Fresh remains a concept with potential profitability but offers no real additional revenue to the company. As I ask in the linked article, "When was the last time you bought milk from Amazon?"
Well, now the fears are becoming justified. With Amazon buying Whole Foods Market (WFM), the question now becomes about Whole Foods Market. And the question is now answered "yes" by a large percentage of the population. Yet the fears must be put in context. KR is not suddenly competing with Amazon. No, they are competing with Whole Foods Market, as they have always done. Nothing has changed here.
Thus, I reiterate that the sell-off is built on unjustified fears. This is most likely a buying opportunity. I'm looking at a cheap KR with 100% upside as per my discounted cash flow model, a model that also has been quite reliable in the long-term for predicting the movement of KR.
And the fundamental side seems to justify the long case. KR is not going the way of Macy's (NYSE:M); grocers will always benefit from bricks-and-mortar stores, and Macy's murderers were of a type not effective on grocers (niche stores, deep discounts only possible by ditching bricks-and-mortar stores, and larger selection in a market with an emphasis on seasonality). In addition, the introduction of new competition, something I have already discussed as a misrepresentation of the macro landscape changes, is often met with lowering prices. But with already low, competitive prices, KR need not drop its margins for the sake of remaining competitive.
The only concern I have for KR in the macro realm is the possible reduction of traffic due to increasingly lower barriers to entry for online grocery retail. I believe that a limit will be hit once those who "aren't yet ready" to buy online become ready. The leftovers, which will likely compose the majority if human nature and common sense remain reliable predictors, will be the majority.
We are seeing a concern for retailers in all markets -- not just Macy's or Kroger's. But these fears only apply to the weakest retailers. As I explained in my previous article on KR, the larger grocers have more to gain from the competitive prices that are driving out the laggards.
I have kept this in mind as I watched the gaps and candlesticks of KR, two indicators on which I have based much of my trading career and entry points for investments. I recognized the gap pattern as a breakaway gap followed by a professional gap. The first is contained in the second's pattern:

If you're not interested in gap trading or technicals, just consider the above a convoluted way of saying that the stock is overbought and the professionals are likely to begin capitalizing on the amateurs that are selling in fear. The next action is typically a rebound. This, combined with a long-term bullish thesis, justifies a buy-in.
Now, there is an elephant in the room: the new information we investors have through the recent earnings report and call. I'm in the process of developing software to quickly and easily make sense of earnings reports. When I applied it to KR's FQ1 earnings, I found it aggrieving.
The results of my analysis show that KR actually posted a positive earnings report. The earnings call's tone was 30% higher than Kroger's average and 10% higher than the industry average. Tone is calculated by the analysis of every sentence within the earnings call -- an analysis based on decades of academic research, which also shows a correlation to the stock price movement in the coming quarter, thus supporting the bullish thesis of KR.
Below, I pull up some of the choice statements that my software flagged in its analysis:
"In the first quarter, we saw more than 30% growth in new digital customers and a more than 30% increase in digital visits -- with faster growth in mobile compared to last year."
-- Growth in the same category that is driving the fearful sell-off.
"We are happy with the better identical sales trend in the first quarter compared to the fourth quarter, and we are pleased to see that our current identical sales trend is positive."
-- Growth across FQ4 to FQ1; important because FQ1 growth tends to predict FQ2 growth (this quarter-to-quarter trend is stronger than for any other combination of quarters).
"Recognizing the demand for convenience, high quality, and best value, Kroger's Culinary Development Team launched an incredible collection of Prep+Pared meal kits that we are currently piloting in Cincinnati stores."
-- Targeting customers who value convenience; an important front for the "war" with online grocers.
"By having brands our customers love that are only available from us, we gain loyalty and advocacy from our customers."
-- Another method by which to retain customers and to attract new customers, relative to the online grocers -- also a method to fight against commoditization.
"We continue to focus on the areas of highest growth like natural and organic products as well as areas where we are saving customers' time, such as ready-to-eat and ready-to-heat meal solutions."
-- Summarizes two important weapons that address investor concerns on price and on convenience value propositions.
This is all good news packaged with a lowering of profit expectations, which gives investors an opportunity to invest on the undervaluation of Kroger alone. The voluntary lowering of guidance is unlikely to be repeated often, so investors confident in the mispricing or the probability that all those willing to sell have already sold should see this professional gap as a buying opportunity. I believe the stock has bottomed out at the $20-$22.50 range, where the positive catalysts cannot be further downplayed.
Taking all this into consideration, investors should accumulate and traders should take long positions. Here's my play: I will be opening at the beginning of the week after a deeper technical analysis:
Buy Jan. 19 $22.50 call
Sell July 21 $27.50 put
This is opened at a net credit of $350 or so. Ensure you close the put side of the trade before it expires and reopen the put for the next month, choosing ITM but below-the-discounted-cash-flow-valuation strikes.
Learn More about Earnings
Exposing Earnings is all about predicting earnings reports and trading them with options. Sign up here.
Note: All unlabeled figures were created by me from data pulled from Yahoo and ADVN through R. Charts with blue backgrounds are from Etrade Pro. Fundamental charts from a paid subscription at simplywall.st.
Disclosure: I/we have no positions in any stocks mentioned, but may initiate a long position in KR over the next 72 hours.
I wrote this article myself, and it expresses my own opinions. I am not receiving compensation for it (other than from Seeking Alpha). I have no business relationship with any company whose stock is mentioned in this article.