In a previous article I highlighted 10 insights that you could gain from a single table presented by Omega Healthcare (NYSE:OHI). I have included that table below and you can also take a closer look on the 41st slide of the company's most recent investor presentation.
The previous piece focused on the dividend, Adjusted Funds From Operations, Funds Available for Distribution, the respective payout ratios, management guidance and the growth of these components. For this article I'd like to emphasize the dividend yield, and specifically what sorts of returns were generated in the past.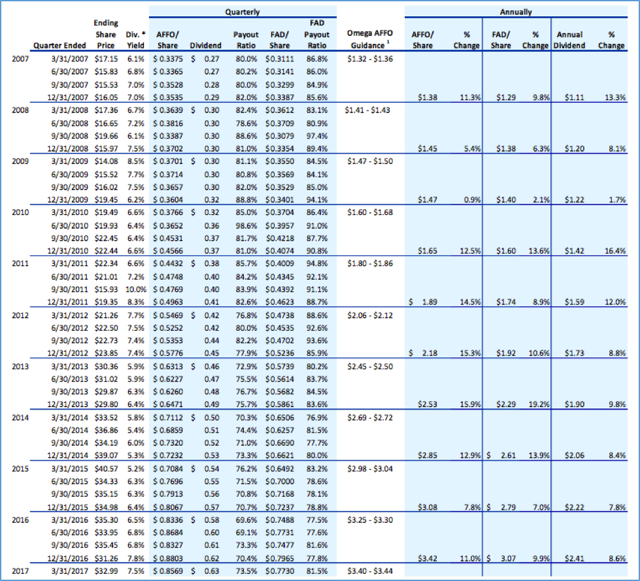 You can see from above, or trust from what I'm about to say, that Omega Healthcare's dividend yield has ranged from a low of 5.2% in March of 2015 to a high of 10.0% in September of 2011. The average yield has been around 6.8% over the past decade. In the previous post I mentioned that these dates also corresponded with high and low rates of subsequent return.
Today I'd like to look at the entire period instead of just a moment or two.
It makes sense that there would be an inverse relationship between dividend yield and annual returns moving forward. The higher the dividend yield, given a stable or growing payout (which has been the case for Omega Healthcare) the more income you receive on an ongoing basis and the higher likelihood of a lower valuation.
On the other hand, a low comparative dividend yield (5% is hardly low for most securities, but for something like Omega it has been) usually equates to a higher share price and higher valuation. So you receive less comparative ongoing income and you could also see some valuation compression down the line.
This is great in theory, but the question is whether or not the data supports it in practice. To answer this question, I decided to look at the total compound return from each of the dates mentioned above to the present day. Note that the results are on an annualized basis.

I recognize that this view may be hard to take in collectively, but I wanted to provide a good amount of history. With respective to a longer-term view, I have also elected to take off the last year and a half (the short-term numbers tend to be a bit more volatile).
This table gives you a good idea as to whether or not there has been a correlation between the dividend yield of Omega Healthcare and the returns generated moving forward.
You can see that the highest dividend yield - 10% in September of 2011 - has thus far turned in the highest annualized return: 19.9% per annum. And the lowest dividend yield - 5.2% in March of 2015 - has so far generated the worst annualized gain: negative 2.7%.
In-between, the data points can be just as instructive. Other "high" dividend yields north of 8% have generated substantial gains so far. And likewise, other "low" yields under 6% have not provided especially spectacular gains, at least in comparison to the other periods.
I am struck by the string of double-digit gains, regardless of when you purchased shares, from 2007 through 2012. The dividend yield fluctuated between 6.1% and 10%, and yet any moment in there would have been a reasonable return. In my view, that gives a bit of credence to the idea that a strong and growing dividend coupled with a solid underlying support can yield substantial investment returns.
In other words, an average yield does not necessarily imply average returns. And the same may be true today, an average yield for Omega would be a well above average yield for most securities. Pair this with the potential for growth, and the "investment bar" is already reasonably low.
Here's some other ways to look at the above information. This is what it looks like on a scatterplot: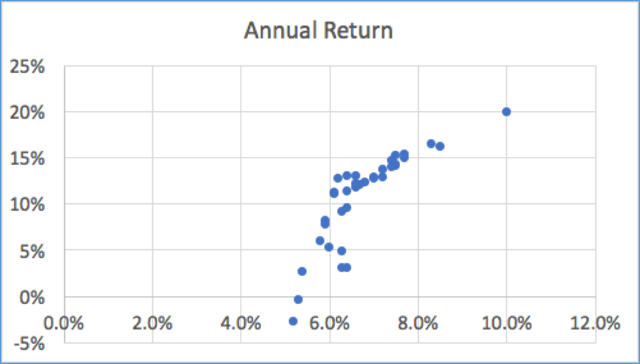 The x-axis shows the dividend yield and the y-axis indicates the total annualized return for each period. You can see a clear trend. There are few data points for yields above 8%, but in each instance their long-term returns have been superb. With a dividend around 6.5% to 8% the returns have been very good. And once you start getting down to a 6% dividend yield and below the returns start becoming subpar.
Part of this is due to a lower amount of overall income generated, but a lot of it has to do with valuation. Omega Healthcare ordinarily pays out 80% or so of AFFO, so a yield of 6% indicates a starting valuation of over 13 times earnings (against an average of closer to 11 or 12). On the other hand, an 8% yield often implies a starting multiple closer to 10 times AFFO.
Speaking of trends, I elected not to put a Trendline in the above chart. While the above information is historically accurate, you don't want to read too much into using it as a prediction for the future.
Here's a third way to think about the data:
I broke the information out into bins: 5% - 5.9%, 6% to 6.9%, 7% to 7.9% and 8%+ starting dividend yields on the x-axis. The total average annualized returns are shown on the y-axis. The same concept is reiterated: historically, the higher the starting yield the better the long-term returns.
So where are we today? Omega Healthcare's share price sits just under $33 and the company's last quarterly dividend was $0.63. That equates to a starting yield of 7.6% (and a starting multiple near 9.5 to 11, depending on if you're looking at AFFO or FAD). Historically Omega's future returns have performed very well from this point. (Comparative to say September of 2009 and June of 2012 when the dividend yield sat at 7.5% and the subsequent returns were 15% and 14% per year respectively.)
Just to give you some context, Omega Healthcare grew its dividend by an average compound rate of 8.2% per year from 2012 to 2016, and by 10.1% annually dating back to 2009. You may not anticipate this sort of growth moving forward (making past yield marks a bit less comparative) but there are three follow up points.

Going back to 2012, Omega Healthcare has raised its dividend by a least a penny every quarter; which is included in the notes above. If this trend were to continue, the nominal amount of increase would remain, but the rate of growth would be decreasing as the base becomes larger and larger.

A penny increase for each quarter over the next five years, as an example, would equate to year-over-year increases of 6.8%, 6.4%, 6%, 5.7%, 5.4% and so the trend goes on. Much like AT&T (T), the same nominal increase leads to lower and lower percentage increases.

A counterpoint to that is the payout ratio. Omega Healthcare is currently anticipated to pay out 74% or so of its Adjusted Funds From Operations, against an average closer to 80%. So future dividend growth will depend first on the underlying profitability of the firm and the growth of that component, but also on the company's willingness (or lack thereof) of utilizing payout ratio flexibility.

And third, even without growth the dividend is already substantial. You would be unlikely to see returns rivaling those of the past (with similar yields) but as mentioned, "average yield" does not necessarily translate to an average return. Likewise, "stagnant growth" if it comes about, does not also indicate stagnant returns. Omega Healthcare has the propensity to be a solid income investment with or without the growth that was seen in the past.
Of course none of this is to suggest that history has to repeat itself. It could be your thesis that the industry is in a downturn, the payer model will ultimately break and Omega's dividend will need to be reduced. Even if you don't anticipate this dire of an outcome, the idea is that there are concerns today (add in low interest rates) that may not have applied in the year's past.
However, if you believe in Omega over the long-term, and anticipate a steady or increasing payout, the above offers some context. It gives you an idea of the possibilities at hand and it points indirectly to the importance of valuation in one's investing success.
Disclosure: I am/we are long OHI, .
I wrote this article myself, and it expresses my own opinions. I am not receiving compensation for it (other than from Seeking Alpha). I have no business relationship with any company whose stock is mentioned in this article.