The analysis provided in this article has found a notable upside potential in Magellan Midstream Partners' (NYSE:MMP) shares in the near future. The company's stock can be considered as a good opportunity for investors seeking stable dividend income. Our DCF analysis shows that the stock is undervalued in the base scenario, which is built on quite an optimistic rate of revenue growth in the forecast period. The aggressive scenario sets an upside opportunity of up to 30% from the current market price of the stock.
We start by analyzing Magellan Midstream Partners' segments and financial results. You can see that the top line has achieved a level of $642M in the last quarter, up 23% year-over-year: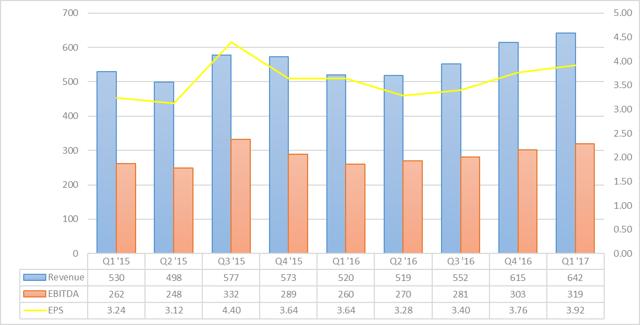 (Source: Bloomberg, calculations by author)
You can see operating income broken into segments in the diagrams below. We would like to notice that the company's operating profit has been mostly dependent on revenues from the Refined Products division. Since Q1 2016, this segment has grown substantially, while revenues from the other segments have remained almost flat.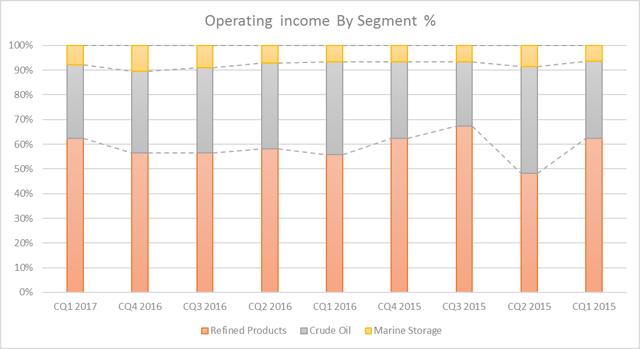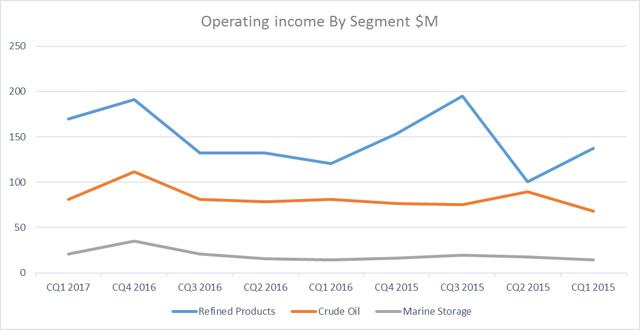 (Source: Bloomberg, calculations by author)
Magellan Midstream Partners has a number of projects that can contribute to significant cash flow generating in the mid-term:

(Source: MLPA Investor Conference)
We would like to see these projects realized and integrated into the company's diversified business structure. We suppose that it will give the company the ability to effectively confront different risks that are inherent in the industry.
The company's operating efficiency is outstanding: the operating margin stands at 42.5%, which is higher than the market's average, and has improved since the previous year. This change has been caused by improvements in the cost structure: the cost of goods sold and operating expenses have been reduced by approximately 2 percentage points. Efficiency ratios like ROE and ROA are much higher than the industry's average. The increase in the financial leverage, which affects the ROE ratio, has influenced the overall return on equity (the current figure is over 3.2x). The current level of debt-to-equity is around 200%, which seems to be a very high value. This value is reasonably higher than the peers' figures: for example, the D/E ratio of Energy Transfer Partners LP (NYSE:ETP) is almost 3 times lower. The interest coverage ratio has been improving and currently stands at 5.3x. The company has one of the highest credit ratings among MLPs: Baa1 / BBB+. However, the substantial debt load can lead to difficulties in the case of raising debt financing to fund further expansion.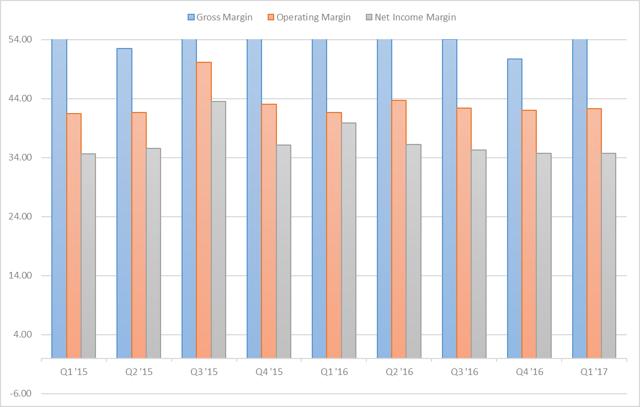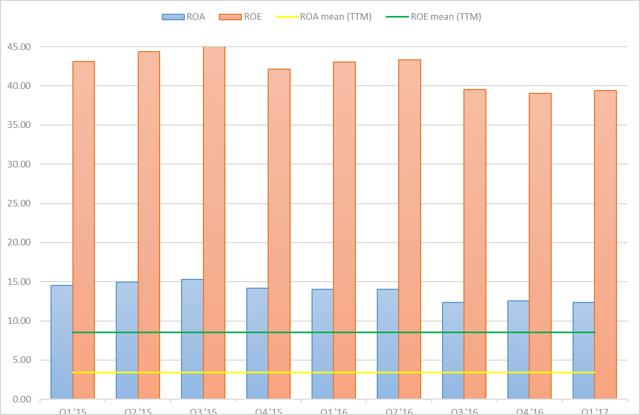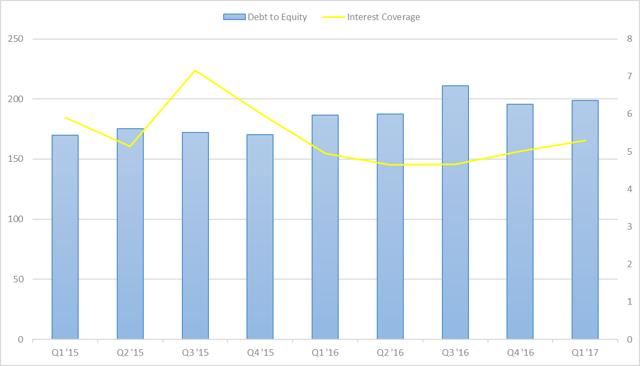 (Source: Bloomberg, calculations by author)
You can notice that the company consistently pays dividends even in the periods of negative free cash flows, and the amount of dividends paid is growing constantly. We should mention the fact that MMP is quite shareholder-friendly no matter how substantial its capital expenditures and other costs and obligations are. The dividend per share figure is continuously improving growing, and the company now pays $0.8725 per unit. This translates into a dividend yield of 4.8%. As for the payout ratio, we see the last-twelve-months' figure at 89% of net income. This is a sustainable figure in the long-term. The company can be considered a favorable investment opportunity for retirees or other income-oriented investors.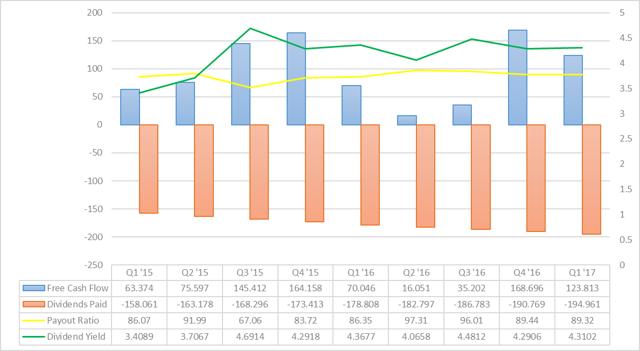 (Source: Bloomberg, calculations by author)
However, we would like to show you the dividend yields of the nearest competitors for comparison purposes. You can see that this industry has companies offering greater yields for investors looking for dividend income stocks. In particular, Energy Transfer Partners and Plains All American Pipeline (NYSE:PAA) are offering attractive dividend yields: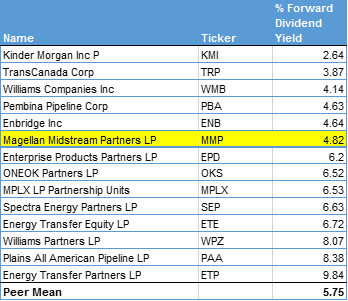 (Source: Bloomberg, calculations by author)
Apart from the financial and operating results, we should also consider several industry-related risks in our valuation (these considerations are based on various Bloomberg's research papers, especially on "BI 2017 Outlook: Midstream Oil and Gas, North America" presented by Gurpal Dosanjh):
- Liquefied gas, new infrastructure, and flexible contracts are changing the global energy sector (Source: Wall Street Journal's recent article)
- Midstream players have reduced spending plans and slowed down growth in distributions to investors as cash coverage ratios shrink. Sponsored MLPs and those without incentive rights faces stronger growth visibility: Energy Transfer Partners, Enbridge Energy Partners, L.P. (NYSE:EEP), and Kinder Morgan are among the largest.
- Slower cash flow growth combined with aggressive spending and rapid distribution hikes in recent years have led to troublesome cash coverage ratios in the MLP industry. Several large partnerships are unable to cover cash payouts, stymied by declining expansion opportunities, commodity pressure and onerous general partner fees. Better coverage and distribution metrics persist among refiner and E&P-sponsored MLPs, helped by inherent growth from asset dropdowns, and those MLPs without incentive distributions.
- The four midstream MLPs without incentive distribution rights have a wider cushion to pay cash to partners than other peers. Total distribution coverage for the four has tightened from an average 1.3x in the last three years. After merging with or acquiring general partners, Enterprise Products, Magellan Midstream, Buckeye Partners and Genesis Energy no longer pay IDRs.
- Increasing incentive distribution rights, which absorb an average of 30% of total cash distributed, will continue to challenge project economics and growth. As an MLP matures and more cash is funneled to the general partner through rising IDRs, it becomes a struggle to maintain growth rates the MLP was once able to support: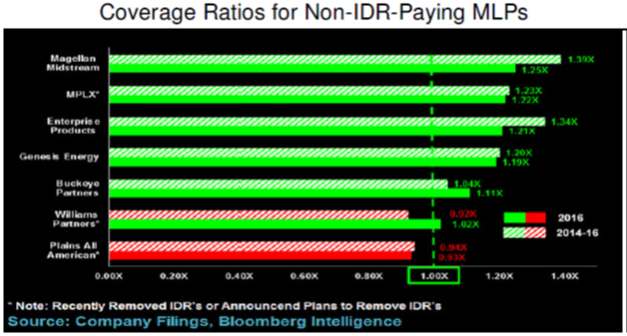 - The Trump administration's stance on infrastructure has already up-ended delays to the Dakota Access pipeline due to direct federal intervention in the project, but that control may not extend to natural-gas infrastructure. Natural-gas project setbacks - possibly tied to a greater volume of third-party efforts slowing state and federal agencies - are playing out in various courts around the U.S. as projects fend off regulatory delays. Without a sea change in the FERC process, little can affect the unfolding delays.
- President Donald Trump will likely provide clearer timelines for crude pipeline projects by streamlining the permitting process, which hampered Dakota Access, Keystone XL and other conduits. Trump has highlighted energy independence and infrastructure development in multiple speeches, and has already singled out Dakota Access for completion and Keystone for approval.
- "The world economy continues to electrify, with nearly two-thirds of the increase in global energy will be send into the power sector. As a result, the share of energy used for power generation rises from 42% in 2015 to 47% by 2035" (Source: BP Energy Outlook 2017). The substantial threat for oil companies is that this rising demand for power generation is expected to be satisfied mainly by natural gas.
In addition, we would like to present a list of risks inherent in the entire oil and gas industry. You can find more about it in one of our recent article on Petrobras (NYSE:PBR).
Comparative Valuation
Our comparative analysis is based on three key ratios: P/E, P/S, and P/BV. MMP seems to be overvalued by the P/S and P/B ratios, where the potential downside is nearly 70% relative to the market's average. We believe that this method of assessment largely contains market noise. Thus, we have turned to the DCF model to build a more solid foundation for our investment case.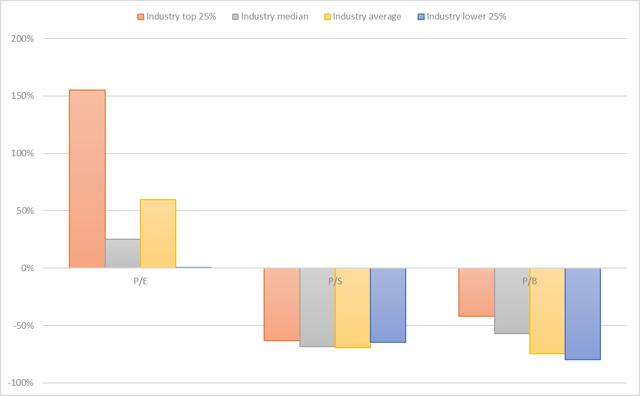 DCF Model
Our DCF model is presented in the diagrams below. The DCF model incorporates historical data and certain assumptions about the future:
- Revenue CAGR is set at 4% in the forecast period (2017-2021). The total revenue is forecasted to be around $2.4B in FY2017. We expect a 10% revenue growth rate in 2017, which will decline thereafter;
- The EBIT margin is set at 35% in 2017 and declines thereafter;
- The net income is expected to be around $863M in 2017, while the net margin is set at 35% of revenue;
- The effective tax rate is expected to be around 0.5% in 2017;
- The growth rate for CAPEX for the forecast period is set at 28% in 2017;
- We use the EV/EBITDA multiple of 17.7X, which is based on the two-years average multiple.
We admit that our projections are quite optimistic.
The model shows that, after adjusting for balance sheet items, the fair value of equity is around $18B. Consequently, the stock's fair value is around $79 per share, which is 13% higher than the current share price.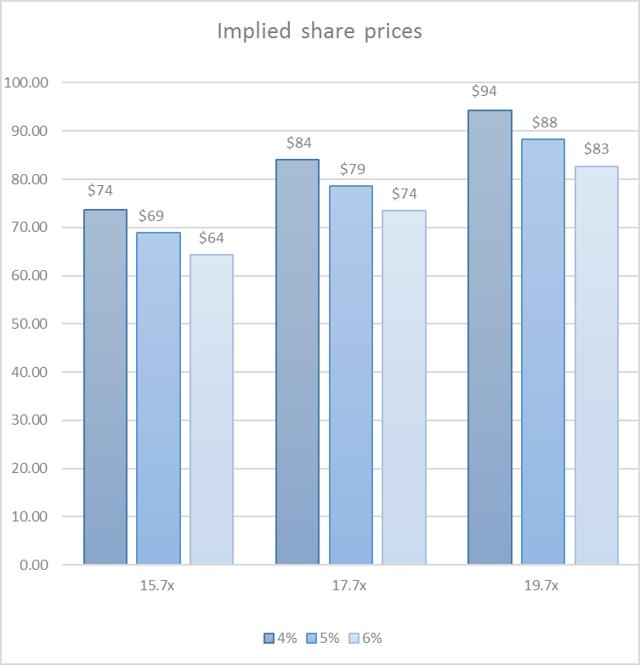 (Source: Author's DCF Model)
Sensitivity
Our analysis is based on certain assumptions. The sensitivity analysis covers a range of possibilities resulting from deviations from the base scenario. Assumptions related to WACC and the Terminal EV/EBITDA multiple show that the base scenario implies a fair price range between $74 and $84 per share. This means that the upside potential is between 6% and 20%: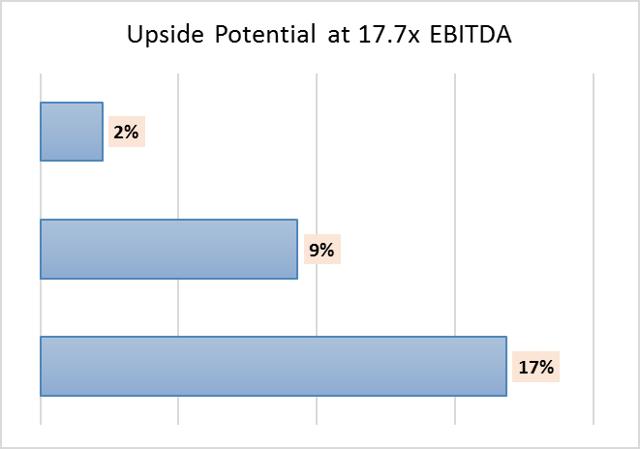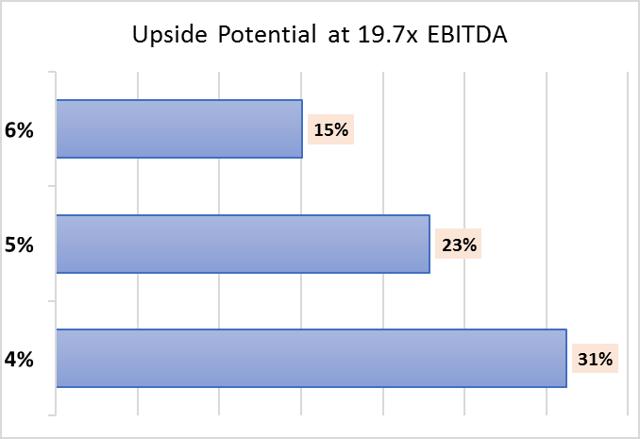 (Source: Author's DCF Model)
However, if investors estimate the value of the company by using the multiple of 19.7x, they will find a stronger upside opportunity in the stock. This aggressive scenario sees an upside opportunity of up to 30%, depending on what WACC is chosen. The model's WACC of 6% is calculated in-line with the current capital structure of company (almost 81% of assets is financed by equity).

(Source: Author's DCF Model)
We should notice that the implementation of the 19.7x EBITDA multiple is quite feasible. As you can see in the diagram above, the implied perpetuity growth rate of free cash flows in the case of the 19.7x EBITDA multiple is realistic, particularly at the current WACC's value of 6%.
Conclusion
In the fundamental analysis of Magellan Midstream Partners, we have identified a number of positive catalysts supporting a further appreciation in the stock's value in the near future. We also think the company's stock can be considered a good opportunity for investors seeking stable dividend income, especially given the growing trend in free cash flow generation.
According to the comprehensive DCF model presented above, we set a target price range of $74 and $84 per share in the base scenario, while the aggressive scenario implies an upside opportunity of around 30%. We recommend buying this stock.
Supporting Documents
Disclosure: I/we have no positions in any stocks mentioned, and no plans to initiate any positions within the next 72 hours.
I wrote this article myself, and it expresses my own opinions. I am not receiving compensation for it (other than from Seeking Alpha). I have no business relationship with any company whose stock is mentioned in this article.
Additional disclosure: Societe Financiers is an investment research team focused on long-term, long- and short-only ideas. Our research objective is to cover equities in various regions, such as North America, EMEA, Asia, Australia, and Emerging Markets. Readers should consider whether any advice or recommendation in our research articles is suitable for their particular circumstances and, if appropriate, seek professional advice, including tax advice. The price and value of investments referred to in our research articles and the income from them may fluctuate. Past performance is not a guide to future performance, future returns are not guaranteed, and a loss of original capital may occur. Fluctuations in exchange rates could have adverse effects on the value or price of, or income derived from, certain investments. Certain transactions, including those involving futures, options, and other derivatives, give rise to substantial risk and are not suitable for all investors. Transaction costs may be significant in option strategies calling for multiple purchase and sales of options such as spreads.