As I write, Nvidia Corporation (NASDAQ:NVDA) is up past $153.71 in pre-market and this stock looks like it is going to go from strength to strength. The company continues to grow its presence meaningfully in high growth areas such as the Data Center, Gaming and Automotive and its fundamentals (especially in the self driving space) definitely seem to stack up at present. The question at present is whether investors will get another chance to get long this stock as shares have already rallied 40%+ this year.
We definitely have had two-sided tape action in the Nasdaq Composite (INDEXNASDAQ:.IXIC) over the past while so there may be a possibility that this index could yet drop into an intermediate low. If we do get a fresh move down, Nvidia could at least drop down to its 50-day moving average of $123 a share. For an intermediate low to take place, we would need the index to drop below its May lows, which would definitely bring Nvidia down to at least its 50-day moving average price.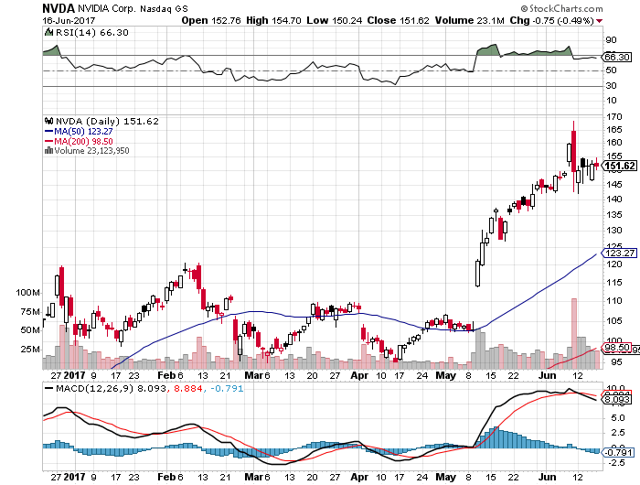 A 20% shave to the share price would also do wonders for sentiment (which despite the huge run up we have witnessed in shares recently) has remained pretty even. I see even sentiment at present as a bullish sign as usually when stocks undergo these kinds of vertical type moves, sentiment goes through the roof. Although Nvidia is really making inroads in the data center and gaming segments, I really like the fundamentals of the self driving space for a number of reasons. Some sectors over the next decade or so will be able to transcend economic contractions and recessions and I believe the self driving space will be one of those areas.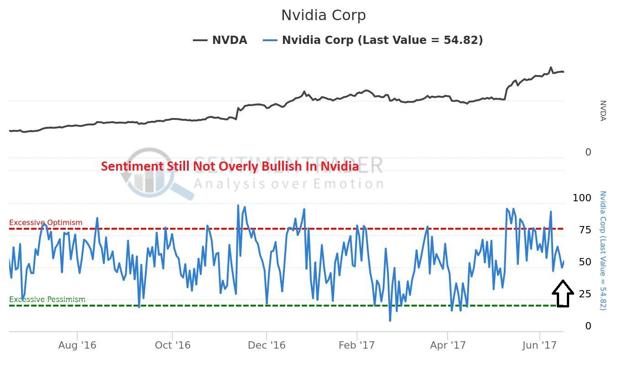 Source : Sentimentrader.com
The sheer "will" to bring about change in this sector should remain elevated over time. When one drills down into the numbers, not only will autonomous vehicles save an enormous amount of lives (as the vast majority of accidents come from human error), but also you are opening up the market to disabled people and also people who do not have a license for whatever reason.
I have a neighbor who is a special needs teacher herself and is disabled. She needs to avail of a driver (if the distance is not too far away as she goes to many nearby locations on her electric wheelchair) in order to get her from A to B. Tina is constantly researching the self driving market to see when the first prototypes will be on the road as you can bet she will be one of the first groups to foster the new technology.
Currently, the company's auto-platform segment only makes up about 7% of Nvidia's top line take but I see this division as the one with the most potential. You just have to take note of the array of deals the company has done with other firms in the automotive space. The recent Toyota (NYSE:TM) deal is probably the one that sticks out as the most exciting at present given Toyota's weight and scale in the auto industry in general.
Automakers know they need to invest heavily in this space or they could get left behind rather quickly. This is what we are seeing with Nvidia's Drive PX platform. More large manufacturers (such as Audi (OTCPK:AUDVF) and BMW (OTCPK:BMWYY)) also want in which is why it is no surprise to see automakers pushing government authorities to test more vehicles on public roads and this is where I feel Nvidia may have an advantage.
By being able to partner up with the biggest automakers on the planet, Nvidia (due to sheer numbers in testing) should really have some solid data over the next year or so. Xavier for example should improve faster with more data and this is what some Nvidia bears are missing. When you have an array of large auto manufacturers pushing governments to try out your technology, this equates to serious leverage, which has to over time work in Nvidia's favor.
Nvidia's first mover's advantage in this space definitely prompted Intel (NASDAQ:INTC) to buy Mobileye but I fear it may be too little too late. As long as testing and updates go well on Nvidia's part, I fail to see how Nvidia will lose its present partnerships. Remember Nvidia appears to be unmatched in the deep learning area at present so I would be backing its technology going forward.
Personally, I hope we get our intermediate cycle low in stocks over the next month or so. If we do, Nvidia most certainly will be on our watch list. Ultimately, I expect stocks to give us a blow off style top over the next 12 to 24 months and Nvidia should do very well in those circumstances. Once the market sees another huge growth trigger in the self driving space, the shares should get valued upwards once more.
Disclosure: I/we have no positions in any stocks mentioned, but may initiate a long position in NVDA over the next 72 hours.
I wrote this article myself, and it expresses my own opinions. I am not receiving compensation for it (other than from Seeking Alpha). I have no business relationship with any company whose stock is mentioned in this article.