Art's-Way Manufacturing (NASDAQ:ARTW) at first glance appears to be cheap, but digging deeper, you will find many issues that impact valuation. Farm equipment sales have been soft, and added pressures caused by a decline in beet farming has led the company down a path of continual sales declines, operating losses, and loans that have been modified several times. While management believes that this year's release of six new products will bring the company back to profitability, any upside has already been priced into the stock.
About Art's Way
Founded in 1956 by Iowa farmer Arthur Luscombe, the company has built a name for itself as a niche manufacturer of farm equipment. After several decades of expanding their farm equipment product lines, the company diversified into pressure vessels (2005) modular research buildings (through the creation of Art's-Way Scientific in 2006), and carbide cutting tools (2013 purchase of Ohio Metal Co., dba American Carbide Tools).
Art's-Way has expanded their farm equipment business as well, purchasing Imperial Steel Tank (2011), Universal Harvester (2012), and AgroTrend (2013).
The largest shareholder in Art's-Way is J. Ward McConnell. McConnell has over 60 years of experience in the farm equipment business, starting off as a dealer in 1956. Expanding into manufacturing, he has bought and sold several farm equipment companies. In 1996, he sold potato farming equipment company Logan Manufacturing to Art's-Way and became a shareholder. In 2002, he infused additional capital into the company and became Chairman. He currently owns 37.5% of the company. He has since retired as Chairman, but remains Vice Chairman, with his son Mark taking the helm as Chairman.
Business Overview
Agricultural Products
Making up 73% of sales in 2016, agricultural products include animal feed processing equipment, hay/forage equipment, grain augers, manure spreaders, sugar beet harvesting equipment, combine reels, and industrial-grade snow blowers. 5% of sales are derived from selling silage blowers and reels as an OEM to larger farm equipment companies such as CNH (Case New Holland).
The purchase of AgroTrend helped the company expand into the Canadian market, leading to the creation of Art's Way International Ltd.
Backlog for agricultural products was $5.7m as of March 28, 2017, up from $2.92m at the end of November 2016. The backlog has improved due to the release of several new products, as discussed in the most recent conference call.
Modular Buildings (Art's Way Scientific)
17% of 2016 sales. Products include animal housing, bio-containment, animal science, public health, and security-related modular buildings.
Tools (Ohio Metals/American Carbide Tool)
9.4% of sales. This unit makes tools used to cut and shape pipes, fittings, and other parts. Industries served include automotive, aerospace, and energy. Art's-Way bought this unit in 2013. Sales have been sluggish since the decline in oil prices softened demand for oil exploration equipment.
Discontinued Operations
Art's Way previously had a Pressurized Vessels segment, which they discontinued in 2016. The company is in the process of selling the real estate of this former unit (see "Real Estate Holdings" below).
Recent Performance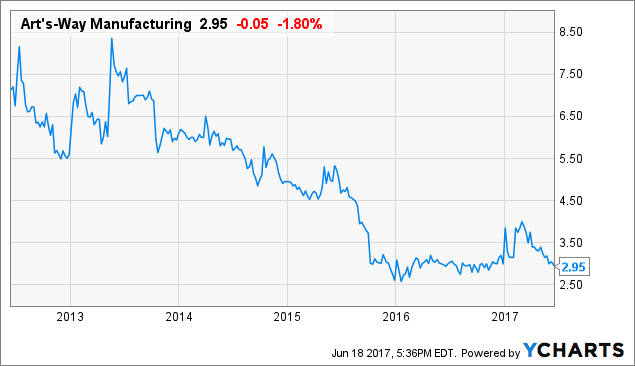 The decline in sales from 2013 to present has pushed the stock downward from the $6.50-$7.50 range in 2013 to below $3.00/share. After rebounding in late 2016 through early 2017 to above $3.50, the stock has returned to the $3.00 price level.
For FY 2016, operating performance was as follows:
In 2016, sales were down 18% YOY ($21.6m vs. $26.3m in 2015).
Farm equipment sales were down 24%, to just $15.8m ($20.8m in 2015), and the unit posted an operating loss of $431,000, driven by declines in OEM sales.
Art's-Way Scientific sales were up 15% ($3.7m compared to $3.2m in 2015). However, gross margins were down (26.6% vs. 30.4%), and operating income fell from $150,000 to $88,000.
Ohio Tools: Sales down 10.6% YOY ($2.1m vs. $2.4m). Costs were reduced, leading to similar operating losses as seen in 2015 (~$140,000).
For the most recent quarter, performance by business unit was as follows: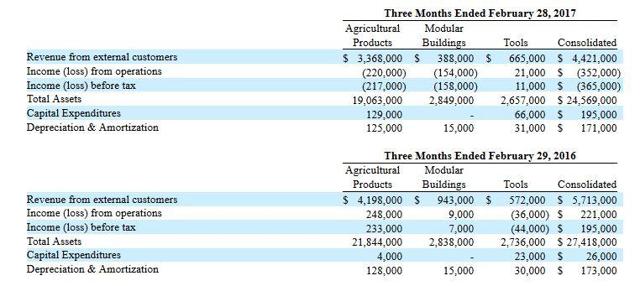 (Source: 10-Q quarter ended 2.
Agricultural Products sales down 20% YOY; operating loss of $220,000 compared to an operating profit of $248,000 in Q1 2016.
Modular Buildings sales down 59% YOY; operating income swinging from $9,000 to an operating loss of $154,000.
Tools sales up 16% YOY; operating income of $21,000 (compared to a $36,000 loss Q1 2016).
Total Operating Loss and Negative EBITDA of $352,000 and $181,000, respectively, for the quarter.
Valuation
Valuation Compared To Peers
As Art's-Way is currently posting negative TTM EBITDA ($0.41m) and Operating Income ($1.05m), it is difficult to value the company using comps, but we can look at the EV/Revenue and margin comps to get a better idea of how Art's-Way stacks up to peers:

(Source: Table by the author, data from Seeking Alpha)
As seen from the table, Art's-Way is trading around the same EV/Revenue valuation as peers. AG Growth International trades at the highest valuation amongst the group, but the company has the highest EBITDA and operating margins. Of the comparable companies, AG Growth is the most similar to Art's-Way in terms of both size of company and size of equipment.
"Best Case Scenario" Valuation
The second valuation model is hypothetical-assuming the company turns itself around and gets back to the revenue and earnings levels seen in 2012-2014, how much would the company be worth?
During this timeframe, Art's-Way was generating ~$36m in revenue, and ~$2.5m in EBITDA. This was occurring as the sugar beet market remained strong, modular building contracts were at their highest, and before the crash in oil prices impacted the carbide tools business. With the exception of 2012 (when EBITDA was a record-high $5.2m), annual EBITDA for the past several years tops out in the $2.5m range.
Assigning the 12.1x EBITDA median multiple to this "best case" scenario would give us a $6/share valuation. But the current high valuations indicate a turnaround has already been priced in: since the middle of 2016, AGCO, AG Growth, and CNH have all rebounded, driven largely by the "Trump Trade" (industrial stocks skyrocketing in anticipation of President Trump's infrastructure and trade policies). While the "Trump Trade" honeymoon is over, the farm equipment companies continue to trade around their 52 week highs. In addition, the larger farm equipment names have put more stock in international markets than a return to the salad days earlier this decade in American farming.
Liquidation Value
I believe the liquidation value of Art's-Way is the clearest method to value the company. Art's-Way is selling at a discount to book value (0.7), and despite the issues with debt (detailed below) the company holds substantial real estate holdings along with their current assets: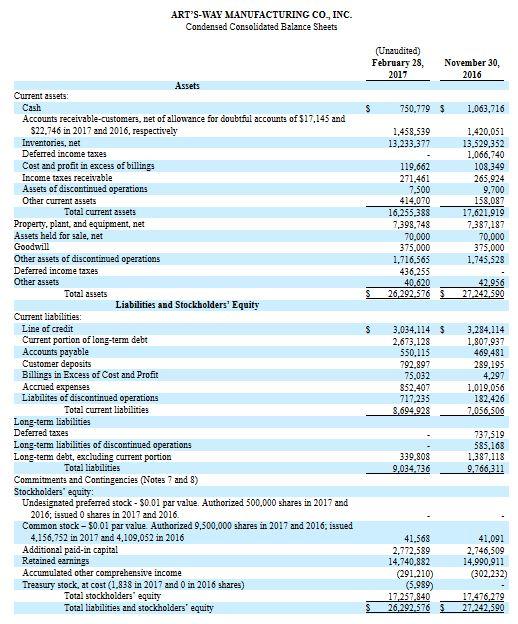 (Source: 10-Q quarter ended 2/28/17)
Summary of Assets
Art's-Way has net current assets of $7.2m, PP&E valued at $7.4m, and "Assets from Discontinued Operations" of $1.71m (consisting of the Dubuque property being held for sale). To be conservative I have not assigned a valuation for any of the company's manufacturing equipment, and am only valuing their real estate holdings to determine market value of PP&E.
Real Estate Holdings
Art's-Way owns a large amount of property relative to the enterprise value of the company:
Armstrong, IA: 249,000 facility, which services as the primary production and warehouse facility for the agricultural products segment. It also serves as the company's headquarters. Art's-Way also owns 127 acres of land west of Armstrong, IA that is used for factory/inventory storage space. Price comps on the Armstrong, IA were difficult to come by (not near any major metropolitan areas). One property nearby was listed at $15/sq Ft, another for $43/sq. Ft. The first property was a warehouse, the second a manufacturing facility. To be conservative I am valuing the Armstrong facility at the $15/sq. foot rate, giving us $3.375m.
For the 127 acres of land, I found two properties for sale within driving distance of Armstrong: 10.4 acres in Fairmont, MN for ~$56,000/acre, and 10.9 acres in Forest City, IA for ~$22,000/acre. Considering the Armstrong parcel is 127 acres, and would be much harder to sell, I give a conservative estimate of $10k/acre ($1.27m).
West Union, IA: An additional facility for the agricultural segment. 190,000 square feet sitting on 29 acres of land. Currently the bulk of the building is being leased out to third parties; Arts-Way uses the remaining space for inventory storage. The closest manufacturing properties for sale were in Waterloo, IA and Evansdale, IA, and were selling for $17.44/sq Ft and $43.75/sq. Ft, respectively. It should be noted that Art's-Way paid only $1.3m for the facility ($6.84/sq Ft). Applying 3% annual inflation to the 2010 purchase price gives us a valuation of $8.41/square foot, or $1.6m.
Dubuque, IA: 34,450 square foot facility where the former Pressurized Vessels unit was located. This property is currently for sale. The company is asking $2.25m, or $69/sq Ft. This is a reduction from the original asking price of $2.469m when the property was first listed.
For the Ohio Metals/American Carbide Tools segment, Art's-Way owns a 39,000 square feet facility in Canton, OH. Industrial properties in Canton are being listed for between $20-$40/square foot. I estimate the value of this property to be ~$1.2m (~$30/sq Ft.)
Armstrong, IA: $3.4m
Armstrong Land: $1.3m
West Union, IA: $1.6m
Dubuque, IA: $2.2m
Canton, OH: $1.2m
The company is sitting on ~$9.7m in property. Adding in the $7.2m in net current assets gives us a valuation of $4.07/share, very close to the stated book value of $4.15/share. There appears to not be any "hidden real estate."
Catalysts
Acquisition From Strategic Acquirer
As with a lot of micro-cap companies, the issue is not with the business, but with the scale of the company relative to the business. In industries such as agricultural equipment, scale matters, as gross margins are low (20s range) and overhead costs need to be spread as wide as possible to produce meaningful operating margins.
A sale to a strategic buyer would be the best option for Art's-Way shareholders. The most likely strategic acquirer for Art's-Way is AG Growth International, a Canadian farm equipment company that is expanding both in the US and worldwide. Art's-Way already has ties to AG Growth: Art's-Way Director David A. White is an AG Growth director as well. AG has been very acquisitive: purchasing Global Industries, Inc, Yargus Manufacturing, Mitchell Mill Systems, and Nuvision Industries, all within the past year. The company also recently raised $63m in equity capital to make more acquisitions.
If AG Growth were able to bring up Art's-Way's EBITDA margins to that of their existing business (14%), once the farm equipment business rebounded the purchase would be accretive to AG Growth.
The McConnell family may not be interested in a sale, although their investment in the company was way below the current trading price. However, if Art's-Way has done the best it can given their size and scale, selling out to a larger company may be the best option.
While McConnell is the largest shareholder (37.5%), the company has minimal anti-takeover protection:
All 6 directors are up for election annually (no staggered board).
Directors elected by plurality (however no cumulative voting rights).
No evidence of a "poison pill"/shareholder rights plan.
There is currently one other 5% shareholder (Horton Capital Partners, a microcap value fund), but they have filed a 13-G, indicating their investment is passive. Horton has engaged in activism before, and may be willing to do so if they believed a new course of action needed to be executed.
New Product Launches
Although the farm equipment market is projected to not improve in 2017, Art's-Way is confident that their new product lines will boost sales even as the industry continues to be in a slump. Of the six new products, the new sugar beet and commercial forage equipment have been driving the bulk of growth in the backlog.
But the question is, will these new initiative pan out? On the most recent conference call, analysts asked CEO Carrie Gunnerson about quarterly sales projections based on the improved backlog. She said that $6m/quarter would not be likely, but management is confident the new sales will enable the company to meet the minimum Year-to-Date EBITDA requirements that were set as covenants in the latest loan modification (see "Debt," below).
Improved Sugar Beet Prices Leading To Increased Investment in Equipment
The Commerce Department recently "agreed in principle" to settle the US-Mexican sugar trade dispute. While corn growers praised the deal, but sugar beet growers were critical of the proposal. The sugar industry has not accepted the deal, but future negotiations are planned.
The deal as it stands now will reduce Mexican refined exports to the United States from 53% to 30% of total sugar exports, as well as better clarify the difference between raw and refined sugar. Farmers are skeptical about the deal, as they believe the Mexican sugar industry will continue to circumvent the regulations by exporting sugar products that are effectively refined but are classified as raw. One interesting note of the agreement is that exports must be shipped "freely," "via ocean-going vessels," meaning sugar cannot be imported into the U.S. either prepackaged or by rail/truck.
The American Sugar Alliance, which represents beet farmers and cane growers, believes the deal still contains loopholes: if the amount of sugar demanded by the market exceeds the projections set by the USDA, the Mexican sugar industry is allowed to export sugar without following the terms of the new agreement. The ASA is working with the Commerce Department to close this loophole.
Sugar beet prices have been in a slump since 2012, when the price per ton was around $69; today, the price has been in the $35 range. Despite record-breaking crop yields, sugar beet farmers continue to struggle breaking even.
If this proposal trade deal is reworded, and all parties come to an agreement, this will have a positive effect on the sugar beet industry, and Art's-Way's sales of sugar beet farming equipment.
Risks
Debt
Art's-Way has $6.5m in outstanding debt as of the latest 10-Q.
With the company operating in the red, Art's-Way has been using working capital to make debt payments.
Art's-Way's debt consists of $3m drawn from a $4.5m revolving credit line with U.S. Bank (5% interest rate), as well as $3m in term debt, detailed below: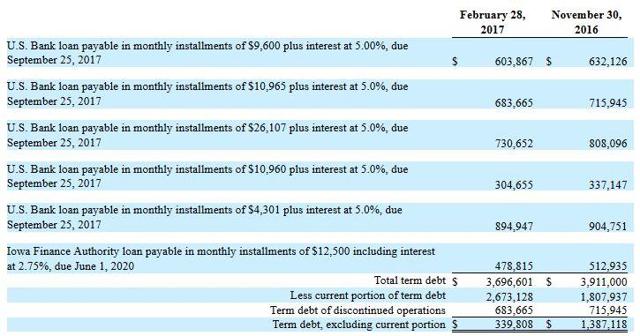 (Source: 10-K filing quarter ending 2/28/17).
As with the revolving credit line, most of the term debt has been borrowed from U.S. Bank (with the exception of the loan from the Iowa Finance Authority, related to their West Union, IA facility).
The $683,665 outstanding listed as "Term Debt of Discontinued Operations" is a mortgage secured by the Dubuque, IA property held for sale.
For the loans from U.S. Bank, Art's-Way has entered into a third loan modification agreement (Item 5 in the most recent 10-Q). The modification extended the maturity date for both the revolving credit line and term debt to September 25, 2017. The covenants on the debt were also amended in the modification: Year-to-Date EBITDA minimums of $1 for period ending 5/30/17 and $648,000 period ending 8/31/17. The modification also requires the company to hire a professional consulting firm deemed by the bank to be qualified to provide advice on a turnaround.
The terms of the loan modification are a red flag that the company is on the path to a the situation they faced in 2002 (when McConnell infused capital in the company to stave off bankruptcy). With the operating losses posted in the past two quarters, even with the increased backlog I am not confident sales will rebound to the point that the minimum YTD EBITDA will be achieved.
Demand For Farm Equipment Continues To Be Soft
After the freefall in commodities prices driving a decline in farm equipment sales, the market appears to have steadied. However, there is no clear signs the market has rebounded. Agco and CNH have seen sales increases, but those have been driven primarily through increased sales in Latin America.
Looking at net farm income, forecasts have predicted that the American agriculture sector will bottom out this year, and will begin to trend upward the coming years. However, crop prices are not expected to rebound, and farmers are expect to continue making do with what they have and not make significant investments in new equipment.
Unless another boom in commodity prices occurs, Art's-Way will have a tough time returning to the ~$36m revenue levels they experienced earlier this decade.
Bottom Line
Art's-Way Manufacturing is doing the best they can in a bad industry. The company is taking steps to develop new products to drive sales growth, but unless another boom occurs in agriculture, it will be difficult for them to see the revenue levels experienced in the early 2010s. While the recent trade deals may help American farmers and spur demand for equipment, investors have already priced such a turnaround into the stock.
While the company sells at a discount to book value, most of this equity is held in illiquid rural Iowa real estate, which like the company is dependent on a farming turnaround. With the McConnell family holding minority control, a change in strategy through activism would be difficult - and if McConnell (with 60 years of farm equipment experience under his belt) can't turn Art's-Way around, the only thing an activist could do to improve the share price is push for a sale.
I am concerned over the company's debt situation, even if the company is confident (based on their conference call) that they will be able to post the EBITDA numbers required to stay within the terms of the loan modification. If this does not pan out, and the company again needs to modify their loans, a dilutive capital infusion may be needed to keep afloat.
For the time being, I am avoiding Art's-Way. The industry is too dependent on macro factors to see material sales increases, the company's assets are valuable but have reduced resale value due to their limited use, and the only likely buyer for the company is AG Growth (which would at most pay book value for the company as any substantial premium would limit their ability to make the deal accretive).
Disclosure: I/we have no positions in any stocks mentioned, and no plans to initiate any positions within the next 72 hours.
I wrote this article myself, and it expresses my own opinions. I am not receiving compensation for it (other than from Seeking Alpha). I have no business relationship with any company whose stock is mentioned in this article.
Editor's Note: This article covers one or more stocks trading at less than $1 per share and/or with less than a $100 million market cap. Please be aware of the risks associated with these stocks.