Amazon.com's (AMZN) purchase of Whole Foods (WFM) last week will have a dramatic impact on the grocery sector. Already we had seen an uptick in purchases of regional chains by the national chains. Now we are likely to see the major national chains consolidate themselves.
The Grocery Landscape
In March while on an airplane to Las Vegas, I talked to a sales rep in the Grocery industry. I embedded a question within a thought at one point, "how are the grocers making money with all of this expansion? I have three new grocery stores within 10 miles of me on top of the four there already were. Food prices have been pretty stable. I don't get it." His simple reply was "I don't get it either. There's too many of them."
In my travels around the country, as I've discussed before I drive over 20,000 miles per year from state to state, I have noticed for a couple years now that there are more and more grocery stores. They're everywhere now. I recently heard the term "food desert" in the news, I have no idea where those are. It seems to me that almost everybody is within 10 minutes by car or bus of a grocery store or three now.
Just the national brands including, Wal-Mart (WMT), Albertsons, Aldi, Costco (COST), Ahold Delhaize (Food Lion, Hannaford, Giant, Stop & Shop and Martin's brands), Kmart Super Centers (SHLD), Kroger (KR), SuperValue (SVU), Target (TGT) and Trader Joe's lap and overlap most of America.
On top of the national brands there are still family owned stores and regional brands. It is hard to go anywhere and be without multiple options for groceries. That puts a major dent in pricing power and why companies like Kroger recently announced for the first time declining year over year comps.
Technology In Farming Thwarting Food Inflation
If you live near a farm, or read a bit, you have seen how technology has become a part of the agricultural process. Not only are seeds and feeds engineered to be more efficient, but the emergence of robots and drones has reached the farm.
Robots have been on display for several years now. On dairy farms automatic milking machines have lowered the cost of production. Autonomous field work machines are now handling sowing, planting and harvesting dramatically reducing the need for farm hands - which is good since most farmer's kids, as investing legend Jim Rogers points out, do in fact leave the farm today.
One night driving home I slowed down to watch a giant tractor working in a field with no driver (it really is a wonder I haven't had an accident in decades). I know to a lot of people that's no big deal (the robot tractor), but I grew up in Wisconsin and have relatives in Iowa, so being able to get work done without having to go sweat it out for hours is a big deal. Drones are now starting to become common place too.
In a good summary from MIT Technology Review titled "Six Ways Drones are Revolutionizing Agriculture" they cover the way that technology is changing farming. Drones are currently in use to analyze soil, plant crops, spray fertilizers and pesticides, monitor crop growth, regulate irrigation and assess crop health such as scanning for bacteria and fungal infections. The result is not only more complete farming, but a loss of costly man hours. This is deflationary for food prices.
According to the Farm Journal Pulse, most farmers are in fact already using drones or plan to within a year. Only 37% of farmers are saying they do not use and do not plan to use drones.
The addition of technology to make farming more efficient has had a material impact on food prices. One example is the massive milk glut in the past year. I kept looking cheese sales that never came. Why no cheese sales? The farmers are pouring milk out.
The culmination of the excess dairy was a Trump trade sanction against Canada that really has nothing to do with unfair trade. In Wisconsin, Mullin Cheese one of the largest family owned cheese producers was compelled to save eight dairy farms due to the bad market conditions.
Similar pricing issues have affected various food commodities. Take a look at corn prices near the bottom of an eleven year range with clear room to continue falling (courtesy macrotrends.net).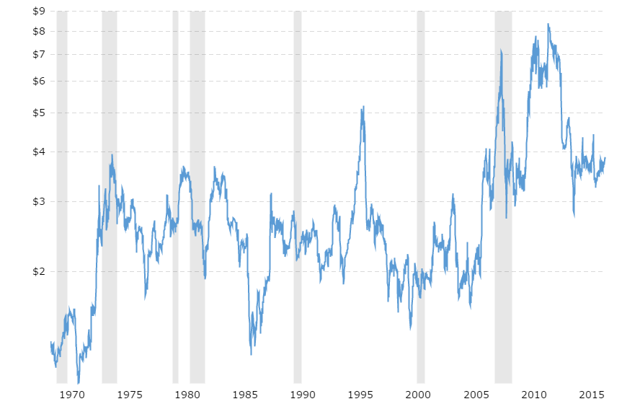 Soybeans have also come off of peaks, despite recent bad crops in South America. Is it a new trend for soy to head back to a lower range? Maybe.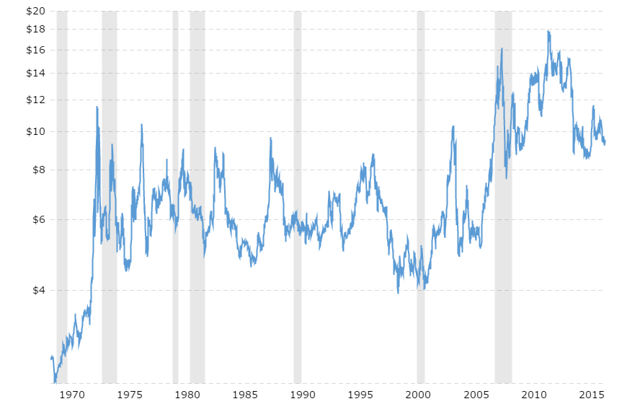 According to the USDA, food bought at grocery stores in 2016 declined 1.3% from 2015 levels marking "the first annual decline in supermarket prices since 1967" despite historical food inflation of 2.6%. According to Bank of America, food inflation in India is falling to the point where it might influence a central bank interest rate cut. In Canada, research done by Dalhousie University indicates food inflation is abating there as well, although meat prices are expected to surge.
While global food inflation has been falling the past decade, it is not a universal trend and could reverse. This chart from the Food and Agriculture Organization of the UN is informative.
Food consumer price inflation – global and regions (year-over-year)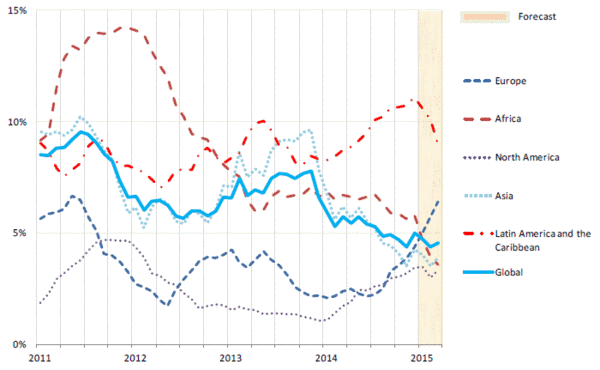 hat is at the core of offsetting Rogers idea that food prices will rise significantly? Two factors seem to play a central role. The first is much lower energy prices in the past couple years. See the big drop off in global food inflation from 2014.
Technology has a large role too. Consider where the cost of increasing technology on the farm is exceeded by the improvement in efficiency and cost structure over time. How long does that edge last? Is it permanent or transitory? To me, it seems it could be a "one off" once the costs of implementing and maintaining new technology are normalized across the industry.
In the short-term, if food prices aren't high enough to support pricing, then even grocers will have a hard time, not just farmers. What is happening on the farm and to grocery stock prices however is likely temporary though. The combination of a normalized cost structure, higher energy prices, less arable land each year, water constraints and growing food demand (particularly meat) should send food inflation higher in coming years. That will be good for surviving grocers. This is what I believe acquisitive grocers see.
Amazon Injects Technology Into Grocery
Now enter Amazon which promises to inject a lot of technology into the grocery sector. Here is the vision of Amazon Go.
RFID technology is one of the cores of Amazon Go. On Friday, speculation and anticipation of what is coming to grocery sent shares of RFID chip maker Impinj (PI) up 19%.
Grocers throughout the industry will have to keep pace technologically as the Millennials just don't understand the social dynamic of grocery shopping. Heck, I've found two girlfriends at grocery stores, one in produce and one in meat. You really don't want to know how those conversations opened. With or without great dates through shopping, I guess there's apps for that too now, Millennials will drive the shop by app and grocery delivery business.
On top of new technology that Amazon will influence, they are also already planning to lower prices at Whole Foods. They will succeed in doing that largely through their huge technology advantage on the rest of the industry. Consider how many grocers can't get the prices right at checkout now. The amount of investment they will have to make to keep up with Whole Foods is going to be massive.
So, while it will be great that eating healthy is about to become cheaper, Whole Foods direct competitors in the organic space, like The Fresh Market, Fresh Thyme and others will not be able to maintain all of their premium pricing at a time when they need capital to upgrade services through technology.
The pressure won't stop at organic and "healthy" grocery stores though. If prices for food from Whole Foods rivals that of discounters, then what advantage do the discounters have?
That evolution of grocery, largely through technology, will permeate the industry for at least the next several years. Grocers will either have to improve their technology or become very niche stores. How do any of the stores I mentioned above become niche? Aldi and Trader Joe's are sort of there as their per square foot revenue demonstrates, but everybody else will have to spend on tech.
In a profit challenged market it is going to be difficult for all, or even most grocers, to survive on their own. The small family owned stores in towns might survive for a while, but if the populations of surrounding areas support a Whole Foods, then they will be in trouble too. Regionals though are going to be greatly challenged as many have debt due to expansions and legacy costs. They seem like buy under candidates in general, but some could be good "bolt-on" acquisitions for the nationals. The nationals themselves seem to be ripe for consolidation.
Where Will the Consolidation Be?
Kroger just bought Roundy's near me. Ostensibly that was to expand presence in Wisconsin and near Chicago. I get some insights from a manager within the organization, but nothing screams to me that Kroger is in a position of strength all of a sudden. I suspect that recent moves from Kroger will turn out to help make the company more attractive to takeover or merger.
SuperValue is in an interesting spot. Their debt is through the roof at 3.3x debt to equity, however they do run a profitable business. The company is very strong in wholesale, so they seem to be a candidate to be taken over by another chain that wants to improve their vertical.
Private Equity firm Cerberus might have been outbid by Amazon for Whole Foods. It is widely believed they could be acquisitive. I think with the reduced prices on grocery stocks that is likely to be true.
Apollo Global Management (APO), which bought Fresh Market last year is another player in the private equity space that seems like a natural buyer in the grocery space. Other private equity firms will I'm sure move in as well.
The KMart stores seem like a logical sale choice for Eddie Lampert over at ESL Investments as he tries to either save Sears or get as much out of the corpse as possible.
I have no idea what Wal-Mart will do. They should have been beefing up technology even more already. I'm not at all confident in their management's pace. While they have rolled out better tech and curbside grocery pickup, they just seem to be slow to improve. Maybe that's a function of their size. They certainly won't sell or exit grocery and I'm not sure if they would acquire. Continued investment in tech and better innovation seems to be the logical play for them.
Target seems to be a serious loser in all of this as they derive about 20% of revenue from grocery. Maybe I'm wrong, but I just don't identify them as a grocery leader, more of a follower on. A merger with Costco makes preliminary sense in my head to create the same sort of structure that Sam's and Wal-Mart have. Or, Target might just be out of Grocery soon. If Target gets forced out, I would take that as a signal that grocery stocks might have a sustained survivor's rally.
Regional chains with good locations will be acquisition targets. Picking through them one at a time will be the challenge. If any of you have ideas, please contact me and I'll be happy to do some research. The beaten down prices of grocers are an intermediate term opportunity, but there could well be a lot more blood yet.
Disclosure: I/we have no positions in any stocks mentioned, and no plans to initiate any positions within the next 72 hours.
I wrote this article myself, and it expresses my own opinions. I am not receiving compensation for it (other than from Seeking Alpha). I have no business relationship with any company whose stock is mentioned in this article.
Additional disclosure: I own a Registered Investment Advisor, however, publish separately from that entity for self-directed investors. Any information, opinions, research or thoughts presented are not specific advice without full knowledge of your circumstances. All investors ought to take special care to consider risk as all investments carry the potential for loss.