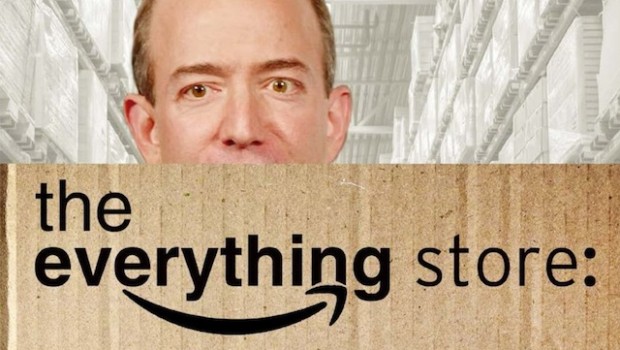 Amazon's (NASDAQ:AMZN) Jeff Bezos surprised the world when he personally bought the Washington Post in 2013. He said he did it to turn the newspaper into a global leader of news and to shed light on our democracy.
If you are of my baby boomer generation, you may remember the team of Woodward and Bernstein and nasty business called Watergate. If you are a millennial, you can go back to ordering same-day delivery gifts for Father's Day from Amazon.
On Friday Bezos dropped a much bigger bombshell than the purchase of the Washington Post. This time he announced the acquisition of Whole Foods Market (NASDAQ:WFM).
Now I should have the attention of the millennials, the Gen-Xers, and hopefully you baby boomers.
When Bezos bought the Washington Post, it was bleeding money. Bezos obviously had something else in mind.
Whole Foods Market has been struggling since it peaked in 2013 at around $65 per share. Since then the shares of Whole Foods, the S&P 500 and Amazon have all gone their separate ways.
As you can see from the three-year chart below, Amazon has been delivering alpha along with just about everything else, while Whole Foods stopped delivering alpha back in 2013. It has been losing ground to Mr. Market ever since.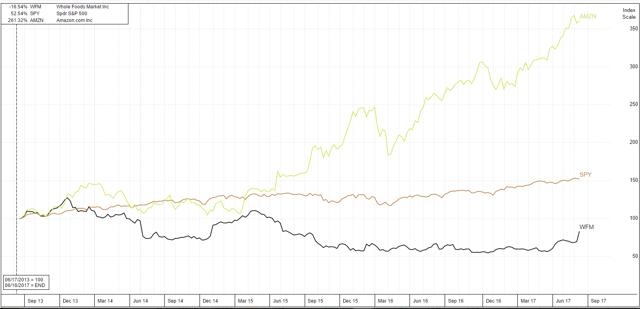 From an alpha seeker's viewpoint, one has to wonder as to what Bezos up to and should we get in on new "organic" growth at Amazon?
I am already in on the growth at Amazon and this news does not give me pause about my holding.
Do the tentacles of Bezos know no bounds or is the recent purchase a reach?
53-year-old Jeffrey Bezos is best known as the founder of Amazon.com. It is one of the few internet stocks that survived the so-called "dot-com" crash. Here is how it did during its first year as a publicly traded company.
The company made its debut as a new IPO on May 15, 1997, at a split-adjusted price of $1.96. From there it rocketed (not on a Blue Origin Rocket) to over $150 per share. Bezos' Blue Rocket idea came much later.

At the time, Amazon was just a book seller competing with the likes of Barnes & Noble (NYSE:BKS). Remember them?
The stock closed Friday at $987.71. It is now up 50,293.37% since that auspicious start. Here is what a chart of Bezos' net worth and shareholders looks like since then.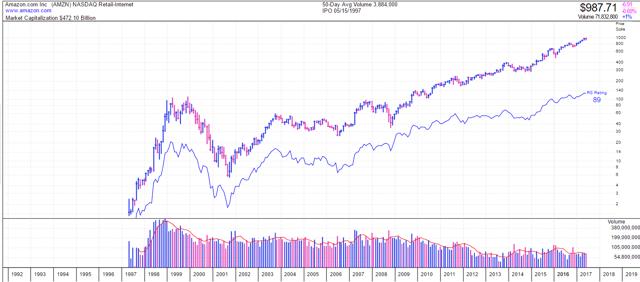 Jeff Bezos is now the second richest man in the world. If you are keeping score, Bill Gates is still number one at $89 billion, but Bezos is tearing up the back nine right now, and is just $4.3 billion strokes behind Gates, and gaining fast.
It would seem that it is just a matter of time before Bezos blows by Gates and sits atop the leader board. After all, what is a measly $4.3 billion in the world of high finance?
Bezos, who is known for eating octopus for breakfast and for his bombastic management style, continues to build "The Everything Store." Along the way, Bezos continues to leave department stores, shopping malls, and now maybe grocery stores in his wake.
Look at the impact that Friday's surprise announcement of Amazon buying Whole Foods Market had on the retail sector. Mighty Wal-Mart (NYSE:WMT) gapped down and closed 4.7% lower on the day. It takes a lot to move Wal-Mart. For Bezos it seems easy.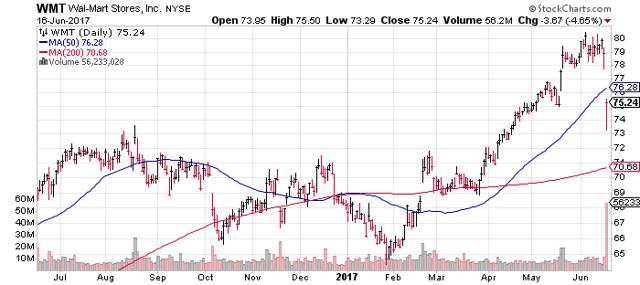 Bezos has been known to go after Wal-Mart's jugular vein in the past. If you don't believe me read the Diapers.com story. When Bezos wants to take someone out, he can be quite ruthless in the process.
It seems that Bezos also has Target (NYSE:TGT) shaking in its Martha Stewart boots. The stock continues to get clobbered. It hit a new 52-week low on Friday, and one has to wonder whether or not it can survive the onslaught of Amazon Prime.

I read one article on Seeking Alpha about Target being a good value right now? Are you kidding me? I heard that same sentiment many times as Sears and K-Mart (NASDAQ:SHLD) sank lower, and lower, and lower.
No thanks.
Target was down another 5.1% after the Whole Foods news. Nothing healthy about that. I like a little alpha with my value.
Even popular Costco (NASDAQ:COST) cringed at the news. The popular membership store known for six packs of almost everything (what am I going to do with six bottles of marinated artichoke hearts?) was down a whopping 7.2% on Friday. This is serious business! Can Costco survive the beast known as Amazon?
I can buy just one jar of marinated artichoke hearts from Amazon and still get free shipping. Costco investors got marinated on Friday.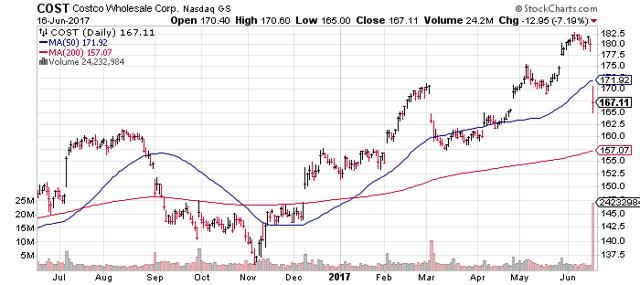 Even eschatoligists (the study of the end of the world) are wondering if it was Amazon that the Apostle John saw over 2,000 years ago in a cave on the Island of Patmos.
The Revelation of St John the Divine
Chapter 13
16 And he causeth all, both small and great, rich and poor, free and bond, to receive a mark in their right hand, or in their foreheads:
17 And that no man might buy or sell, save he that had the mark, or the name of the beast, or the number of his name.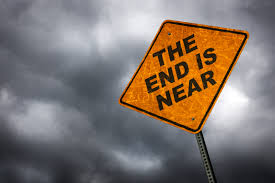 Who knows, maybe Bezos is "666." Hey, don't laugh, I have heard weirder theories in the past. The stock of Amazon passed $666 a long time ago. It even closed above $1,000 for the first time ever recently. I continue to believe that the stock will go much higher from here. More on that in a bit.
They sure are "kringing" at Kroger (NYSE:KR) over Amazon's move into the grocery aisle. Kroger's margins are being squeezed more than a ripe roma tomato on sale. Kroger's stock was down another 9.2% on Friday.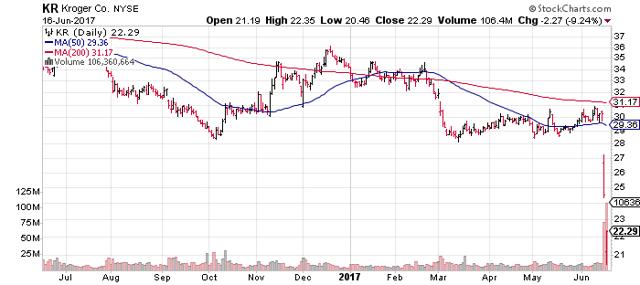 I don't know about you, but I like to choose my own head of broccoli and ribeye steak. I don't want a robot at Amazon selecting it for me.
But, then I am a baby boomer. It is those darn Gen-Xr's and Millenials that Bezos is after. Before long maybe we will be able to program our autonomous cars to drive down to the local Amazon distribution center and pick up a quart of milk for the gluten free mac and cheese. I don't want any GMO wheat in my noodles.
If I owned a little mom and pop natural food store, I would be real worried about the coming organic growth at Amazon. They have been known to sell products for a big loss until they slay their competition and drive them out of business. Bezos is known to eat many competitors along with his octopus for breakfast.
If you have not heard the octopus story, here is the link.
In the meantime, what is an investor to do? Alpha Seekers should own Amazon. How can you not? I have been saying that in my articles for a long time now, and so far I continue to be right.
If you don't agree with me, you can continue to avoid the stock. Or you can short it. Ever see that cartoon of the silly coyote peeling himself off of the asphalt after being run over by a steam roller?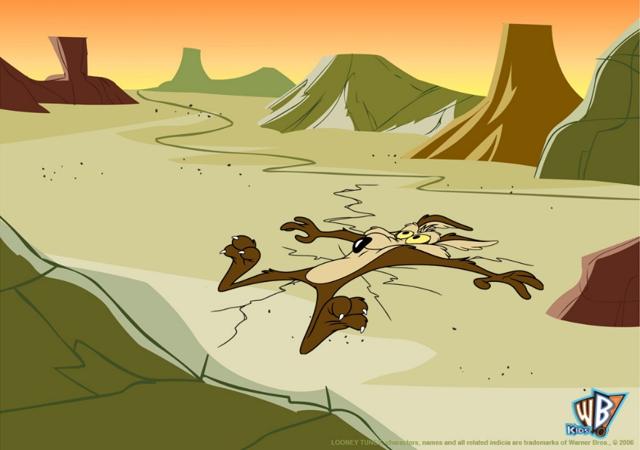 In the meantime, Amazon is now a $482 billion market cap company. It now has Apple ($742 billion) in its sights. It seems to me that Amazon has a lot more irons in the fire than Apple has iPhones in the Verizon (NYSE:VZ) store.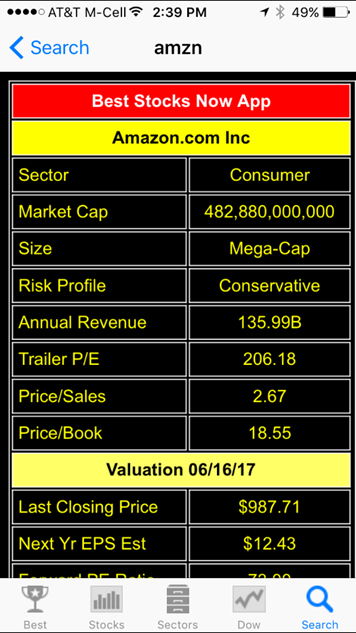 Data from the BestStocksNowApp.com
Remember the old math question: "If Jane has $48.20 that is growing at a rate of 29% per year, and Mary has $74.20 that is growing at a rate of 9.3%, how long will it take before Jane has more money that Mary?"
The first one that comments on my article with the correct answer gets free one-one year subscription to my weekly client newsletter.
I once again wrote about the "value case" for Amazon in my article last week. This was the day after Goldman Sachs stated that the "FAAMG" stocks were in a "valuation air pocket." I disagreed then, and I continue to disagree now. Do you really think that Amazon has hit peak earnings and growth?
Maybe "FAAMG" needs another "A." This "A" can stand for alpha. Is this not the reason that we are on a sight called Seeking Alpha?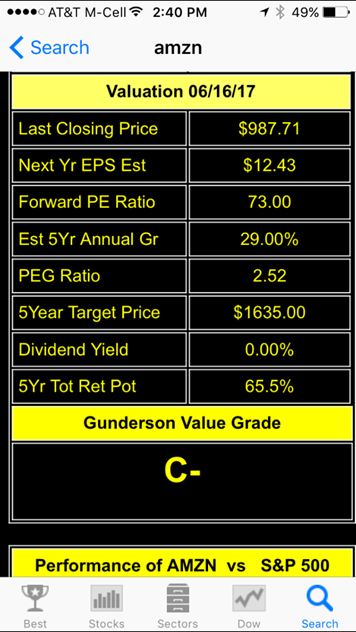 Data from the BestStocksNowApp.com
As you can see from the screen shot above, I currently have a five-year target price of $1,635 on the shares. Of course, a lot can happen between now and then. That is why it will continue to monitor my holdings on a daily basis.
I wrote about the only ETF that I know of that only holds stocks in the online retail space. I hope you read my article. In the article I called the ETF one of my favorites in the entire ETF universe. The ETF continues to crush the competition. Look at how this online shopping ETF has performed against the traditional bricks and mortar sector ETF.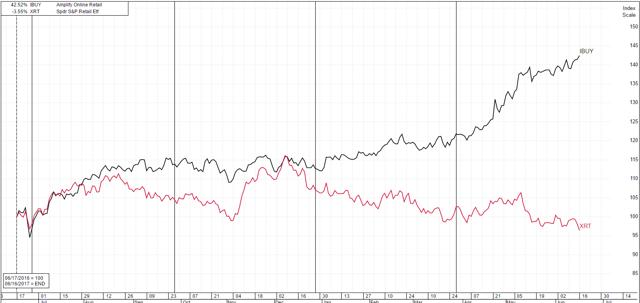 Which one would you rather own?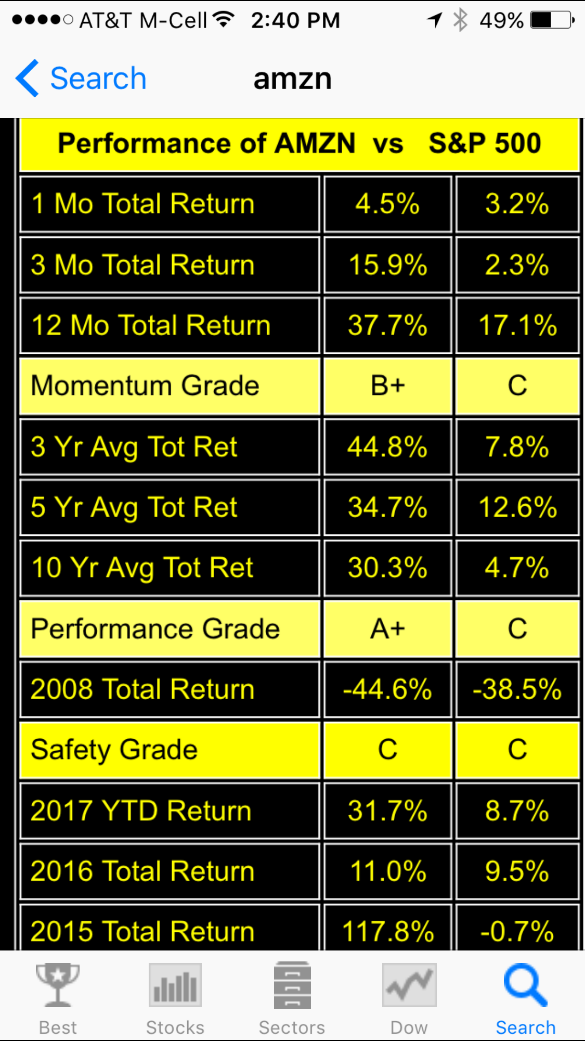 Data from the BestStocksNowApp.com
The shares of Amazon continue to eat the S&P for lunch and breakfast. As you can see from the screen shot above, it is one of the few stocks that earns an A+ performance grade. 30% per year into investors' pockets over the last 10 years will do that.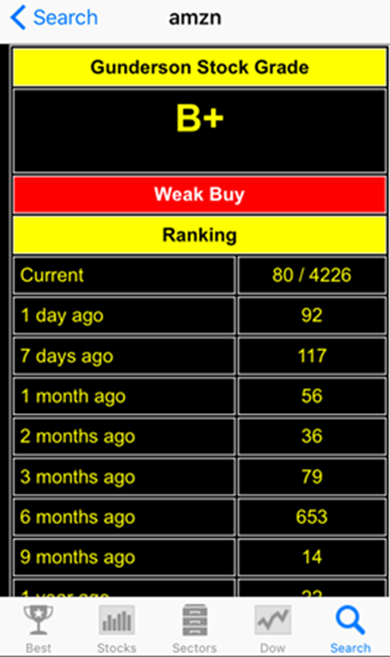 Amazon is not as good of a bargain as it was during the flash crash on July 9, but it is still the number 80 ranked stock out of 4,226 stocks, ETFs and mutual funds in my Best Stocks Now Database.
If you are an alpha seeker, how can you not own Amazon?
Disclosure: I am/we are long AMZN.
I wrote this article myself, and it expresses my own opinions. I am not receiving compensation for it (other than from Seeking Alpha). I have no business relationship with any company whose stock is mentioned in this article.