There has already been a plethora of articles written about the Amazon.com, Inc. (NASDAQ:AMZN) bid for Whole Foods Market, Inc. (NASDAQ:WFM). I hope I will not be another parrot sitting on a perch regurgitating the economics of the deal, or lack thereof. Instead, I will offer up my own interpretation of what went down, one that most if not all the analysts out there overlooked. You see, this takeover isn't about competition with Wal-Mart Stores, Inc. (NYSE:WMT), Target Corporation (NYSE:TGT) or any other retail store. The short-term impact for any of these companies is negligible.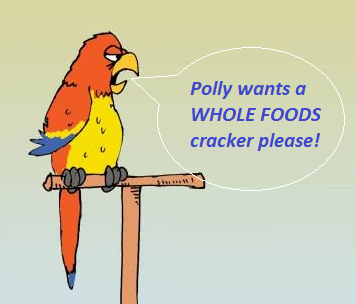 The Whole Foods takeover by Amazon is about market share of the … call it what you want … 'voice-enabled speakers', 'Internet of Things Operating System', 'home-based Virtual Digital Assistant' … whatever turns you on. The bottom line is that the market potential is huge and the competition is heating up fast. The competition isn't with Wal-Mart, but with Alphabet Inc. (NASDAQ:GOOG) (NASDAQ:GOOGL), and newcomers Apple Inc. (NASDAQ:AAPL) and Microsoft Corporation (NASDAQ:MSFT).
According to VoiceLabs, 2017 will be the year of "voice-first," as opposed to mobile first.
Amazon Echo was launched almost two years ago and marked the start of a new era of virtual assistants not tethered to a smartphone. The success of Echo caused Alphabet to get into the action and Google Home was subsequently launched in October, 2016.
While Alphabet is doing a great job of playing catch-up, the Amazon Echo holds a commanding lead in market share.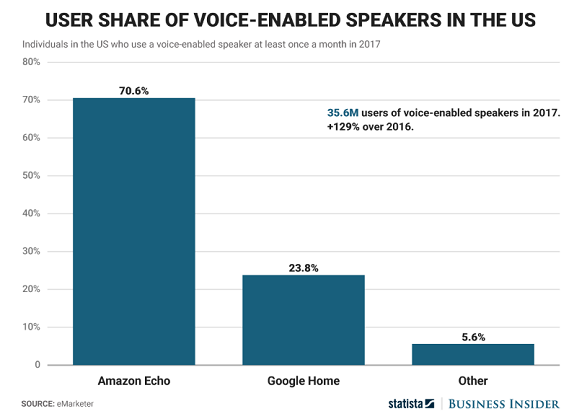 Source: Business Insider
For now, the Echo remains a big fish in a relatively small pond. The total number of Americans using voice-activated assistant devices will reach 35.6 million this year, up 129% jump year-over-year, but it's not close to smartphone levels (yet).
Projections are for 60 million Alexa devices to be sold in 2020, with the total install base estimated to be around 128 million. In a survey, RBC found that 17 percent use Alexa for ordering items from the e-commerce service. "This will continue tilting toward more Amazon purchases on Alexa-enabled devices," RBC said. Based on 128 million Alexa devices installed, RBC estimates an incremental revenue of $5 billion via shopping.
The key to achieving these numbers is to maintain or improve market share as the market grows. This will be difficult given that the Google Home offering continues to improve around its own very powerful AI-based search assistant, and as others, such as Apple with its Siri-based products enter the market.
According to VoiceLabs, only 11% of owners of an Echo or Google Home said they'd buy a competing device. Therefore, it won't be a market where the 'winner-takes-all' but where the 'winner-takes-entire-household'. This puts a lot of pressure on Amazon, Alphabet and Apple to continuously deliver competitive product upgrades.
One area where competition is fierce is over control of the kitchen. The kitchen is but one battleground, but none-the-less an important one. What do we do at home? Eat, sleep and play.
Both Amazon and Google devices work with the Anova-connected sous vide cooker but Alphabet has gone a step further again. Alphabet has just announced the ability to search for more than 5 million recipes on one's phone, then send them to the Home for step-by-step directions.
This is where Amazon's takeover of Whole Foods comes in. Yes, I'm finally getting to the point of this article! The moves that Amazon is making in the kitchen battle are two-fold. Embedding Alexa in refrigerators, and of course offer direct order and delivery of groceries using Alexa.
One important factor is that refrigerators with embedded Alexa are typically very expensive. Given the relatively high expense of Alexa-enabled refrigerators and the appeal of smart-home technology primarily among the upper-middle class, it makes sense (at least to me) that Amazon should buy a higher quality, higher cost food chain targeting the upper-middle class. The ability to order groceries direct will eventually filter down through the middle and lower classes but this will take time. What is important at this early stage is not cost but user experience. The battle and war can be lost forever by implementing a substandard product offering.
Did I mention that Whole Foods could in theory be turned on for Echo/Alexa almost instantaneously? They already offer one hour delivery for online orders. The delivery service isn't integrated with Amazon Prime but heck, that can come later.
Did you know that Echo owners increased their spending on Amazon by roughly 10 percent after purchasing the device?
Once integrated with Alexa, Whole Foods should experience a reasonable increase in revenues that will make the $16 billion cost more palatable. One more thing I should mention… Amazon has a deal with Ford Motor Company (NYSE:F) to provide the same features on the road as at home. I'm not sure about you, but I'd love to be able to order groceries as I'm driving home, to be delivered directly to my house!

Wrap-Up
The purpose of this article is not to present a Buy recommendation for Amazon to the customer, but to explain why Amazon has initiated the takeover bid. I leave it to readers to decide for themselves whether Amazon stock is currently a good investment.
The logic for Amazon's takeover bid for Whole Foods is as follows:
Amazon is sitting on the lion's share of a technology in its infancy, with some believing it is an operating system (OS) for the so-called Internet of Things ((IoT)), just as Android and iOS are for mobile and Microsoft Windows is for the PC.
Projections are for an installed base of 128 million Alexa devices by 2020, but this is contingent upon Amazon maintaining market share.
Echo / Alexa users tend to buy products from Amazon using the technology so Amazon should experience a sales increase as Echo / Alexa usage grows.
Competition is fierce, with Google Home making a strong introduction and threatening Amazon's lead.
Amazon and Alphabet are going toe-to-toe is the kitchen battle, a small but important piece of the overall war.
Google Home took the lead in the kitchen battle with its latest product offering.
Amazon's response is to allow users to directly order groceries via Alexa, with Whole Foods being the backbone of this feature.
Amazon expects the Whole Foods initiative to keep Echo / Alexa 'one up' in the kitchen battle.
Disclosure: I/we have no positions in any stocks mentioned, and no plans to initiate any positions within the next 72 hours.
I wrote this article myself, and it expresses my own opinions. I am not receiving compensation for it (other than from Seeking Alpha). I have no business relationship with any company whose stock is mentioned in this article.