Saudi Arabia's Minister of Energy, Industry and Mineral Resources, Khalid A. Al-Falih, was interviewed by CNBC over the weekend of June 10th on the sidelines of meetings in Kazakhstan. In the first part of the interview, he was said that OPEC is sticking by its position to extend the cuts until is next meets at the end of November.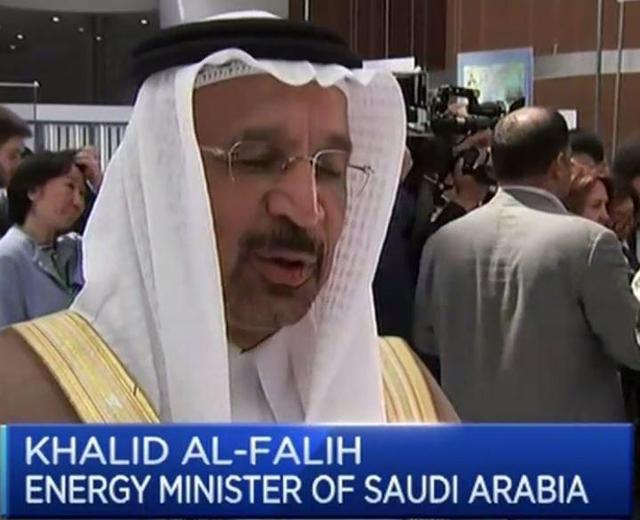 But he made two unsupportable statements in a bid to verbally pump-up prices. Starting at 0:55 of the video clip, he said:
I am confident that the strategy's working. We've seen OECD inventories go down by 80 million barrels a day."
Production and demand are each around 95 million per day, give or take about one million, and so this exaggeration has no credibility whatsoever. The combined OPEC-non-OPEC deal was a cut of 1.8 million barrels per day, so how the strategy could reduce supplies by 80 million barrels per day is a mystery.
And starting at 1:25 in the video, he stated:
We've seen the U.S. market pull oil from around the world, which last week resulted in higher inventory, but it also created shortages elsewhere."
I believe he was referring to the U.S. oil imports and crude inventories for the week ending June 2nd. Crude stocks rose by 3.3 million barrels in the week, but that was due primarily to the fact that exports were relatively low that week (557,000 b/d), not because imports were so high (8.341 million barrels per day, in line with the 4-week average).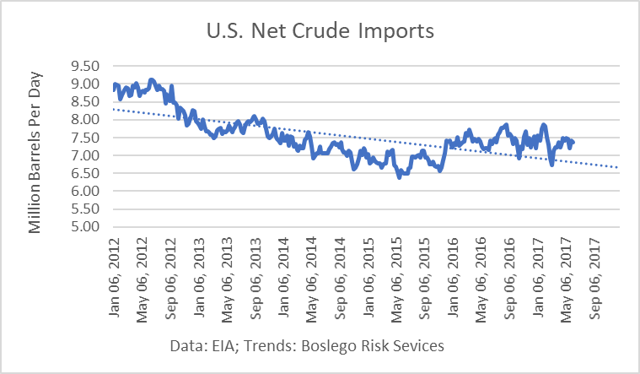 U.S. crude oil exports have recently attained record high levels.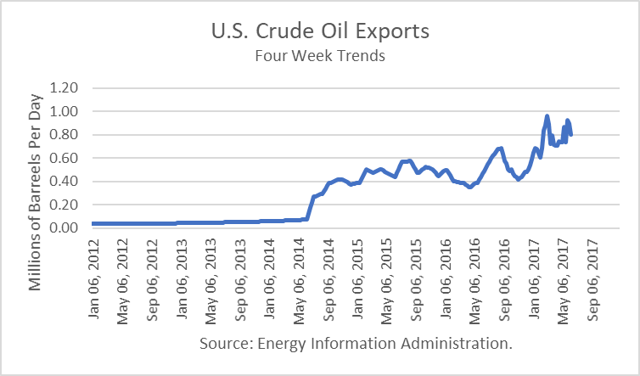 I think his statement may be reflecting some frustration because exports from Saudi Arabia to the U.S. did drop precipitously in that week, but were simultaneously more-than-offset by increases from Iraq and Canada.
In the press conference following the May 25th OPEC meeting, Al-Falih said KSA would send less crude to the U.S., in a bid to reduce U.S. stocks. Because U.S. weekly data is the most timely and transparent basis than elsewhere, he is aiming to affect trader sentiment. But KSA cannot control U.S. import or stock levels.
The spread between OPEC's Reference Basket (ORB) and WTI crude futures did not spike to reflect a shortage, as would be expected. The ORB is a proxy for OPEC's sales prices, which are heavily weighted by prices in Asia and Europe. WTI is the benchmark for U.S. crudes.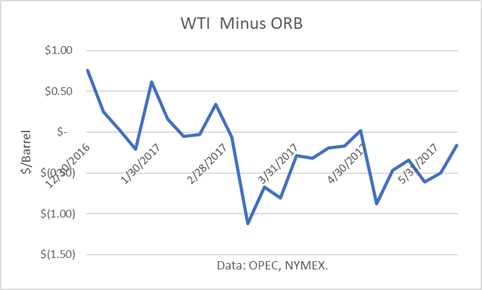 U.S. imports did not create shortages. On the contrary, there are reports that oil on supertankers are sitting off key hubs once again. Tankers have been spotted off the UK, Singapore and the producing countries of West Africa, which have been ramping-up production.
Instead of following up about the 80 million draw figure, or the claim the U.S. was causing oil shortages, the interviewer asked about the impact of Qatar. That country produces about 600,000 b/d and its cutback was supposed to be around 25,000 b/d.
At the same conference, the Russian energy minister, Alexander Novak, acknowledged that supply currently exceeds demand, but that inventories were somehow dropping nevertheless. He said:
As of today, ((oil)) supply is exceeding demand, and we see oil inventory is dropping, but to ensure a true market balance, it is required that inventory drops down to the five-year average, and we are sure that will happen in the next few quarters, probably by the end of the first quarter next year."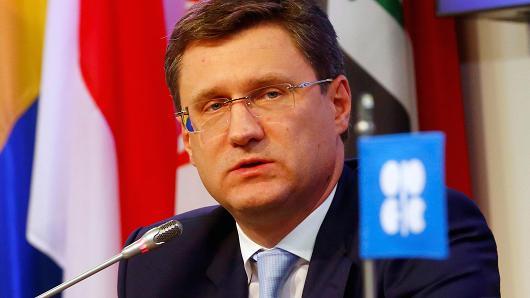 Source: Reuters.
Conclusions
Last August, in advance of the OPEC meeting to cut supplies, the Saudi and Russian ministers' words would create a market reaction. But with the loss of credibility, their statements now only reflect a growing sense of desperation.
And so, the impact of the oil ministers' verbal intervention has become minimal. The short sellers are likely now in charge to test lower prices.
For information about my Marketplace Service on Seeking Alpha, please click the button below. My service now includes daily updates on my portfolio for retail investors.
Disclosure: I/we have no positions in any stocks mentioned, and no plans to initiate any positions within the next 72 hours.
I wrote this article myself, and it expresses my own opinions. I am not receiving compensation for it (other than from Seeking Alpha). I have no business relationship with any company whose stock is mentioned in this article.