EQT Corporation (NYSE:EQT) is making a big bet on higher natural gas prices by making an offer to acquire Rice Energy (NYSE:RICE) for $6.7 billion in cash and stock. Ultimately, for EQT shareholders to benefit from this acquisition NYMEX natural gas prices need to move higher than the $3 range per Mcf. Below are the details of the proposed acquisition: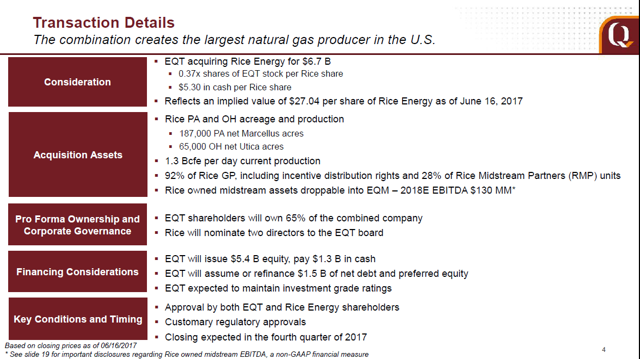 The amount of cash going to Rice shareholders will be approximately $1.3 billion. EQT had $900 million in cash according to their latest 10-Q. Furthermore, Rice Energy had $431 million in cash in their latest 10-Q. This would leave only around $30 million in cash in the combined companies weakening the balance sheet considerably. However, they can avoid having to take on additional debt to make the cash payout to Rice shareholders. Avoiding excessive debt levels is one of the keys to success in the current volatile oil and gas markets.
EQT will pick up some cash-flow by acquiring the midstream natural gas distribution assets of Rice Energy. It is anticipated those assets could add $130 million in EBITDA in 2018. Additionally, there are expected to be some savings in general and administrative expenses by combing the two companies. But that doesn't come close to being worth a $6.7 billion acquisition.
The primary reason EQT is interested in acquiring Rice Energy is the valuable acreage positions it holds in the Marcellus and Utica formations. Many of those acres are contiguous to EQT's current acreage position. This gives EQT management a good feel for what the acreage is worth and how to drill it. It also provides for synergies and potentially lower operating expenses. Below is a look at how the Rice acreage position dovetails into the EQT acreage position: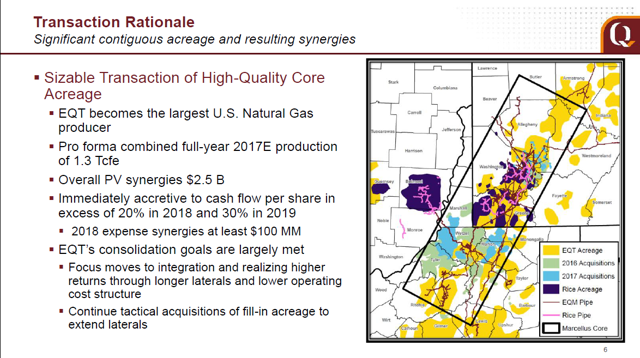 EQT is paying a premium of 5 1/2 times trailing revenue to acquire Rice Energy. This big bet on higher natural gas prices is due to the ever improving returns from the Marcellus Shale. Rice has 187,000 net acres in the Marcellus. Recent technological advancements are boosting internal rates of return: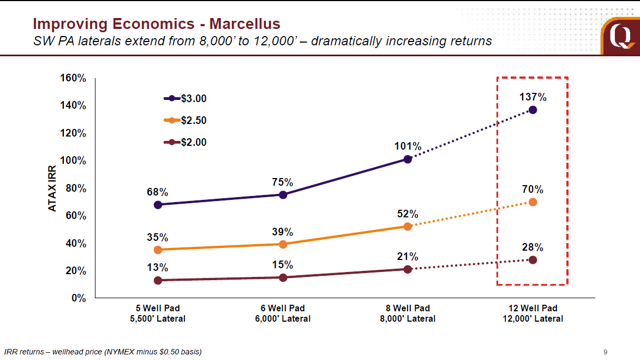 Because of the large amount of gas in the Marcellus, and the lack of adequate takeaway capacity, the prices per Mcf in the Marcellus have been trading at a discount to NYMEX prices. EQT assumes a $.50 per Mcf discount to NYMEX prices in its estimated internal rates of return listed above. In order for EQT to achieve the estimated 137% returns from 12 well pads with 12,000 foot laterals, the company would need for NYMEX natural gas prices to trade in the $3.50 range. Right now natural gas prices are just below $3 per Mcf on the NYMEX. Hence, this acquisition only makes sense if natural gas prices rise.
The weather the last couple of years has been the biggest reason natural gas storage levels have been high and therefore depressing natural gas prices. There are valid reasons to believe natural gas prices could trade higher in the near future. While rates of returns can be stellar in parts of the Marcellus at natural gas prices below $4 per Mcf, in most regions in the country higher natural gas prices are needed to obtain those types of returns. Natural gas production in most of the country outside of the Marcellus has been declining the last couple of years. Especially in the all important Production Region which NYMEX natural gas prices are based upon.
The large premium being paid for Rice Energy by EQT makes a lot of sense if natural gas prices can trend higher on a sustained basis. But if natural gas prices on the NYMEX stay in the $3 range, or less, then EQT is over-paying for Rice Energy. The main consideration for investors on whether or not to buy or sell EQT based on its proposed acquisition of Rice Energy needs to be based on their outlook for future natural gas prices.
Disclosure: I/we have no positions in any stocks mentioned, and no plans to initiate any positions within the next 72 hours.
I wrote this article myself, and it expresses my own opinions. I am not receiving compensation for it (other than from Seeking Alpha). I have no business relationship with any company whose stock is mentioned in this article.