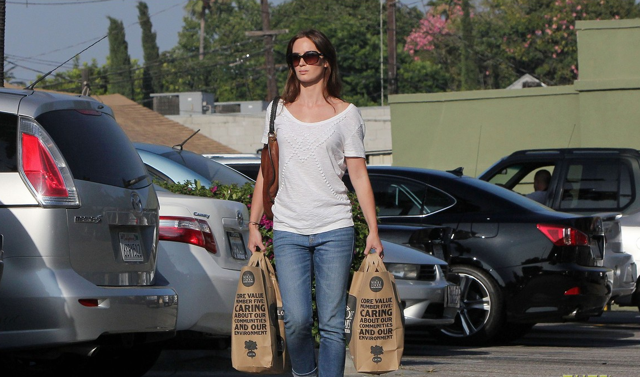 Might Whole Foods Get A Higher Bid?
On Friday evening, we posted three concentrated, hedged portfolios for our Bulletproof Investing subscribers.* Whole Foods Market (NASDAQ:WFM) appeared in two of them, on a day when its acquisition by Amazon (NASDAQ:AMZN) had been announced, so we included this note explaining why:
Why is it in this portfolio? Because our gauge of option market sentiment -- attempting to hedge it with an optimal collar against a >9% decline over the next several months -- indicates that there's a chance the acquisition price might get raised. Often, after these sorts of acquisitions, there are no bids on calls even 1% out of-the-money ["out-of-the-money" means above the current price of the stock]; here there were.
Here is a look at that optimal collar on Whole Foods as of Friday's close ("Optimal" = least expensive, given these parameters). What our system did first was attempt to attempt to collar Whole Foods with a cap equal to the mean of its average return over the last 6 months and its average 6 month return over the last 10 years (19%). When it couldn't find an optimal collar there, it lowered the cap % until it found one, in this case at 17% using a $50 strike call, as you can see below (the closing price for Whole Foods on Friday was $42.68).
This was the optimal collar to hedge WFM against a greater-than-9% drop by mid-January, while not capping an investor's possible upside at less than 17% by then: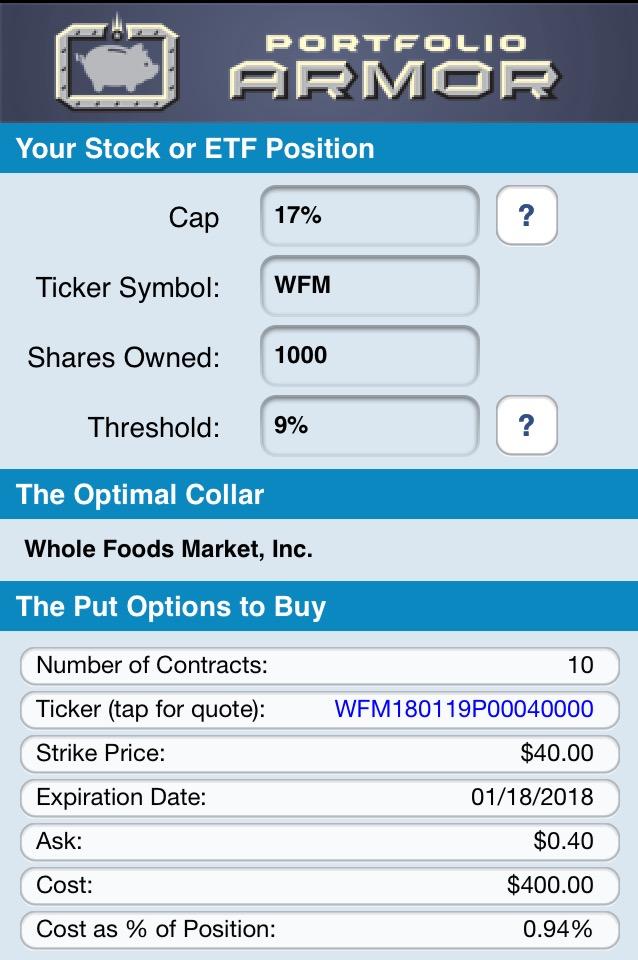 As you can see above, the cost of the put leg (calculated conservatively, at the ask) was $400, or 0.94% of position value. And as you can see below, the income generated from the call leg (calculated conservatively, at the bid) was $100, or 0.23% of position value.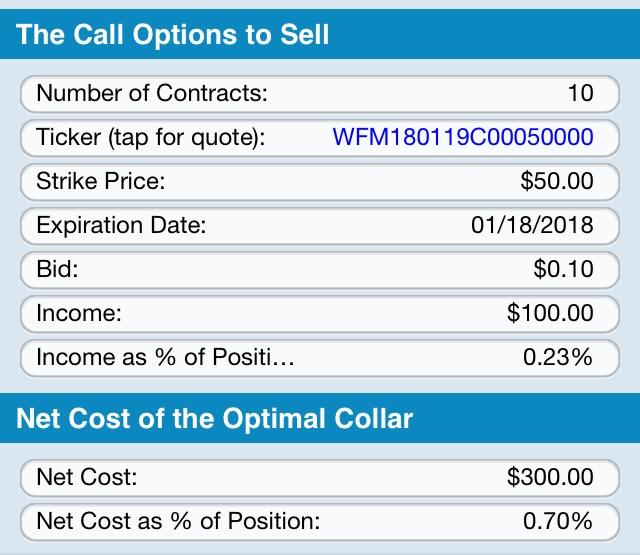 So the net cost there was $300, or 0.7% of position value. The key point for the purposes of this article, though is that there were bids on Whole Foods Market calls that far above stock's closing price, which suggests some option market participants think Whole Foods may get a higher acquisition offer.
Lex Agrees It Might
The Lex column in Saturday's Financial Times -- "Whole Foods: Grain of Truth" -- (paywalled here) concurred with our system's assessment:
Amazon's acumen and ambition are well-noted. But is the bid well-priced? Whole Foods is selling at a third of its all-time high. The board may believe grocery trends are so dire that this is the best outcome for shareholders. But Amazon's market value jumped $14 billion, or 3%, on the news, suggesting it [Whole Foods' board] should have driven a harder bargain. Or maybe no bargain at all.

Shareholders are more sophisticated than they were 30 years ago. Amazon may be a shrewd owner. But another hedge fund could jump into Whole Foods stock and agitate for revised terms or for a different purchaser to fix [Whole Foods founder John] Mackey's brainchild. Sound markets should benefit buyers and sellers equally.
This is an interesting example of our system, which relies on the "wisdom of crowds" in the stock and option markets, coming to a similar conclusion to sophisticated observers, but sooner.
We use this same general process in estimating potential returns for all securities: we start with the assumption that the stock or ETF will start to revert to its long term mean return over the next several months, and then check that assumption against the option market sentiment over that time frame: not only where there are bids on call options, but what their prices are relative to the prices asked for put protection (it's not enough for there to be bids on out-of-the-money call options; the net cost of the collar has to be less than the decline we're attempting to hedge against - in this case, 9%).
As we mentioned in our note to our subscribers, this process usually weeds out stocks that were recently acquired, because option market participants often don't expect their stocks to move much at all until the acquisition is finalized at its announced price. That wasn't the case here. Our system's forward-looking perspective on Whole Foods was that it might end up getting acquired for a higher price.
This Week's Bulletproof Portfolios
Although Whole Foods wasn't one of our system's top names last week, it did make it into two of our portfolios with the highest ratio of potential upside to downside risk. To see which underlying securities make it into this week's portfolios, and how they are hedged, consider a two week trial to our Marketplace service.
*Each week, we present three portfolios:
The $100,000 portfolio with the highest ratio of upside potential to downside risk then.
The $1,000,000 portfolio with the highest ratio of upside potential to downside risk then.
The $1,000,000 portfolio comprised of our top names (the first two portfolios often don't contain all of the top names.
Disclosure: I/we have no positions in any stocks mentioned, and no plans to initiate any positions within the next 72 hours.
I wrote this article myself, and it expresses my own opinions. I am not receiving compensation for it (other than from Seeking Alpha). I have no business relationship with any company whose stock is mentioned in this article.