CNBC: 10:30 EST

Markets have behaved in a distinctly bullish manner as we enter afternoon trade, providing some continuation to Sunday's overnight session. The S&P is pulling back slightly after reaching the 2450 milestone for the first time. After opening at another record high, the Dow has continued higher still as technology stocks have begun bouncing back after a week long pullback.
Gold (NYSEARCA:GLD) futures are lower by 0.60% this morning, while the Japanese Yen is only weaker by 0.36% against the US dollar. As noted last week, the US dollar has rebounded past last week's FOMC levels while the 10-year yield has struggled to regain that ground.
Spot VIX is moving downward since the open, hitting lows at 10.01 so far. After a brief spike mid-week to 11.83, the VIX has lost significant ground as markets have stabilized after last week's FOMC interest rate announcement.

CNBC: Friday Close

US stock indexes closed mixed on Friday, with the Dow (NYSEARCA:DIA) finishing marginally higher, and closing at a new record high, and the S&P (NYSEARCA:SPY) closing just above flat. The Nasdaq (NASDAQ:QQQ) closed lower once again, as the technology-heavy index hasn't quite regained its footing.
On Friday, energy (NYSEARCA:XLE) stocks were the leading sector, moving higher by 1.67%, as crude oil (NYSEARCA:USO) futures for August delivery finished almost exactly flat. Consumer Staples (NYSEARCA:XLP) was the only sector to lose meaningfully on the day, dropping 1.05%.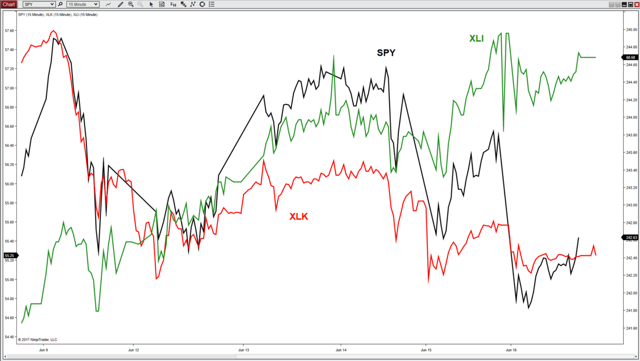 Source: The Balance of Trade
On the week, the S&P 500 finished just above flat, with sectors splitting on positive versus negative performance. The industrials (NYSEARCA:XLI) sector contributed the highest return last week, rising by 1.13%; the sector is up 10.38% on the year. Technology (NYSEARCA:XLK) stocks, which have contributed more than their fair share to the Nasdaq pullback over the last week, posted the biggest loss of any S&P sector last week, shedding 1.37%. Even taking into consideration the recent move lower, the technology sector is still up more than 14% on the year.
Though the upcoming week will be heavy on Fed speakers, typical scheduled news releases are looking to be on the light side.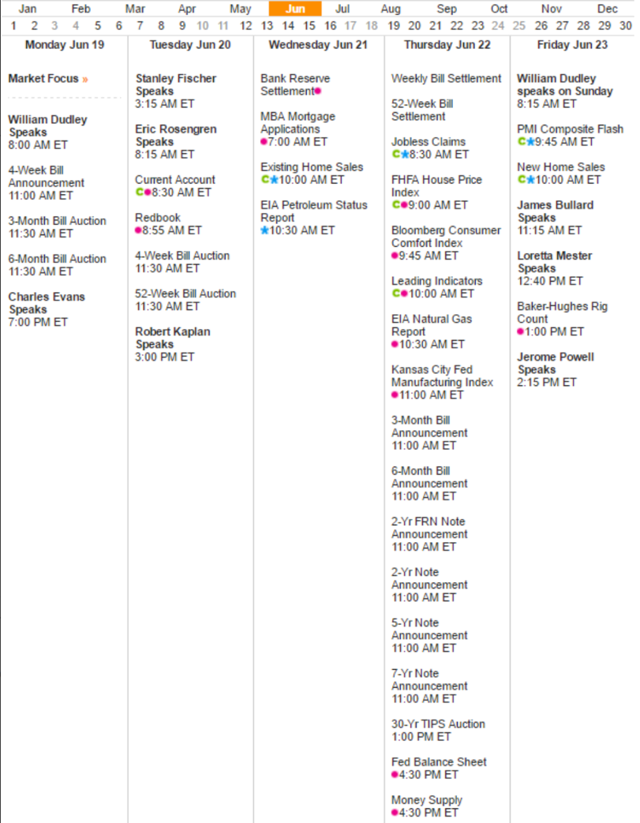 Source: Bloomberg
Treasury Bill auctions teamed with FOMC member speeches take up most of Monday and Tuesday this week, with EIA Crude Oil Inventory numbers being released on Wednesday. Also mid-week is Existing Home Sales, with the House Price Index and Consumer Confidence to be released on Thursday. Friday is arguably the most filled with potentially heavy-hitting news; Manufacturing and Services PMI are both slated for Friday, as are New Home Sales for May, and the Baker Hughes weekly Oil Rig Count.
Shout-Out
For a long-term look at the US 10-year Treasury yield, we kick off the week by highlighting a Friday article from CNBC. It is worth noting that while we do not use CNBC for serious research work, we've found they do post solid articles from time to time.
The article begins with a multi-decade look at the US 10-year yield, noting its highs in the late 70s as a Carter presidency moved into a Reagan one, and potential bottoming early into the Trump administration.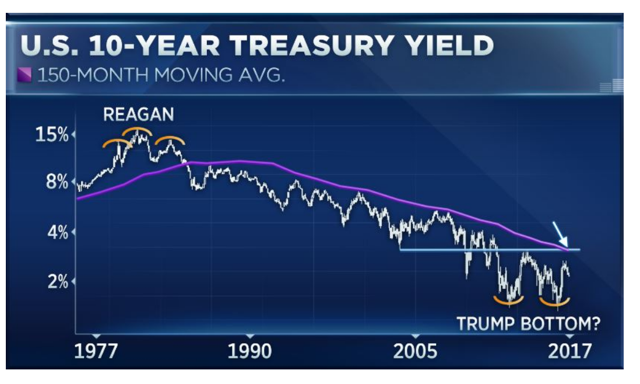 Source: CNBC
"You have this Reagan head and shoulders top into a potential Trump double bottom," Rich Ross, Evercore ISI's head of technical analysis, said Thursday.
Though the Federal Reserve has begun a tightening cycle, interest rates are still just off of their historic lows, potentially showing a lack of belief that the economy really is approaching full recovery. This, along with low growth, low inflation and low oil prices, doesn't "exactly have this whiff of economic vitality," Ross said, adding that this is precisely why investors will instead invest in growth stocks.
Also according to Mr. Ross, the chart suggests that while yields may move higher over a longer-term, there is nothing to say that yields are likely to rise in the short-term.
Yale professor of economics Robert Shiller also had this to add regarding stocks versus bonds:
"If I'm asked to predict how you will do investing in the stock market for the next 10 years, I mean, it's probably positive. It's probably something better than the Treasury securities we have now."
Thoughts on Volatility
As we head into a fresh week, volatility continues looking downward, with spot VIX overnight lows posted at 10.44 as the S&P rallied during Asian trading. Of note, June VX futures are slated for expiry tomorrow, which will move July futures to the F1 spot, and August to the F2.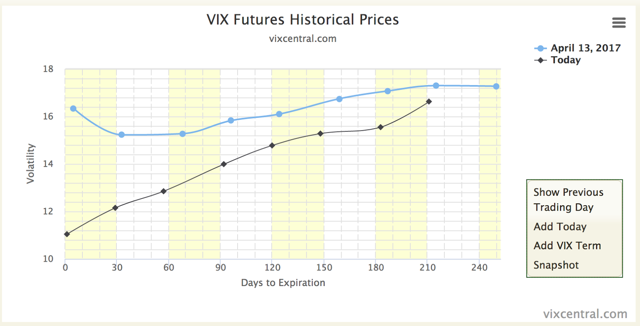 Shown above is the current VIX futures term structure (black) compared to that during the peak of the "vol spike" from back in April (BLUE). Though the futures market did technically move into backwardation, it was only the F1-F2 contracts, and it lasted for a brief period of time. Given that volatility has been significantly lower than the long-term average for such a period of time, many speculated during April's rise in volatility that simple F1-F2 backwardation would no longer signal the potential for a meaningful market correction, but that signal would only be noted in the future when backwardation reached F2-F3.
Contango for the current VIX futures curve is as follows:

With the F1-F2 futures contango now above 10%, this represents a large pickup in the headwind going against long-term holders of products such as VXX and TVIX. While the probabilities certainly favor the short-vol side, as we've mentioned in the past, the fact that longs are still willing to buy these products with such heavy roll yields against them should say something about their conviction of a coming move higher.

Though both the spot VIX and SPX have displayed considerable back and forth movement over the last week, it is important to note how tight of a range this movement has held within.

Organic at-the-money vol is trading at the low end of the last couple weeks' range (to say nothing of longer term ranges). We observe that organic vol has fallen meaningfully at all three maturities that we track.
$17 for a one-week straddle seems very cheap!
What's more enticing, however, is quarterly vol at 9.6%. We've mentioned that if quarterly vol gets below around 9.25, we think that's a pretty great buy. Weekly vol can trade in a very wide range, as it should behave in a more sensitive pattern to realized vol, and also due to better visibility on upcoming events. Quarterly vol on the other hand is subject to more variation in potential movers. That is to say recent realized vol should play less of a role in its determination, and long-term implied volatility should be given more credence. To our minds anyway, quarterly implied volatility is the best value on the board of the three maturities that we feature.
Conclusion
We'll leave it there today. We have been tracking a trade that was inspired by a reader suggestion. We'll continue to keep an eye on it in the days and weeks ahead, but we'd like to move onto something else for the next couple weeks.
If you have a suggestion for a trade you'd like to watch, let us know! We don't day-trade these Tracking-the-Trade pieces, so anything that requires a ton of babysitting (rebalancing) is likely not appropriate for this segment. We'd also prefer to keep it ES, as that's what we follow most.
That said, please share your ideas in the comments section below. We consider ourselves fortunate that we have some of the best commenters around, and we thank you for sharing your insights.
Please consider following us.
Disclosure: I am/we are short SPY. I wrote this article myself, and it expresses my own opinions. I am not receiving compensation for it (other than from Seeking Alpha). I have no business relationship with any company whose stock is mentioned in this article.
Additional disclosure: We actively trade the futures markets, potentially taking multiple positions on any given day, both long and short. It is our belief that the S&P 500 is meaningfully overvalued. As such, we typically carry a net short position using ES options and futures.