Friday, after the bell, Bandera Partners LLC filed its SEC 4 Form disclosing that it acquired an additional 250,000 shares of Famous Dave's (NASDAQ:DAVE). Bandera is now long 1,085,225 shares.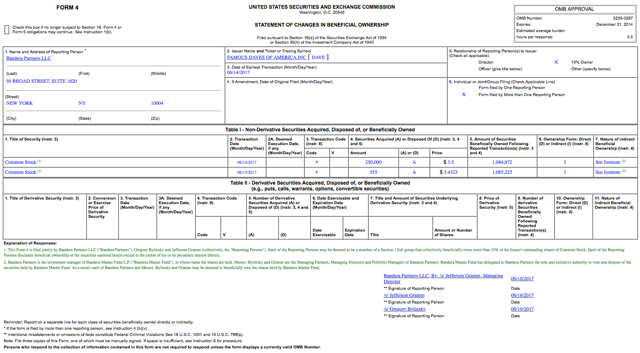 As you can see, Bandera Partners now controls a 15.6% stake in Famous Dave's equity.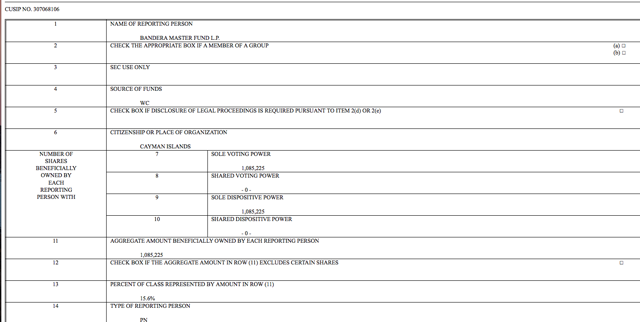 At around noontime on June 14th, I wrote a premium alert piece where I suggested to my subscribers that Raging Capital must have been liquidating its 616,715 share stake in DAVE and that my "guess" was that Bandera Capital was the buyer.
As it turns out, I have only been proven partially correct, as we don't 100% know if Raging sold all of its shares and we don't know who bought the other shares 367K shares, if in fact Raging sold its entire stake. However, keep in mind that 691,000 shares of DAVE traded on June 14th.
Let me walk you how I "Detective Columboed" it.
As I shared on June 14th, by 11am, north of 500K shares had traded.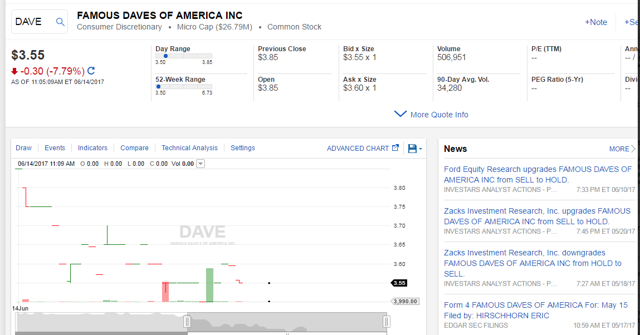 Source: Fidelity
For perspective, as of March 31, 2017, there were only three firms that own more than 500K shares of DAVE: Wexford Capital, Bandera Partners, and Raging Capital. Therefore, if you noticed that by 11am on June 14th that two large block trades occurred (large in the relative sense there are only 7 million shares of DAVE outstanding), a block of 150K and then 250K. Therefore, there is a very high likelihood that there was only one seller. Logically, Patrick Walsh usually sells in smaller lots and Renaissance Technology only owned 294,000 shares, as March 31, 2017.
We can eliminate Wexford Capital as Joe Jacobs (co-founder of Wexford was the non-executive chairman) has been very actively involved in Famous Dave's. By the way, Bandera has a good track record of investing in turnarounds and has an active history of playing in the restaurant space. Most recently, Bandera controlled a 500K share stake in Popeyes Louisiana Kitchen Inc. (NASDAQ:PLKI) that was bought by Restaurant Brands International (NYSE:QSR) for $79 per share.
Here is a snapshot or Bandera Partners Q1 2017 holdings:

As you can see above, Bandera started buying shares of PLKI back in Q4 2009. For perspective, Popeyes was trading in the low $8s in Q4 2009.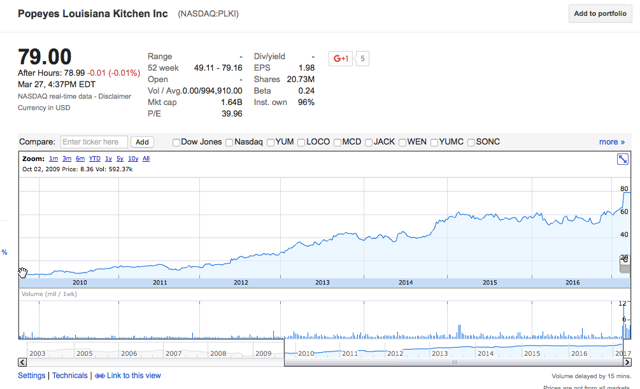 Source: Google Finance
Enclosed below please found two Bloomberg snapshots of Famous Dave's top holders.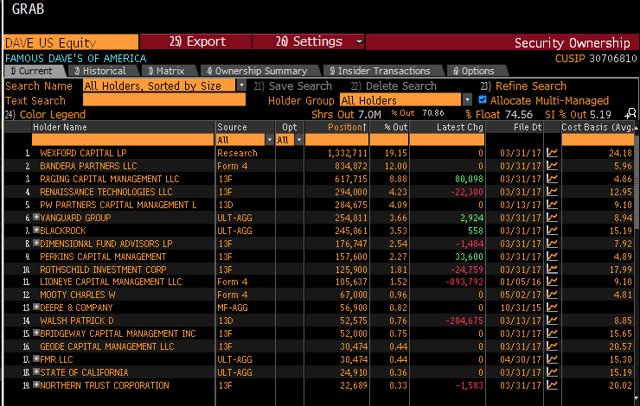 Number 20 - 35.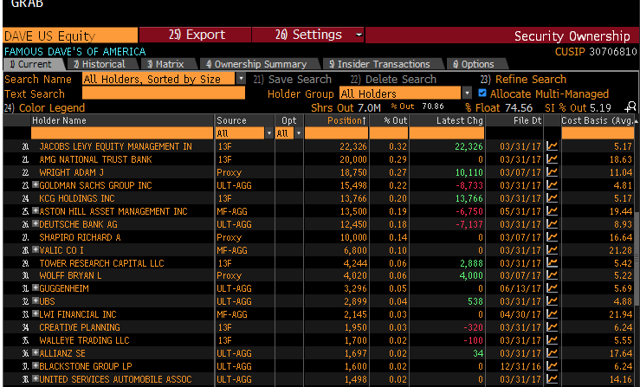 For perspective, per Whale Wisdom, as of Q1 2017, Raging Capital was managing $973 million. As you can see DAVE was Raging Capital's 45th largest position. In other words, it appears that they simply picked up Pleasant Lake Capital's 539,000 share stake in Q4 2016, as it is my understanding that Jonathan Lennon's firm either shut down entirely or returned its outside capital back to investors. As part of that process, Pleasant Lake must have put its block of DAVE shares on the market to a broker and it was shopped to Raging Capital.

Switching back to Bandera Partners, one of the firm's Managing Directors is Jeff Gramm. In February 2016, Jeff wrote the book: Dear Chairman. It is also my understanding that besides managing money for Bandera Partners, he is also an adjunct at Columbia B School. My point is that Jeff is a smart guy, and is a far sighted investor.
I suspect that Jeff and me see the same type of value disconnect where the market isn't valuing Famous Dave's for any possibility of a turnaround, including the prospect of successfully re-franchising some of its now 33 company owned units, selling off the underlying owned real estate/restaurants of four company owned locations and paying down some of its modest debt with the proceeds, turning same stores sales from negative to flat and then positive.
Moreover, investors seem to be forgetting that the company has tremendous operating leverage if/when comps improve and that there is a lot of fat in SG&A that is being cut and that this should improve the bottom line. By the way, during my May 2nd annual investor meeting visit, DAVE's executive team specifically mentioned that they are targeting elevated SG&A spending.
As I have said on many occasions, we eat our own cookin' and I haven't sold one share of Famous Dave's. I am long 3,500 shares of DAVE with a cost basis of $5.88 and I fully expect to make money on this investment. By the way, I could have sold my shares (then 2,500 shares) back on February 21st and 22nd 2017, but I believe the stock is worth more than $6.25.
Either way, I would argue that shares consolidating into the hands of Bandera Partners is a good thing and that there is still plenty of upside optionality in Famous Dave's shares.
Here is a snapshot of one of my investment accounts.

Disclosure: I am/we are long DAVE.
I wrote this article myself, and it expresses my own opinions. I am not receiving compensation for it (other than from Seeking Alpha). I have no business relationship with any company whose stock is mentioned in this article.
Editor's Note: This article covers one or more stocks trading at less than $1 per share and/or with less than a $100 million market cap. Please be aware of the risks associated with these stocks.