There are less than two weeks remaining in Q2, the last quarter for Tesla (NASDAQ:TSLA) in its current form. Next quarter will see the evolution of the company with the Model 3 and the ramp of the solar roof, changing how we look at the company. Before we get there, however, we get to see how the current business stands. Here are some items to watch when it comes to Q2 results.
It all starts at the top, and that involves vehicles of new Model S and X units. In the table below, you can see how Q2 has fared better through its first two months than Q1 did, according to estimates for the US and Europe, as Model X sales were much stronger in May than in February. With this data in, I continue my prediction of roughly 24,000 deliveries for Q2, with my range being 23,500 to 24,500. That's basically where Tesla thinks the quarter will fall, with its guidance for a sequential quarter decline.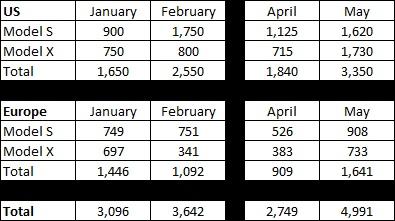 Now it will be interesting to see how deliveries fare given the major changes we've seen in the lineup during Q2. The 60 kWh versions of the Model S were discontinued, as were the 90 kWh versions of both the S and X earlier this month. Additionally, the EV CPO site shows a lot more inventory and pre-owned vehicles now available, nearly double the amount from a few months ago. With some older Model S units going for low $30k price points, I expect Tesla's CPO sales to be quite strong in Q2, but will that impact new vehicle sales?
In its Q1 investor letter, the company did guide to a 250 basis point decline in non-GAAP automotive gross margins for this quarter. Part of that was due to the increase in Q1 thanks to autopilot revenue recognized, as well as the changes in product mix for the period I included above. Tesla may need to write down some inventory units thanks to price changes and product discontinuations, but hopefully that shouldn't be more than a couple of cents in EPS.
When you take into account the margin hit plus a rise in operating expenses as well as interest costs, the company is likely to lose more money this period, even on a non-GAAP basis. In fact, as seen in the table below, estimates have been falling considerably for this period as well as future ones. Tesla's net loss this year could easily top $1 billion, especially if Model 3 deliveries aren't impressive.

(Source: Yahoo Finance analyst estimates page)
Perhaps the most interesting item to watch for Q2 will be the company's balance sheet. Investors will certainly be watching to see how much money is spent on capital expenditures as the Model 3 launch approaches. The inventory balance will be interesting given all of the product mix changes as well as the CPO data detailed above. Tesla has also had some of its convertible debt converted into shares, and there likely will be some SolarCity debt changes too. Calls for another capital raise will increase or decrease depending on the size of the cash burn in the period.
Tesla shares on Monday aren't participating in the overall market rally, but they have still more than doubled from their 52-week low. A lot of the rally is built on hopes for the Model 3, which is only a month or so away. With investors focusing on every news bit for the new vehicle, like the report that Model 3 battery cell production has started at the gigafactory, Q2 results will most likely get lost in the shuffle. However, until the Model 3 really starts to become a factor in 2018, it is this current business that will drive most of the results.
Disclosure: I/we have no positions in any stocks mentioned, and no plans to initiate any positions within the next 72 hours. I wrote this article myself, and it expresses my own opinions. I am not receiving compensation for it (other than from Seeking Alpha). I have no business relationship with any company whose stock is mentioned in this article.
Additional disclosure: Investors are always reminded that before making any investment, you should do your own proper due diligence on any name directly or indirectly mentioned in this article. Investors should also consider seeking advice from a broker or financial adviser before making any investment decisions. Any material in this article should be considered general information, and not relied on as a formal investment recommendation.