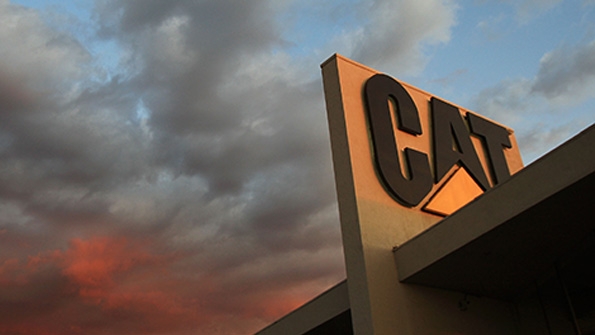 Image source: Getty Images via IndustryWeek
Thesis: Based on the most recent fundamentals, Caterpillar (NYSE:CAT) should be avoided.
Background
I recently performed a CART analysis on Finning (OTCPK:FINGF), with the thesis that Finning currently represents a Dividend Trap. However, the majority of Finning's revenues are derived from being a Caterpillar reseller, and I wanted to determine if Caterpillar should be avoided as well.
Description of Caterpillar
Caterpillar bills itself as "the world's leading manufacturer of construction and mining equipment, diesel and natural gas engines, industrial gas turbines and diesel-electric locomotives." (Source: 2016 Annual Report). From a high level, the firm has four revenue generating segments:
Construction Industries. When one thinks of Caterpillar, this is one of two industries that comes to mind when thinking of the company. Caterpillar supplies 'heavy equipment' to its customers in this segment, which use the machinery for various construction related activities, worldwide. See the appendix for a list of products which Caterpillar provides in this industry.
Resource Industries. Similar to the Construction Industry, this is the second market that comes to mind when thinking of Caterpillar. While the Construction Industry supplies products to the construction industry, the Resource Industries segment supplies products for customers primarily in the mining, quarry, waste, and material handling areas. See the appendix for a list of products which Caterpillar provides in this industry.
Energy & Transportation. This segment supports customers who deal with oil and gas, marine, rail, and industrial applications, and power generation.
Financial Products. This segment provides retail and wholesale financing, and related services to Caterpillar customers. The Financial Products segment is handled through a wholly owned subsidiary, Cat Financial.
In one sense, Caterpillar is a fully vertically integrated "builder provider": resource industries leverage Caterpillar products to extract and refine raw materials for use in the construction industry, customers of the energy & transportation industry use Caterpillar products to transport and power resource and construction industry activities, and the financial products segment allows customers to fund their endeavours. All in all, Caterpillar provides a convenient end to end solution from "in the ground" (e.g. getting resources) to "in the air" (e.g. constructing buildings).
CART review
As part of a CART review we look at the following metrics over the most recent five years of audited financial statements:
Balance sheet
Top line revenue vs. bottom line earnings
Share price and dividend performance
Valuation
At an aggregate level, Caterpillar is not performing well in any of these metrics.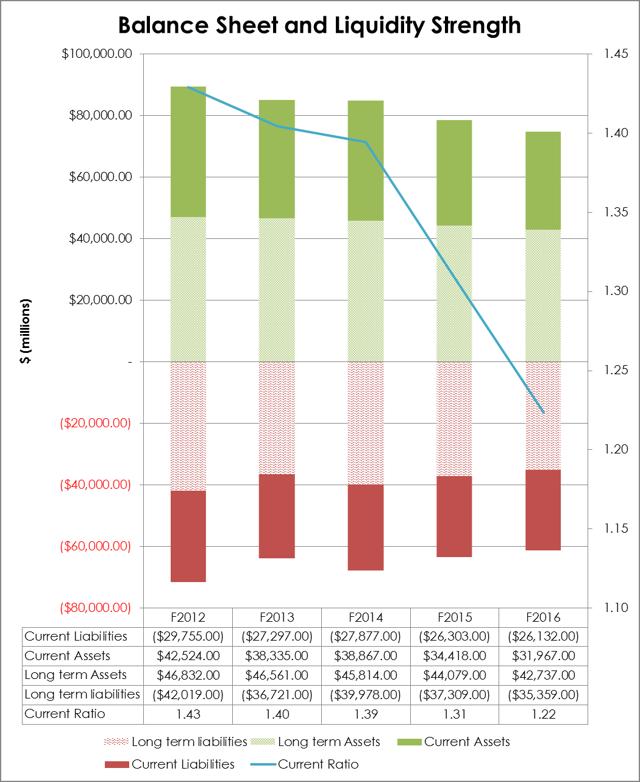 Reviewing the balance sheet, we can see that overall assets and liabilities have been dropping over the past five years, as has the current ratio. With a current ratio shifting from 1.43 in F2012 to 1.22 in F2016, this shows that the proportion of debt which is current (i.e. due in the next year) is rising faster than the current assets are. And while it is not demonstrated above, total equity has been on the fall as well:
| | | | | | |
| --- | --- | --- | --- | --- | --- |
| | F2012 | F2013 | F2014 | F2015 | F2016 |
| Total Shareholders' Equity ($millions) | $17,582.00 | $20,878.00 | $16,826.00 | $14,885.00 | $13,213.00 |
| YoY Change | | +18.75% | -19.41% | -11.54% | -11.23% |
For the past five years, revenue has slowly been dropping as well, from $65billion in F2012 to $39billion in F2016, resulting in a -12.54% compounded annual loss over that period. The net earnings have decreased accordingly, to the point where F2016 saw a negative earnings result. However, while the F2016 earnings were negative, Caterpillar still managed to eke positive cash flow per share.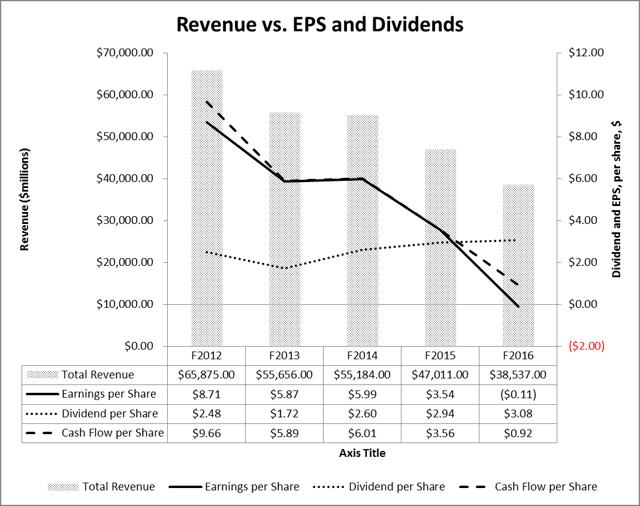 Notwithstanding a drop in revenue, assets, and equity, the odd behavior for Caterpillar starts to surface when we review the share price and dividend. As the below graph illustrates, even when the earnings have gone down, the dividend itself has gone up over the same period. When compared to the revenue decline of -12.54% compounded annually over the past five years, Caterpillar's dividend growth over the same period has been an astonishing 5.57% compounded annually, and earnings per share have dropped by more than 100% from $8.71 in F2012 to -$0.11 in F2016. However, one reason for Caterpillar's ability to pay off the dividend, and increase it, is that Caterpillar is still cash flow positive. Except for F2016, earnings per share and cash flow per share have been in virtual lockstep; it isn't until F2016 that there is a huge variance. That said, even taking into account the positive cash flow, the dividend payout ratio when measured against cash if a whopping 335%. So, even though Caterpillar has positive cash flow, it is still presumably drawing down from other current asset reserves to pay out its dividend.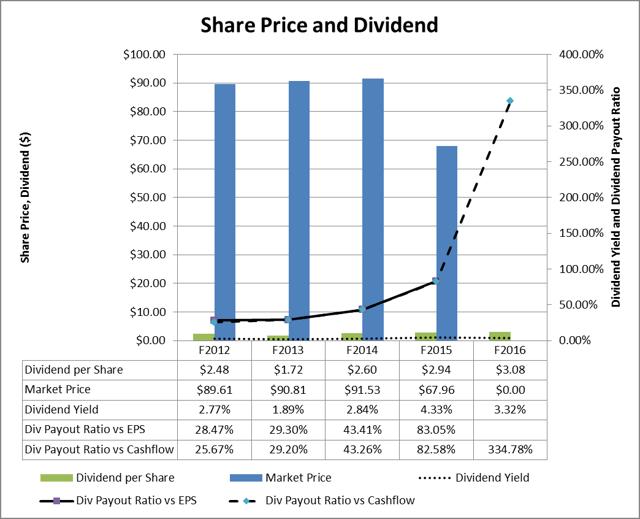 The final metric we would normally investigate is the Graham Price. However, given that most recent earnings are negative, if we follow the strict math of establishing the Graham price (i.e. determining the Graham price based on the price-to-earnings and price-to-book-value ratios), the Graham price is non-existent: with negative earnings, Caterpillar should be paying shareholders to buy the stock.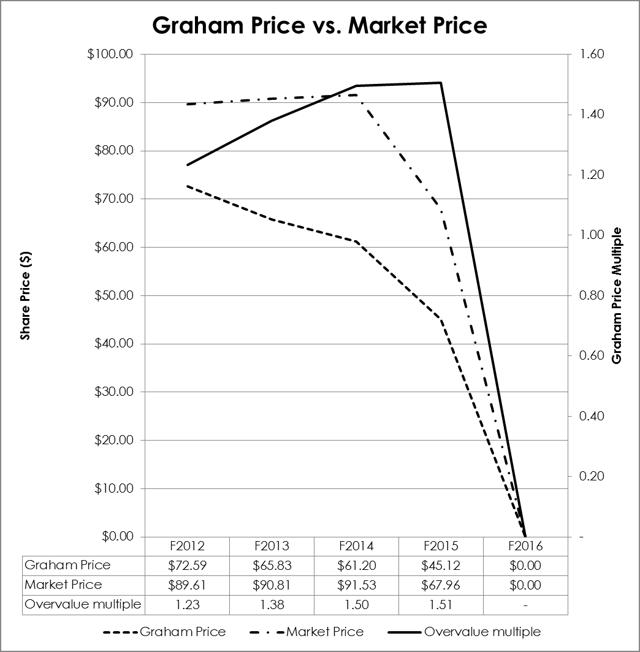 That said, the market is still paying a hefty premium for Caterpillar shares. While there was a considerable dip in F2015, the shares have gained back their share price and more in F2016. Even if we were to disregard valuation based on underlying fundamentals, the share price itself has behaved poorly, returning a paltry 0.86% compounded annual return.
Recent Results
Caterpillar's Q1 results showed positive earnings of $0.33/share. However, even at $0.33, the most recent 12 months of earnings are still at a loss of $0.24/share. Equity also increased by 3.38% from $13.2billion in F2016 to $13.7billion in the first quarter of 2017. These are positive developments, but time will tell how the firm operates through the entire year. For reference, the earnings of the first fiscal quarter of 2016 were $0.46. So while Caterpillar has increased its earnings quarter-over-quarter, on a year-over-year basis it is still lagging.
More perplexing is Caterpillar's recent announcement to increase its dividend from $0.77 per quarter to $0.78 per quarter, a 1.30% increase. While earnings are trending upwards, it seems premature to increase payouts to shareholders until a more stable trend of positive earnings can be established.
Closing Remarks
We had initiated a cursory analysis on Caterpillar based on our initial review of Finning. Given that Finning is a key distributor of Caterpillar, we wanted to examine Caterpillar's own results to see if they mirror Finning's. This is a chicken and egg situation: does the demand for Caterpillar products drive up sales at Finning? Or does the demand from Finning's customers pull up the demand for Caterpillar?
Reviewing the results, it is clear that at this point, there is little value in performing a deeper analysis of Caterpillar, at least for the time being. With negative earnings in the most recent full fiscal year, and questionable activities such as increasing the dividend when the dividend ratio is already over 300% of free cash flow, the future of Caterpillar is not clear. That said, Caterpillar is a major player in the heavy machinery space, with an established brand. Reviewing the company following Caterpillar's filings of its fiscal 2017 results should determine if it has corrected course for the better.
Appendix
Construction segment products
Backhoe loaders
Compact loaders
Small track-type tractors
Track-type loaders
Small and medium wheel loaders
Medium track-type tractors
Mini excavators
Small, medium and large track excavators
Motorgraders
Wheel excavators
Pipelayers
Telehandlers
Cold planers
Asphalt pavers
Compactors
Road reclaimers
Wheel and track skidders
Knuckleboom loaders
Site prep tractors
Wheel and track feller bunchers
Forestry excavators
Skid steer loaders
Resource Industry Products
Electric rope shovels
Large mining trucks
Landfill compactors
Draglines
Longwall miners
Soil compactors
Hydraulic shovels
Large wheel loaders
Machinery components
Track and rotary drills
Off-highway trucks
Electronics and control systems
Highwall miners
Articulated trucks
Select work tools
Hard rock vehicles
Scoops and haulers
Hard rock continuous mining systems
Continuous miners
Wheel tractor scrapers
Large track-type tractors
Wheel dozers
Disclosure: I/we have no positions in any stocks mentioned, and no plans to initiate any positions within the next 72 hours.
I wrote this article myself, and it expresses my own opinions. I am not receiving compensation for it (other than from Seeking Alpha). I have no business relationship with any company whose stock is mentioned in this article.
Editor's Note: This article discusses one or more securities that do not trade on a major U.S. exchange. Please be aware of the risks associated with these stocks.