Amazon.com Inc.'s (NASDAQ:AMZN) tender offer for Whole Foods Market (NASDAQ:WFM) was wonderful news for the common shareholders of Whole Foods, but the bond holders also had a banner day. Whole Foods bond holders scored the second-biggest gain in the U.S. corporate market on Friday. Whole Foods bonds due December 3, 2025, saw the heaviest trading volume in the entire U.S. market, rising 8.4 points on the day to 116.07: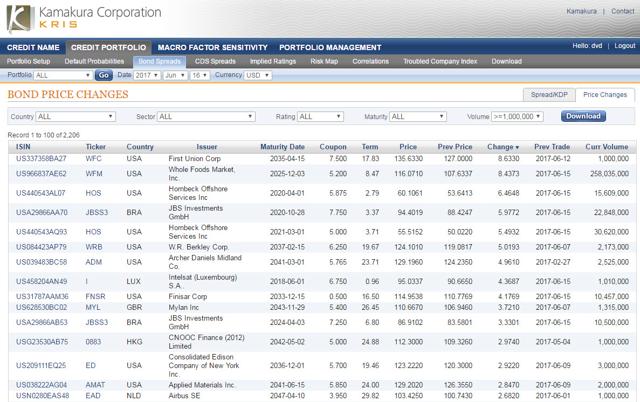 Trading volume in the Whole Foods bond issue was $258 million, highest among all senior fixed rate corporate bonds in the U.S. market. The default probabilities for Whole Foods, of course, will approach those of Amazon as the merger moves toward the closing date.
Kroger Inc. (NYSE:KR) was the big loser on the day, with six of the firm's bonds among the 16 largest price drops in the U.S. corporate market (only bonds with at least $1 million in trading volume are shown):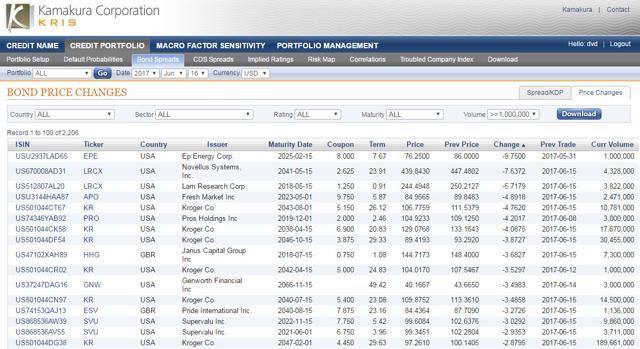 The Kroger bonds due 2043 had the largest price drop, falling 4.76 points. The bonds due 2047 were down 2.89 points, the lowest price drop among the six Kroger bonds in bond decline ranking above.
The price drop for Kroger bonds was consistent with an increase from 0.89% to 1.00% in the 10-year annualized default probabilities (post announcement in blue, prior to announcement in red) for the firm reported by Kamakura Risk Information Services and shown below:

Compared to Whole Foods and Kroger, Amazon.com Inc. default probabilities were unchanged at 10 years at 0.29% (blue) after the merger announcement:

For more information on the default probabilities used, see the appendix.
Amazon bonds were similarly rock solid. Seven issues traded on Friday. Three issues rose in price and four issues declined. Most price changes were extremely modest. The largest price change was a decline of 0.39 points in the issue due in 2044.

Conclusions
The sharp gain in Whole Foods bonds as a result of the merger makes it obvious that bonds are a very viable vehicle for merger arbitrage. Although the gains are usually more modest than one would see in the common stock, the same is true for price declines if the deal later falls apart. Price movements in Kroger bonds also show that corporate strategy matters, and it matters a lot. In a value-creating merger, the risk to competitors of the merged firm can be high.
Appendix
For an example of how to apply modern default probabilities for risk management and portfolio selection, please see the introduction to Kamakura's premium service The Corporate Bond Investor and this week's ranking of the most heavily traded corporate bond issues by "best value."
The Kamakura Risk Information Services version 6.0 Jarrow-Chava reduced form default probability model (abbreviated KDP-jc6) makes default predictions using a sophisticated combination of financial ratios, stock price history, and macro-economic factors. The version 6.0 model was estimated over the period from 1990 to 2014, and includes the insights of the recent credit crisis. Kamakura default probabilities are based on 2.2 million observations and more than 2,700 defaults. The term structure of default is constructed by using a related series of econometric relationships estimated on this data base. KRIS covers 35,000 firms in 61 countries, updated daily.
General Background on Reduced Form Models
For a general introduction to reduced form credit models, Hilscher, Jarrow and van Deventer (2008) is a good place to begin. Hilscher and Wilson (2016) have shown that reduced form default probabilities are more accurate than legacy credit ratings by a substantial amount. Van Deventer (2012) explains the benefits and the process for replacing legacy credit ratings with reduced form default probabilities in the credit risk management process. The theoretical basis for reduced form credit models was established by Jarrow and Turnbull (1995) and extended by Jarrow (2001). Shumway (2001) was one of the first researchers to employ logistic regression to estimate reduced form default probabilities. Chava and Jarrow (2004) applied logistic regression to a monthly database of public firms. Campbell, Hilscher and Szilagyi (2008) demonstrated that the reduced form approach to default modeling was substantially more accurate than the Merton model of risky debt. Bharath and Shumway (2008), working completely independently, reached the same conclusions. A follow-on paper by Campbell, Hilscher and Szilagyi (2011) confirmed their earlier conclusions in a paper that was awarded the Markowitz Prize for best paper in the Journal of Investment Management by a judging panel that included Prof. Robert Merton.
Disclosure: I/we have no positions in any stocks mentioned, and no plans to initiate any positions within the next 72 hours.
I wrote this article myself, and it expresses my own opinions. I am not receiving compensation for it (other than from Seeking Alpha). I have no business relationship with any company whose stock is mentioned in this article.