When investors think about mining, they tends to focus on high-value metals. It should come as no surprise. Endeavors like gold mining have long captured the imagination, with visions of fortunes being made in an instant with a large find.
But we can mine lots of things, and sometimes the lower cost products can also yield impressive profits. Today, we're going to look at Smart Sand (NASDAQ:SND), which as you might suspect from its name, mines sand. White fracking sand in their case.
Sand is obviously one of the cheapest commodities out there. While people looking at gold and silver mining think in terms of troy ounces, in the sand mining industry, we'll be looking at everything in terms of tonnes. Even then, a tonne of Smart Sand's sand only costs the buyer about $45. Luckily, there's a lot of sand to be had.
From Wisconsin to the fracking sites
Smart Sand's sand formed in the Cambrian era, as glaciers moved across the area. The sand has proven extremely useful with the rise of fracking, serving as a low cost proppant that keeps the hydraulic fracture open, greatly increasing recovery rates. As America's fracking industry grows, so too will demand for proppants.
That's good news for Smart Sand, which has a lot of sand to sell. They currently produce all of their sand at Oakdale, Wisconsin. The site has 332 million tonnes of recoverable sand, and following upgrades in 2015 has the capacity to produce 3.3 million tonnes per year. Plans are already in place to expand production to 4.4 million tonnes per year in the future. As of the most recent 10-K, the company reports that permits would allow them to get production all the way up to around 9 million tonnes per year.
On top of that, Smart Sand has a second site, about 50 miles down the highway in Hixton, WI. This site is not in production, but has an estimated 100 million tonnes of recoverable sand.
As fracking has become increasingly common, proppant demand has risen. By 2014 the demand was 74 million tonnes per year, though this began dropping substantially in 2015 and 2016 as oil prices cut into production. Despite this, recovery is expected to be significant, and rapid, with Spears and Associates estimating that proppant demand will exceed 2014 levels by 2018, and continue to grow around 37% annually through 2020.
As that happens, Smart Sand's expansion will really start paying off, as they have the sand, and the production capacity, to take part in that growth, and with the Hixton site sitting idle, the capacity to grow even beyond the theoretical capacity of their current operating site.
Understanding the numbers
With limited debt and only one product, the financials of Smart Sand are very straightforward, and we're able to get into the guts of how this company makes money in a way that's just not possible with more complex companies, especially miners.
After all, soup to nuts Smart Sand has one active production site producing one commodity, which means that examining their financial statements we can get information like this from the first quarter.
| | |
| --- | --- |
| Sales | $25.0 million |
| Amount Sold | 558,500 tonnes |
| Depreciation | $1.58 million |
| Freight Costs | $9.23 million |
| Production Cost | $8.85 million |
| Gross Profit | $5.4 million |
This tells us that Smart Sand is getting $44.76 per tonne when it sells the sand, and made a gross profit of $9.67 per tonne. With the current capacity at 3.3 million tonnes per year, it's not hard to extrapolate from this what the company is capable of at capacity, generating revenue of $147 million and just under $32 million in gross profit.
And indeed, if we look at the analyst estimates for FY2017, we see revenue projections approaching that. The revenue is a bit less, obviously, because Q1 production was only 558,500 tonnes, and at full capacity they should be at 825,000 tonnes per quarter. Estimates of full year revenue at $121.8 million would point to expectations that the rest of the year will be operating at close to full capacity.
While the costs related to production probably aren't wildly flexible, we can also hope that as the company grows, general administrative costs become more efficient and lead to a bigger bottom line. We can see that analysts are probably thinking the same thing, with $0.26 per share net income in 2016 giving way to estimates of $0.46 per share earnings in 2017, then ballooning to $1.25 per share in 2018.
IPO in retrospect
Smart Sand is a relatively new stock, having come out in November at a price of $11.00 per share. The company found early favor on the market, surging over $20 per share in a few months, before plummeting to its current, sub-$8 price.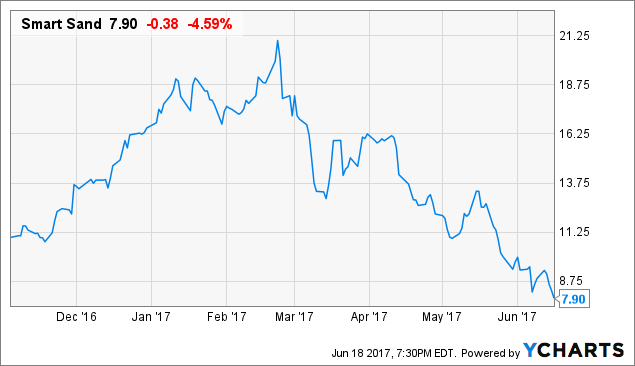 That's a wild ride, particularly for a company that has such a straightforward revenue stream and fairly predictable rate of growth going forward.
Smart Sand's earnings haven't been wildly inconsistent, either, beating by a couple of cents one quarter and missing by a couple of cents the next, while the revenue consistently beats expectations.
That's very good news for the long investor, especially at these prices, because those analyst projections have this company tapped to be wildly profitable going forward, with an easy path to further growth as demand for their product surges in the next few years.
Conclusion
While $11.00 per share at the IPO was not wildly out of whack considering the income Smart Sand should be generating in the next few years, it's obviously nice for those of us that waited that we can now get in much cheaper. Unless the myriad analysts made a calamitous error, the earnings we'll be seeing this time next year will have Smart Sand safely in the deep discount value range.
On top of that, we're looking at a company with planned growth, expecting to add another 33% to their production capacity at Oakdale, and also sitting on the idle Hixton site, which will also be ramped up as demand grows.
The downside to all of this is that the demands for further investment to grow the business likely preclude any serious dividends in the near future, but does offer a combination of strong growth at a value price, which is a rare combination indeed.
Disclosure: I am/we are long SND.
I wrote this article myself, and it expresses my own opinions. I am not receiving compensation for it (other than from Seeking Alpha). I have no business relationship with any company whose stock is mentioned in this article.