Investors have been celebrating the improvement in debt levels as well as the lower company breakeven touted by ConocoPhillips (NYSE:COP) management. The assumption is that the lower cost of supply shown below will lead to capital gains in the future. Lower cost of supply is certainly a key component. But so is production growth. Yet management really does not have a prime objective to grow. Instead the per share growth may be generated by dividends and share buybacks. These objectives appear to be higher prime priorities. The realization of what this means has not yet occurred to Mr. Market. So there could well be an adjustment period ahead where the stock effectively "treads water" until true growth begins.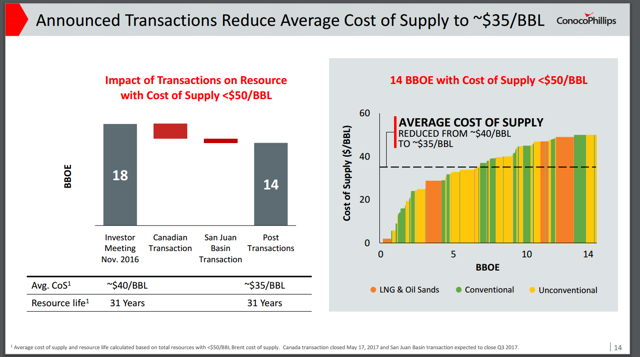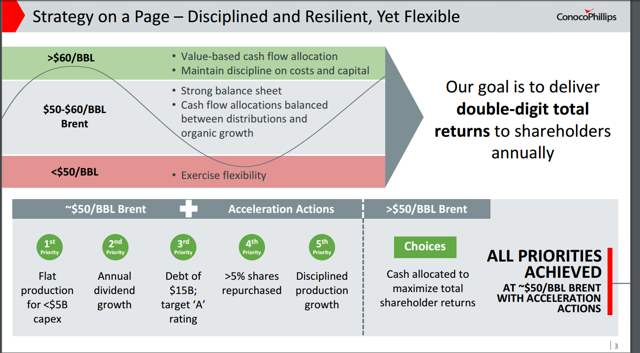 Source: ConocoPhillips June 1, 2017, Investor Update
As shown above, management has reduced the cost of supply and apparently will continue to reduce the cost of supply in the future. Management needs to state what the priority is on the remaining above average cost of production shown above. The corporate breakeven shown above is far better than it was just a few years ago, but progress may need to continue at a prompt pace to ensure the future of the company.
As shown above, flat production is the first priority followed by dividend growth. So for those investors expecting production growth and cash flow growth, management may not have any place to invest cash proceeds and cash flow. That is a natural reaction from the latest industry downturn when a lot of unprofitable pipelines that fuel growth were emptied. Many of the ConocoPhillips and other majors such as Occidental Petroleum (NYSE:OXY) and Chevron (NYSE:CVX) have projects that take years to plan and construct before profitable production begins. So an empty pipeline takes years to fill.
But Occidental Petroleum had a strategy for the coming downturn. They borrowed money from a subsidiary, California Resources (NYSEMKT:CRC), and then spun that subsidiary off which eliminated the debt from the balance sheet. Occidental then had about $6 billion to spend that did not have to be repaid. The money was restricted in some ways, but still it was money available when the company badly needed the money. Occidental was able to continue its long term projects that are now beginning to produce and accelerate cash flow growth and diversification from the industry downturn. Occidental can therefore continue to grow while it begins to fill its pipeline of future growth projects.
Chevron and ExxonMobil (NYSE:XOM) hunkered down for the recession. Like ConocoPhillips, they dumped the unprofitable projects and cut back. But Exxon has a great balance sheet and just bought its way into the Permian. In fact reviewing the news releases reveals more purchases. So maybe the future projects were not in the pipeline presently, but when a fantastic balance sheet is available, then the company can just buy a great future. Chevron may well do the same. There have been some articles about declining production for both. But great financial strength can change that in a minute as Exxon demonstrated with the purchase.
ConocoPhillips did not have a fantastic balance sheet. The company carried a significant debt load. It did not have the foresight that the Occidental Petroleum management showed. So the downturn created a lot of challenges instead of opportunities. Nor was it able to do what Exxon did and effectively purchase a future using cash flow and debt as needed. ConocoPhillips management has clearly reduced the debt to $20 billion this year. However, either more cash flow or further debt reductions are still clearly needed. The goal to reduce the debt further to $15 billion clearly implies that significantly more cash flow is not in the future as it is for Occidental Petroleum. Instead, more property sales and sales of production are in the future. That will limit capital gains.
Management appears to be hoping to generate capital gains through share price increases by raising the priority of restoring the dividend and repurchasing shares. Management would have been better served to reduce debt further and then hit the acquisition trail while there are still distressed sellers out there. Anadarko Petroleum (NYSE:APC), for example, purchased some Gulf Of Mexico properties for one time EBITDA. There is no reason in the world that ConocoPhillips cannot pursue a deal like this.
Even if management had to sell shares to finance the transaction, the deal would be worth it. Birchcliff Energy (OTCPK:BIREF) figured that one out real fast to snap up a purchase from Encana. This purchase was not as good as the deal involving Anadarko, but still benefitted the company greatly.
Through all of this activity, ConocoPhillips management has missed some great opportunities to radically improve the company future. All they had to do was be a little creative. Management gets full credit for reducing debt, but there is so much more that could have been done and should have been done in the same time frame. The examples shown before are a small sample of the available deals transacted or proposed. Ironically, this management has some fantastic salaries that are as good or higher than the pay of the managements in the examples shown above. Yet shareholders got less results for all that money.
Disciplined production growth is all the way down at number five on the list shown above. Despite that priority, management has begun refilling the pipeline.
"ConocoPhillips Alaska has made a new oil discovery in the Greater Mooses Tooth (GMT) Unit located in the northeastern portion of the National Petroleum Reserve–Alaska (NPRA)."

"Willow could produce up to 100,000 bopd. Assuming timely permit approvals and competitive project economics, initial commercial production could occur as early as 2023."

"In a follow-up to the Willow discovery, ConocoPhillips and its bidding partner, Anadarko, were successful in December's federal lease sale on the western North Slope, winning 65 tracts for a total of 594,972 gross acres. ConocoPhillips independently was successful in December's state lease sale on the western North Slope, winning 74 tracts for a total of 142,280 gross acres."

"The cost to develop GMT1 is approximately $900 million gross with peak production estimated at 30,000 bopd gross. First oil is planned for late 2018. In addition, permits have been filed for GMT2, located about eight miles west of GMT1. GMT2 is estimated to cost more than $1 billion gross with peak production estimated at 25,000 to 30,000 bopd gross. A seismic survey over GMT2 and Willow is also planned in the first quarter of 2017. First oil for GMT2 is dependent upon the time to acquire federal permits, but is anticipated to be 2020 or 2021."
Source: Worldoil.com Website, January 1, 2017, article
So management has begun filling the pipeline again with new projects. However, that process is going to take awhile. As shown above, the earliest production from the group of projects shown above could be 2018. ConocoPhillips management has to not only reduce debt, but fund the capital necessary for the above projects.
Anadarko Petroleum management, the partner in this project showed more foresight by making the acquisition noted above while selling common stock to pay for the transaction. Anadarko jump started its cash flow plus acquired some projects in process to further increase cash flow. In effect Anadarko is ahead of ConocoPhillips in the financing process for these projects. Plus Anadarko management is feverishly at work increasing cash flow.
So ConocoPhillips has some future projects that will significantly add to future production. But management has to get to that future. In the meantime, sustained stock capital gains are not in the picture. A dividend increase, if it occurs will be at the expense of either debt repayments or future capital projects. Management still has to improve the balance sheet to keep the lenders from getting nervous. This company turnaround is still in process and will be for the next few years.
In the meantime, the competition is roaring ahead. Antero Resources (NYSE:AR), for example, just reported some large production growth and decent cash flow. Obviously management has a goal to make the dividend safe, but just about any of the examples given above will provide a better return for the same or less risk. ConocoPhillips stock is no longer overpriced. But the stock is also not going anywhere for the time being until the future shows significantly more profitable production growth.
Disclaimer: I am not an investment advisor and this is not a recommendation to buy or sell a security. Investors are recommended to read all of the company's filings and press releases as well as do their own research to determine if the company fits their own investment objectives and risk portfolios.
Disclosure: I/we have no positions in any stocks mentioned, and no plans to initiate any positions within the next 72 hours.
I wrote this article myself, and it expresses my own opinions. I am not receiving compensation for it (other than from Seeking Alpha). I have no business relationship with any company whose stock is mentioned in this article.
Editor's Note: This article discusses one or more securities that do not trade on a major U.S. exchange. Please be aware of the risks associated with these stocks.