Much has changed among Grocers since late-March when I published the three-part report, "Food, Drug & Convenience Stores: To Buy", "…The Broken", "…To Build" - Parts 1, 2, and 3..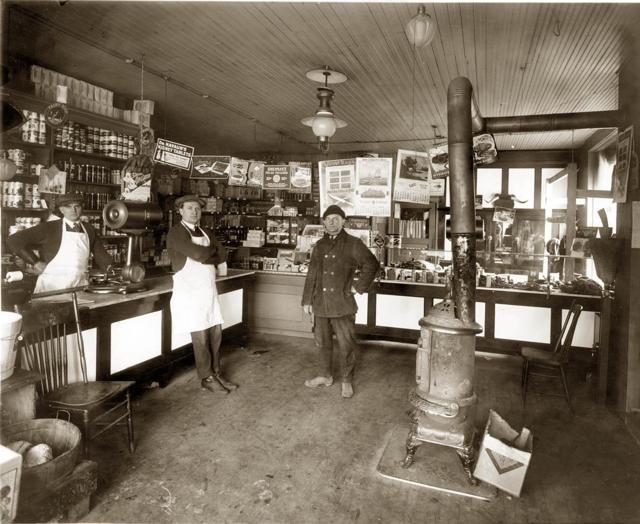 Seems like Food Retail advanced 20 years in just the final two days of last week. On Thursday, Kroger slashed full year guidance and Lidl opened its first U.S. stores. The following day, Friday, Amazon (NASDAQ:AMZN) announced its deal for Whole Foods (NASDAQ:WFM), while Wal-Mart (NYSE:WMT) quietly struck yet another e-commerce acquisition.
This report discusses how I am now positioned among Food Retailers following these market shaking events.
But before discussing my current views, first a reminder of my recommendations in this space published on SA on March 31st:
| | | |
| --- | --- | --- |
| | Rec'n | Change |
| | (3/31/17) | (%) |
| Whole Foods Market | Buy | 43.6% |
| Casey's General Stores (NASDAQ:CASY) | Buy | -3.8% |
| Kroger (NYSE:KR) | Sell | -24.4% |
| Natural Grocers (NYSE:NGVC) | Sell | -16.0% |
| Sprout's (NASDAQ:SFM) | Hold | -9.0% |
| Ahold | Hold | -14.2% |
| Walgreen Boot's | Hold | -5.8% |
Of the three that I previously took a pass on in Food, Drug And Convenience Store Stocks: To Build Positions (Part 3 Of 3), Sprouts is now the most compelling investment, by far.
Sprouts Farmers Market

Last week's events provided the opportunity I was seeking late-March to build a position in organic grocer Sprouts, via a combination of call options and common shares.
Sprouts is unlikely to remain both independent and publicly traded in a year's time. As such, I will first size up Sprouts' strategic alternatives before providing a brief fundamental comparison between SFM and Whole Foods.
If acquired by an industry / strategic buyer, Kroger or Ahold (AH) seem most likely. Each potential suitor faces significant growth challenges yet has a relatively successful M&A history, and finally both lack an organic-specific store concept.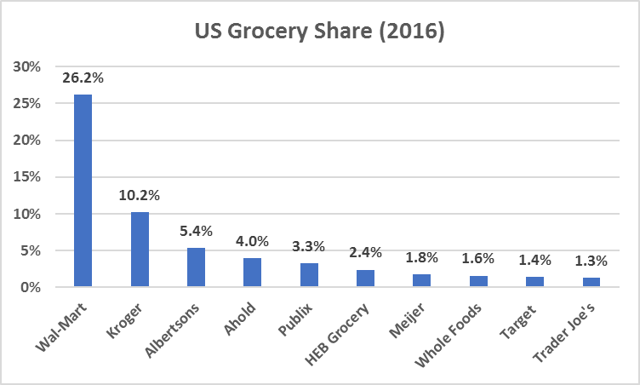 Source: Euromonitor International
More likely than public merger though is a private buyer for SFM.
Apollo Management is the front-runner, as it brought SFM public in 2013, and early last year acquired The Fresh Market. But, SFM's current enterprise value of >$3 billion - nearly 13 times 2017 EBITDA (vs. less than $1.4 billion and 7.5 times Apollo paid for Fresh Market) would be tough for the PE firm's clients to swallow, particularly as this 2016 acquisition is feeling the same competitive pressure as its public peers.
The greater likelihood is either a consortium of LBO firms, including Apollo, or another single bidder with even deeper pockets, say KKR - itself with a rich background within Food and Drug Retail.
Meantime, in terms of growth, Sprouts, with around 265 stores, is head-and-shoulders above its closest but larger peer Whole Foods.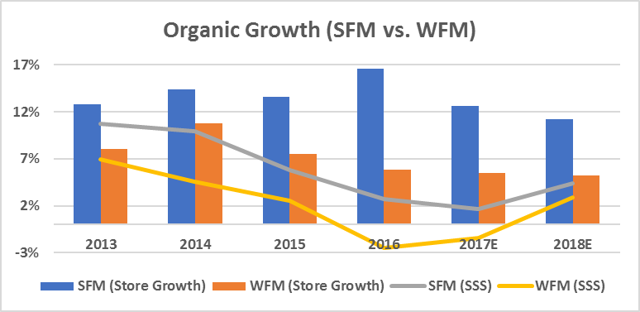 Source: Company SEC filings
Store-count growth at Sprouts is more than double Whole Foods', and SFM's comparable sales also comfortably exceed WFM's.
Casey's General Store

Casey's operates convenience stores throughout the Midwest. Its key competitive advantage is that it most efficiently sells a broad range of high-margin in-store products while a customer fills up on gasoline.
I now own the stock at about a half position after modest disappointment in CASY's fiscal year-end (April) results helped shave nearly 5% from the price I originally recommended it a few months ago.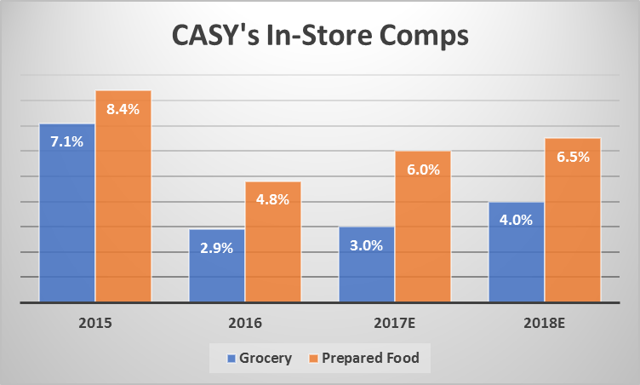 Source: Company SEC filings
As before, the rationale for my favorable view on the company is around profitable growth, where in-store sales (i.e., ex-gas) should average low-double digits for at least the next few years.
Natural Grocers by Vitamin Cottage

I added to short positions via the equity and puts as the stock's fallen from above $10 this past March.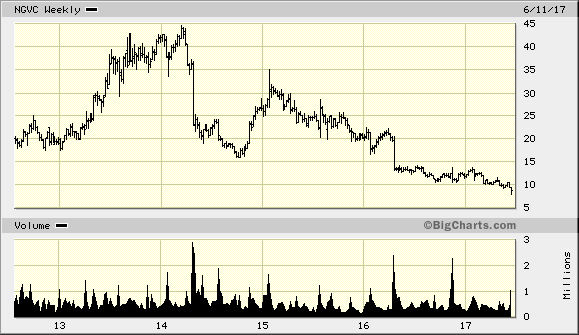 The operational disadvantages facing NGVC and cited in Food, Drug And Convenience Stores: The Broken (Part 2 Of 3) have only been magnified over the past week.
Since my March-end article the company posted Q2 (YE Sep.) results that highlight an acceleration in the worsening trends I anticipated:
"Net debt will approach 2.0 times EBITDA in FY18, even if NGVC is able to meet its own forecasted SSS target of 'about flat' for this year. However, by the time the 17-18 net additions (+12-13% y/y) are opened, in the absence of (unforeseen) recovery in demand at NGVC, the FY17 burn in cash flows and the weaker balance sheet that I expect to result are likely to force deep cuts in management's still robust store growth plans."
Yet even NGVC's lower revised guidance - suggesting positive comps and improving profits in H217 - is overly optimistic, after sequential declines in Q1 and Q2 comps and the resulting further sales de-leveraging.
Kroger and Ahold Enter No Man's Land
Kroger is still the best run public U.S. grocer. However, its main problems are outside its walls - mainly increasing competition and deflation, as discussed back in March. These challenges take time to work through. For both KR and Ahold (below) I am now on the sidelines based on the belief things could get worse before they get better.
Note that in the U.K., it took a full three years for aggregate comparable sales at the 'big-four' grocers (Tesco (NASDAQ:TESO), Sainsbury (OTCQX:JSAIY), Asda, and Morrison's (OTCPK:MRWSF)) to start to recover from the effects of deflation / trade wars.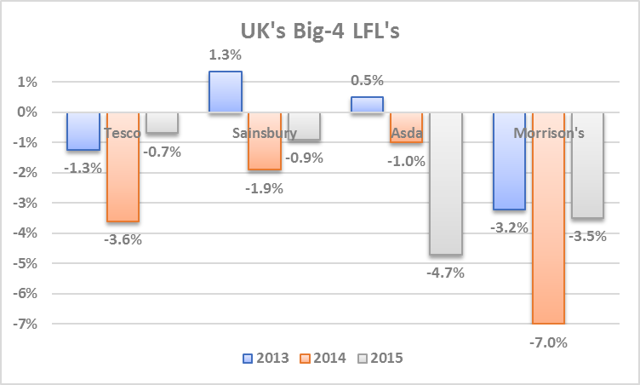 Source: Kantar Worldpanel
It's tough for an investor to distinguish between "price investments", trade wars, deflation, etc., since the bottom-line impact is the same. Tesco, with over 30% of the U.K. grocery market in 2012, saw its operating margin fall from a perennial 5 - 6%, to under 1.5% in a single year (2014). Tesco's share of market is now just over 27%, having, along with these other three grocers (above) ceded much of its business to discounters.
Of course, the U.S. is not the U.K. Though competition is no less fierce in the U.S., with club stores (e.g., Costco (NASDAQ:COST)), the German discounters (i.e., Lidl, Aldi - including Trader Joe's), and of course Wal-Mart and Amazon.
Ahold-Delhaize, while not immune to online competition or broader deflationary forces, is now squarely in the sights of German discounters Lidl and Aldi. Its Food Lion stores operate mostly in the Mid-Atlantic where Lidl is beginning its U.S. buildout.
Farther north, its Giant and Stop & Shop banners already face stiff competition from both sides - high-end organics / online and discounters - including ShopRite, Stop & Shop's biggest competitor.
Disclosure: I am/we are long SFM, CASY.
I wrote this article myself, and it expresses my own opinions. I am not receiving compensation for it (other than from Seeking Alpha). I have no business relationship with any company whose stock is mentioned in this article.
Additional disclosure: I am also short NGVC.
Editor's Note: This article discusses one or more securities that do not trade on a major U.S. exchange. Please be aware of the risks associated with these stocks.