For all his faults, Donald Trump was a staunch supporter of private education loans which caused the share price of Sallie Mae (NYSE:SLM) to rocket 64% from $7 to $11.50 within 1 month. You can almost hear the sign of relief as investors shake off the heavy regulatory weight of the Hillary Clinton Presidency. Then again, life is not always so straight forward.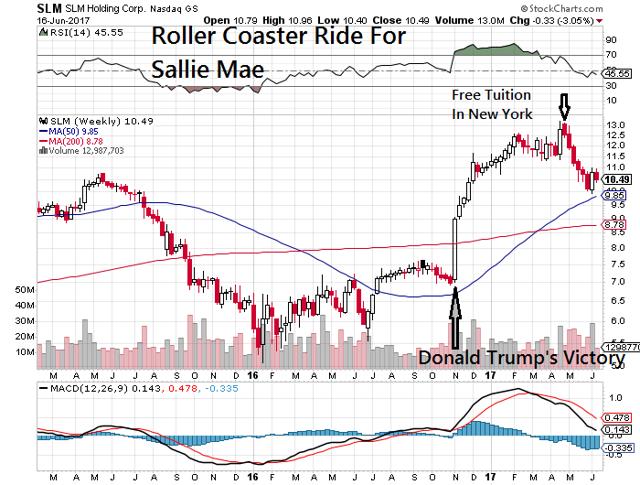 Source: Stockchart
The issue of crushing tuition fee loans would allow politicians to gain popularity and it is only a matter of time before someone tackled it. Indeed, New York Governor Andrew M Cuomo made free college tuition the centerpiece of his middle class agenda. Cuomo had the political support of both presidential candidates, Hillary Clinton and Bernie Sanders.
This is a direct threat to SLM which has $15.5 billion of private education loans on its balance sheet out of $19.2 billion of assets.
SLM had just finished a stellar quarter of loan growth which they originated $1.8 billion of student loan in the first quarter alone and had set their sights on $4.9 billion of student loans. Margins improved which pushed up their share price of $13. Since the news of New York's free tuition program was announced on 30 April 2017 on the New York Times, SLM's share price had plunged by 19.4% to $10.49.
Last Dollar Tuition Support & Q1/18 Expansion To Personal Loans
The free tuition program, known as the New York Excelsior Scholarship, provides financial support of $5,500 to every college student in New York, whether they are existing or new students. This would cost the New York State $163 million.
This is on top the current $1 billion education budget for other programs such as Tuition Assistance Program (TAP) of $5,165, Enhanced Tuition Awards of up to $6,000 and so on. As a gauge, New York State Residents pay $6,417 in tuition fees per academic year for State University of New York. This means that the New York Excelsior can pay up to the last dollar for tuition fees and shrink the market for SLM. That said, tuition fees only account for one quarter of college education cost which adds up to $24,680 per year for students. For low to middle class students, they would have to search for loans on the market.
In a shrinking market, it is notable that SLM had taken the initiative to expand to personal loan market. The personal loan market is also a unsecured loan market which is similar to the private student loan market. SLM's CEO Ray Quilan had noted that they will be leveraging on their current marketing machine to tap into the personal loan market. However, this will not be ready until the first quarter of 2018 and they are only looking to service prime borrowers with FICO score of 720 and above.
Strong Performance
Other than the free tuition jolt, SLM is doing well in terms of other metrics. Net interest margin had gone up 19 basis points to 5.96% and this is before the Fed raised interest rates in June 2017 by another 25 basis points.
Charge-offs are down 6 basis points to 89 basis points as the economy strengthens. The private education loans were up 29% from just 1 year ago and the FICO score retains stable at 748. Even in the private education loan space, it is important to have good credit scores.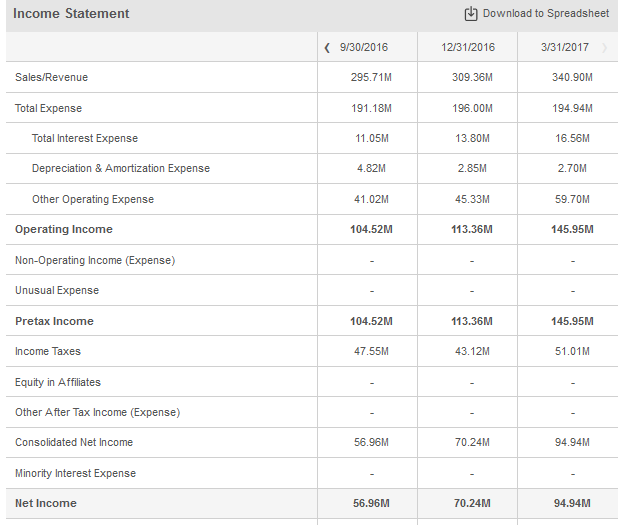 Source: Seeking Alpha
As a result, net income had increased by 66.6% for the past 2 quarters. SLM has been open to fintech solutions to reach out to its customers in new and innovative manners. Still the main question is whether SLM can sustain such growth in the future especially if New York's free tuition plan spreads throughout the country.
The Unknown Future
As with any plans, it comes with its own critics and drawbacks. The New York Excelsior plan obliges its students to work within the state for 5 years after graduation. They have to be full time students and have to complete their studies on time. For lower income family, this means that their students cannot work full time to support themselves. There might be a segment of students who might find a private education loan attractive.
Then there are criticism that the funds for Excelsior should be used to cover room and board among other expenses. In other words, there is a chance that the allure of free tuition might be limited to certain students and not spread beyond New York but that remains to be seen. If that happens, SLM would be one of the prime lenders to place your bets on.
Disclosure: I/we have no positions in any stocks mentioned, and no plans to initiate any positions within the next 72 hours. I wrote this article myself, and it expresses my own opinions. I am not receiving compensation for it (other than from Seeking Alpha). I have no business relationship with any company whose stock is mentioned in this article.