(Subscribers to the Main Street Value Investor Marketplace received the first look at this research).
Unilever NV (NYSE:UN) is up over 35% from its January 2017 low before the Kraft Heinz Company (KHC) bid for the European-based consumer packaged goods producer and Unilever's subsequent rejection became public.
Despite the failed takeover, the event was another reminder that when Warren Buffett and Charlie Munger get involved, the value is often unlocked. Buffett's and Munger's Berkshire Hathaway (BRK.A) (BRK.B) owns over 25% of KHC shares outstanding.
In our flagship research article on UN, we suggest that Unilever and its diversified product mix of food, personal, and household goods is a compelling choice as a core consumer staples holding of a long-view investor's portfolio.
Research Footnote
Unilever NV and Unilever PLC operate as a single economic entity that trades under the symbols UN and NYSE:UL, respectively. Unilever was founded in 1930 following a business merger between Naamloze Vennootschap Margarine Unie of the Netherlands (the NV/UN) and Lever Brothers Limited of the UK (the PLC/UL). For legal and tax reasons, the two separate tickers of the one merged company were formed. Also, in the United States, both stocks trade as an American Depository Receipt, or ADR.
The article does not imply that UN is superior to UL. We are covering UN because it is the prominent ticker symbol of Unilever, the company. As far as any tax implications, Main Street Value Investor (OTCPK:MSVI) uses a tax-deferred retirement account.
Modest Earnings and Dividend Yields Typical of a Consumer Staple
UN is a large-cap stock in the personal products industry within the consumer staples sector. As of this writing, its market capitalization was an approximate $87 billion. UN's price-to-earnings ratio (P/E), or current stock price relative to earnings per share for the trailing 12 months, is approximately 28 times versus a similar ~27x for the personal products industry as a whole. In comparison, the global consumer staples sector is trading at ~24x P/E against ~23x for the Standard & Poor's Europe index.
Our perpetual skepticism in forecasting - and the reader frustration it sometimes creates - aside, the forward price-to-earnings ratio for UN is approximately 24 times compared to ~22x for the global consumer staples sector and ~16x for the S&P Europe index. The trailing and forward P/E ratios for UN appear in line relative to the personal products industry and the global consumer staples sector but elevated to the market as a whole.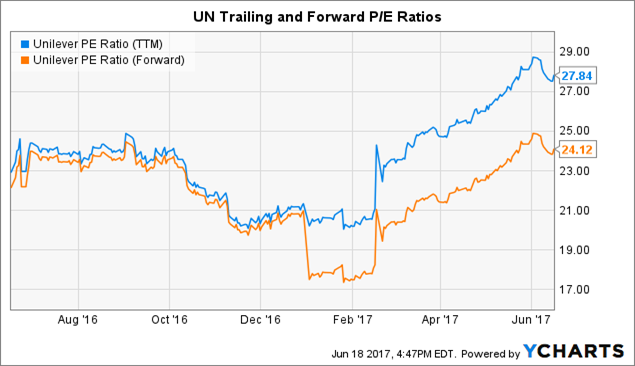 UN PE Ratio (TTM) data by YCharts
As of December 31, 2016, Unilever's earnings per share (EPS) were $2.03 annualized, netting a 3.63% earnings yield, i.e. EPS divided by the most recent stock closing price. We view earnings yield as the equivalent of a stock's equity bond rate or how a company's earnings compare to the 10-year Treasury rate. As of the market close on June 13, 2017, the 10-year Treasury was yielding 2.21% or a 142 basis point discount to UN's earnings yield.
Currently, Unilever is paying 59.60% of its EPS to shareholders in an annual dividend of $1.53 per share paid quarterly, resulting in a 2.57% dividend yield. Unilever's most recent five-year compounded annual dividend growth rate was a shareholder stingy 2.6%.
Ultimately, dividends keep us compensated in the short term as we wait patiently for capital appreciation of the company's stock over the long term.
Who Needs Kraft Heinz When There is Amazon?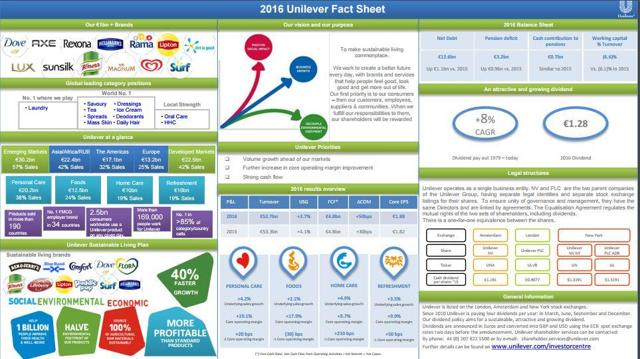 Source: Unilever NV
Understanding a company's goods or services and its competitive advantages are essential to the Main Street value investor. To own a business, we must first familiarize ourselves with the enterprise that generates the numbers that comprise the stock's analysis.
Unilever NV is a consumer goods company. According to its investor relations site, the company operates approximately 310 factories in over 70 countries that are producing consumer packaged goods in three differentiated categories: personal care, home care, and foods and refreshment.
Personal Care includes skin care and hair care products, deodorants, and oral care products.
Home Care, includes powders, liquids and capsules, soap bars, and a range of cleaning products.
Foods & Refreshment includes soups, bouillons, sauces, snacks, mayonnaise, salad dressings, margarine and spreads as well as ice cream and tea-based beverages.
Unilever brands sold in the U.S. include Axe, Caress, Dove, Noxzema, Ponds, Q-Tips, Seventh Generation, Suave, Vaseline, Hellmann's, Knorr, Lipton, Promise, Ben & Jerry's, Breyers, and Klondike.
Unilever says that each day, 2.5 billion people worldwide use its products consisting of 400 brands in 190 countries.
The company projects that India and China will contribute 40% of global growth over the next five years
Emerging markets now account for 57% of Unilever's business
The company has 13 brands with sales of more than €1 billion a year
46% of managers are women
Reduced waste impact is 28% since 2010
In 2016, its Sustainable Living brands grew 40% faster than the rest of the business
At a recent investor conference, Unilever touted its Seventh Generation brand of natural cleaning products that is growing at 8%, a decent run rate for a consumer staple. Note the eerily coincidental Amazon (AMZN) logo over Whole Foods (WFM) in the related graphic below, which the company presented the day before the market-shaking acquisition announcement: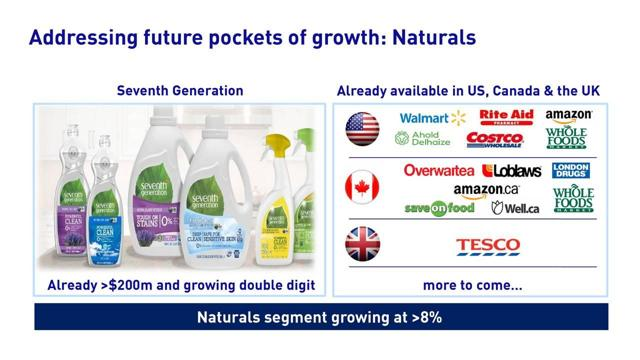 Source: Unilever/Deutsche Bank Global Consumer Conference
At the same conference, Unilever cast Kraft Heinz as a "disruptive new model." As widely reported, some analysts and bloggers believe the spurned offer was a missed opportunity for Unilever.
In the burgeoning online/delivery grocery model, Amazon, Wal-Mart (WMT), and Peapod (OTCQX:ADRNY), among other players, will likely command a significant market share of consumer packaged goods. We believe that brand name food, household, and personal products from suppliers such as Unilever will prevail and grow exponentially, although margins may be squeezed from a retailer commitment to low cost, direct to consumer models whether the customer physically shops, picks up or takes delivery.
Wide Economic Moat
Within investing parlance, an economic moat is the subjective measure of the competitive advantages of a company's goods or services in the marketplace. A wider moat creates a barrier to entry for potential competitors.
Because of its brand name global portfolio, Unilever rates as a wide moat competitor in the personal products industry.
As such, UN appears an ideal complement to a buy-and-hold value investor's commitment to a diversified portfolio of high-quality, customer-loyal, and shareholder-friendly companies that possess an enduring barrier to entry.
Well-Managed Producer of Recognizable Global Brands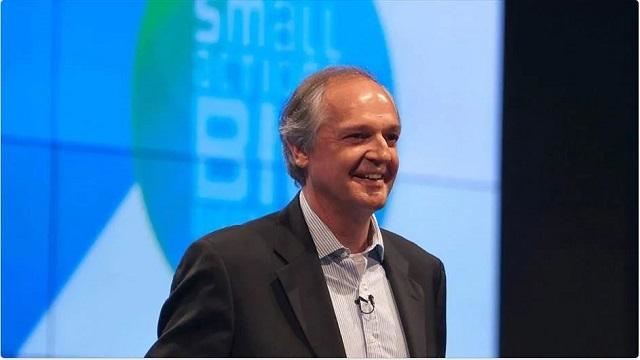 CEO Paul Polman (Courtesy of Unilever NV)
When considering the worthiness of a company's inclusion in the Main Street Value Investor Model Portfolio, the emphasis is placed on actual growth metrics as opposed to speculative forecasts of what may or may not occur with future revenues, earnings per share, free cash flow, or dividend growth. We look for positive, trailing five-year increases in revenue, earnings, cash flow and dividends. As defensive investors, we prefer companies that are already growing, not just promising to grow.
In the most recent five-year period, Unilever's compounded annual revenue and earnings per share growth rates were 2.55% and 5.10%, respectively. We note that Unilever's bottom-line growth trails the personal products industry's most recent 14.26% average EPS growth.
We want to own companies with efficient and transparent management that leverage returns for customers and investors. Paul Polman was named Unilever's chief executive officer in 2009 following executive roles at competitors' Nestle (OTCPK:NSRGY) and Procter & Gamble (PG).
Polman, his leadership team, and ~169,000 other employees of Unilever are delivering a trailing 12-month operating margin (EBIT, or earnings before interest and taxes) at a competitive 14.80% of revenue, yielding a net profit margin of 10.52%, i.e. trailing 12 months of income after taxes divided by sales. We prefer double-digit margins, and Unilever's net profit margin is superior to the 4.32% average net margin of the personal products industry.
We note the decrease in five-year average growth in total cash from operations from $9.1 billion in 2012 to $7.4 billion in 2016 as reflected on Unilever's cash flow statement for the year ending December 31, 2016. This annualized horizontal trend in generating cash is countered by the company's recent 12.61% vertical cash flow margin, just above our minimum threshold of 10%. Cash flow margin is operating cash flow divided by sales, each measured over the trailing 12 months.
At MSVI, we prefer highly profitable, cash-generating companies that provide margins of safety in a literal sense. Despite an unexceptional pace, Unilever is growing sales and converting those revenues into free cash flow for potential reinvestment into product development for customers, and dividend payouts and stock buybacks for shareholders.
Returns on Management
As does Warren Buffett, we place a premium on the return on invested capital (ROIC) or how well a company is allocating its financial resources to generate returns for the business. We target companies producing 12% or higher in ROIC. Unilever's ROIC at the time of this writing was a qualifying 16.90%.
To be sure, the return on capital is only as good as the company's weighted average cost of capital (WACC). When a business's cost of capital increases, it typically translates to an inverse decrease in valuation and an increase in risk. At 6.49% WACC, as of this writing, Unilever is generating returns on invested capital that are more than two and one-half times the company's average cost of that capital.
Any stock buyback manipulation notwithstanding, the return on equity (ROE) - or how well the company generates net income as a percentage of total equity in the stock - is another excellent measure of management effectiveness. Since we seek a minimum of 15%, we view Unilever's most recent ROE of 34.13% as the net positive to its buybacks. In May, Unilever announced that it will buy back shares with a market value of €5B under a new repurchase program that runs through December 15, 2017.
With a product manufacturing intensive operation such as Unilever's, we also want to take a peek at return on assets (ROA), i.e., management's ability to use assets to generate earnings. As of this writing, the company was leveraging assets at an above average 9.69%.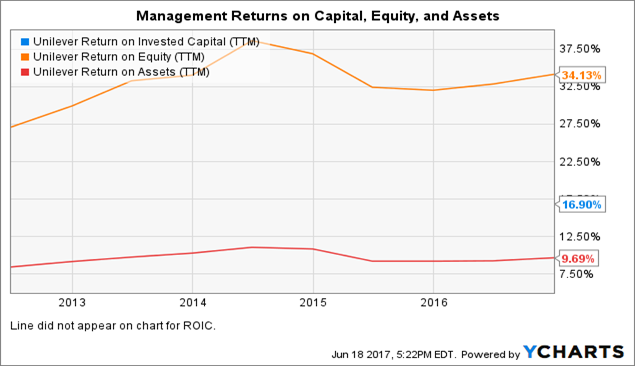 UN Return on Invested Capital (TTM) data by YCharts
Fundamentally, Unilever is growing revenue and earnings at single-digit compounded rates and is generating operating and net margins well above its competitors in the personal products industry. Although it is experiencing a decline in horizontal cash flow growth, Unilever's vertical cash flow margin is above our minimum threshold.
The company's management team, with an assist from Mr. Market, is delivering an unexceptional earnings yield. Dividend growth and payouts are just as ordinary, but the all-important measures of returns on capital, equity, and assets are each above our minimum targets. Plus UN's 2.57% dividend yield exceeds the current personal products industry's collective yield of 1.60%.
Despite modest growth and payouts, Unilever is the type of large-cap, well-managed, recognizable global product producer that we favor as a core staple in the MSVI Model Portfolio.
However, is the current valuation worthy of placing UN in our investment shopping cart?
Market Perform, Says Mr. Market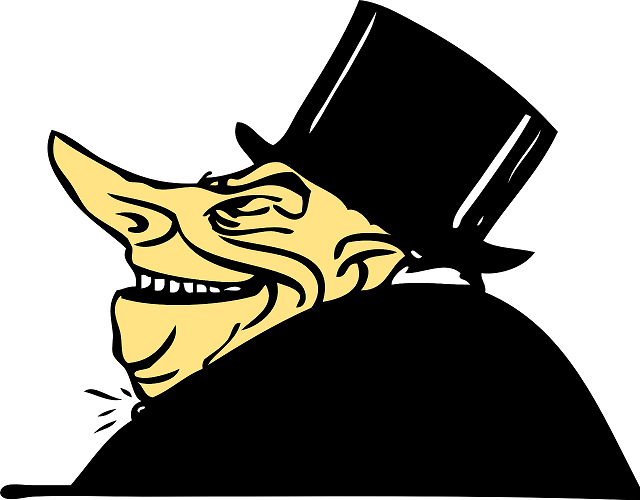 Mr. Market (Pixabay)
Determining the attractiveness of a stock's price based on valuation multiples relative to a company's fundamentals is one of the primary tenets of the Main Street Value Investor's search for stock investing nirvana or alpha.
As of this writing, UN appears a somewhat expensive stock of a fundamentally sound company in the context of positive five-year compounded annual growth, above-average cash flow margin, adequate returns on capital, and an above-industry-average dividend yield. Current valuation indicators are arguably in the neutral range depending on an investor's multiples of choice.
UN was recently trading at 12.81 times enterprise value to operating margin (EV/EBIT). In general, less than 12 times reflects a reasonable stock price. EV/EBIT is a useful indicator of whether the stock is overbought, oversold, or at market perform as appears the current case for UN.
As of this research, the price to sales ratio (P/S) for UN was 2.79 times. We interpret <2.00x as an attractive multiple when measuring a stock price relative to its revenue stream. UN's peers in the personal products industry were trading at 2.33x P/S ratio. The global consumer staples sector's P/S ratio of 1.29x versus 1.42x for the S&P Europe is further evidence of UN's apparently lofty valuation to the market in the context of its sales.
UN also appears expensive when considering its price-to-book or P/B ratio. As of this writing, the stock is trading at 9.20 times its net asset value. We focus on fundamentally sound companies selling at a P/B ratio of less than 2.00 or at least below the industry average.
Growth vs. Value
The price-to-earnings growth ratio (PEG) is a favorite among Wall Street's growth and momentum crowds. As value investors, we are more cautious based on the projection nature of PEG as opposed to actual trailing results. Nonetheless, PEG can provide a substantive peek into a stock's price worthiness.
We prefer a PEG ratio below 2.00, but UN was recently trading at 3.95 times based on a five-year growth projection. Notably, the personal products industry was trading at significantly lower PEG ratio of 1.91x, as of this writing.
We also measure cash flow multiples as a reliable predictor of the intrinsic value of a stock price. At MSVI, we look for stocks trading at a single-digit price-to-cash flow ratio (P/CF) and UN brings caution at a current 21 times.
To be sure, UN is trading at robust valuation multiples when measured against sales, book value, projected earnings, and cash flow. Overall, the stock's current price appears reflective of Unilever's participation in the margin sensitive and competitive brand-name consumer packaged goods industry.
However, in the context of enterprise value, Mr. Market presents UN as market perform, or neutral, rather than overpriced as indicated by the other key multiples.
That written, we do not know what the price will be one, three, or five years from now, never mind next week.
Low Risk, Wide Moat Profile Stands Out at this Consumer Staple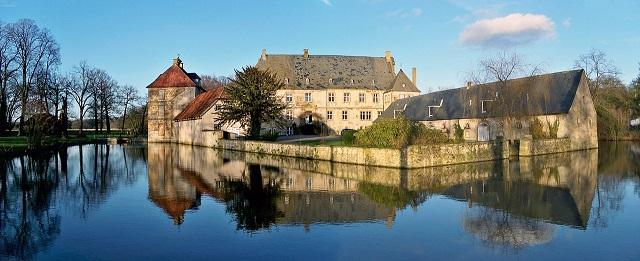 (Pixabay)
A company's balance sheet liquidity, e.g., current assets divided by long-term debt (CA/LTD), was a favorite of the father of value investing, Benjamin Graham. Higher than 1.50 is ideal, as we want to own businesses that theoretically can pay down debt at least one and a half times using liquid assets.
Our most recent measure of Unilever's CA/LTD was a marginal 1.25 times. In simple terms, the company could pay off its long-term debt obligations using liquid assets such as cash and equivalents, short-term investments, trade accounts receivables, and inventories.
Current ratio (CR) is another simple but telling measure of a company's financial stability. CR is current assets divided by current liabilities, thus the higher above 1.00, the better. Unilever's most recent quarterly balance sheet had a CR of 0.68, demonstrating that liquid assets are not adequate in fully funding near-term liabilities, such as accounts payables, accrued expenses, debt service, and income taxes.
Nonetheless, the Main Street 20 Watchlist (exclusive to members of Main Street Value Investor Marketplace) ranks Unilever's overall market risk profile as low. We like profitable, dividend-paying, wide-moat companies with low volatility - UN's 0.88 beta is comfortably under the S&P 500's base 1.00 - plus the free cash flow and liquidity to pay its bills, both short and long-term. Although this liquidity is marginal for Unilever, we recognize that its balance sheet is not unusual for a consumer staple.
Unilever entices us with its above-average revenue and earnings growth, operating and cash flow margins, and management returns on capital, equity, and assets. We recognize that its earnings and dividend yields and balance sheet liquidity are typical of a defensive consumer staple. However, we take caution in the company's seemingly unfavorable valuation multiples.
Margin of Safety
A stock's "margin of safety" is an estimate of the difference between the intrinsic value of the stock and its current market price. Some professional value investors prefer to calculate the margin of safety with discounted future free cash flow projections. For example, Morningstar recently published its view of UN's "fair value," at $53.00 per share, about a five percent discount to the stock price as of this writing.
These types of overly sophisticated margin of safety or intrinsic value measurements are what allegedly justify the high fee structure of Wall Street. However, we are suspect of the projection nature of these formulas. If we have to start predicting future cash flows, interest rates, and capital expenditures, haven't we become more a speculator and less an investor?
We take a modest and frankly realistic approach to estimating margins of safety. Thus, we prefer to measure intrinsic values in a broader sense as opposed to Magic 8 Ball specificity.
Wall Street, in general, continues to regurgitate complex, assumptive financial models of predominantly pie in the sky price targets. If those models consistently worked, wouldn't we all be overnight stock market millionaires?
To the contrary, the MSVI Margin of Safety calculation (MoS) looks for reasonably-priced stocks with favorable earnings yields (EY), returns on invested capital (ROIC), and cash flow margin (CFM). We simply add the sum of EY, ROIC, CFM, and the reciprocal EBIT/EV, and weigh against balance sheet liquidity (CA/LTD) to determine the overall equity bond rate, management effectiveness, earnings quality, market valuation, and financial stability of the company.
We believe our calculation of margin of safety is a useful measure of a quality company's intrinsic worth based on current and trailing indices as opposed to assumptive future cash flows and other crystal ball projections. Thus, we measure MoS for longer-term value investing as opposed to shorter-term value trading.
As of this writing, the Main Street Value Investor margin of safety rating for UN reiterates a bullish to neutral view based on our proprietary formula.
| | | |
| --- | --- | --- |
| UN Margin of Safety Indicators | Actual | Target |
| Equity Bond Rate (EY) | 3.63% | >5.00% |
| Management Effectiveness (ROIC) | 16.90% | >12.00% |
| Earnings Quality (CFM) | 12.61% | >10.00% |
| Market Valuation (EBIT/EV) | 8.90% | >6.00% |
| Financial Stability (CA/LTD) | 1.25x | >1.50x |
Unilever exceeds our margins of safety for return on invested capital, cash flow margin, and operating earnings to enterprise value. The company comes up short in earnings yield and balance sheet liquidity, but we are reminded that consumer staple stocks typically do not boast high equity bond rates or financial stability in the context of current assets to current liabilities.
Conceivably, consumer staples such as Unilever make up for the sub-par earnings yield and balance sheet stability with predictable earnings and less stock price volatility during market downturns. In our analysis, we must remember that UN is a defensive stock.
It is important to stress that our measure of the margin of safety is a screenshot of our research and not a buy, hold, or sell signal.
We own common shares for the long-term benefit of partnering with a company that supports its customers with in-demand, useful products or services, rewards its employees with sustainable career opportunities, and compensates its shareholders with positive returns protected by world-class internal financial controls.
However, attempting to predict explicit future prices or percentage gains and declines is a Wall Street game that we respectfully choose to avoid on Main Street.
Market Consensus is Neutral, but Unilever Employees are Bullish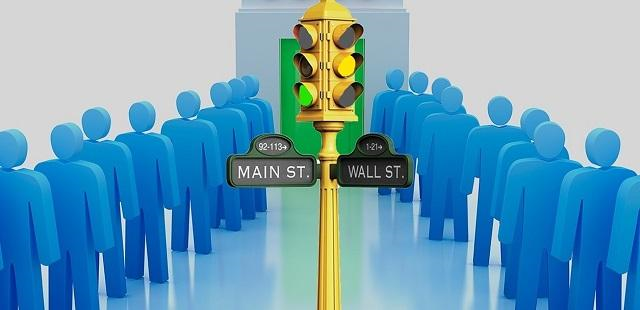 (Pixabay)
As value investors on Main Street, we do not interpret the Wall Street consensus as a definitive buy or sell signal, but a suggestion to perhaps run the other way. However, evaluating the consensus on a stock is an entertaining if not serious dive into a contrarian's treasure trove.
According to the Wall Street Journal, 31 analysts currently covering UN are collectively bullish with an average price target of $55.27. Indeed a curious consensus price target, considering the one percent discount to the last closing price as of this writing. The price targets range from a low of $40.91 to a high of $67.38. Only time, in the context of hindsight, will determine which target is the correct one, if any.
Data miner TipRanks says the financial blogger consensus, including contributors from Seeking Alpha, is neutral. At MSVI, we place increased weight on the blogger consensus as it tends to be more of a Main Street view, although we are mindful that many bloggers focus on fundamentals, technicals, growth, and dividends, not necessarily value.
As of this writing, short interest on UN, or the percentage of shares that are traded based on a bet the stock price is poised to drop, was a bullish 0.4% of shares outstanding. We think of short interest as the hedge fund consensus since the Wall Street money manager elite executes a significant shorting of stocks. Per TipRanks, hedge fund holdings of UN had decreased in the most recent quarter, suggesting a bearish view.
Great People in a Matrix
A unique contribution of the Main Street Value Investor series is the measurement of employee satisfaction, including the rank and file's evaluation of the CEO. Although gathered from non-scientific data of the all-too-biased Internet, we believe a snapshot look at employee morale is worth the peek to quantify a company's cultural dynamic.
According to Glassdoor, approximately 2,900 alleged present and former employees of Unilever that submitted online reviews have collectively rated the company 3.8 out of 5 stars, a relatively bullish score on Glassdoor.
The most-cited positive comments from Unilever employees were "work-life balance, great people, and flexible working hours." The most mentioned drawbacks are "work-life balance can be tough, and Matrix structure can slow down decision making as well as the need to build consensus for all major decisions."
Based on over 1,100 reviews, Unilever employees give CEO Paul Polman a 93% approval rating, a bullish score on Glassdoor. Any time a company CEO is respected - or disrespected - by those that work within the same culture as him or her, we take notice.
Satisfied employees producing quality products and delivering excellent service typically translate to loyal customers and sustainable profitability.
The Rejected Kraft Heinz Merger is a Mere Voided Check
Intelligent investors own risk-adverse slices of wonderful companies, thus leaving the trading of stocks to risk-defying speculators. Self-directed investment research is best carried out within a model that drives to a quantitative outcome of a bullish, neutral, or bearish call on the targeted company and the stock that represents its ownership.
Based on this approach, we find Unilever to be a fundamentally strong company whose stock trades at a reasonable margin of safety due to a low-risk profile. The valuation multiples indicate the stock price may be expensive, but quality consumer staple stocks - often a refuge for investors during downturns - are rarely on sale at bargain prices outside of a one-off company event.
That written, we believe it is important to buy fairly-priced consumer staples before a market correction as investors will predictably flock to defensive stocks and quickly drive up those prices to the point of unattractive valuations.
In the wisdom of Warren Buffett, as learned from Charlie Munger (so says Warren), the stocks of wonderful companies obtained at reasonable prices will compound exponentially over the long-term from returns on capital. Dividend payments are a bonus.
Valuation pundits and short-term traders may point out the obvious that this article would have played much better in February or March. Nevertheless, as long-term buy-and-hold investors, we know that one ambitious but rejected merger bid in early 2017 AD does not define Unilever in the broader view.
To the contrary, as a defensive stock of a quality, well-managed company, Unilever was rewarding shareholders before Kraft Heinz, and we believe that trend may continue for years to come. Then again, isn't that why Buffett, Munger, and Kraft Heinz partner 3G Capital proposed the deal in the first place?
Thus, we are bullish on Unilever, the company, with cautionary bias on the entry price of UN, the stock. Until then, Unilever remains on the Main Street 20 Watchlist as a conviction core portfolio buy and forever.
Main Street Value Investor on Marketplace
I invite you to learn more about Main Street Value Investor in the SA Marketplace where we host an actively-managed model portfolio of mispriced stocks with compounding returns and wide margins of safety through all market cycles.
Join Now and Avoid Our Upcoming Price Increase
We are raising our prices 60% for new subscribers on April 2, 2018. The good news is by that time we will have added a second model portfolio of 'underfollowed' small-cap total return stocks to the service. Of course, MSVI's flagship large-cap total return portfolio will remain and continue to grow with new ideas. Join today and lock-in the current low monthly or annual rate for life as long as you maintain active membership. Learn more here without obligation.
Comments are strongly encouraged and always welcomed. Please read the important accompanying disclosures.
Main Street Value Investor is a trademark, and Main Street Value Investor Model Portfolio (OTCPK:MSVI) and Main Street 20 Watchlist are service marks of David J. Waldron, LLC.
Unilever logo, brands, and proprietary content are trademarks or copyrighted material of Unilever NV.
Magic 8 Ball fortune-telling toy brand is a trademark of Mattel, Inc. (MAT)
Data Sources: Seeking Alpha, YCharts, Unilever NV, Charles Schwab & Co. (Morningstar, Thomson Reuters, and S&P Capital IQ).