This article is the third article in a series on the five biggest BDCs by market capitalization after my articles on Ares Capital (NASDAQ:ARCC) and Prospect Capital Corporation (NASDAQ:PSEC). FS Investment Corp (NYSE:FSIC) is the third largest BDC by market capitalization and offers a dividend yield of around 9.6%.

Earnings
My other articles in this series have all mentioned that BDCs are generally set to benefit from rising rates and that rates rising pace has, however, slowed recently. With disappointing US inflation data, the upward trajectory of US rate increases may slow further and some have argued that rates could likely remain lower for much longer. I, however, continue to believe that rates will rise gradually.
Gus Faucher, chief economist at PNC, also stated that:
"The slowing in inflation is likely transitory, and given the tight labor market, the generally strengthening economy and an expected stabilization in energy prices, inflation should gradually pick up over the rest of 2017 as wage growth accelerates."
FSIC investment portfolio consists of around 66% at variable rates whilst only around 37% of its debt is at a variable rate. The percentage of its total loan portfolio subject to a LIBOR floor is, however, the highest of the four BDCs included in the chart below. Take note thereof that ARCC is excluded from the chart because it generally does not have investments with a LIBOR floor and although a portion of the portfolio acquired from ACAS is subject to such a floor I do not currently have the exact figures.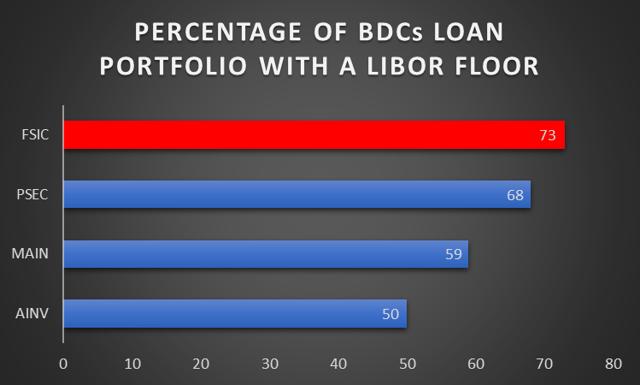 (Source: Closed-End Fund Advisors)
Its average LIBOR floor at 1.1% is higher than that of the most of its large BDC peers but lower than the average 1.3% LIBOR floor at PSEC. The LIBOR floor is an important consideration because it can limit a BDCs ability to benefit from rising rates but also limits its downside in the event of declining rates.
FSICs debt to equity ratio is also the highest of the five biggest BDCs by market capitalization. Its ability to increase earnings through leverage is therefore rather limited and management has in fact noted that it would maintain the debt to equity ratio below 0.8 in line with what ratings agencies generally consider prudent.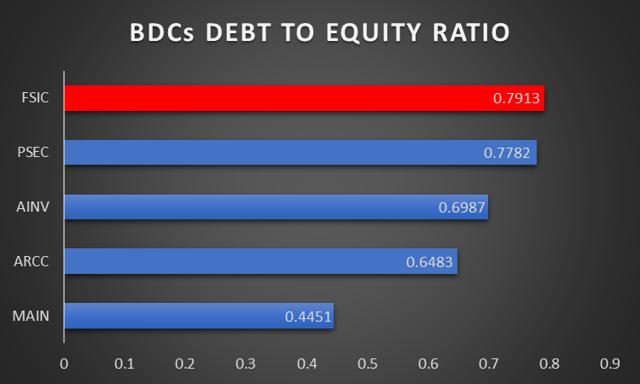 (Source: Closed-End Fund Advisors)
It must, however, be noted that FSICs higher debt to equity ratio was largely the result of short-term borrowings under its revolving credit facilities and the company indicated in its earnings call that its debt to equity ratio has declined since the end of the quarter.
FSICs non-leverage gross asset expense ratio at 3.18% is right in the middle of the pack of the biggest BDCs by market capitalization. It is also a reasonable expense ratio for a well-managed BDC, in my opinion.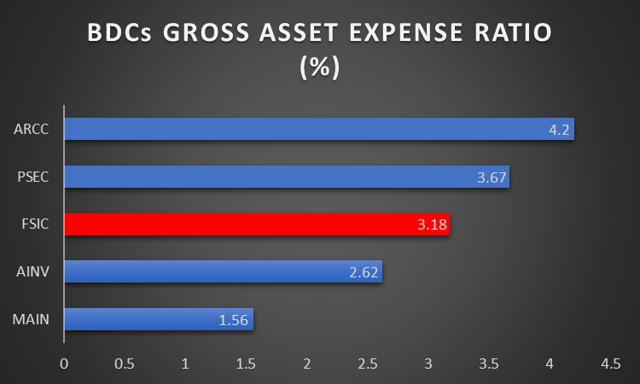 (Source: Closed-End Fund Advisors)
FSICs exposure to the energy industry has also continued to decline with the company recently noting that:
"energy related investments as of March 31, 2017 comprise approximately 7% of FSIC's investment portfolio based on fair value down from 12% based on fair value as of December 31, 2016 due primarily to the repayment of our investment in Ascent Resources."
Early repayments of loans may, however, in turn present a challenge to earnings in future as FSIC finds it challenging to reinvest the funds in a low rate environment.
Dividend
FSICs offers the second highest dividend yield of the five biggest BDCs by market capitalization at 9.58%. This is slightly above its 5-year average TTM dividend yield of 9.31%.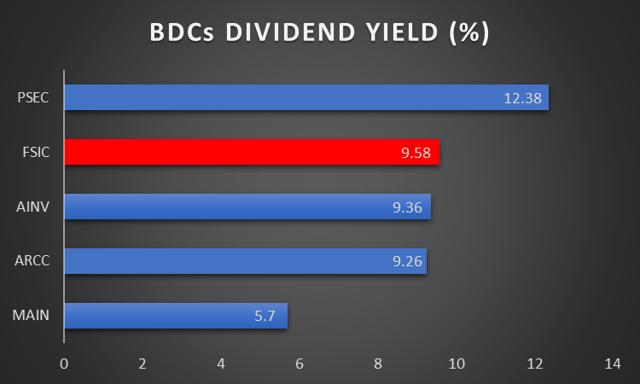 (Source: Closed-End Fund Advisors)
The most likely reason the stock is trading below its 5-year average dividend yield is because of valid concerns that its dividend may be cut. This is as FSICs 1-year average adjusted core Net Investment Income (NYSEMKT:NII) coverage ratio is the second lowest of the five biggest BDCs by market capitalization and below its distribution.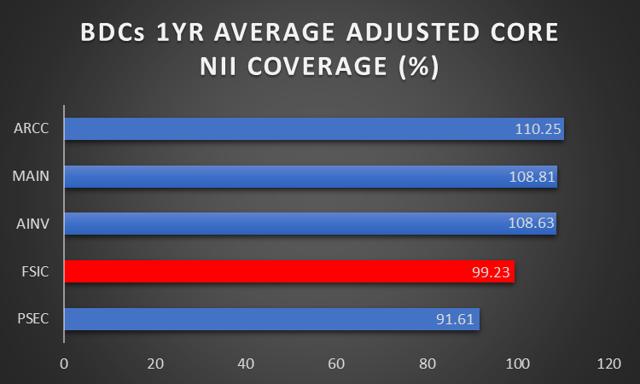 (Source: Closed-End Fund Advisors)
Its first quarter 2017 distribution was also only 97% covered by NII. This is, however, not entirely uncommon as the company explained that the first distribution in the new year is usually income carried over from the previous year. Nevertheless, the fact that the 1-year average is below 100% cannot be overlooked.
Valuation and Conclusion
FSIC is trading at 0.98 times Net Asset Value (NAV) which is the third lowest of the five biggest BDCs by market capitalization. It is also broadly in line with its 3-year average discount to NAV of around 1.72%.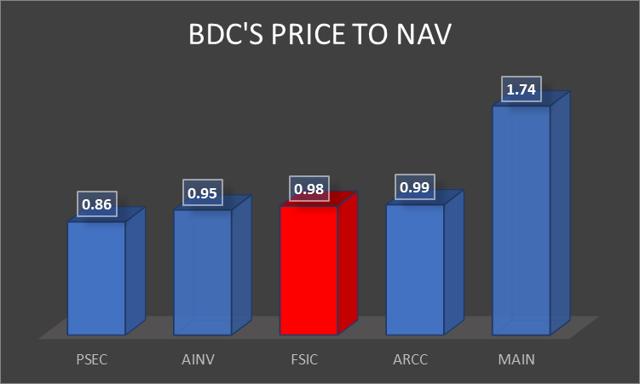 (Source: Closed-End Fund Advisors)
It can thus be said that there is a real risk of a dividend cut for FSIC, though less likely than at Prospect Capital (PSEC). I personally would also not initiate a position in FSIC whilst the dividend is not covered.
If you enjoyed this article please consider following me by clicking the follow button next to my name. Take note thereof that all charts were created by the author. The source indicated at the bottom of the charts is therefore the source of the underlying data.
Disclosure: I/we have no positions in any stocks mentioned, and no plans to initiate any positions within the next 72 hours.
I wrote this article myself, and it expresses my own opinions. I am not receiving compensation for it (other than from Seeking Alpha). I have no business relationship with any company whose stock is mentioned in this article.