AT&T (NYSE: T) is currently one of my largest positions. My investment in the company is based on the fact I believe the stock represents a great long-term total return opportunity. Nevertheless, the current macro market state of affairs has my contrarian instincts keyed up. Trump's overly protectionist policies and highly aggressive military actions could negate his pro-growth agenda and bring the markets tumbling down. What's more, the markets are trading at all-time highs. Several analysts have stated the market has reached bubble territory. In the following article, we will discuss what these developments mean for long-term dividend growth and income investors in AT&T.
Stock's current status
AT&T's stock is down nearly 10% over the past 52 weeks, yet up 4% for the past month.
Current Chart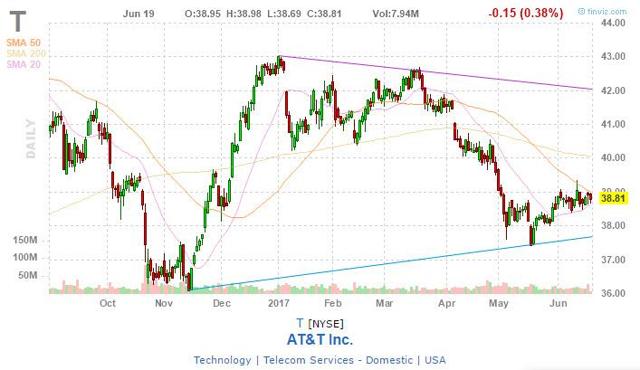 Source: finviz.com
Current Market Snapshot
With political uncertainty and the markets idling near all-time highs, the odds of a major correction are also at an all-time high as well I surmise. The simple fact of the matter is you can calculate risk, but not uncertainty. My choice to ride out the potential correction is AT&T. Here is why.
AT&T has stood the test of time
AT&T is one of the top high yielding dividend aristocrats with a solid 5.03% yield, making it a solid income investment. There are some signs of cracks in the armor as of late. EPS growth is below the industry average, while the payout ratio is considerably higher than the industry average or peers. Furthermore, the company has taken on a considerable amount of debt to achieve its goal of becoming the world's most dominate Technology, Media & Telecom giant (TMT).
Nonetheless, the yield makes the risk worth the reward. Furthermore, the stock stands to gain substantially if Trump is able to get his pro-growth tax reform and deregulation plans pushed through. Moreover, the company has proven through the test of time its safe haven status.
Safe haven status
AT&T has successfully navigated the transition from landlines to wireless. The company is currently the second-largest wireless provider in the U.S. after Verizon (NYSE: VZ) and still the largest landline provider. What's more, AT&T has remained at the forefront regarding technological advances in the telecommunications industry. On top of all this, AT&T's stock has been remarkably consistent and AT&T's sales have improved every year since 2009. I say the risk/reward equation still favors staying long AT&T at this point. Moreover, the stock's incredibly low beta of 0.4 provides a substantial margin of safety as well. When markets nose dive due to an exogenous geopolitical or macroeconomic event, AT&T's stock holds up much better than the market as a whole. On top of this the stock is currently trading at a steep discount to the industry and its peers.
AT&T trading at a steep discount
When comparing valuation metrics, AT&T comes out on top as well. The company sports a normalized P/E of 14.5 versus the industry average of 23.1. This represents a 36% discount to the industry average.

Source: Scottrade.com
When looking at the fundamental valuation of the company from a price to free cash flow perspective, AT&T comes out on top as well. The company trades at a price to free cash flow ratio of 6.2 versus 7 for the industry. This is a 10% discount to the industry. What's more, the stock is trading in-line with its historical valuation metrics. This makes for an excellent buying opportunity at present. Nonetheless there are always downside risks to any investment thesis.
Downside Risks
Time Warner acquisition risk
Complex integrations like that of AT&T, DirecTV and potentially Time Warner are inherently risky. Often, hidden costs materialize while expected synergies vanish.
Heavy debt load
Moody's believes AT&T needs to reduce leverage. If the Time Warner acquisition doesn't turn out to be a major profit booster, the company may have a hard time achieving that goal. This will definitely raise the odds of a downgrade by Moody's.
The Bottom Line
AT&T is a dividend-paying stock with the potential for both capital gains and income production. This is due to the highly prescient vertical integration plans coupled with the best-in-class dividend yield of over 5%. This combination of capital gains and income production will be necessary to fund the lengthening retirement that comes with a greater life expectancy for investors.
There may be more volatility in front of us this year as the wireless wars play out. Nevertheless, I see any weakness created by this supposed headwind as an excellent opportunity for dividend growth and income investors to start a position in this high-yield dividend-paying growth opportunity. The company is making all the right moves to keep the cash flowing for years to come.
With a current dividend yield of 5.03%, AT&T is a no-brainer buy if you ask me. The positives vastly outweigh the negatives. Even so, there may be more volatility in front of us. A 10% to 20% drop in the market may occur in the near term. The market has averaged one 10% correction per year since its inception.
Nevertheless, history has proven these types of occurrences are transitory in nature. Presently, I'm keeping my powder dry and looking to add to my AT&T position on any dip. If I was looking to start a new position, I would definitely layer purchases over time to reduce risk. Those are my thoughts on the matter. I look forward to reading yours. Please use this information as a starting point for your own due diligence and always consult an investment advisor prior to making any investment decisions.
Your input is wanted!
The true value of my articles is provided by the prescient remarks from Seeking Alpha Members in the comments section below. Do you think AT&T offers investors safe place to ride out a potential correction? Thank you in advance for your participation.
Final note: If you enjoyed this article, please click the follow button next to my picture. I would greatly appreciate it.
Disclosure: I am/we are long T.
I wrote this article myself, and it expresses my own opinions. I am not receiving compensation for it (other than from Seeking Alpha). I have no business relationship with any company whose stock is mentioned in this article.