My first article, "Long Term Investing, What's That?", dealt with my thoughts on being a long term investor in today's short term environment. My previous article, "Introducing the Future Growth Portfolio", discussed the first two stock categories I have in my portfolio: 'Growth'; and 'Speculative'. This article will go over the other two categories I have: 'Dividends'; and 'Special Situation'.
"Do you know the only thing that gives me pleasure? It's to see my dividends coming in" - John D. Rockefeller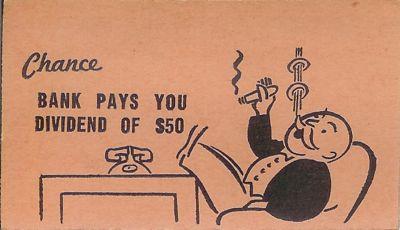 Source: Sure Dividend
"Aren't dividends just for retirees?", you may ask. I thought that too until recently, putting the vast majority of my portfolio into long term growth stocks. But then I thought about retiring in about 40 years (yes, I think about financing my retirement before I've started working!), and considered the huge compounding potential dividend paying companies would allow me to take advantage of. Though the majority of my portfolio is still in 'Growth' stocks, the 'Dividend' category has become a more important part of my portfolio, and future retirement plans. An article I recently read discussed total returns from S&P500 stocks from 1930-2012, and showed that over that time period dividends were responsible for 42% of the return investors received. That is a huge amount and will help us understand the necessity for 'Dividend' stocks when working on a long term portfolio.
Corning Inc. (NYSE:GLW) was never really on my radar as an investment until I saw it mentioned in an article about undervalued stocks in mid-2015 (though my mum used plenty of the company's former product Corningware at home!). It piqued my interest almost immediately when I saw the huge discount it was selling for at the time, compared to its historic average. When I first bought some at $18, I was buying purely as a contrarian/value play and when the stock dropped even lower to around $16, I bought some more. The company was one of the lowest cost producers of glass in the world, its Gorilla Glass was (and still is) being used in both iPhone and Galaxy mobile phones and the company was paying a solid 3% dividend. The stock had been slammed because of an earnings 'miss' or two from a high of $25 in early 2015.
Before I go on, I have to briefly discuss what I think about analysts and their predictions. Doesn't it seem ridiculous that perfectly performing companies are bid down after they miss analyst 'expectations', even if the quarter showed growth over the previous quarter and corresponding quarter from the past year? So a company is growing nicely but not growing fast enough for Wall Street, so people sell? The only thing I care about in a company is growing revenue, and more importantly, earnings. As long as the long term growth trajectory is upwards, I'm happy. Even a down quarter here or there doesn't jolt me into selling a company I'm happy with, as long as the management explains clearly why that happened and why it will be a one-off occurrence. What I will do in these instances is look for management's predictions to come true, and that these one-offs are truly non-recurring. Wall Street numbers are guesses from far away offices, to help analysts write reports to their own clients. I'd rather go by what management says, they are closer to the action and probably understand the company better than any analyst.
Source: Seeking Alpha
Getting back to Corning, the above chart shows the stock from early-2015 until mid-2017. Thankfully, I was able to get into the stock at the lows in 2015, locking in a nice yield in an undervalued stock. However, as the quarterly reports went by, I noticed that I had found not just an undervalued company, but a well managed and steadily growing one. Margins in the major segments are being held steady or growing, and management have a clear vision for the future. The Dow Corning joint venture was sold to Dow Chemicals (DOW) for $4.8 billion plus a 40% interest in Hemlock Semiconductors. Management used the proceeds to commit to returning $12.5 billion to shareholders via already undertaken, and future, stock buybacks as well as an annual 10% increase in dividends through 2019. But most importantly for me, Corning will invest ~$10 billion to fuel the company's future growth. It is easy for companies to splash the cash on big acquisitions when they are flush with money, but it takes a disciplined and passionate management to take excess money and return it to shareholders, as well as funding internal growth. It is refreshing to see a management team acting in the long term interests of shareholders in such a clear and beneficial way.
The future growth the company has talked about (and shown strong action in) has excited shareholders, bringing the share price into the $29 range. In January 2017, Corning announced its intention to introduce innovative glass technologies into the automotive space, showing off applications of its advanced glass solutions. First was the fact that Corning's Gorilla Glass could be used in cars to deliver lighter weight, but stronger, glass that would increase fuel efficiency. It then detailed how Gorilla Glass could be used to enhance the driving experience by bringing the connectivity of peoples' everyday lives into the car with a "hybrid windshield" that would provide real-time traffic updates as well as a Gorilla Glass dashboard with "fully integrated connectivity".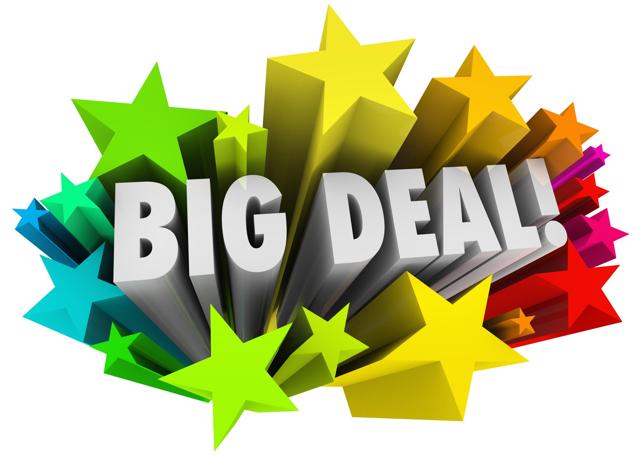 Source: Alvarez
Corning followed its automotive announcement with a huge optical fibre deal with Verizon (NYSE:VZ) in April worth at least $1 billion until 2020. This deal was a big win for Corning's rapidly growing optical fibre segment and showed that management's promise of investing in the company's core businesses is paying off. Then in May, Apple (NASDAQ:AAPL) announced it had chosen Corning to be the first recipient (to the tune of $200 million) from an Apple fund established to support advanced U.S. manufacturing. Where exactly was this money going? To Corning's Gorilla Glass factory in Kentucky! That Apple chose to show its support for Gorilla Glass was a big boost to Corning's future association with the tech giant, as well as shareholders' confidence in the company's future. I don't expect the company to grow at the level of the 'Growth' stocks I profiled in my last article, Activision Blizzard (NASDAQ:ATVI) or Take Two Interactive (NASDAQ:TTWO), but mid- to high-single digit growth every year plus the growing dividend makes Corning a solid long term holding in the 'Dividend' category of my portfolio.
We finally get to the 'Special Situation' category of stocks in my portfolio. Stocks that qualify for this category are in one of two situations. First, a merger and acquisition target whose price is lagging behind its takeover price because of a delay or other situation where there is a fear the acquisition won't proceed. Second, where I think a company is undervalued due to certain 'hidden assets' that aren't being taken into consideration by the market for some reason, where I buy until some smart person or company comes along and buys the company. Though technically in the 'Special Situation' category, I will hardly ever invest in the first situation of a problematic M&A deal as these can be long, complicated and messy deals. Unless I have some advantage over the general investor in a specific deal, I don't foresee myself entering any of these anytime soon. However, the second situation of a 'hidden asset' is definitely possible, as the market is not always rational and all-knowing about every single stock. That said, I don't always plan on having stocks in the 'Special Situation' category, as opportunities in this area are few and far between. I have only ever had one stock in this category, Tribune Media Company (NYSE:TRCO), which I bought as a 'hidden asset' stock.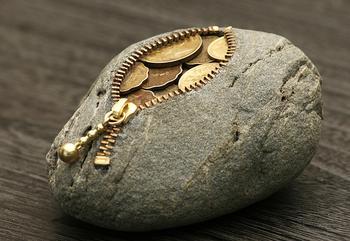 Source: Maya and Maya
Both Warren Buffett and Peter Lynch talked about the 'hidden asset' nature of a variety stocks, though it was from Lynch that I took the lesson to heart. Both Buffett and Lynch spoke of the especial abundance of hidden assets in the media sector. This was due to years of depreciation of assets such as property and cable that, though still useful, were held on the balance sheet as worthless. So when I came across Tribune in mid-2016, my attention was grabbed by the fact Tribune had just spun off its newspaper segment and therefore was in the process of trying to maximise shareholder value. I saw in my research that the company was holding property and TV spectrum assets that weren't accounted for in the share price, as well as valuable investments in CareerBuilder, Gracenote and The Food Channel. So I bought some at around $38, happy to wait (with a nice 2.7% dividend) until management maximized the value of the company's assets or someone came along and bought everything. You could imagine how happy I was when the company announced its intention of selling off its property portfolio as well as evaluating the status of its digital portfolio, soon after I bought.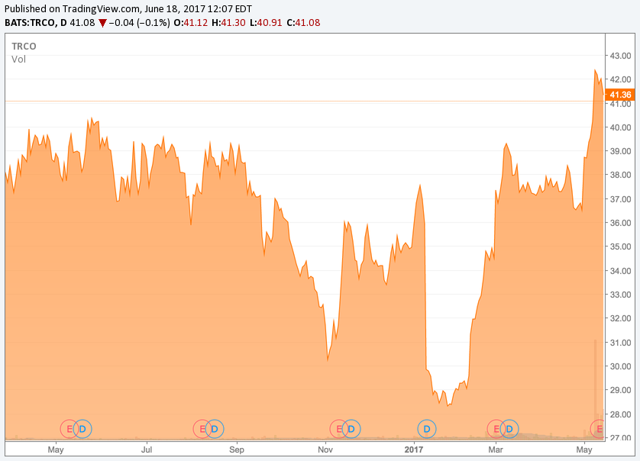 Source: Seeking Alpha
However, the stock didn't react accordingly (or at least according to my thinking!), heading to the $30 mark in November. I bought more on the way down, at $34 and $32 and was rewarded when on December 20th, Tribune announced it was selling Gracenote to Nielsen (NYSE:NLSN) for $560 million. Also announced was a $400 million stock buyback and a $5.77 special dividend to shareholders. The stock raced past $37 before falling when the special dividend went ex-dividend on January 11th. But I still didn't think the company was done with maximizing shareholder value, so I held on and was thankfully rewarded again when new reports came out on March 1st that Sinclair Broadcast Group (NASDAQ:SBGI) was mulling a bid. This was possible only due to FCC chairperson Ajit Pai talking about relaxing TV station limits, which the FCC passed in mid-April. Tribune was soaring as reports came out over a bidding war between Sinclair and Fox (NASDAQ:FOX), before Sinclair won the fight with a $43.50/share cash + shares offer announced on May 8th. I cashed out at $42.30, happy with the profit I'd made in less than 12 months. With an average buying price of around $34 + $5.77 special dividend + $1 of dividends = ~55% for one year's work. This was more than I expected to earn, and in a quicker timeframe, but it shows the potential in 'Special Situation' stocks. You just have to find a good one!
These first three articles have dealt with why long term investing is important, as well as the different categories of stocks that make up my portfolio. My next article will explore one of the 'Growth' category stocks in my portfolio.
Thank you for your time and please comment if you have any suggestions for future articles or other thoughts! I hope to continue outlining my portfolio and highlighting stocks within it in future articles. Please follow me if you're interested in reading more articles about my portfolio, my watchlist or my investing world.
Disclosure: I am/we are long ATVI, DOW, GLW, TTWO.
I wrote this article myself, and it expresses my own opinions. I am not receiving compensation for it (other than from Seeking Alpha). I have no business relationship with any company whose stock is mentioned in this article.