Bank of America's (NYSE: BAC) stock has been trading sideways for the past few months.
Current Chart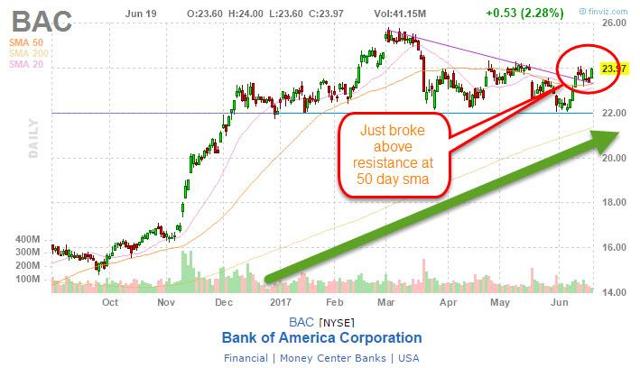 Source: finviz.com
Nevertheless, the stock just powerfully broke through resistance at the 50 day sma. This is a noteworthy development signaling the stock may be preparing to take another leg up. I have been waiting for this to occur for some-time now. I posit the stock is vastly undervalued with significant upside potential. Here is why.
Stock trading at steep discount
Bank of America's stock typically trades for 2 time tangible book. At present, the stock is trading for 1.2 times tangible book. This equates to a 66% discount from historical levels.

Source: Scottrade.com
Brian Moynihan and his team have done a tremendous job turning the bank around. Asset quality continues to strengthen and the bank reported record capital and liquidity levels. I fully expect the bank to pass the 2017 CCAR with flying colors. The results are due out later this month.
Furthermore, Bank of America is trading for a PEG ratio of 1.23 and a forward P/E ratio of 14.45. The bank's forward P/E of is one of the lowest among the big banks. The only major money center bank with a lower forward P/E ratio is Citigroup (NYSE: C), which also happens to carry much more risk due to its international exposure. Furthermore, several tailwinds for the stock remain intact.
Current tailwinds
I'm bullish on Bank of America due to Trump's bank friendly policies, a rising rate environment, the bank's legal and regulatory issues coming to an end, and the opportunity for substantial dividend growth.
President Trump's bullish bank policies
President Trump's policies are just what the doctor ordered. In fact, a major portion of the current rally has occurred since his election. Trump's policies that are highly favorable to the banks include regulatory reform, corporate tax cuts, and a trillion-dollar infrastructure stimulus package. Here is how.
- Regulatory reform
Regulatory reform should significantly lower costs and free the bank from the spider web of Dodd Frank regulations that have kept the banks handcuffed.
- Corporate tax cut
A corporate tax cut would be beneficial to Bank of America just like any other corporation. Moreover, banks typically have a much higher tax burden than any other sector, making the tax cut that much more ideal.
- Infrastructure stimulus
A trillion dollar new infrastructure stimulus package would benefit Bank of America greatly. The bank could potentially be inundated by loan requests from potential vendors.
Rising rates are a major catalyst
I believe the Fed will inevitably have to quicken the interest rates increases as inflation rears its ugly head. Yellen recently underpinned this thesis with the latest rate increase last week. All this bodes well for Bank of America. Bank of America is well positioned to benefit from this rising rate environment. This allows the bank to earn even greater profits on the difference between the cost of funding and lending rates otherwise referred to as the net interest margin. Taking into consideration the size of Bank of America's balance sheet, a small shift in interest rates can have a big impact on the bank's bottom line.
The Bottom Line
All the above factors should provide a nice tailwind for the stock over the coming years. Nonetheless, I suggest layering into any position over time to reduce risk. I expect the next leg up in Bank of America shares has just begun. Yet, it won't shoot straight up like a rocket so take your time and use pullbacks to create a full position. I say the risk/reward favors long positions in Bank of America today. All Bank of America needs to do is execute. Those are my thoughts on the subject. I look forward to reading yours.
Your input is required!
The true value of my articles is provided by the prescient remarks from Seeking Alpha members in the comments section below. Is Bank of America a buy right here? Why or why not? Thank you in advance for your participation.
Final note: If you enjoyed this article, please click the "Follow" button. I would greatly appreciate it.
Disclosure: I am/we are long BAC.
I wrote this article myself, and it expresses my own opinions. I am not receiving compensation for it (other than from Seeking Alpha). I have no business relationship with any company whose stock is mentioned in this article.